It only seems like yesterday we were out testing the new range of rods from Vercelli for 2016, in fact it was over fourteen months ago! Our last testing blog was so popular that as soon as we got our hands on the new additions for 2017, we had to get out, test them and report back our findings. I was joined on a very cold beach with intermittent snow and rain showers by two of our Prostaff members and U21 England Internationals, Callum Graham and Charlie Tudball.
Although there are not as many new releases as in 2016 there is a still a nice selection of rods across each price bracket. This should mean there is a rod for everybody. We run through each of the rods in order of cheapest to most expensive. To add a little bit more to your decision-making armoury we've also put together a video showing the actions and a quick glance breakdown of each rod too. You can view this at the bottom of the blog or on our Tronixpro Youtube Channel (and whilst you're there, why not subscribe for free). Right, to the rod testing…
Vercelli Oxygen Power K
This is a nice looking black blank with red and white graphics giving the rod a more conventional, conservative look compared to the often brightly coloured competition. We don't want to con anybody, we're all anglers and in our honest and most impartial view of the rod, we don't like! We all cast the rod and agreed that the rating was far too high and that the tip action was disappointing, with a poor recovery when casting. Although this is an entry level rod, we believe there are far better rods than this from Vercelli at the same price point. If you're looking for an entry level Vercelli, then we'd give this one a miss and buy the Vercelli Centinal T instead.
Technical Specs
Available Lengths: 4.50m
Sections: 3
Casting Range: 100-300g
Optimum Casting: 155g
Rod Weight: 609g
Butt Diameter: 22.8mm
Blank Construction: 100% Carbon
Guides: SiC KW type
Reel seat: Fuji DPS
Tip: Power – Tubular tip
UK RRP: £129.99
Vercelli Enygma Besta T
After the disappointment of the Power K things can only get better! The Vercelli Enygma Besta T has created plenty of interest amongst the beaches of the UK. This rod has already been selling well and the reports we've had back show anglers love it. The rod is rated similar to the Vercelli Oxygen Power K but is a whole different proposition. It is sought after by UK anglers who are looking for something which is a bit beefier than most three piece rods. The Vercelli Enygma Besta T finds popularity in the UK as it is more suited to the conditions a UK angler might face on the beach. More capable of handling our unpredictable weather, strong tide runs and the inevitable and tiresome weed infested session too. It's capable of adapting to it all and can also be used successfully on a range of topography from clean and rough ground beaches to rock marks.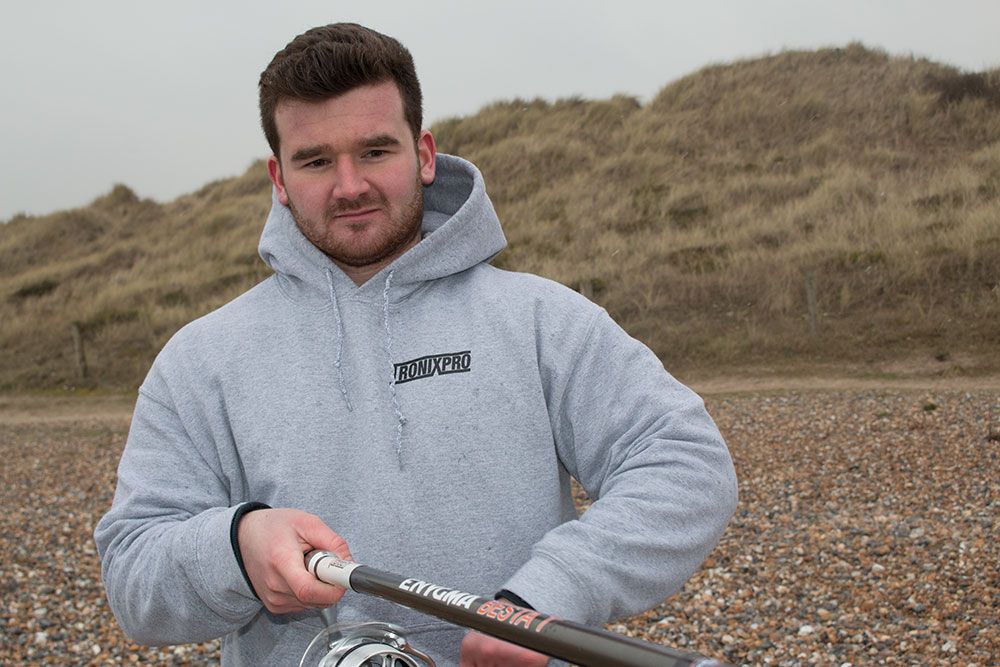 We enjoyed casting this rod and it has a reasonable action and recovery for the price it's pitched at. It's not a style of rod any of us would usually choose to fish with but it does the jobs it was designed for well. It also looks good with a platinum grey blank with white and red livery.
Technical Specs
Available Lengths: 4.50m
Sections: 3
Casting Range: 150-300g
Optimum Casting: 160g
Rod Weight: 660g
Butt Diameter: 22.4mm
Blank Construction: Hi Modulus Carbon
Guides: Fuji KW Alconite
Reel seat: Fuji DPS
Tip: Power – Tubular tip
UK RRP: £189.99
Vercelli Enygma Taktika
With the brutes out of the way, this is where it gets a lot more exciting! All three of us love our lighter, hybrid tip three piece rods and the remainder of the Vercelli Rod range fits into this category perfectly. The Vercelli Enygma Taktika is a stunning looking rod (with a rather funky name too). It's has a brown/purple/pearl hybrid effect (it's hard to describe it exactly!) with multi coloured whippings which makes for a nice overall finish. If you're concerned with look and want something that's a bit different and stands out, this could well be the one.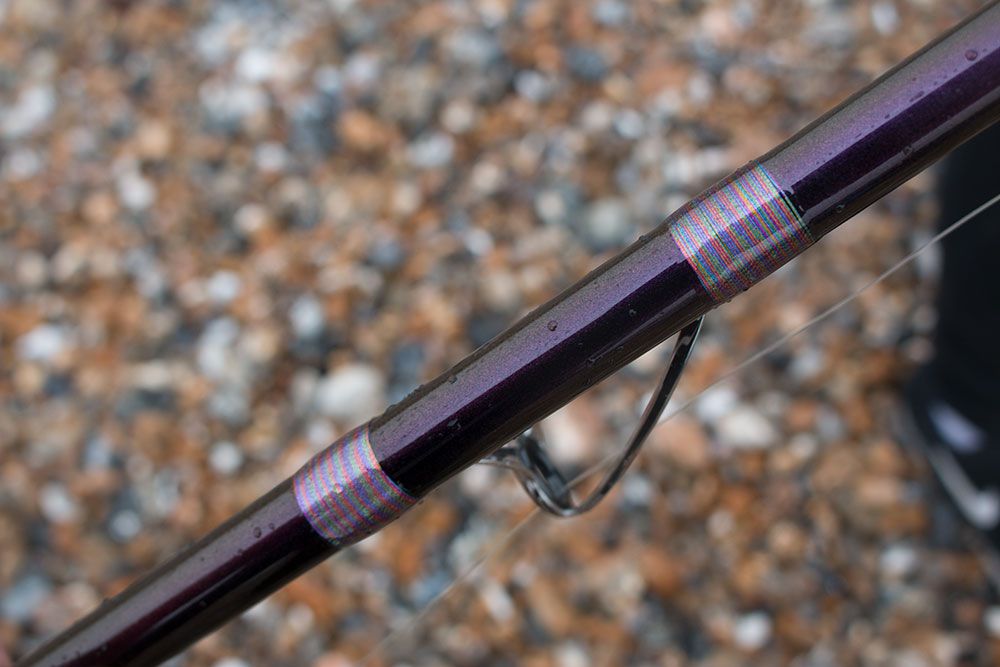 The optimum casting weight for the rod is listed at 110g, which is absolutely bang on the money for us. We found the rod an absolute pleasure to use with 3 and 4oz weights. It has a lovely, pleasurably light sensitive tip that makes this rod a fantastic entry priced match fishing rod. We all agreed that anybody looking to buy this rod would not be disappointed and when used with the correct weights will have years of pleasurable fishing fun. It's a winner for sure.
Technical Specs
Available Lengths: 4.20m
Sections: 3
Casting Range: 100-200g
Optimum Casting: 110g
Rod Weight: 495g
Butt Diameter: 22.8mm
Blank Construction: 100% Carbon
Guides: Fuji LC Low Rider and KT Alconite
Reel seat: Fuji DPS
Tip: Sensi – Solid Fibre Spliced Hybrid Tip
UK RRP: £133.99
Vercelli Spyra Systeme
When we first saw this rod in the catalogue we couldn't help but wonder what was going on. Why have they discontinued the Vercelli Amerrella and introduced another yellow rod that looks the same yet is £100 more expensive!? Well, upon further investigation, we couldn't be more wrong. This rod is not an Amerrella, it's not even close!
Right from the first cast we all felt this rod was excellent. Sometimes when testing rods, you pick one up that just feels right, like everything that has gone into designing it has fallen into place and it's "there". The Vercelli Spyra Systeme is an incredible rod, it has a lovely feel, casts well and fishes beautifully. It's totally balanced, ideally suited to using a light weighted reel.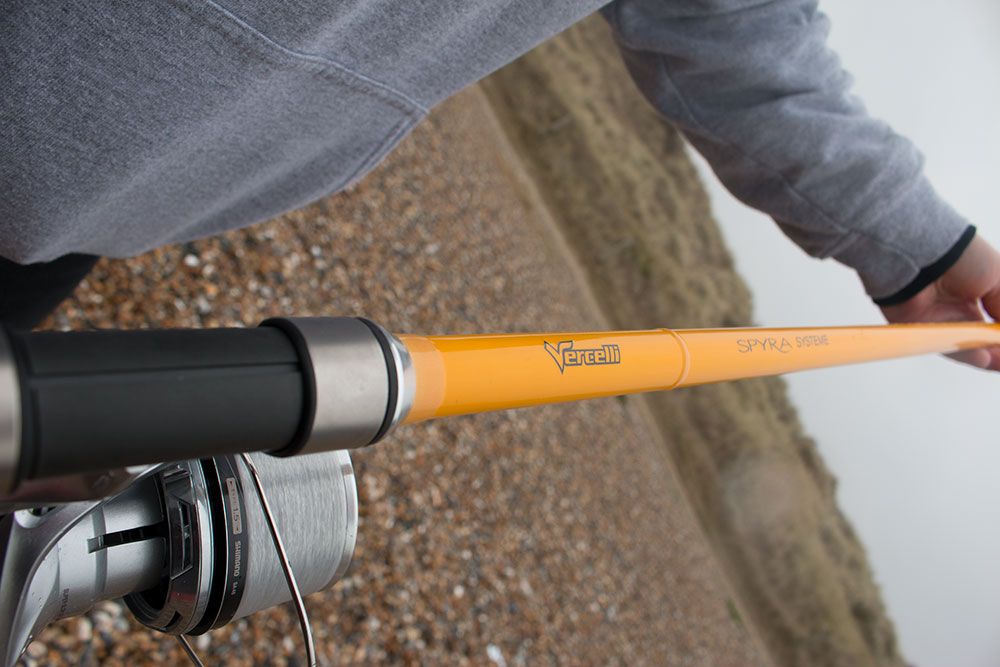 We tested the rod with a range of leads from 100 to 170g and with every weight it was a joy to use. The rod just keeps on giving, the more you work it, the more it keeps going without being over gunned. It's very user friendly, there is no kick back in the cast. The shorter length and Competition Sensi tip combine well to produce an excellent everyday fishing rod.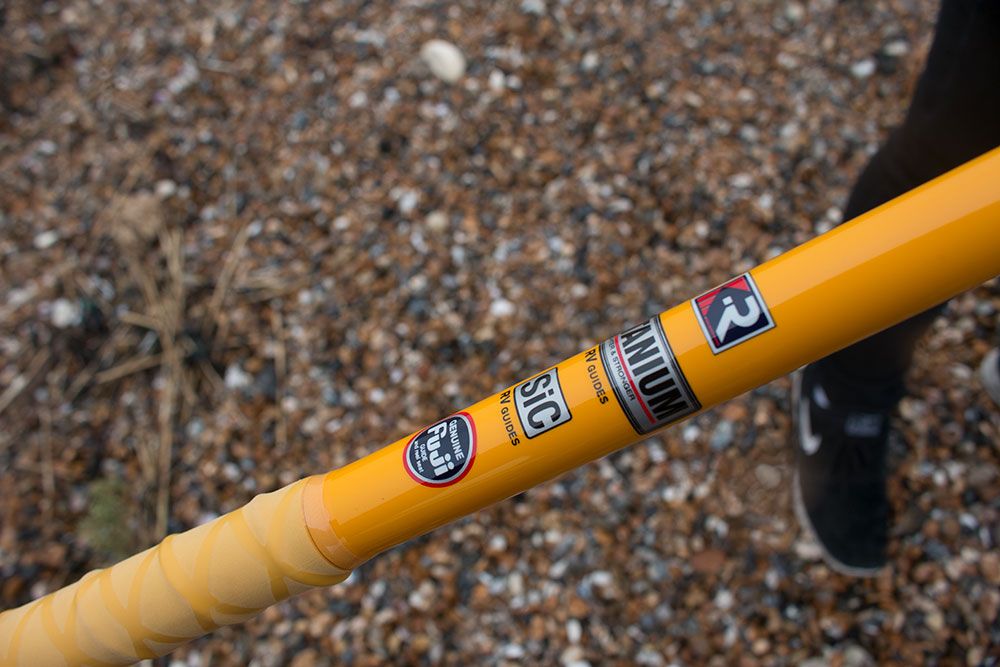 Technical Specs
Available Lengths: 4.10m
Sections: 3
Casting Range: 100-200g
Optimum Casting: 140g
Rod Weight: 455g
Butt Diameter: 20mm
Blank Construction: Hi Modulus Carbon
Guides: Fuji Titanium RV Alconite and Stainless KW+KT Alconite
Reel seat: Fuji DPS
Tip: Competition Sensi – Solid Fibre Spliced Hybrid Tip
UK RRP: £319.99
Vercelli Spyra Augusta Nano
Finally, we come to the all-new, top of the range model! The first question we asked was why? Just over a year ago the Vercelli Spyra Augusta Nano was released, which was a fine specimen of a rod so, why a year later, replace it with a more expensive version. The simple answer is, it's just better! The new Toray Nano Carbon is stronger than its predecessor. This allows the overall and optimum casting weights to be raised without compromising the slim blank and importantly, keeping the weight of the blank light.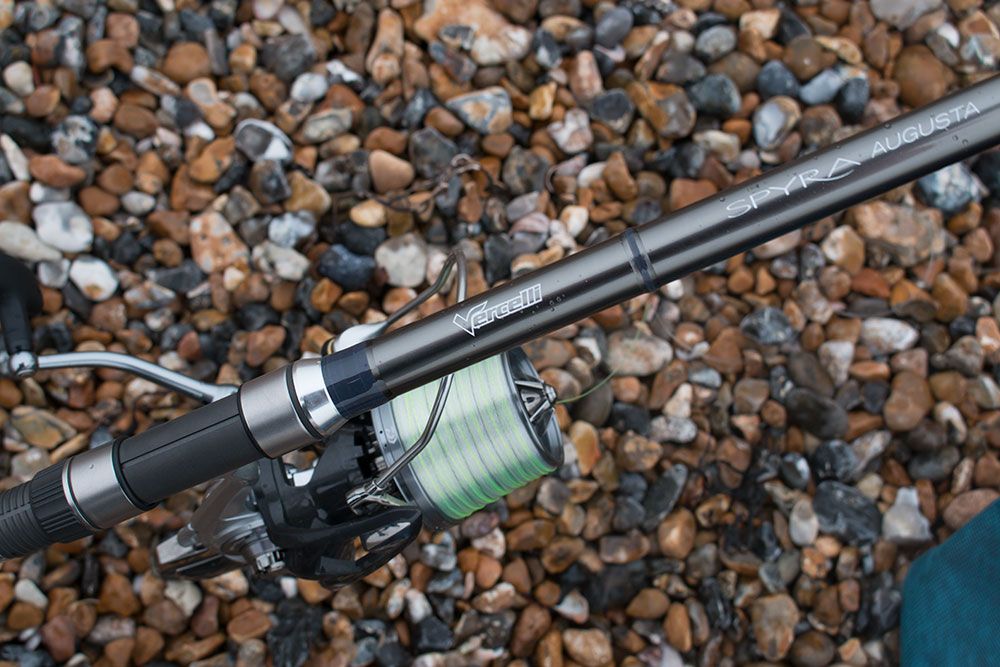 Such is the confidence in this new blank material and its strength, Vercelli have done away with banding and reinforcements on each section spigot, the blank wall is so strong, it doesn't need them. This not only slightly reduces the weight of the blank but it also looks cool too! Different to other rods of this style and a definite head turner.
As you would expect, the rod is awesome! As an example of the finest fishing rod money can buy you cannot fault it. It's lightweight, powerful and an incredible caster. However, with a short Competition Sensi tip its uses are a bit limited. The rod is essentially a long-distance scratching tool, the light sensitive tip combined with the powerful casting blank make I awesome for fishing for smaller fish at distance but not so good for fishing at shorter distance – limiting its usefulness. If you're after a distance scratching tool though, then this is the very best of them!
Technical Specs
Available Lengths: 4.10m
Sections: 3
Casting Range: 100-225g
Optimum Casting: 135g
Rod Weight: 435g
Butt Diameter: 21.6mm
Blank Construction: Toray Ultra Nano Carbon
Guides: Fuji Titanium RV and KW+KT Torzite
Reel seat: Fuji DPS
Tip: Competition Sensi – Solid Fibre Spliced Hybrid Tip
UK RRP: £669.99