One of our Brand Ambassadors, Gem Stapleton, has a closer look at a new rod in the Xenon range, the Xenon C-6LD.
One of our Brand Ambassadors, Gem Stapleton, has a closer look at a new rod in the Xenon range, the Xenon C-6 LD.
Tronixpro's Xenon range comprises 12 rods, designed to cover a range of fishing scenarios. Five of the rods are traditional two-piece beach casters, complemented by six three-piece rods (three models, each in two lengths) and a six-piece travel rod. This review focuses on the two-piece Xenon C-6 LD.
The Xenon C-6 LD, as its name may suggest, is designed for casting 6oz, and it is a low-diameter design. It's fitted with quality Fuji guides and reel seat, set off with mighty bright tip tape. At 13' 2" it is perhaps a little shorter than many rods on the market today. There are two other C-6 rods in the range, one specifically rung for multiplier use and the other for fixed spool.
I've used a lot of two-piece beach casters in my 45+ years of fishing, and I think this one has the best bite detection of them all.
First Impressions
I ordered a pair of Xenon C-6 LD rods after noticing various features of them that, I thought, would really suit my fishing. When the rods arrived, I was quick to unpack them and get a better feel for the action of the blank and the quality of the finish. Immediately I knew I'd made a great choice and could tell these were quality rods with a focus on using high specification fittings to ensure, in my view, that they have a long life exposed to the harsh sea environment. The tip tape was striking, and I could tell it would be easy to see the tip in both daylight and at night under a headlight beam. The C-6 LD also appealed because of its slim butt section, coming in at 21 mm, and its relatively light weight of 653g.
Notably, I'd been fishing down Brighton Marina where casting space is a little cramped, especially for rods exceeding 13' 9", where the distance to the wall behind anglers is a limiting factor when casting. So, I wanted some rods just that bit shorter to aid my quest for getting better distances when fishing the arms. I didn't want rods just for the marina. They needed to serve multiple purposes and not be a one-trick pony. The question on my mind was how would the C-6LDs perform in a range of fishing scenarios? I needed to use them to find out.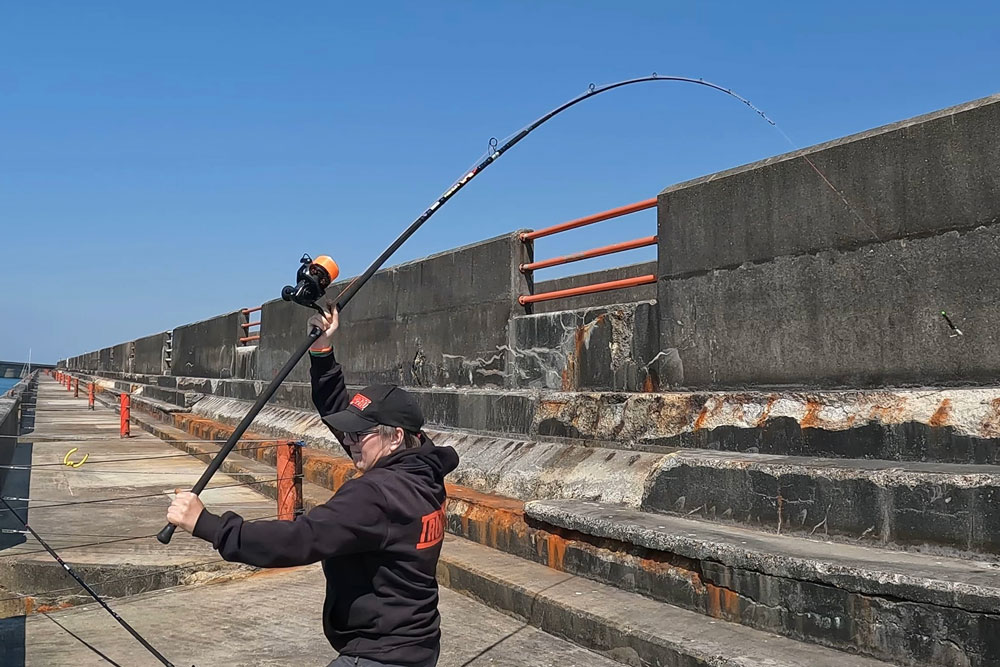 Casting
The Xenon C-6LD has been designed to cast 4oz to 8oz, with its optimum weight being advertised as 6oz. Much of my fishing uses 5oz and 6oz leads, so I was keen to try both weights out on the rod. Initially, I attached a 5oz grip lead to the end of my 15-60lb Xenon Tapered Leader and had a few gentle chucks. I was, after all, on this particular outing fishing at Brighton Marina, so any kind of power casting was out of the question.
I was keen to see how well I could load the rod with this lighter weight in limited space.
My first impression was that the action was more progressive than, say, the Cobra GT-2, but less progressive than the Competition Performance and Naga – it sits between the Cobra and Competition rods in this regard.
From my perspective, casting off-the-ground, the tip loads quickly then the powerful mid-section kicks in which is fairly stiff in comparison. These first impressions were reinforced when I hit the beach.
Having tried out the rods fishing reel-up with a Virtuoso Air fixed spool, I was keen to adopt my more usual casting style: multiplier, reel down. This time I clipped on a 6oz lead and had a few decent chucks to get a better feel for how the rod performed.
In my estimation, from the shingle, I was casting almost as far as I can get with the Competition Performance. I think this small drop in distance is due to the slightly less progressive action, which requires a bit more power than I can put into the cast to really compress the mid-section.
I am only 5ft 3 inches, so rely very much on good casting technique supported by a more progressive action, rather than a large "wing span", to compress the rod. I conjecture that the slightly less progressive action could be the result of the rod having a spliced-in solid tip, which really does have remarkable bite detection. As far as fishing rods go, as opposed to casting rods, decent bite detection could be considered vital.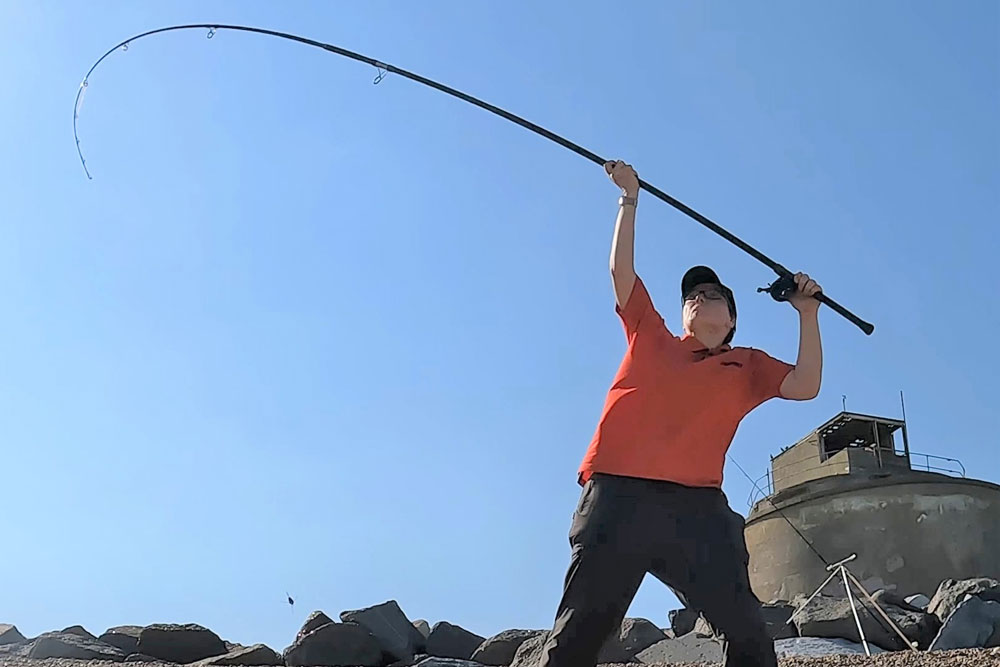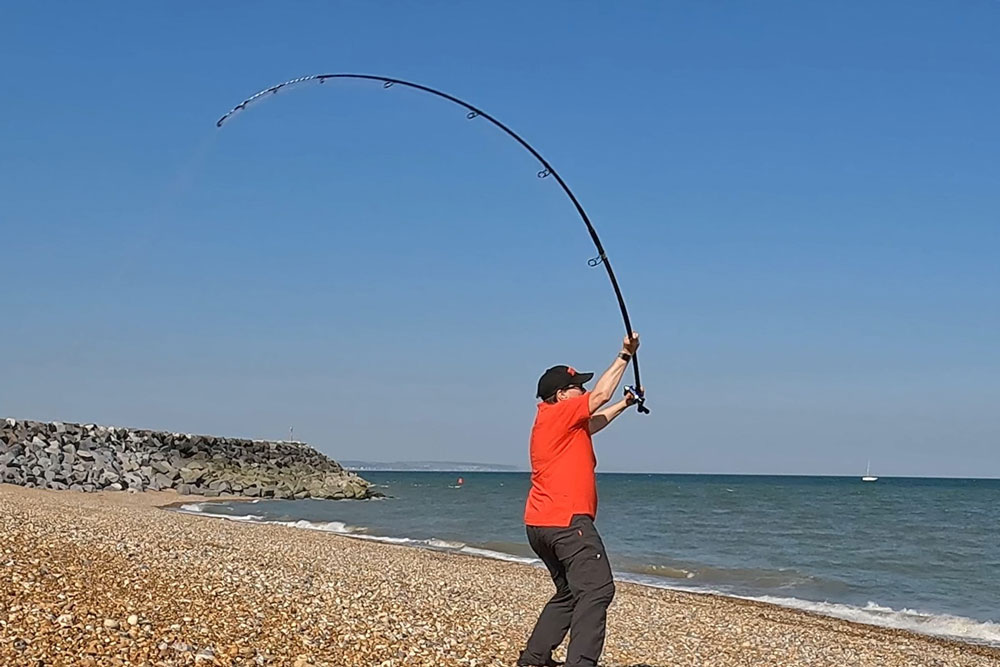 Fishing
My fishing sessions with the Xenon C-6LD have been targeting small flatties in fairly still conditions. When the rods were delivered, the weather was at the beginning of a long spell of hot, still and dry conditions. I had heard reports of plaice being caught locally during daylight sessions, so I was keen to test out the rods on a fishing trip. Armed with some fresh king rag, I hit Brighton Marina's east wall. It's a long old walk from the multi-storey carpark, so I was pleased the rods are relatively light. I was in to fish almost straight away, with a steady flow of bites throughout my session. In terms of the tide run, the tips sat really nicely, giving a bit of bend, so the grip lead did not pop free.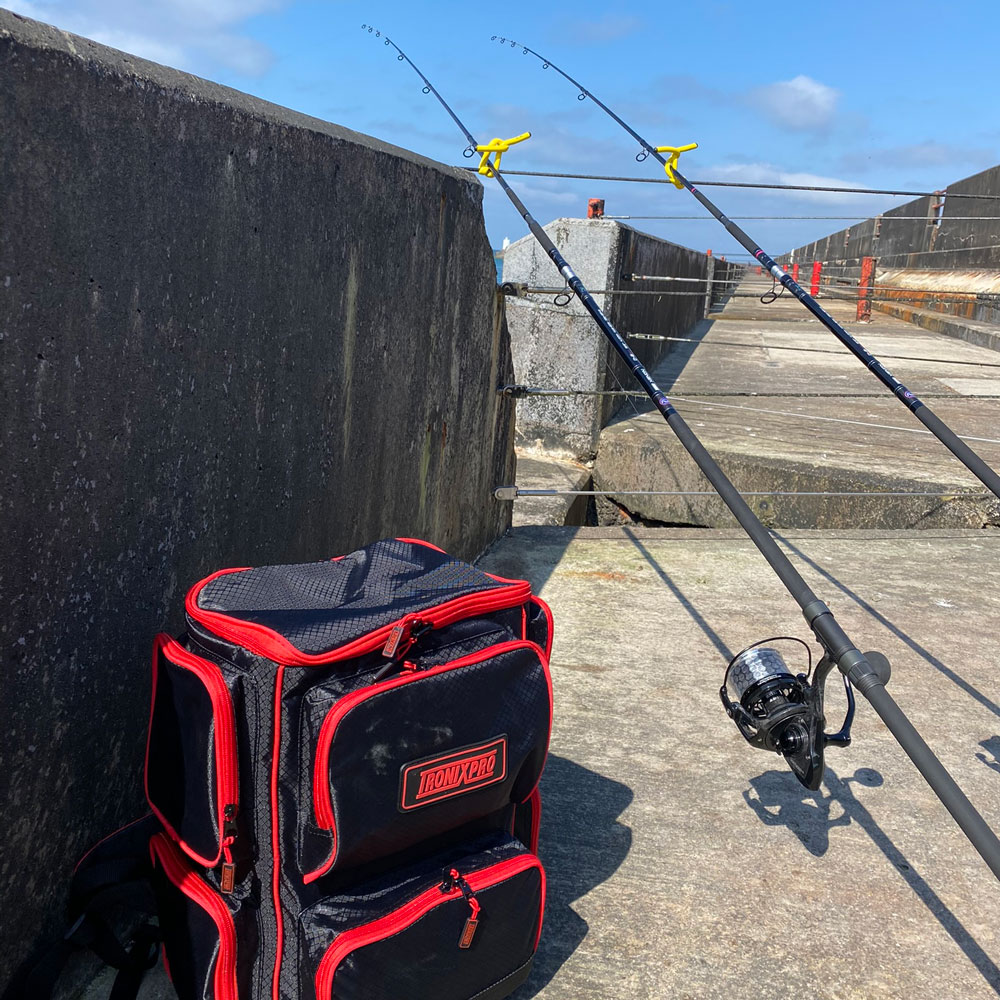 At 13' 2", all three Xenon C-6 rods would be of great benefit when fishing Brighton Marina in terms of casting space. The rods also needed the backbone required to haul fish up the side of the wall. Since the C-6 rods are optimised to cast 6oz, this suggested the necessary strength would be present for getting sizeable fish up the wall that were too small to worry about using a drop net. Whilst I did not land any fish over 33 cm, some hefty spider crabs at least allowed me to test the rods hauling ability: no problems getting those pesky things up the side!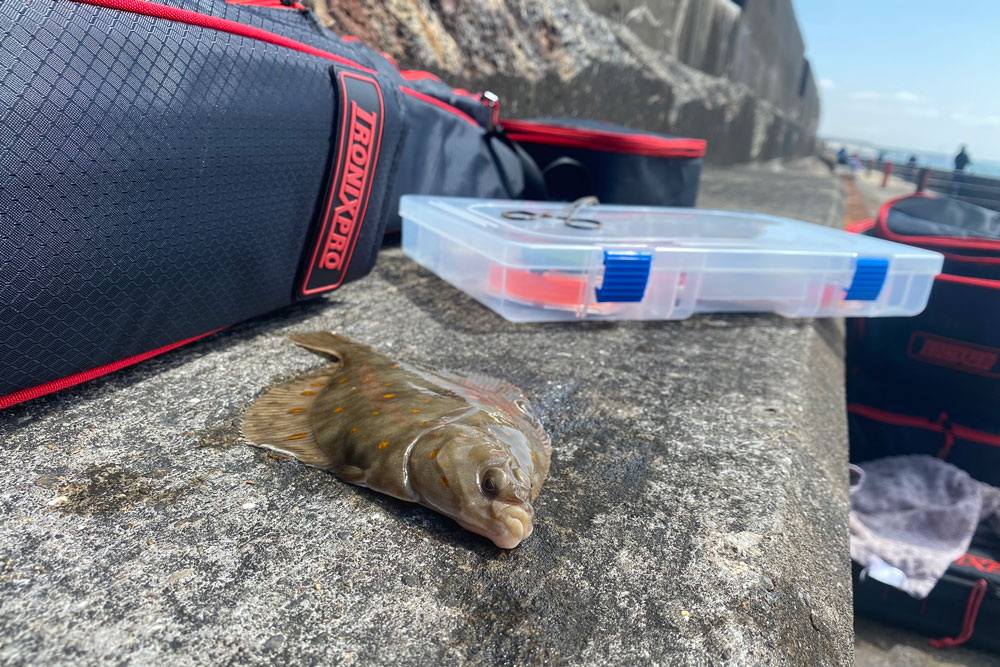 On a later session, fishing down the beach at about 100 yards out, I noticed that the bite registration on these rods is phenomenal! Plaice in the 20-27 cm range were registering massive bites on the tips – at first I thought I was fishing in a shoal of schoolies: the tip sensitivity really did set my heart racing. It felt more like using braid than 15lb (0.35) mono main line. I landed a decent enough number of flatties to know it wasn't just one super-hungry fish pulling that tip nicely around. All the fish I landed gave really decent pull downs. I was super impressed!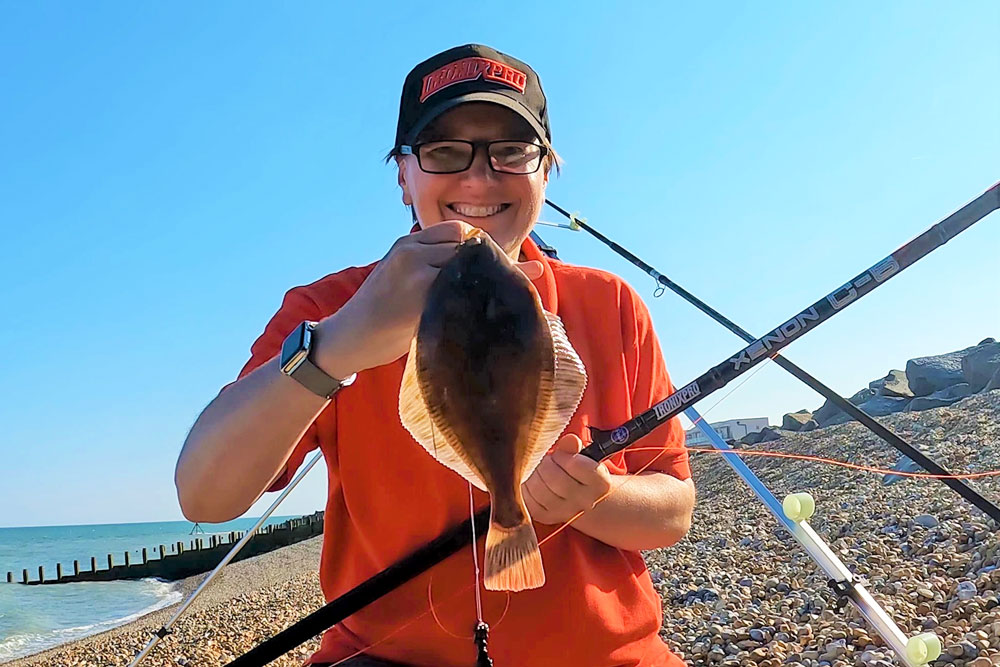 Conclusion
The Xenon C-6 LD contains a lot of power for its slim profile, the tip shows bites really well, and I could feel even smaller fish putting up an account for themselves. Overall, for a mid-priced rod, at £299.99, it represents great value. I think it will primarily suit people who cast either overhead or off the ground with the caveat that I've not tried pendulum casting with it, which is probably wise as my pendulum isn't the best! For me, the standout feature of this rod is its bite detection. If you want a two-piece beach caster, rather than a three-piece continental style rod, with awesome bite detection, then check out the Xenon C6-LD.