I've had some enjoyable day's lure and dead bait fishing over the past year on both rivers and reservoirs. My main target throughout these sessions has been predator fishing for winter pike and perch. As well as fishing across the UK, I also headed to Sweden to fish the Baltic Sea. An incredible experience that saw me catching pike in saltwater.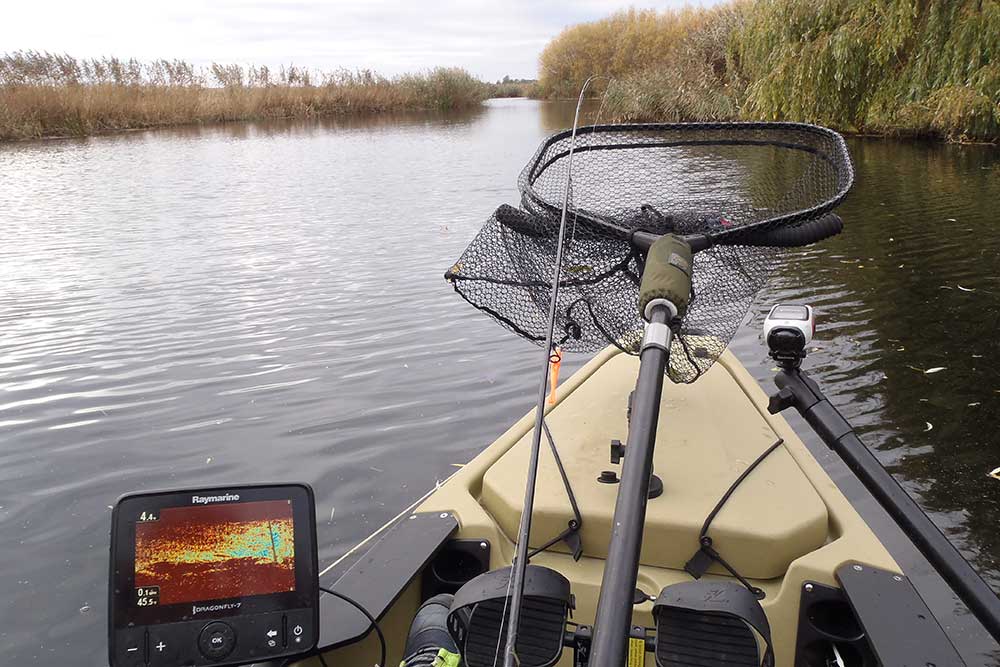 WINTER PIKE FISHING
Rivers are my main attack for pike throughout the winter months, be it trolling lures, jigging etc. One of my favourite methods when fishing soft plastics is to either fan casting or casting at certain features i.e. trees, bushes, deeper channels and any other areas fish may be lurking using soft plastics. My go to set up is the HTO Boru Jig Heads with HTO Mini, Midi or Mega Sticks. My most successful colour is fluoro orange, this always seems to winkle out fish on even the hardest days.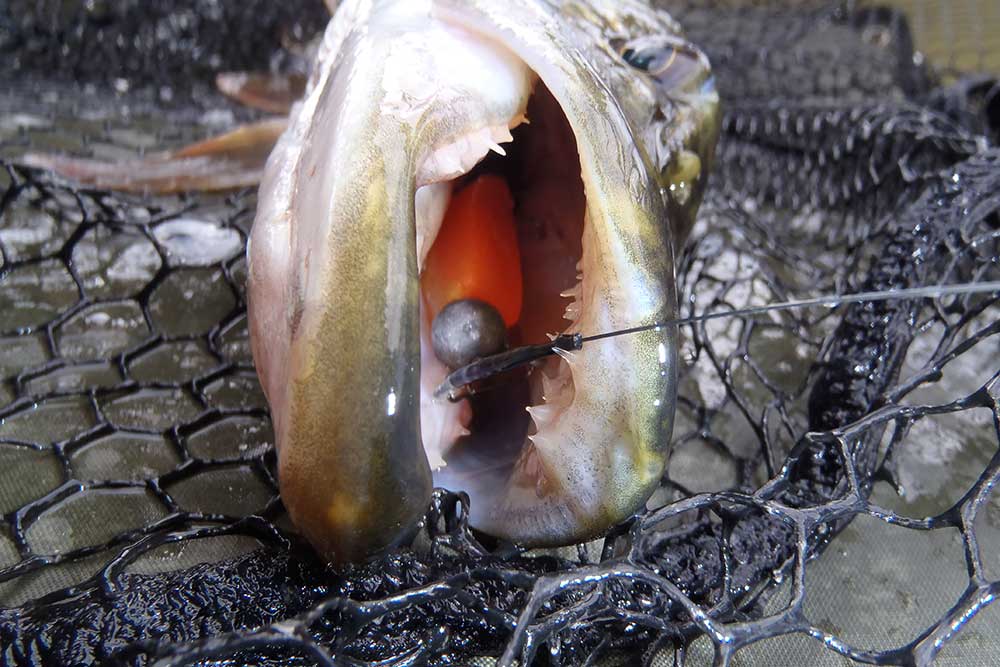 HTO Sticks have an aggressive action when retrieved and twitched or jerked. They tend to dart and weave which triggers the natural predatory instincts of a pike. Sometimes, when fish are weary of the lure I find that dropping the retrieve off can entice a bite when the HTO Stick drops.
When fishing for winter pike I always use wire leaders with the HTO Titanium Leaders being my number one choice. I rate these as they are ultra-thin and strong compared to standard wire, they also don't kink after you've caught a fish. This means the initial higher cost is offset by the fact you don't have to continually replace your leader, making them more cost effective. I use both the 20lb and 30lb versions the most.
As well as lure fishing for winter pike, I also enjoy dead baiting for them too, the winter months are a great time to try and bag yourself a twenty! I've had some great days on the river this season fishing static dead baits on the bottom with a float. My end tackle is mostly made up of Tronixpro and HTO components from swivels to quick change links to Tronixpro Treble Hooks. One piece of kit that I've found essential this winter has been the Tronixpro Bait Pak. Its compact design has made it easier to carry my bait around with me, the foil lining has also kept it at its freshest throughout my sessions. Not only do I use this for my winter pike fishing but I use it for sea fishing too. The size is just about right for holding enough bait for a session, keeping it in top condition.
WINTER PERCH FISHING
Just as with pike, rivers are my main plan of attack for perch during the winter months. I've had some frantic lure fishing sessions for perch once I've located the shoals! Catching perch in winter is not always about finding the biggest fish but locating a shoal and having fun. I've had some great trips catching 3 to 8oz perch on light tackle. I like to use the HTO Rockfish Revolution 1-8g Rod coupled with a HTO Rockfish 2000 reel. The reel is loaded with YGK G-Soul PE braid in 6lb with a YGK Nitlon Fluorocarbon Leader, usually in 4lbs but it depends on the situation. I've found perch can't get enough of the HTO Mini Sticks or HTO Mace Go Boxes.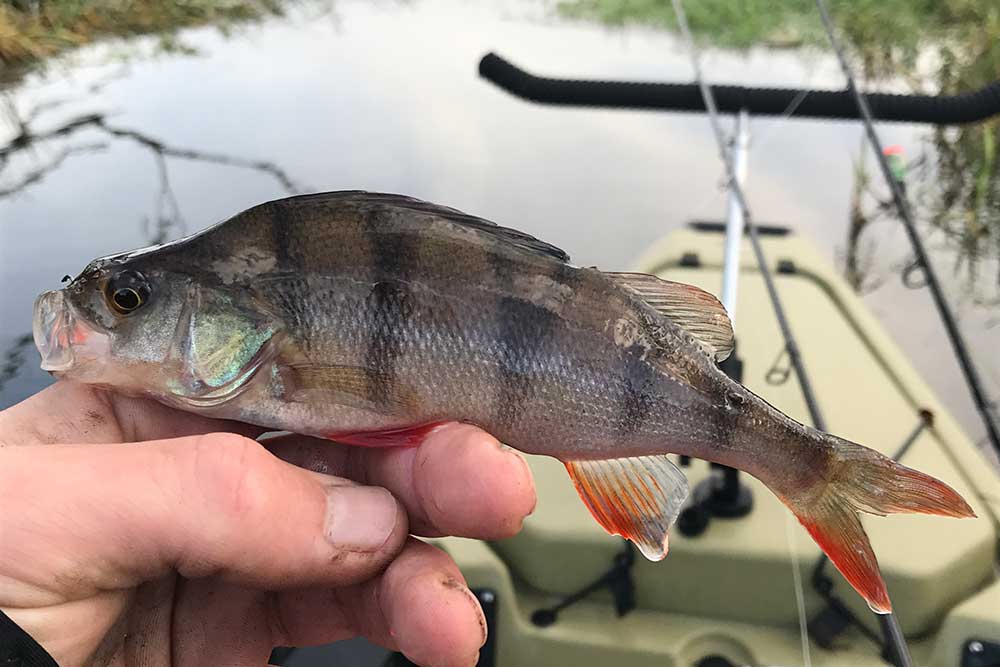 On the reservoir, my preferred method is jigging and casting soft plastics between 1g and 20g, depending on depths and location. I had some nice perch fishing Graffham this year in deeper water using the HTO Boru Heads in 5 and 10g coupled with HTO Mega Sticks. A slow jigging action lifting only one to two feet and then following the jig back to the bottom was the most successful method. You tend to find most takes are on the drop when you come over a shoal of fish and it can be productive drifting backwards and forwards over them.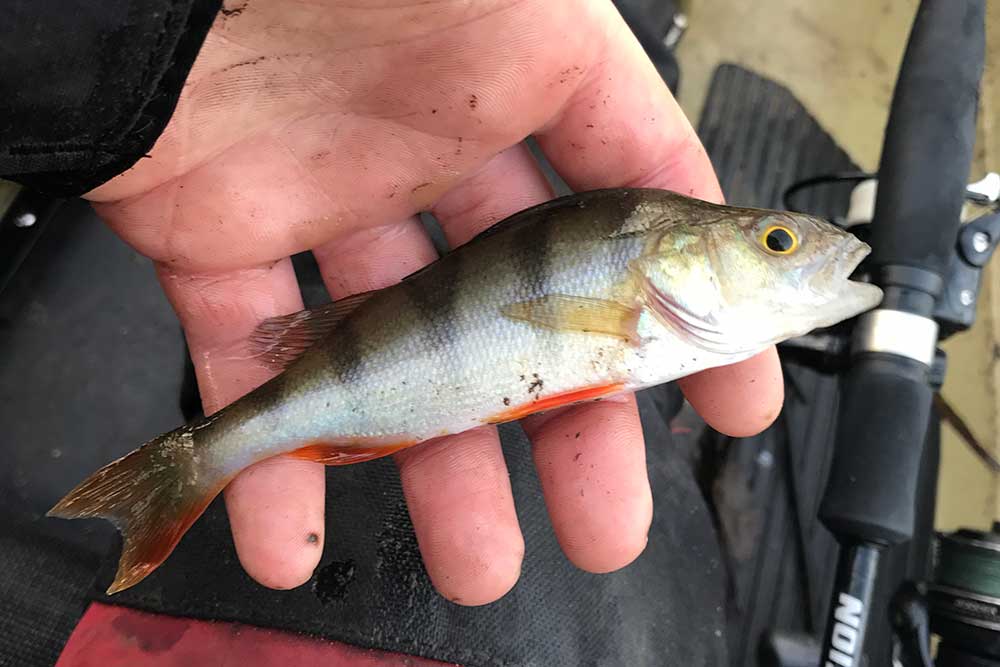 BALTIC SEA ADVENTURE
When I fished in Sweden, I didn't know what to expect. It would be my first-time fishing in the Baltic Sea, with its brackish, yet crystal clear saltwater targeting pike in less than three feet. Most of my fishing was in the margins against rushes, reeds and weed beds. Baltic pike like laying in the shallows as the muddy, clay bottom holds the heat in the colder months. When searching for likely areas you could see up to a dozen pike all sitting on the same little area. The key seemed to be locating them and fishing in stealth mode, an advantage of being afloat on a kayak!
I setup two rods for this mission, for lighter lures I would use the HTO Lure Game 8ft with a HTO Lure Game reel. For the bigger shads and eels, I setup the Hart Bloody EVO 2 rod coupled with a Yuki Genius 3000. Both reels were spooled with YGK G-Soul PE Braid.
Local knowledge has it that dark brown lures are the best, so on the Lure Game setup I went for a HTO Mega Stick in Ayo. I found that a slow then fast retrieve worked the best for me, as most hits came from the HTO Mega Stick dropping off on the slower retrieve and the fast darting imparted by a quick retrieve enticing the pike.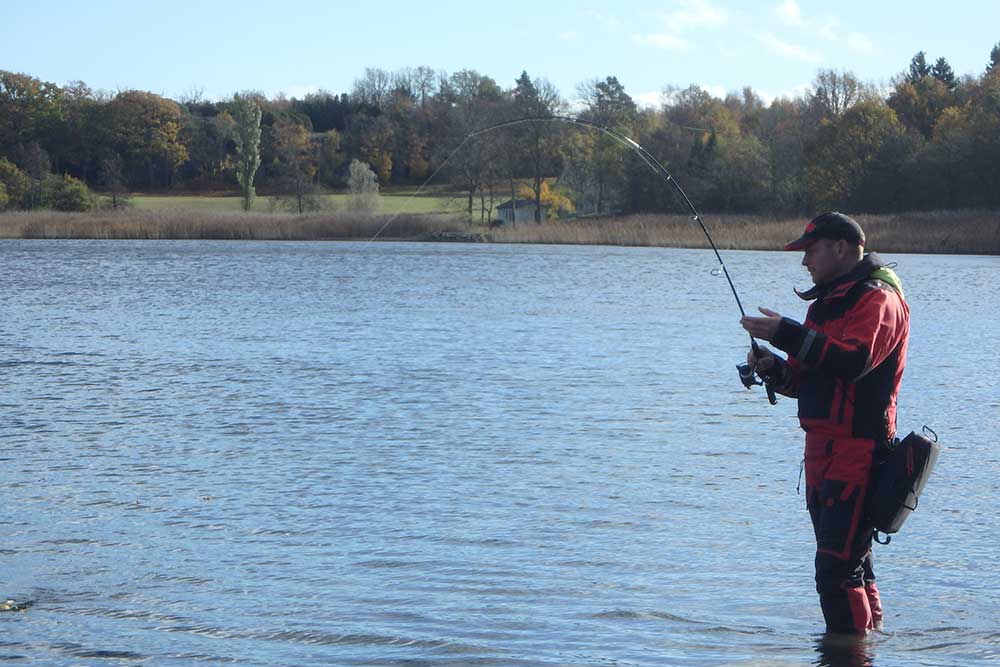 We had an enjoyable few hours fishing one afternoon just walking the edges of a big bay near our apartments whilst we were waiting for our hired kayaks to arrive. The water was crystal clear and no more than a meter deep, with the odd area having a slightly deeper drop off which seemed to hold the odd fish. I stepped up the jig head weight to 15g for the extra distance needed for casting to areas where the fish were lurking.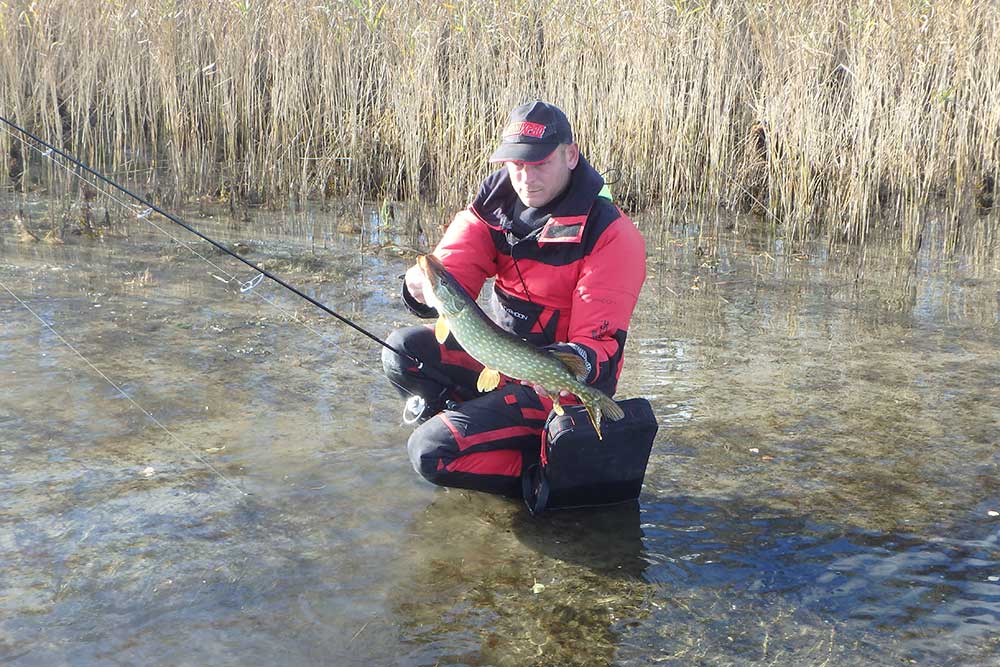 I used HTO Artic Eels which are weedless and the HTO Mega Sticks which still glided through the weedy patches. This mean that I could fish through the weeded areas that held the fish without getting snagged. With the HTO Mega Sticks I used the HTO Boru Jig Head in 15g, attached to a HTO Titanium Trace. These Baltic pike sure scrap in the shallows, jumping like marlin and creating bow waves across the crystal clear, icy cold waters. The whole experience of fishing in Sweden was awesome and I can't wait to return in the future for more feisty, furious but stunning Baltic pike!