Mark Radcliffe continues his search for 50 species from his yak into May, this month Mark goes in search of eels, garfish as well as focusing his efforts on the Swanage Classic Species Hunt.
With 26 species caught by the end of April things are going well, just another 24 needed to hit my target of 50. However, many of the easier ones have been done, going forward it becomes a case of picking an individual species to target for each session.
The first on the list for May was a silver eel. Many people hate catching eels, nasty slimy things, but I have a soft spot for them. I caught them commercially to make my pocket money when I was a teenager and they were always a reliable target when beachcasting on the East coast. In recent years, they are supposed to be a bit of a rarity, but in the Humber Estuary, they are still prolific, so that was where I headed with the kayak.
This is simple fishing, I like to anchor at the end of one of the groynes along Cleethorpes beach and keep the rigs as simple as possible. The rod is the Hart Absolute Cast with a Hart No 4 reel. I use a very light running ledger with the line passed through a 1oz ball lead, then tied to a No 2 Tronixpro rolling swivel. Three feet of 10lb line is then attached with a size 2 Tronixpro Aberdeen hook on the end. This simple rig is versatile, the ball lead will move around in the tide until finding a dip or ledge in the sand where it rests and you will then catch anything that happens to be swimming by. Bait is usually rag or lugworm, with peeler crab also working well. It wasn't long before I was bringing in flounders and small bass, but it took an hour before the eels turned up. There is no mistaking an eel bite, there are no gentle rattles or vibrations on the rod tip, they just pick up the bait and keep moving taking the rod with them if possible. Once they arrived it was one after another, between them and the other species it wasn't long before the bait was used up and it was time to head home. In a short session of just over two hours I'd had five eels, five flounders, a dozen bass and four small codling, all caught on light balanced gear. Superb fun and nice to tick off the target species.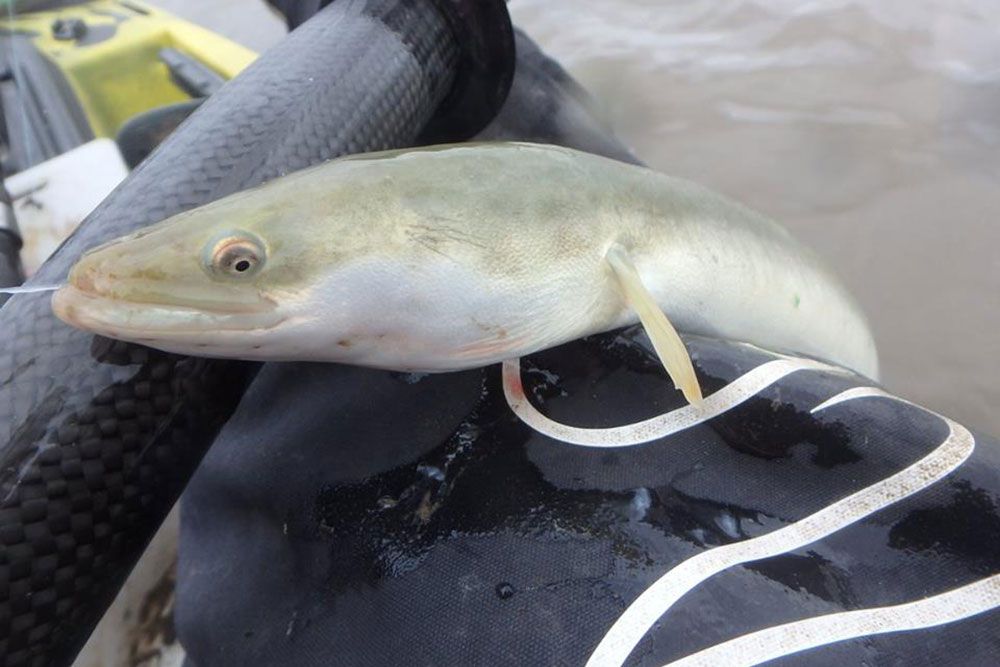 My second session of May was back to Swanage to compete in one of the biggest kayak fishing comps of the year. This is a species hunting event and one I have done very well in, in the past. I like to go for a couple of days prior to the event to try different tactics and to knock a few more species off the list.
First up was a garfish. Swanage can be alive with these and again they are superb fun fishing on balanced tackle. Float fishing is the way to go for these so the HTO Luregame Rod and Luregame Reel loaded with Lure Game PE Braid, was soon tackled up with a Tronixpro Float kit. These handy kits come with everything you need, float, beads, hooks and weights so it is just a case of assembling it, baiting up with a slither of mackerel and choosing your depth. I like to start very shallow at around 2 – 3ft deep. There are a couple of options when float fishing for garfish, you can trot the float down the tide or simply cast out and lock the float off so that the bait rises high in the water. I find the second option more productive from the kayak, but I will lift the rod moving the bait every so often. I have seen it where there can be several garfish holding in the tide looking at the bait, unsure of it, but as soon as you yank it away and let it back it triggers their hunting instinct and they go for it. Often the first thing you know about a bite is when you see the garfish leaping over the float, and once hooked you will struggle to find a more acrobatic fish as they skim across the water's surface. I can happily spend hours float fishing for garfish, they fight so well.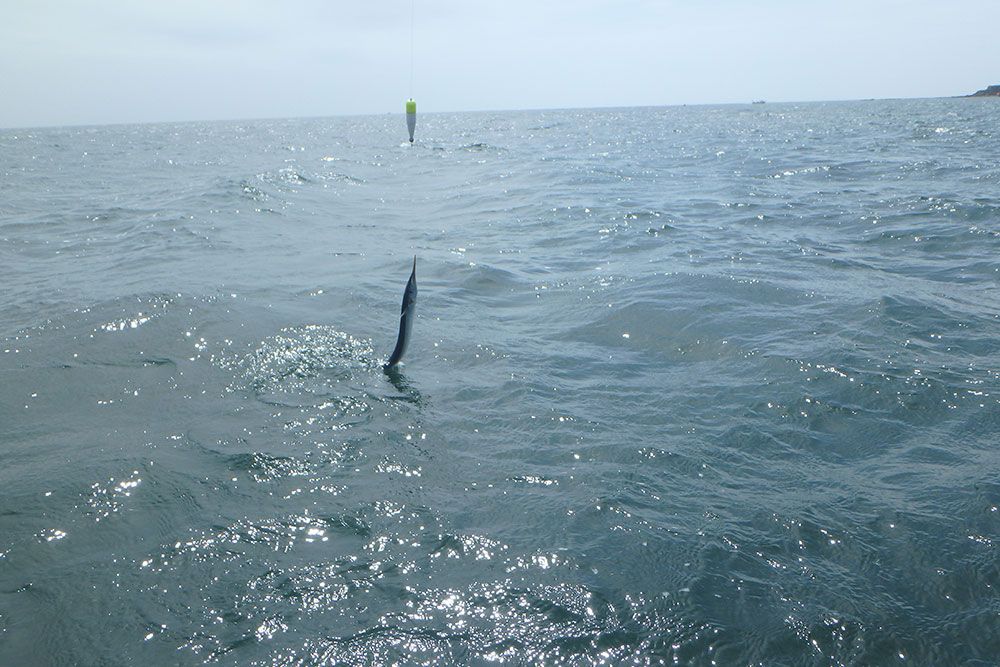 Whilst practising the days before the Swanage Comp I was looking for areas holding mini species in the shallows, but instead of finding the small stuff when looking through the water I could see hundreds of bass cruising around. I tried to get them interested in my small ragworm baits and managed to hook a couple but they weren't going for it. On landing I noticed huge shoals of tiny sandeels in the shoreline, which must be what the bass were here for. The next day I paddled to the same area and once again the bass were there in vast numbers. I'd come to Swanage only really equipped to fish a bait match, but luckily, I always carry a couple of the HTO Fugitive jigs with me just in case. So many times I have pulled these out of the bag just to try on a hard day and instantly been rewarded with fish. This was going to be light lure fishing so I used the HTO Rockfish Revolution 7-28g rod. The HTO Fugitive mimics these tiny sandeels exactly and on flicking it out the results were instant. It didn't hit the bottom before a bass had nailed it. Not big fish, up to 2lb but great fun on light gear. It was one a cast, but after a few I left the area as I wanted their location kept secret for the competition day.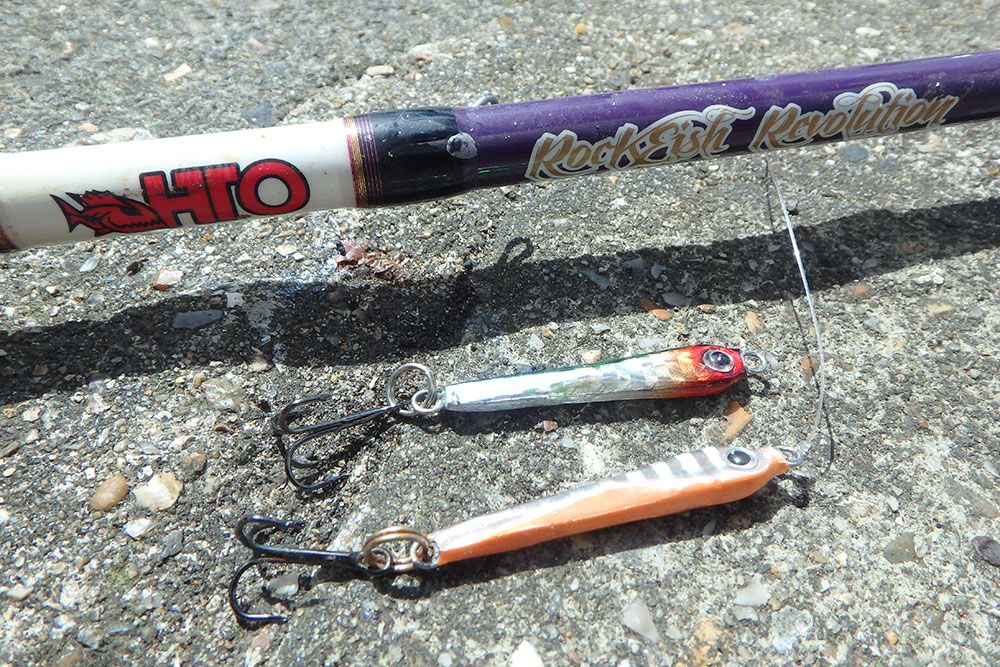 As it happened only three competitors had noticed the location of this shoal and on the day of the comp as everyone else headed for deep water, we hung back discreetly. I flicked out the HTO Fugitive and had my first species on the yak within a couple of minutes of the starting whistle. Like I said, I would never go anywhere without a couple of these. What a way to start.
The rest of the competition was spent scratching for small species, because the weather had caused the boundaries to be pulled in.
I've described scratching before, using the HTO Rockfish Revolution Rod and Rockfish Reel with a simple paternoster rigs tied with Sabpolo Wormer hooks. I eventually got myself to eight species on the day which I thought would put me up there on the prize table. However, on bringing in my rod to pack away and register I found a small rock goby attached, giving me nine species which was enough to win the overall event. I have always liked catching rock gobies, but who would think that such an unassuming little fish could result in winning a three-thousand-pound kayak!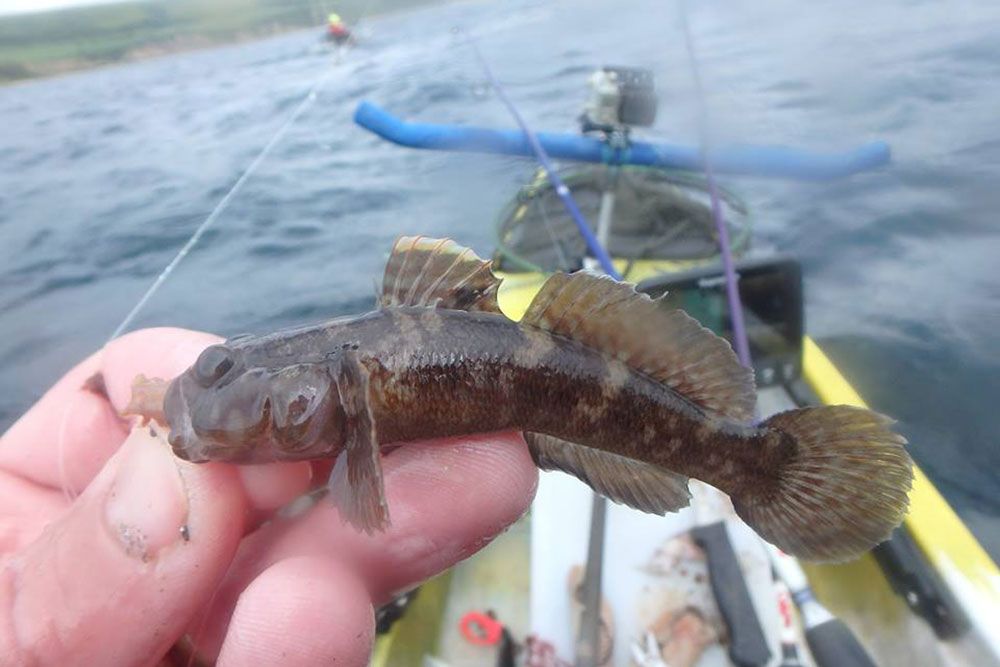 May has turned out to be a reasonably productive month, with six more species knocked off the list putting me on a total of 32 for the year. It's getting difficult fitting in saltwater sessions between the freshwater tournaments over the summer, but June will see me heading to Plymouth looking for red band fish and mullet amongst others.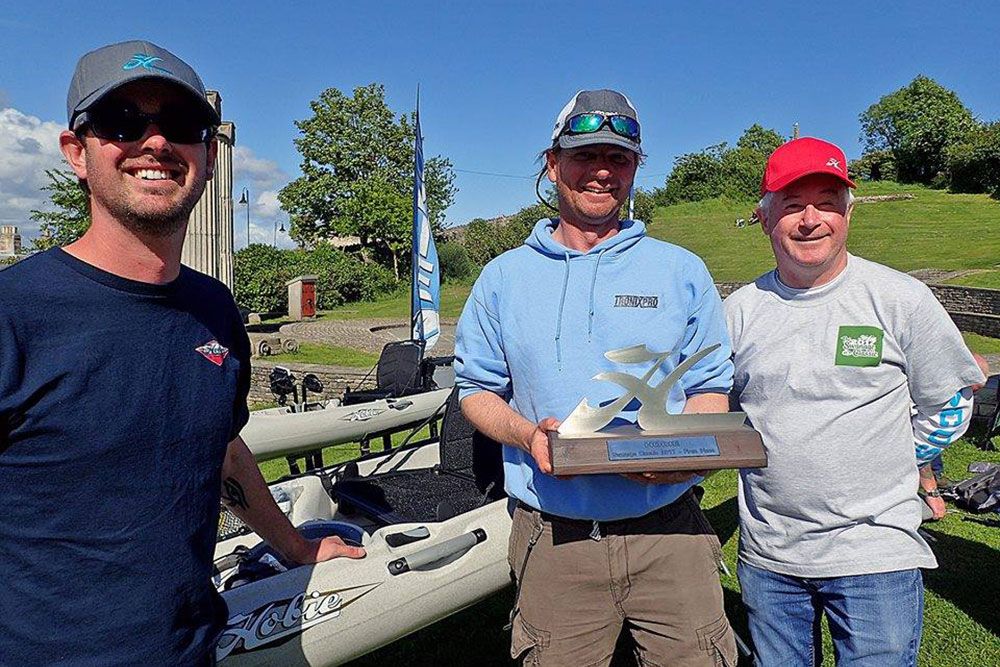 Species caught so far
Conger Eel, Whiting, Thornback Ray, Lesser Spotted Dogfish, Cod, Five Bearded Rockling, Flounder, Dab, Coalfish, Plaice, Shanny, Corkwing Wrasse, Ballan Wrasse, Black Goby, Small Eyed Ray, Black Bream, Smooth hound, Spotted Ray, Undulate Ray, Pollock, Goldsinney Wrasse, Pouting, Rock Cook Wrasse, Baillons Wrasse, Tompot Blenny, Bull Huss, Eel, Bass, Garfish, Cuckoo Wrasse, Poor Cod, Rock Goby.