George Cunningham looks back at a recent trip out of Littlehampton where bait fishing for black bream morphed into a micro jigging species session
The best-laid plans can often be subject to change. When we booked local Littlehampton based Spirit of Arun skipped by Martin Donald, our initial intention was to bait fish for black bream on the rocks. Once we'd had our fill of bream, we could then try for something else such as rays, bass, smoothhound or tope. However, the day ended up taking a different route.
The day would be a welcome relief after a few busy months working our trade shows and packing orders in our warehouse to fulfil those orders. Most of our HTO guys fish, and it was fantastic to get out of the office and onto the water.
We arrived at Littlehampton Marina for a crisp 6:30 AM start. A sunny morning graced with light winds that would set us up for a fantastic day relaxing on calm waters with rod bending action.
Bream Time
Some of the best bream fishing off Littlehampton can be found on local inshore marks, so once we had left the marina, it was little more than a half an hour steam to the mark. With the anchor down, we were fishing by 7.
I fished with a one-up, one-down rig, which I built using the new Tronixpro Chinu hooks (which will be in stores soon). Chinu is Japanese for bream. They're made from thick, forged high carbon steel, making them strong and perfect for fishing amongst the rough stuff. This construction allows you to drop down the size of the hook you use, knowing that the strength is there to land a hard-fighting fish.
The fishing was frantic, with all of us into bream as soon as we'd lowered our rigs. It was a fish a drop with bream ranging from around half a pound to a pound and a half.
Get Your Metals Out
After an awesome couple of hours catching bream a drop, I decided to do something else. If you've read any of our previous blogs on Martin or follow him on social media, you know his boat is set up for out-and-out lure fishing, and it would be ludicrous to grace his boat and not have a crack on the lures!
As chance would have it, I had a new rod sample that the HTO team had been working on for a few months that I wanted to test. I attached an HTO Flip Flop and lowered it to the seabed to see if there was anything else other than bream about. My thoughts were mackerel, garfish, bass, wrasse – anything that wasn't a bream!
First drop, and I let the Flip Flop flutter to the bottom. I started working it slowly, and it wasn't long before an aggressive take near the bottom had my rod hooped over. Could it be a wrasse? Amazingly, it wasn't. It was another black bream and the biggest of the day so far!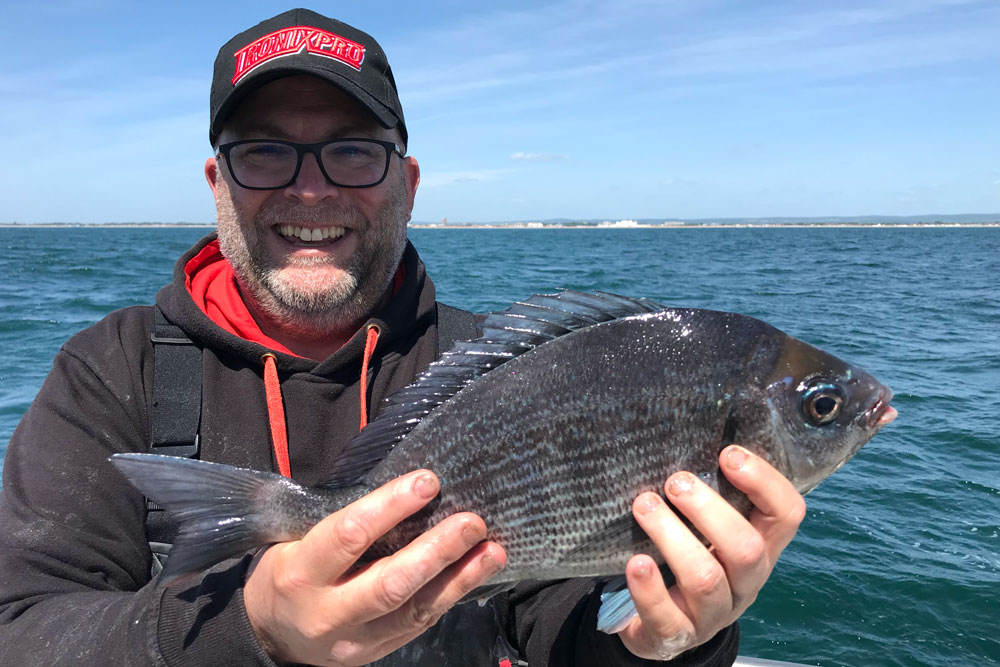 Fishing with us was one of our HTO consultants, Adam Kirby, who has worked hard with Dan Sissons over the past few seasons, perfecting methods of catching black bream on lures. They had been successful with soft plastics (something we would try later in the day) but catching one on a metal was unusual.
As is often be the way, when one angler has success on a method, the whole boat takes notice, and it wasn't long before the rest of the crew grabbed their nearest lure rod.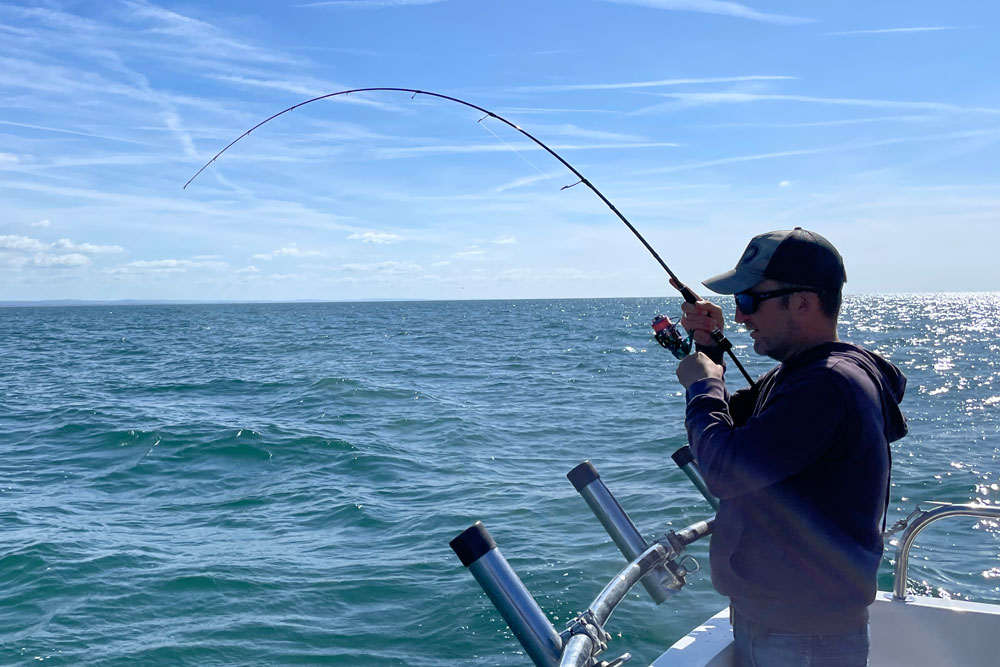 Martin has a range of HTO Nebula SP rods on the boat, and while these are slightly heavy for the type of fishing we were doing, they did the job well for the other guys. Matt from Prime Angling in Worthing was also fishing with us and had an HTO Nebula Light Gamer 3-15g rod with him, which was perfect for working the lighter lures and extracting plenty of fun from the fish we were targeting. The reels ranged from 2000 up to 4000 size and were loaded with HTO Nebula X8 braid and Nebula FC leaders. The best lures were from our HTO Metals range, including Flip Flops, Tic Tacs and Yo Yos in weights ranging between 10 and 40g.
With everybody on the lure rods, it was a steady stream of fish for all. Not only black bream, but we were also catching a myriad of species, including mackerel, pollack, bass, ballan, cuckoo and goldsinny wrasse.
Micro Jigging
For some time, I've been closely following a technique that is growing rapidly in Japan and South East Asia, Micro Jigging. We've been playing with some HTO rod samples for the last couple of years, and I have to say, it is an incredible way to fish on inshore reefs, wrecks and rough ground. The best way to describe it is like the LRF of the boat fishing world.
It requires a rod of around seven feet with a nice, progressive action for working jigs and a vertical rating of up to 40g. Coupled to this is a 2000/3000 sized reel loaded with 16lb braid, a fluorocarbon leader and a metal jig, either fast or slow and up to 40g in weight. This is open for interpretation by some anglers. A quick search on Google for micro jigging will come up with several answers on the maximum weight of lure for micro jigging, with articles going up to 160g. However, from our point of view, for fishing in the UK and the knowledge we've gained over the past two years of researching and testing kit, we think 40g is the sweet spot. It works amazingly well for our inshore species.
We ended up fishing with the Micro Jigging outfits for the rest of the day. Skipper Martin was producing the goods as always, a tireless skipper that does everything he can to ensure his crew are put on fish. Martin keeps a keen eye out for working birds and is not shy of moving when the need arises. His ability to set up the boat drift with precision and perfection time and time again is an impressive sight to see.
As was the theme of the day, a steady flow of fish kept coming over the gunwales, all on the micro jigging outfits that the rest of the lads couldn't put down. Rods were bent double, and we were catching a wide variety of species. Everybody had smiles – exactly what fishing is all about. We can often be accused as anglers of taking things too seriously. In reality, all we need to do is get out, catch lots of fish and have fun doing so with well-balanced tackle. This is what fishing is all about for me.
With eight species recorded during the session, it had been a successful trip. Matt bagged the biggest fish of the day, a cracker of a black bream that was close to 3lbs. I'll be honest, we guessed this, we were all too busy catching fish to weigh it!
A short steam back to Littlehampton saw us soon frequenting the Littlehampton Marina bar for a nice cold beer to round off the day. For me, that was the perfect day fishing with the perfect end.
We thank Martin, skipper of Spirit of Arun, who, as a hard and focused bass lure enthusiast, had his head turned a little by our success with micro jigging. Martin is now booked for the rest of the year, but I recommend you get yourself a micro jigging trip booked with him when his diary opens again for 2023! You can find Martin on Facebook and Instagram.
As for our Micro Jigging products, we'll be bringing out a dedicated range of Micro Jigging tackle for 2023. The rest of the HTO team and I firmly believe it is a viable technique for our waters, and we aim to provide the tackle to ensure you can enjoy this technique as much as we have.