Mark Radcliffe continues his kayak species hunting diary, a year round adventure to catch as many species as he possibly can from his 'yak.
Once again lack of time and weather have gotten in the way of the best laid kayak species hunting plans, so I still haven't managed my trip to the South West coast looking for herring, but with Spring in the air there are plenty of new opportunities opening up as the summer species start to arrive.
I've had a few freshwater commitments this month so only managed a couple of saltwater launches but they have been productive.
My first launch was back up in Grimsby when visiting the family. It's still a funny time of year for the River Humber so I was launching more in hope than expectation. The idea was to paddle out to the Hale Sand fort on the South side of the River Mouth and try for an early bass. I've had great success here fishing a variety of methods including float fishing with the Tronixpro 12g float kit. Trotting a float fished ragworm alongside the fort structures in the summer is a fantastic way to fish but is more of a summer tactic. Today saw a single ragworm ledgered on a 6ft trace with a size 2 Tronixpro Aberdeen hook being fished on one rod. On the other rod, the HTO Rockfish Revolution I was fishing my usual scratching rig with size 8 sabpolo wormer hook baited with small pieces of ragworm.
The bites were constant on the smaller baits with a succession of small whiting and codling coming to the yak, but in amongst them were half a dozen coalfish and around ten decent dabs so two more species for this years hunt.
Interestingly whilst these fish were more than capable of dealing with the whole ragworm bait, no fish came to that rod, they all went for the tiny baits on the small hooks. It just goes to show that having different sized baits can drastically affect your catch.
The end of March sees one of the highlights of my year, the annual Plaice Chase in Poole where around 40 kayak anglers get together for a friendly competition raising funds for Heroes on the Water.
Plaice fishing is one of my favourite styles of fishing, and one I don't do often enough. Everyone I know has their own favourite plaice rig, with their own choice of bling and beads that they swear is the only one that will work. I on the other hand always seem to be changing what I do as I come up with another bright idea that may or may not work.
The Poole event is different every year, depending on the wind strength, tide and conditions what works always seems to change. One year you need to be drifting, the next all the fish will be caught at anchor. Trying to plan in advance is almost impossible, you just have to be covered for every option.
I decided to set up two rods, one aimed at fishing at anchor and the other for drifting. On the first rod, which would be used at anchor I opted for a Tronixpro Boatpro Beaded Spreader boom. Each hooklength was around 1ft in length and had a selection of Tronixpro black and green beads with a Tronixpro size 2 aberdeen hook attached. This would be baited with ragworm, tipped with a slither of squid. I like to use this rig with a fairly heavy weight and fish it straight down on a tight line beneath the yak. As the yak lifts and drops with the swell of waves it lifts the weight and drops in back on the sand creating disturbance and I am sure this draws inquisitive plaice in to find the bait.
The second rod would have a light running ledger rig to drift over the banks. My main line is passed through a light bullet lead and attached to a Tronixpro Super Spinner. Attached to this is a few feet of line with a selection of Tronixpro green and black beads and then a size two Tronixpro Aberdeen hook again baited with rag and a slither of squid.
On the day the conditions were perfect for drifting with the wind and tide pushing me parallel with the coast in around 14ft of water at 0.4 knots. I was soon getting rattles which turned out to be whiting, but they were quickly followed by a more forceful bite. I let out a little line and then struck to feel the unmistakeable weight of a brightly spotted plaice. In the next few hours I added another five plaice as well as dropping a couple as they spat the bait back at me.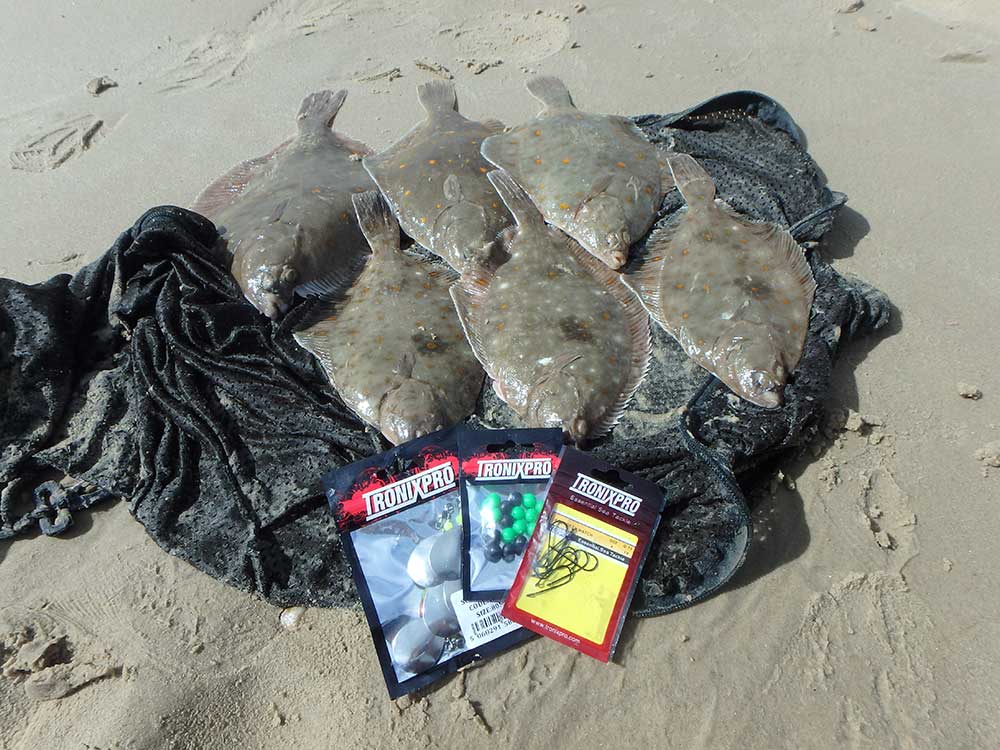 Back on the beach it was soon apparent that despite having one of the more numerous catches, my biggest wasn't going to be enough and I finished in eighth place overall – but that didn't matter, more importantly, I'd won the sweepstake for the most fish amongst my regular fishing buddies.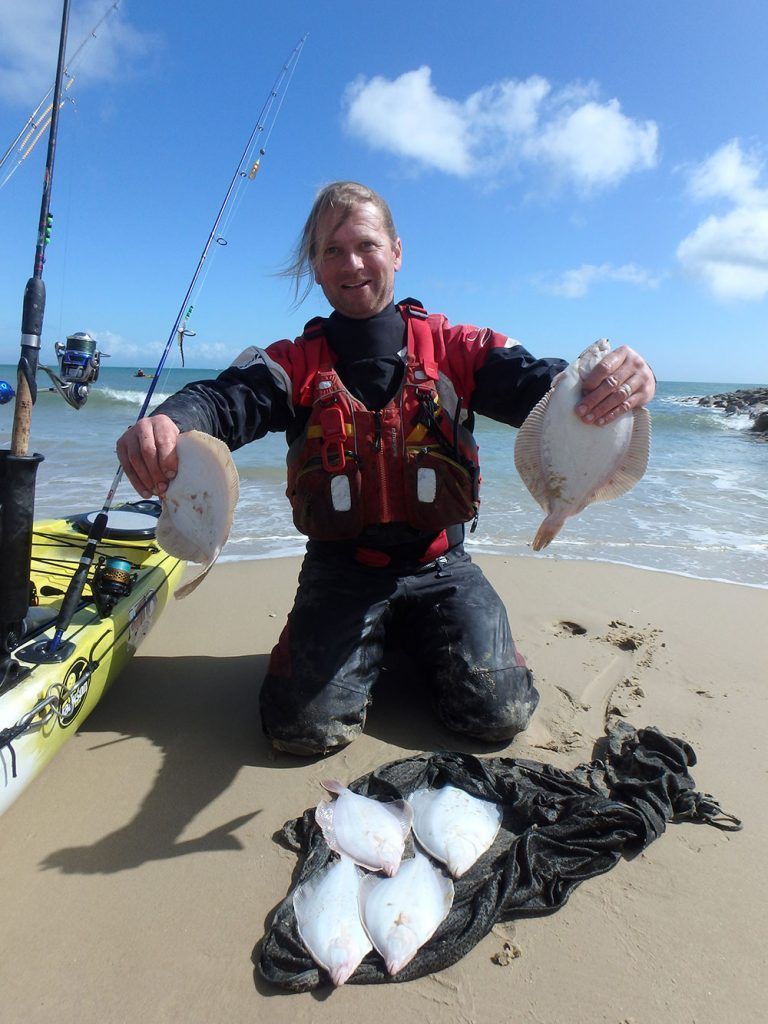 I thought that was going to be it for March, but a few of us decided to stay over that night at Lake Pier. It was only a few minutes before the ultra light gear was broken out and four grown men were getting over excited about catching tiny fish from a wooden jetty. As soon as the first Shanny came up I knew I was going to have to launch the kayak, this is kayak species hunting afterall, and I only count species caught from the yak. A quick paddle of 20 meters to the end of the jetty, and soon enough the HTO Rockfish Revolution, with size ten Sabpolo Wormer hooks was doing the business, shanny, black goby, tiny corkwing wrasse and the most stunningly green ballan wrasse were soon on board adding another four species to the yearly total.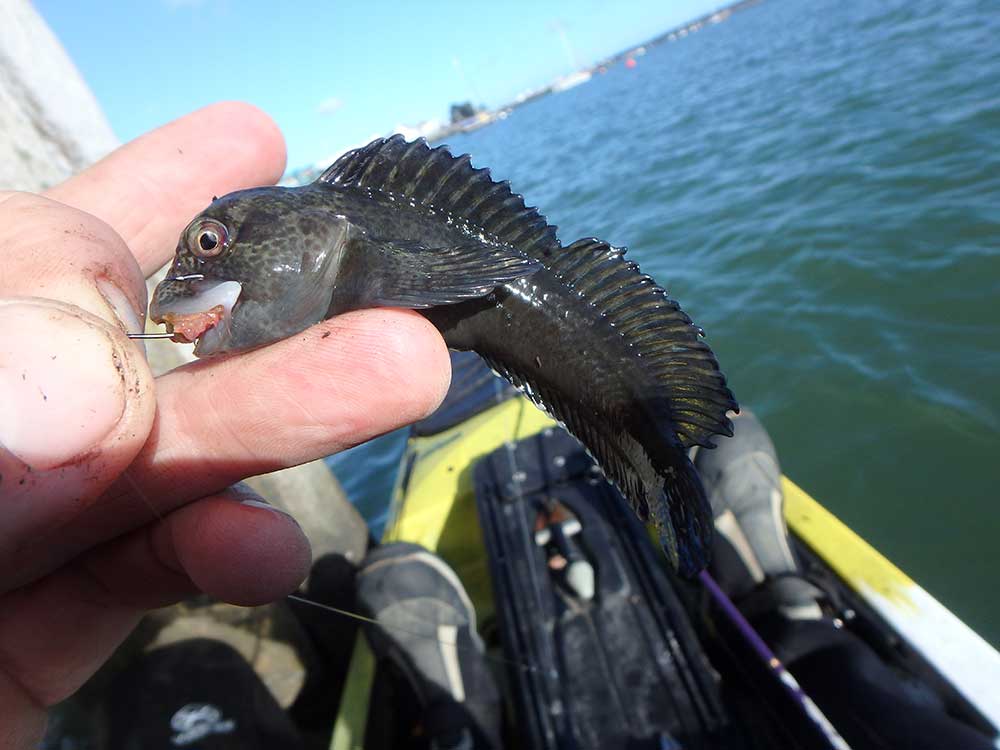 It's always a great feeling taking advantage of these short unexpected opportunities and adding a species or two to the total.
So at the end of March having struggled to get many launches in my kayak species hunting search, I'm now on 14 species:
Conger
Whiting
Dogfish
Thornback Ray
Codling
5 Bearded Rockling
Flounder
Dab
Coalfish
Plaice
Shanny
Black Goby
Corkwing Wrasse
Ballan Wrasse
April should see me getting to grips with a few more ray species as well as bream and smoothies in between a trip kayak fishing in Norway looking for Halibut.