Tronix Prostaff member Jake Schogler gives the brand new HTO Artic Eel a working out on the east coast of Scotland with great results!
Summer is slowly starting to kick in up here on the East coast of Scotland. It has been hard to get out to some of my favourite east coast rock marks, due to the strong North East winds. However a couple of weeks ago conditions suddenly came good, so I hastily arranged to hit the rocks with my fishing buddy Ritchie Bewsey.
We were both armed with LRF and HRF gear, this gave us the best options to target any of the fish that lurk amongst the kelp forests. In previous years around early summer we had been catching some good Pollack and codling, and with the wrasse due to return inshore we were full of hope.
After a bit of a yomp and a scramble over the rocks we were at our mark. First order of the day was to search around with the LRF gear. I rigged my Hart Absolut Rock and Street rod with a weedless dropshot rig.  I love this set up for searching amongst the kelp and although the rod only has a casting range of 1-7g it has plenty of power down the blank to bully good fish out of the snag zone.
The ground we fish does tend to be very rough, boulders, rocks and deep kelp, not normally the place where you would turn to LRF tackle. However it has proved to be one of the most effective ways of winkling the wrasse out from their layers. My mainline is YGK X8 Upgrade in PE0.6 and is strong enough to horse a fish out the kelp, whilst still being fine enough to work tiny 1g jigs. Coupled with an 8lb leader, a #8 slim offset worm hook and a 7gram HTO Dropshot weight rigged with Gulp sandworm and I was ready to go.
I began by casting and retrieving the rig with short hops over the sea bed and through the weed. This soon had small coalfish grabbing it and then madly dashing about. I caught a handful before switching my attention to the sandy patches between the kelp. Ritchie was also using a dropshot rig and had claimed a couple of nice flatties on it. I quickly joined him with a nice flounder which did its best to get under the ledge I was standing on. I released the fish hoping to try and get another flattie but the coalfish had moved in and nothing else could get a look in!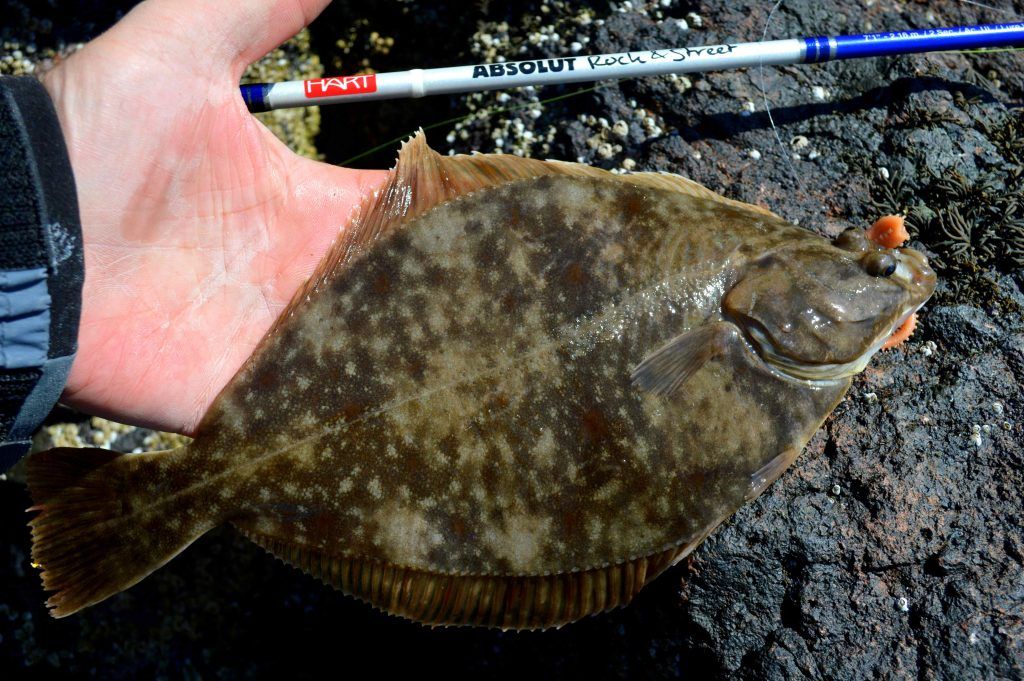 After catching a few more coalies I then decided to switch over to my HRF gear. This consists of a HTO Lure Game 8'6" 8- 35g Rod, Cinnetic Crafty CRB4 3500 reel, PE0.2 braid and a 16lb Fluorocarbon leader.
Lure wise I went with a Hart Bony 18g Jig, this metal casts like a missile and would help me to cover more water. The jig has a great action; with a straight retrieve it has a good wiggle, which is great for working the surface areas. Working the top of the water column saw a whole lot of nothing going on so I let it sink deep on a tight line. As the lure fluttered down I could feel fish bumping it. A couple of quick jigs back up and it was seized by a half decent coalie. I quickly played the fish in and when it was about 20 yards from shore I felt a heavy bang on the rod. The fish had been grabbed by something on its way in! Whatever it was let go of the coalie pretty sharpish, leaving him with a bit of a grazed flank. I released the fish and recast the Bony Jig again it resulted in 2 or 3 smaller coalies. I was considering swapping lures when I was hit by a better Pollack around 3lb, which I bullied quickly in. The Lure Game rod made short work of the fight cushioning its lunges for the Kelp on a tight drag. After a couple of photos the fish was slipped back and I decide to swap lures.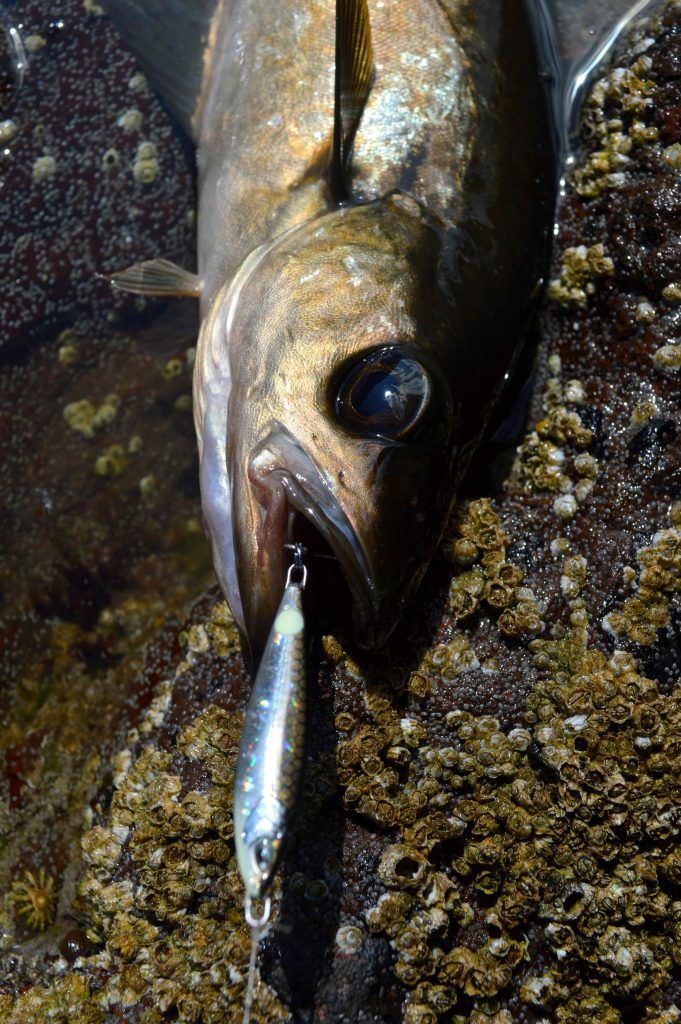 Ritchie meanwhile had seen my Pollack and coalie hits and also changed up his lure. Diving into my tacklebox he selected a 15cm Hart Absolut shad with a pearl belly and green back. I have had good success with these shads for pike and perch, but had not got round to trying them in the sea and I was watching Ritchie keenly to see what would happen. After 2 or 3 casts I saw his rod hooped over into a fish, I was surprised at how quickly it took a fish! I shouldn't have been though, as the shads have a great action as well as a rattle in the tail and the Pollack were obviously taking small coalies.
Now normally when I am searching these marks I reach straight for a soft stick bait. Stick baits have always worked for me and accounted for many good fish. However I reached instead for the new HTO Artic Eel reasoning that if Ritchie's paddle tail approach was working so well, then I should give it a go too.
I have always been a sucker for Green back silver belly lures so I went with the Aji colour. It also has lots of silver flake in the belly too and really does give a scuffed scale look to the lure, as well as giving extra belly flash. Combined with a rattle and a big thumping paddle it was sure to create an impact!
I decided to go big and rigged up the 20g 130mm shore version.  I worked the lure by casting out and letting it sink on a tight line, the lure works very well on the drop, its big paddle thumping away as it falls. I let it sink into the kelp, being weedless this is not a problem, before twitching it up out the weed and letting it fall back again.
A few casts later I felt a couple of soft plucks at the lure then a sensation of slight weight. I struck into the fish and all hell broke loose. The rod hooped into its fighting curve and a good fish started to strip some line from a tight drag. The rod soaked up the fishes lunges and I kept pumping it up above the kelp. The fish did its best to get back down at least 2 or 3 times before it was beaten.  As the fish rose up through the deep water we could see it was a proper one, its bronze flanks flashing in the sun. Sure enough it was one of the biggest Pollack we had seen this year and unusually for me on a paddle tail too!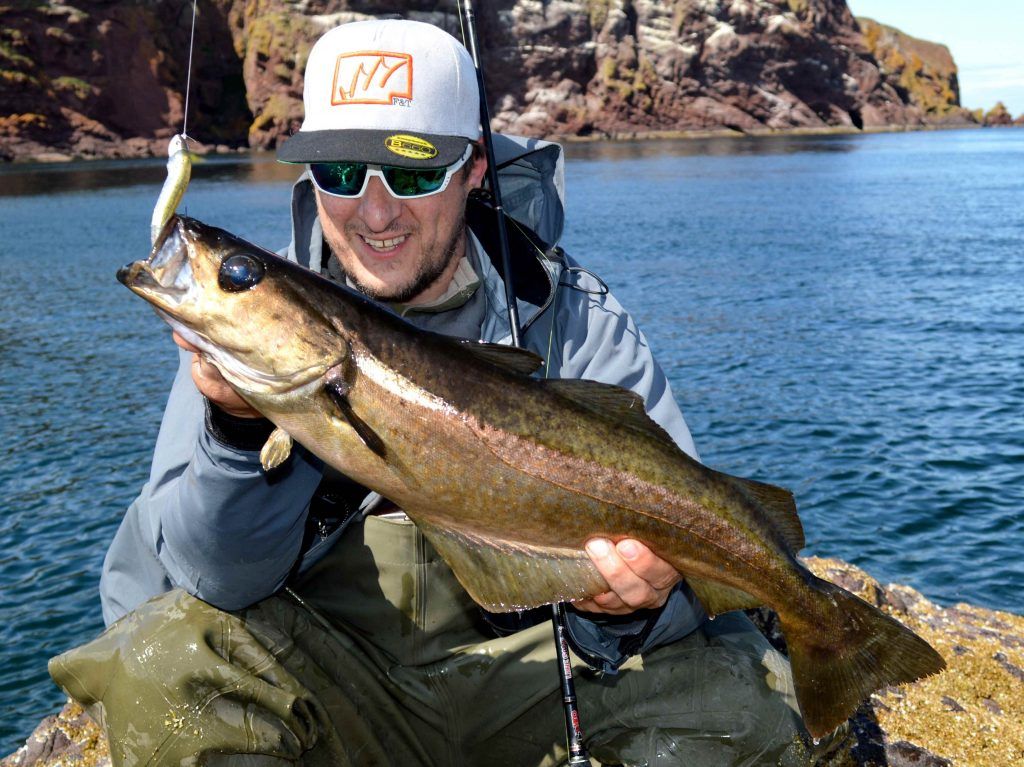 I was feeling very pleased, the new lure was working brilliantly and no matter how many times I worked it through the kelp it didn't get snagged up.
After helping me photograph the fish Ritchie then changed lures to a Hart Absolut Eel, with almost instant results! Another good Pollack graced the net, it was turning into a bit of a red letter day!
With a new found confidence in the HTO Artic Eel, I began to work the lure over the broken ground, hopping it back across the sea bed. Pretty soon I had a thumping bite and the fish bored down trying to get in amongst the rough stuff. As I played the fish back I could feel it shaking its head almost like it was nodding. Generally this signifies one fish in particular and as it rose up in a burst of Fluro orange I was pleased to see a nice kelp cod. Kelpies are just a spectacular coloured fish and this was no exception, vividly orange and fin perfect, such a great fish to catch on lure gear!
With the 2 best fish falling to the Artic Eel I can honestly say I have changed my opinion of paddle tails! This most excellent lure will now be first out the box when it comes to targeting the denizens of the kelp forests .With the season only just starting who knows what other beasts will fall prey to its deadly charms. I can't wait to find out!