Gem Stapleton and Stuart Jones look back at their recent shore fishing adventures searching for big halibut in Norway.
Brand Ambassadors Gem Stapleton and Stuart Jones recently ventured to Norway searching for the mighty halibut. Travelling in a group of 11 experienced anglers, they knew their chances were high of seeing a few of these magnificent flatfish grace the stunning Norwegian shoreline. Check out the accompanying blog that covers the logistics of arranging your own fishing holiday to this truly special place. Here, Gem and Stuart take over the story of how their week in Norway played out.
Planning our Trip
The excitement was tangible as Stuart set up the WhatsApp group chat for the trip. Plans forming, dates being put in place, flights selected, accommodation and vehicles booked. Whist in some ways, these were the mundane aspects of preparing for our trip, having those flights booked made the dream real: we were heading to Norway! The land of stunning landscapes and fish-filled seas that, once experienced, can never be forgotten. Go, and the chances are you'll be hooked for life!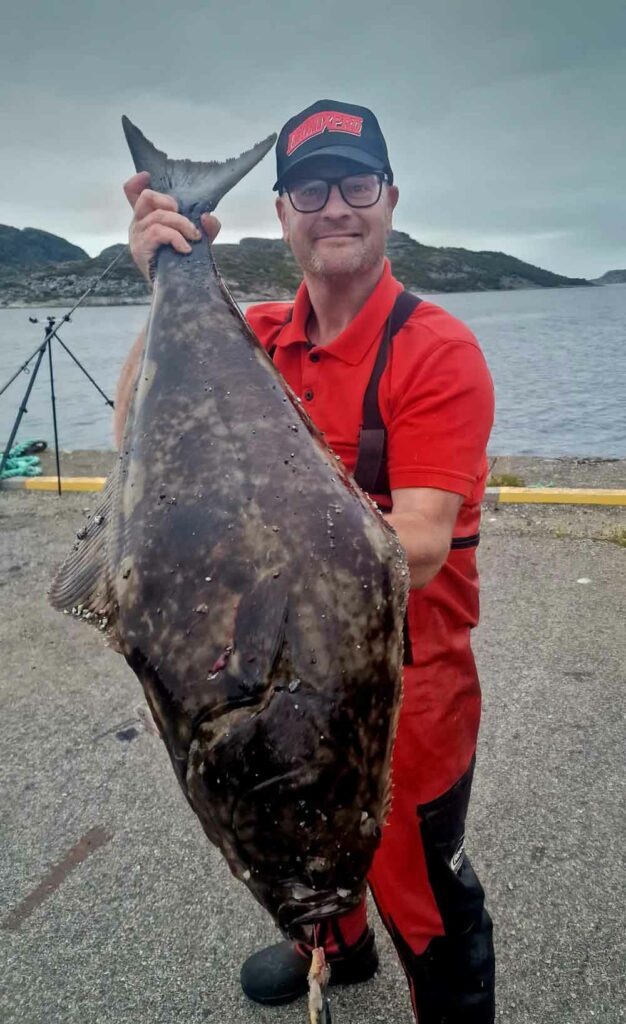 We starting planning this trip in March 2023, six months before we were due to travel. As the time passed between the initial idea of hitting Norway and our departure, chat on the WhatsApp group intensified. What bait should we all take? How could we secure enough for our party of 11? Between us, we wanted about 300 fresh blacks, 18lb of dug king rag, and what felt like an enormous quantity of frozen joey mackerel, which would be our primary halibut baits. One of our party, Steve Jones, coordinated the purchase of some high-quality ragworm, Gem arranged to collect freshly pumped lug from Becky Lee, and Wayne Hand drove to Riot Baits to collect 65 packs of outstanding joey mackerel. Many of the group also took along frozen worm and prawns.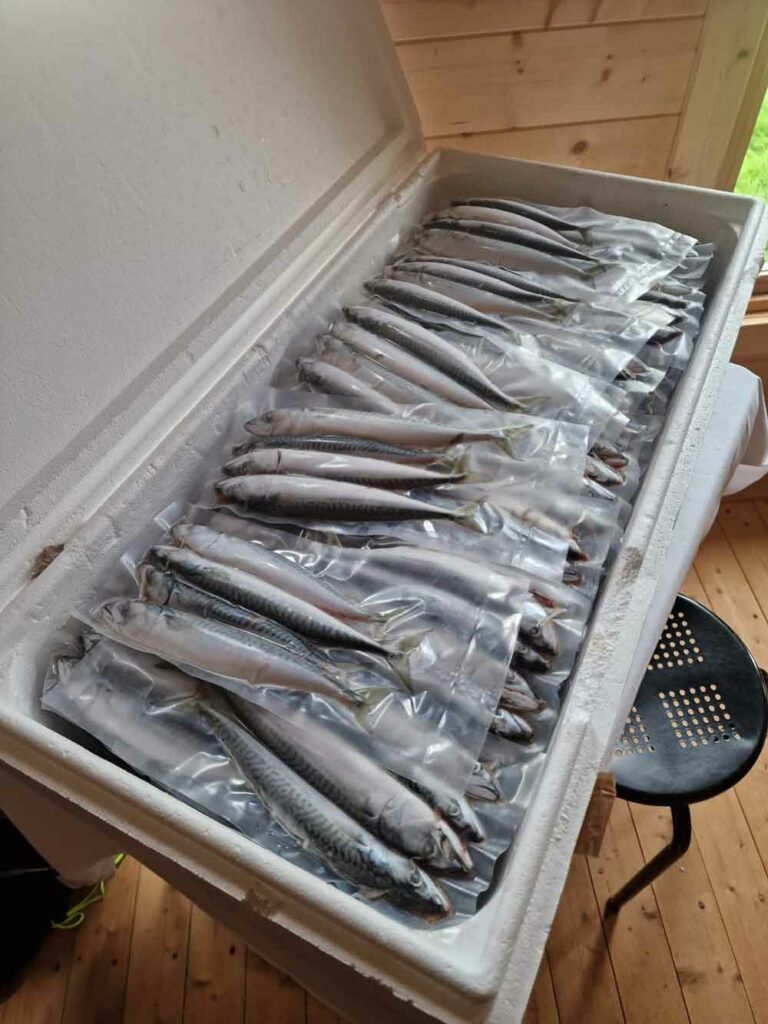 With our bait collected, it was time for us all to meet at Gatwick and fly to Trondheim. You could feel the excitement in the air as the bait was shared out, before being carefully packed in cool bags and poly boxes to keep it in tip-top condition whilst in the plane's hold. With our bags and rods checked in, we all cleared security, and it wasn't long before we headed to the gate for boarding. Surprisingly, the gate staff called out six of our party's names and started asking what we had in our luggage. Uh oh, what was going on here.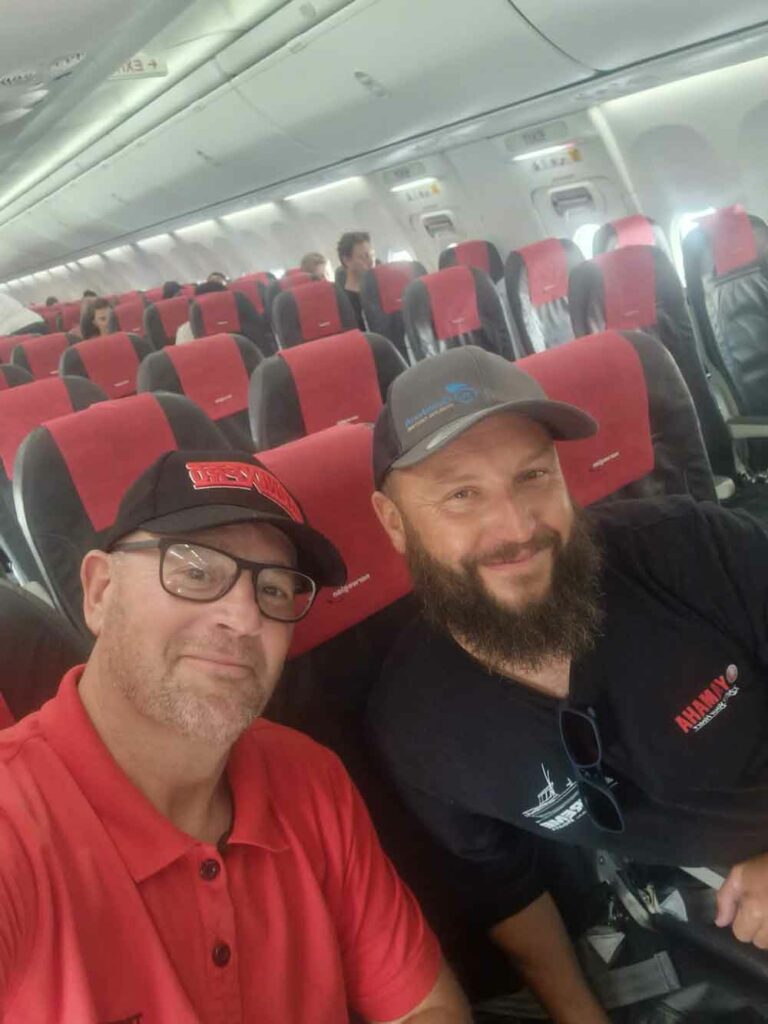 To cut a stressful, long story short, the baggage handlers had sent our rod tubes through the wrong scanner. We had to literally run around the airport so that the rods could be security-checked before being allowed on the flight! This caused a one-hour delay, and we got a few looks as the six of us eventually boarded the plane, with the assurance that our rods would be on the flight too. Phew! We were on our way, with rich Norwegian fishing grounds within our reach.
Targets and Tactics
The main target species was halibut, although most of us would be fishing mixed-methods to keep a steady flow of fish gracing the shore. For the buts, we used the famous rattle rigs: a long (5ft minimum) running rig with a strong rig body and snood line. Most anglers used 75lb+ line for the rig body and the snood. At the business end, the main weapon of choice was a pennel set-up together with pop-up foam containing a rattle bead. Tronixpro Xenon 75lb line is ideal for the rig body and snood, 6/0 or 8/0 Big Dog II hooks are great for the bottom hook, and a 4/0 or larger T25 Octopus Circle Reversed Hook for the top hook. The pop-up foam gets a rattle bead inserted inside it, and then whipped on to the snood between the two hooks.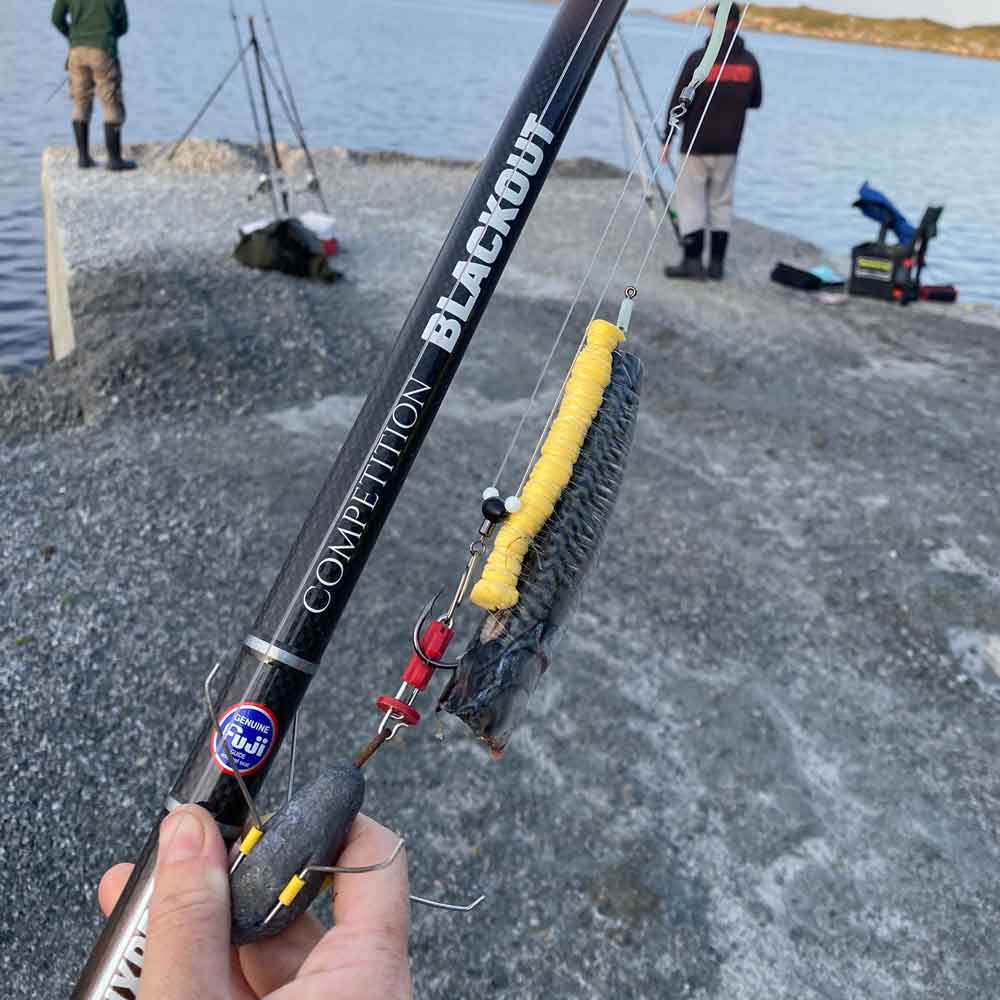 The picture here shows how to mount a frozen solid mackerel bait, with the foam on the outside. If the bait is suitably defrosted or, even better, fresh, cut a slit in the mackerel and push the foam inside. Give the mackerel a good whipping with either medium or heavy Tronixpro Baitex, and you're good to go. The effect of the foam is to make the bait sit up in the water, off the bottom, with the mackerel floating horizontally like a living fish. The theory is that the halibut will swim along the bottom, with their eyes facing upwards, spot the bait above them in the water and hit it with aggression.
For smaller species, our worm, and prawn baits would come in to play. Here, the tactics are much like you'd use in the UK, but with everything scaled up: stronger snoods, bigger hooks, and so forth. We were expecting to catch plaice, dabs, haddock, pollock and maybe some cod, as well as plenty of other species on these baits. We were also armed with an array of soft plastics to use on our Lure Game rods, as well as rigs for targeting mini-species that would keep us entertained whilst waiting for a monster from the deep.
Hitting the Marks
On landing in Trondheim, we collected our luggage – glad to see our rod tubes arriving in the baggage hall – and made our way through passport control and out of the airport to collect our three vans. Off we set on the three-hour drive north, which was to include a small detour to a supermarket to obtain supplies for the week. Being sure we had plenty of food would allow us to maximise our fishing time. Six full days of outstanding fishing awaited us.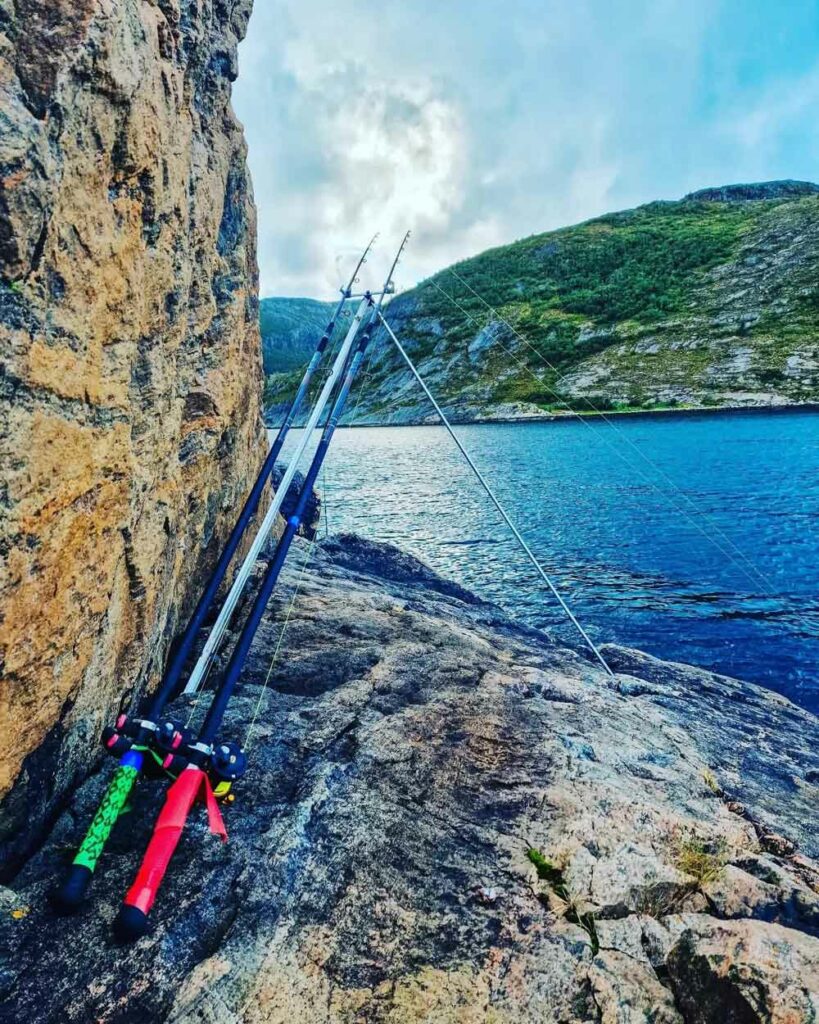 With alarms set for pre-dawn hours, it was time to hit our chosen marks by first light. Six of us eventually decided to head to a small jetty, which would fit three people, with the remaining guys fishing from nearby rocks. Out went the halibut baits on our Competition Nagas, in the hope of making our dreams come true with one of these stunning fish falling to our baits. Gem, who started off on the rocks, also sent out worm baits on her Competition Blackout, a stunning new glass-tipped rod in the Competition range.
What was striking about this mark, and all those we fished, was the astonishing depth of the water within casting range. The black colour of the sea was absolutely a clue about how far down it was to the sea bed. It was like fishing into the abyss! Baits cast 100 yards out took what felt like an age to sink to the bottom. Once the baits had settled nicely, and we had nice bends in our rod tips, we had every confidence that our tactics would lead to hook-ups if fish were in the area.
Into the fish
It wasn't long before our rod tips were bouncing away, with a steady flow of small haddock gracing us with their presence. These were complemented by some lovely pollock, caught by free-lining ragworm or mackerel on a lure rod right down the edge of the jetty from which we were fishing. Those on the rocks were being entertained by wrasse, but so far, nothing big had been landed.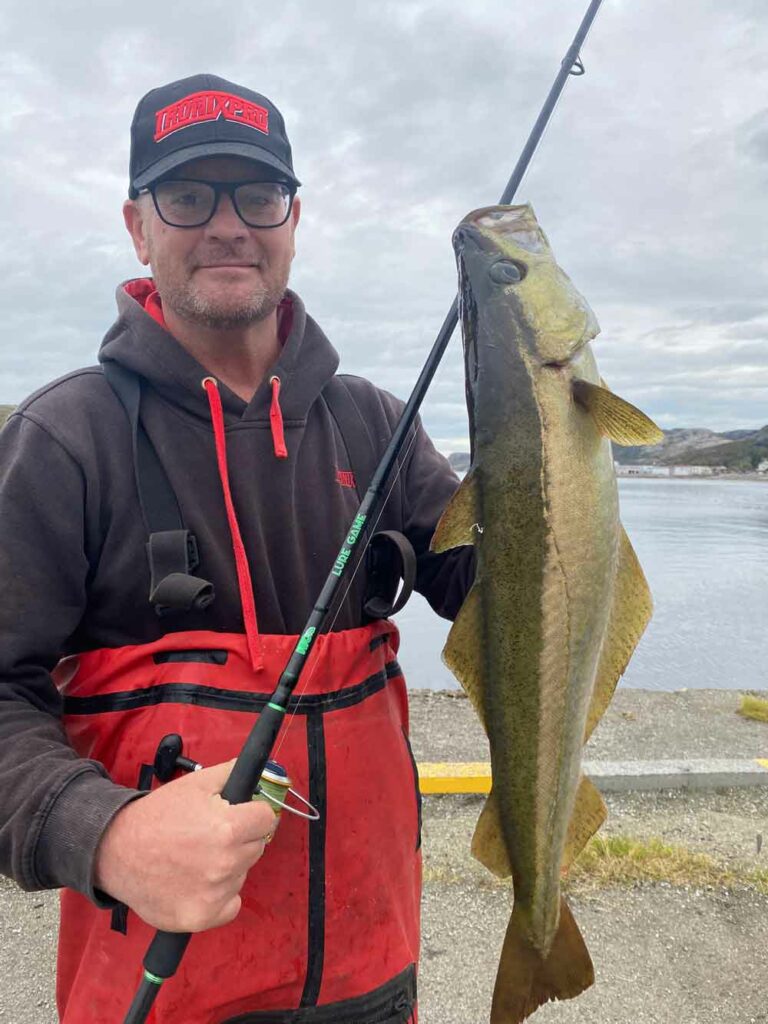 That was all set to change with what turned out to be the fish of the trip falling to Matt Wilcock. His reel screamed as line was stripped off. Waiting for the third hard run before lifting into the fish, Matt began his epic battle with a near 42lb halibut. Later in the day, it was Stuart's turn to be into a halibut, landing one just shy of 20lb.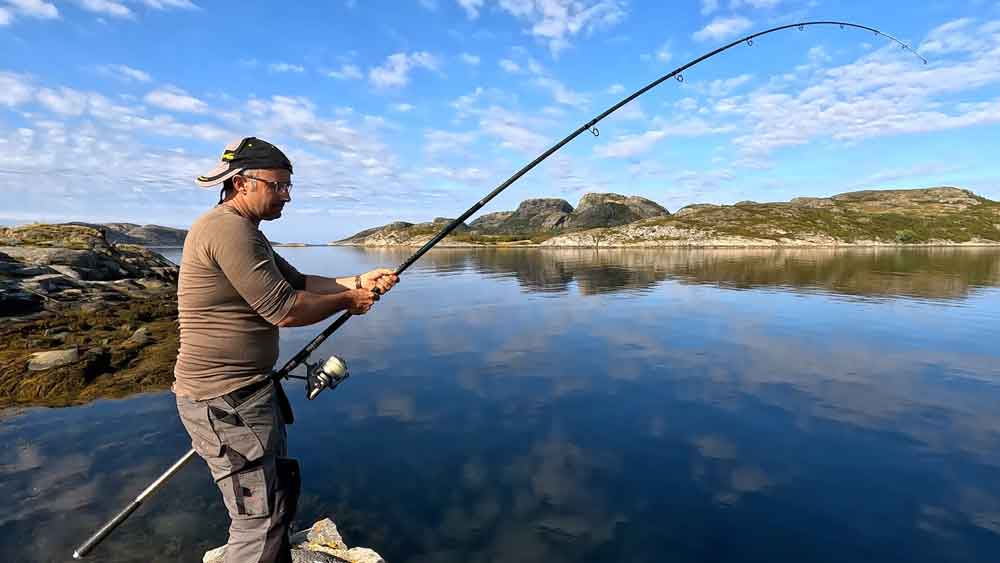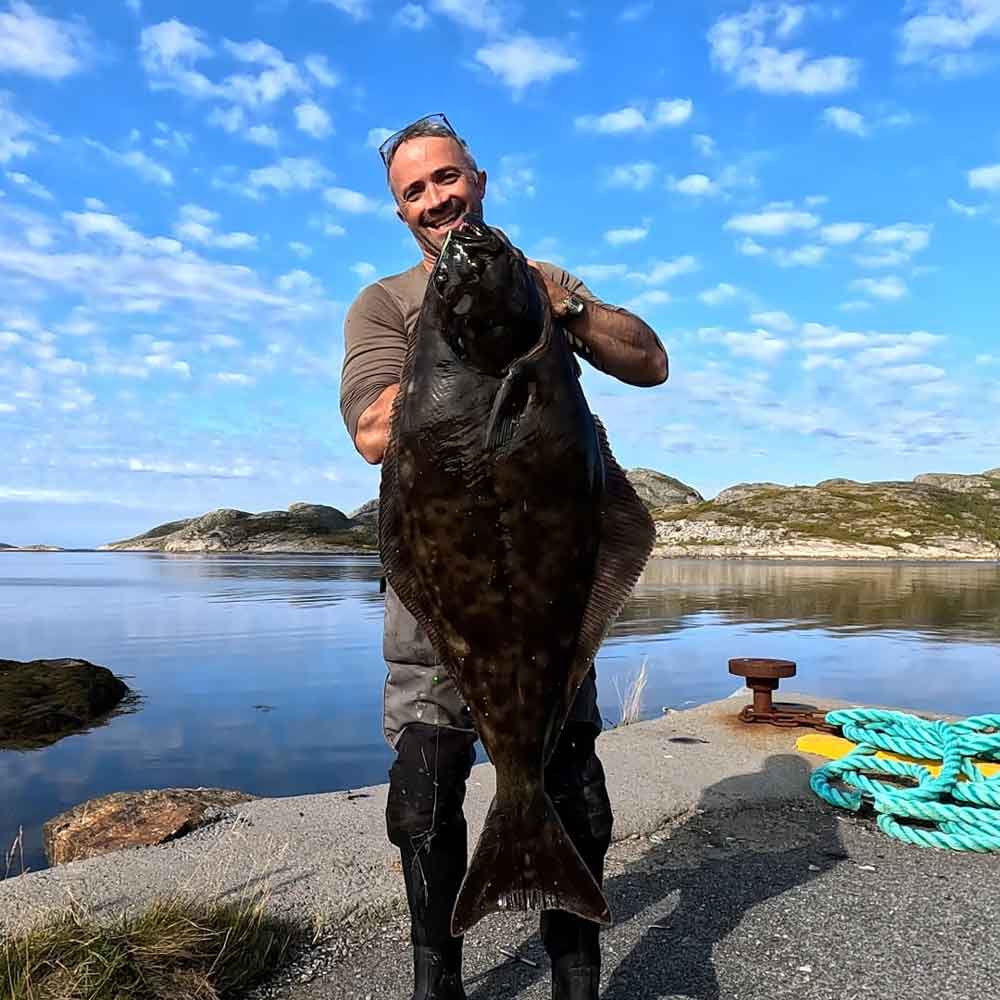 Every day followed much the same pattern: up early, eat, fish, sleep repeat! All of us put in the hours to make the most of our trip, and every day some stunning fish were landed. From small rock cook wrasse to double-figure coalfish and pollock. One of the marks we fished was a tackle graveyard, with a reef close in that you had to look out for on the retrieve. But it produced some outstanding fishing. Steve Billen landed a superb pollock, Stuart hit a coalfish in tip-top condition, and Wayne got in on the pollock action as well. Over the few sessions fished at the tackle graveyard, many decent fish, like those in the photos, fell to our fish baits. This same mark also produced some monster dabs up to 39 cm, falling to rag and lug baits.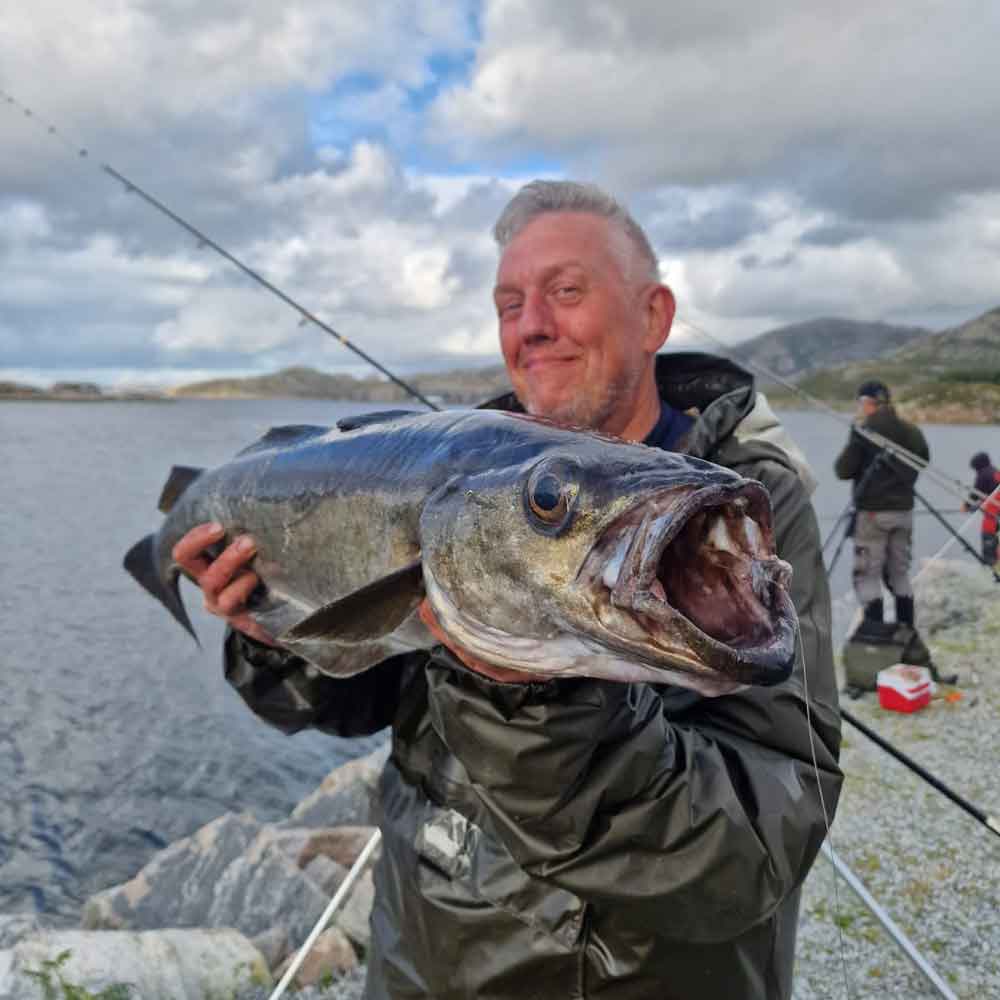 Other venues also produced outstanding fishing, with double-figure cod landed along with many other stunning fish. Between the 11 of us, we must have landed 25 species of fish, if not more. Dave McKervail probably topped the charts, landing an impressive 19 species. Gem managed 15 species, including eight PBs.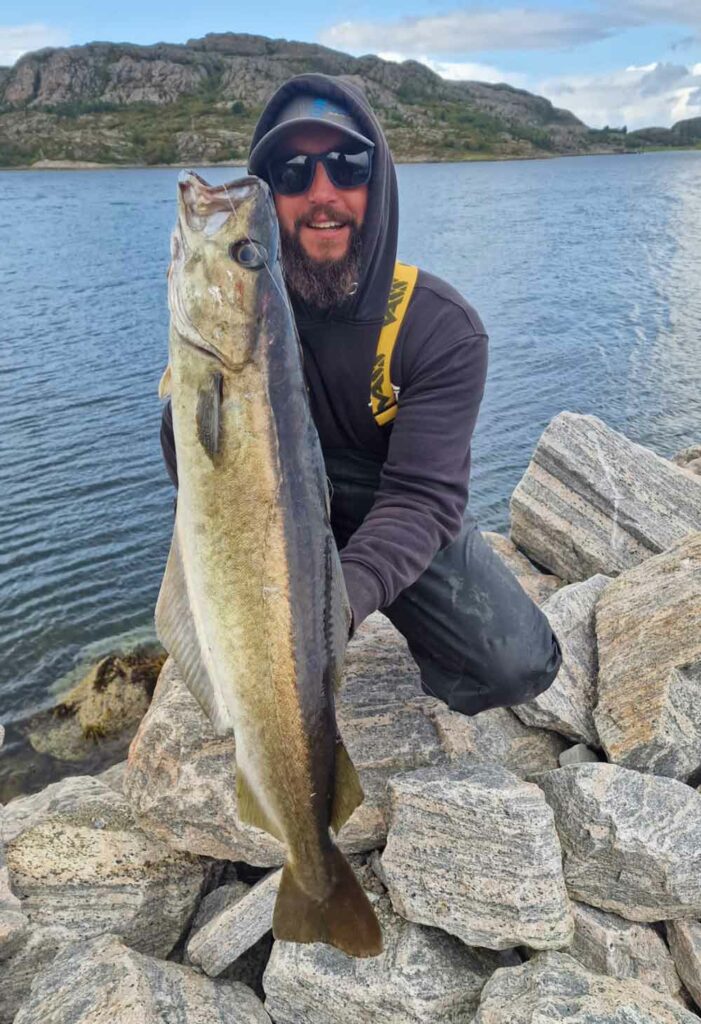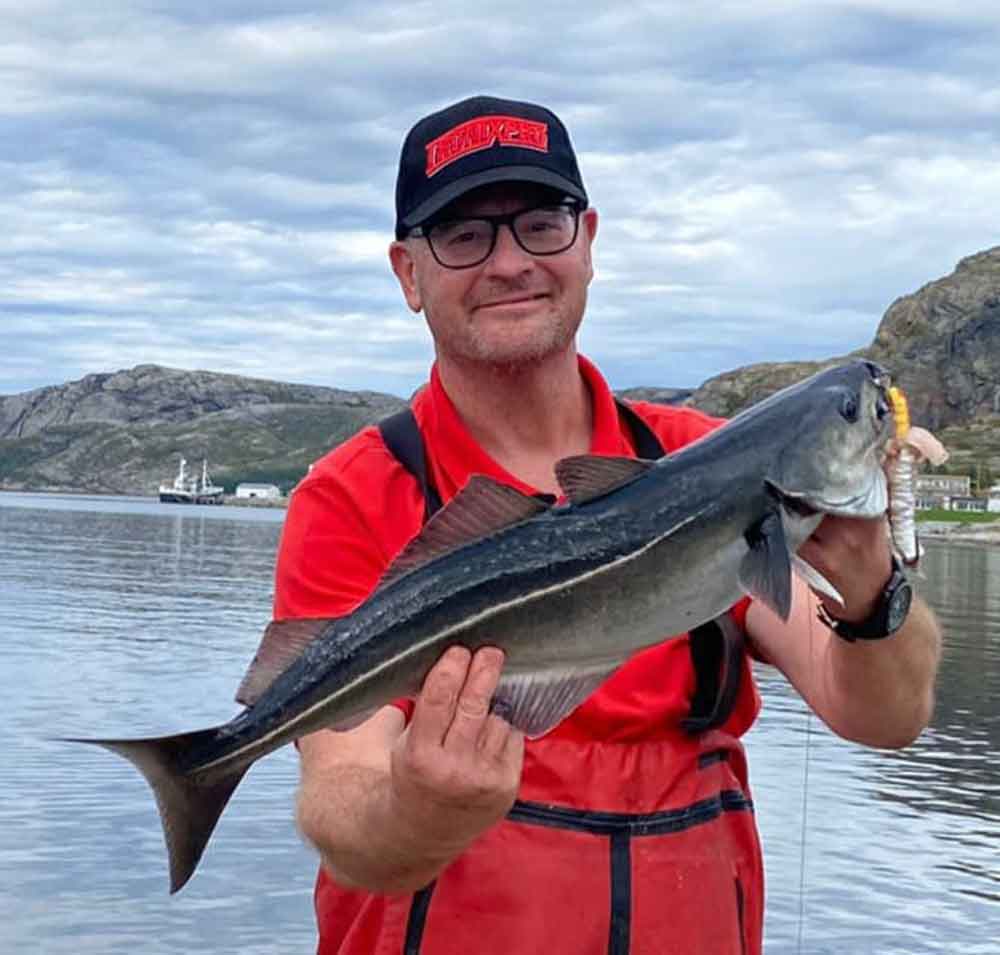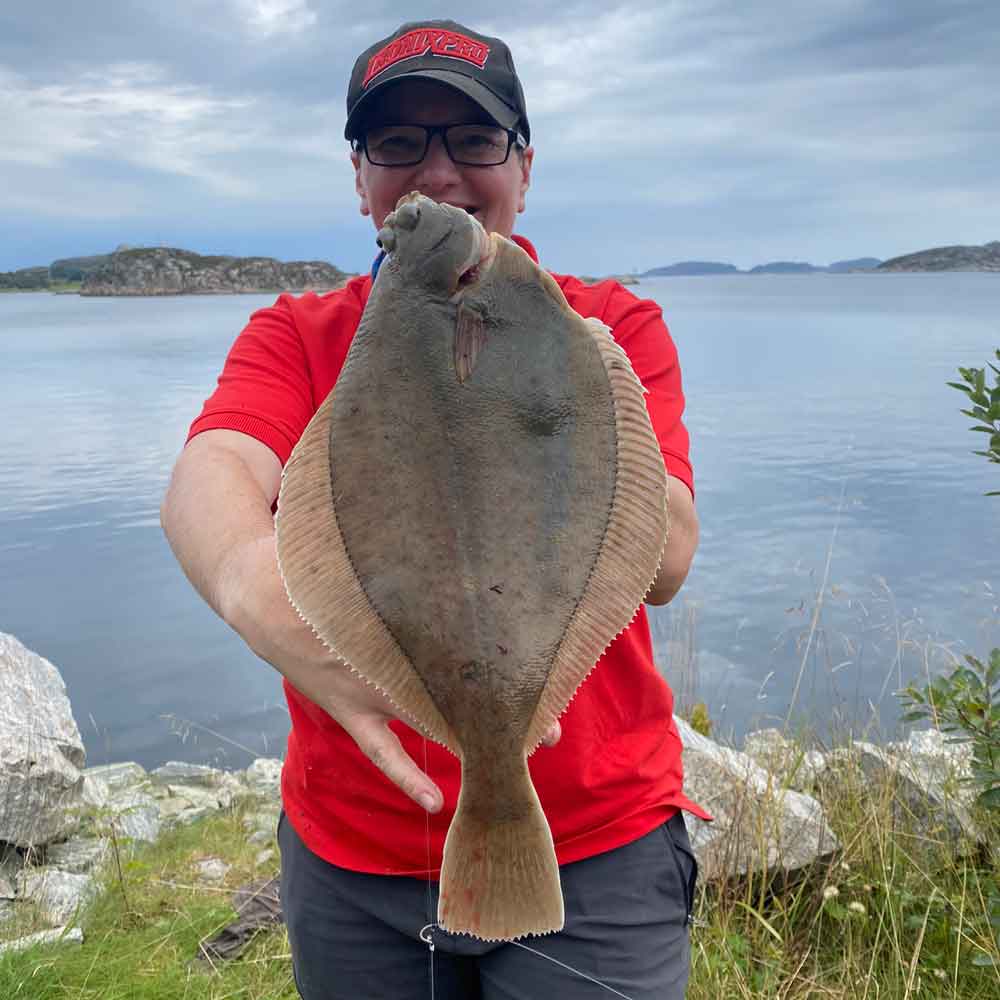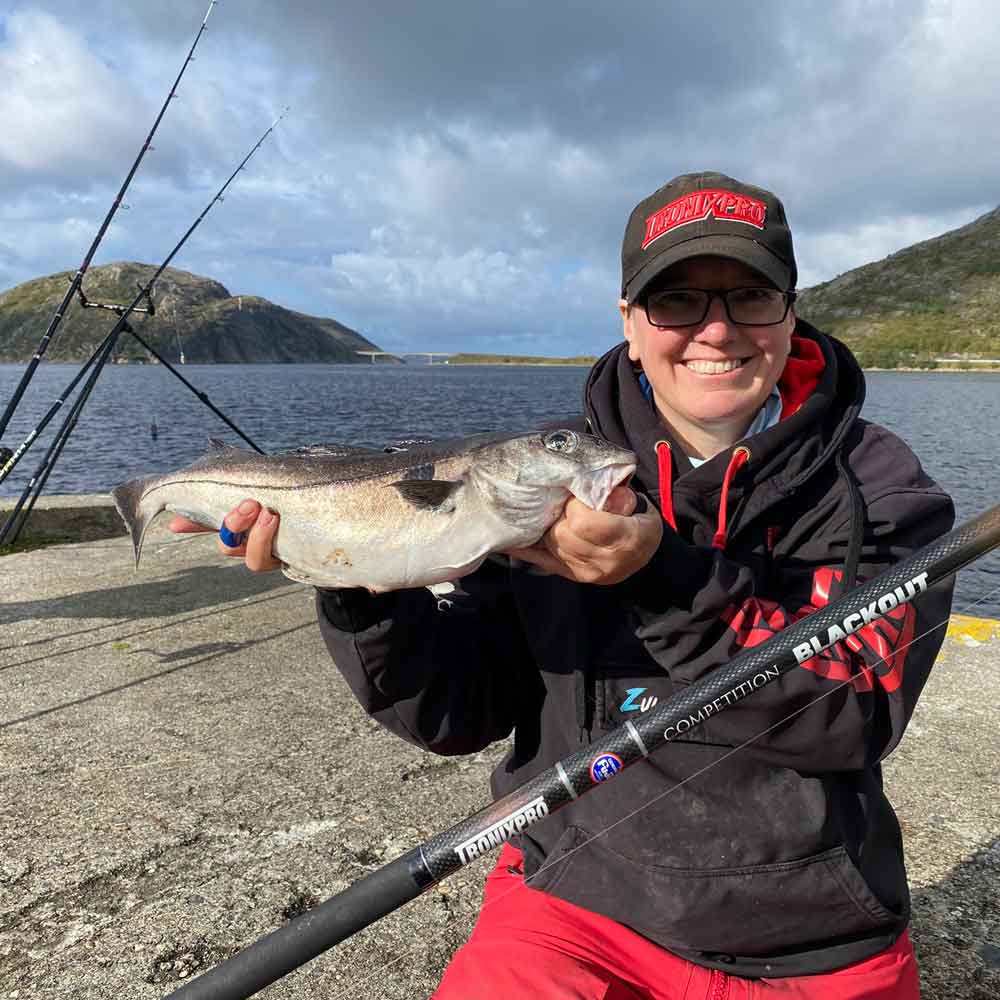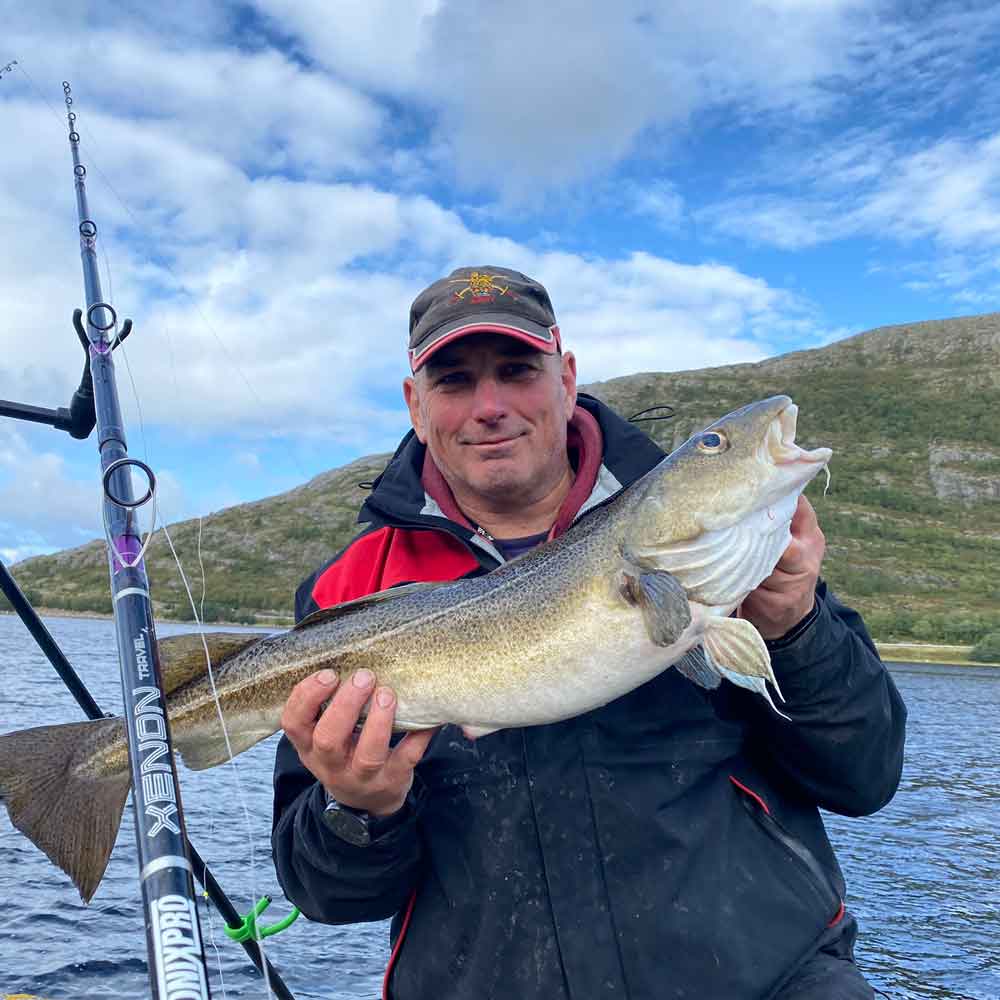 On our last day of fishing, bait was running low. Thankfully, some guys had managed to find a shoal of mackerel when out on the boat the day before, and shared it around, so we all had some fresh to go with the meagre quantity of bait we had left from the UK. We fished down to our last worm, last fillet of mackerel, and last bit of energy. All-in-all, it was an outstanding trip. We'd have liked to land more halibuts – who wouldn't? — but we were so lucky to have great weather, fantastic fishing and be surrounded by friends on our week-long holiday. What more could you want on a Norwegian fishing adventure?