Canal Fishing offers the lure angler an escape route when the rivers are closed, Adam Kirby heads out to his local system to catch anything he can on lures.
Well the freshwater closed season may be upon us, but this just serves as a gentle reminder that some great fishing remains open on our canal system – canal lure fishing can bring you some fantastic sport.
I recently had a nice session on my local system, the Kennet and Avon, fishing the Marlborough & District Angling Association stretch. Day tickets are available online and you can pay by Paypal, meaning a last minute session is easy. As it was this day. Without too much care and attention I grabbed the HTO Hyper Sniper S and a random selection of lure packets across HTO, AquaWave, Hart and Yokozuna. I like this haphazard style of lure fishing. It's the angling equivalent of Ready, Steady, Cook!
On arrival at the canal I could see that the water clarity was far from perfect. On closer inspection I discovered there was only 12 inches of visibility. Every instinct was telling me to go dropshot, but my preferred method is Jighead. I just find it more fun. So against my instincts I opted to tie on a tiny jig head.
There are a few things you can do to improve your luck on the days you're dealt duff water clarity. Colour, is perhaps the obvious decision to make. It's all about contrast. Go light and bright (white, chartreuse, fluro, etc) or go dark. Either will work. Because I fish Jigheads slow, on the bottom, I pay more attention to the lure contrast with the bottom, than I do the water. Light, silty bottom, go dark. Bottom covered in rotting leaves, go bright.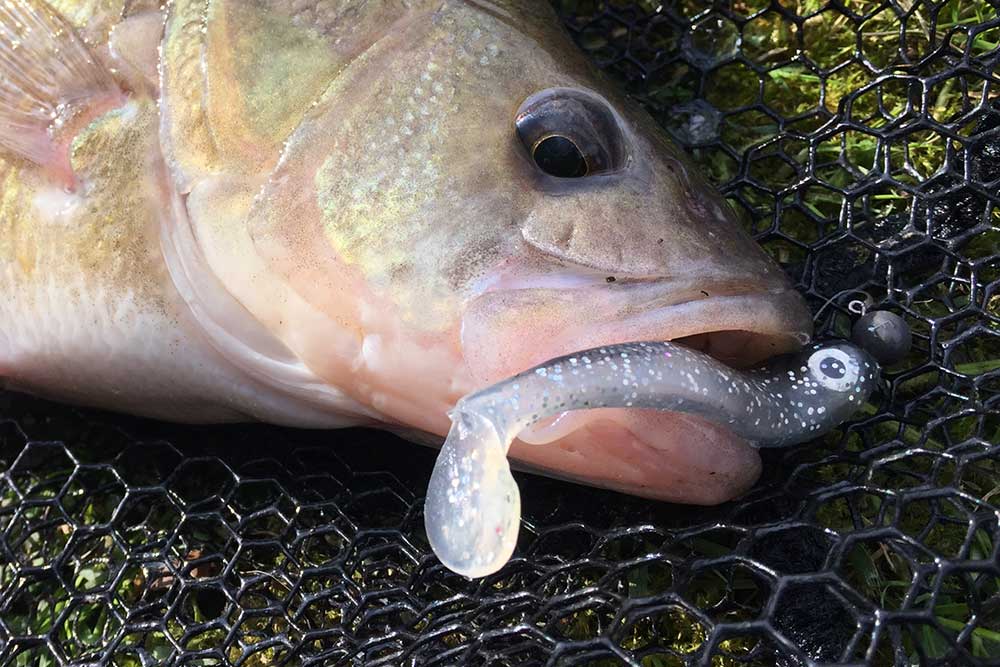 As is often the case with available car parking, I started next to a lock. Classic fish holding structure, but often the bottom around locks and bridges is littered with rubbish. So I opted for a bright, pearl coloured AquaWave Shad 1.3 mounted on a 1 gram HTO Maikuro jig head, it's a classic "wasp" rig.
Another tip. Day's with poor water clarity are not days to search out new fish holding areas. You have to get your lure so close to the fish to allow them to 'lock-on' that you're better focusing on obvious fish-holding areas. This is when your watercraft and the hours you've already invested pay off.
Ready? Steady? Fish!
Dropping the tiny lure, for the first time, down the side of a wall was rewarded in a tap on only the second or third hop. And with a little focus, a pretty little 14cm Perch was secure. The next drop resulted in another 'wasp'. Then another. And another. And so it kept going. It seemed that every possible area of structure had a least a handful of Perch in residence.
I wasn't really thinking about bigger fish. I was just enjoying having fun with the hoards of small Perch. As the numbers increased, so did my confidence in the lure. After a little run like this, a lure soon becomes a favourite. As is often the way when I'm practicing my match tactics, I caught myself saying, "I'll stop at 15" and then it's "20" and so on.
I don't know why I'm so addicted to this style of fishing, but the decision to move on is finally made by the first canal boat coming through the lock. A nice little run though. Happy.
After peeling myself away, I continue up the canal. The clarity has now worsened thanks to the boat traffic. I ignore half a mile of canal, deciding to focus on the next obvious structure – another lock / bridge combo. Even though the AW Shad is slaying today, I switch. For no other reason that it's fun.
This time I reach for an old favourite – the Hart Curly – a small, curl-tail creature. I pick the darkest colour I have in my bag, mount it on the longer shank AquaWave jig head and begin to survey a patch of silt along the quay wall, below the lock. To my surprise, the first fish isn't a Perch, it's a Silver Bream. Hooked fair and square in the mouth. As the March sunlight lights up this mirror-like fish, I'm very happy with the catch.
I gave up with the concept of "predator" lure fishing some time ago. I really believe that every fish is a predator on its day. I think my slow style of jigging tiny, soft plastics is really more about attracting a forager. An easy meal. After another string of Perch, the theory is proved right with a stunning little Ruffe. The jewel in the crown of my canal fishing.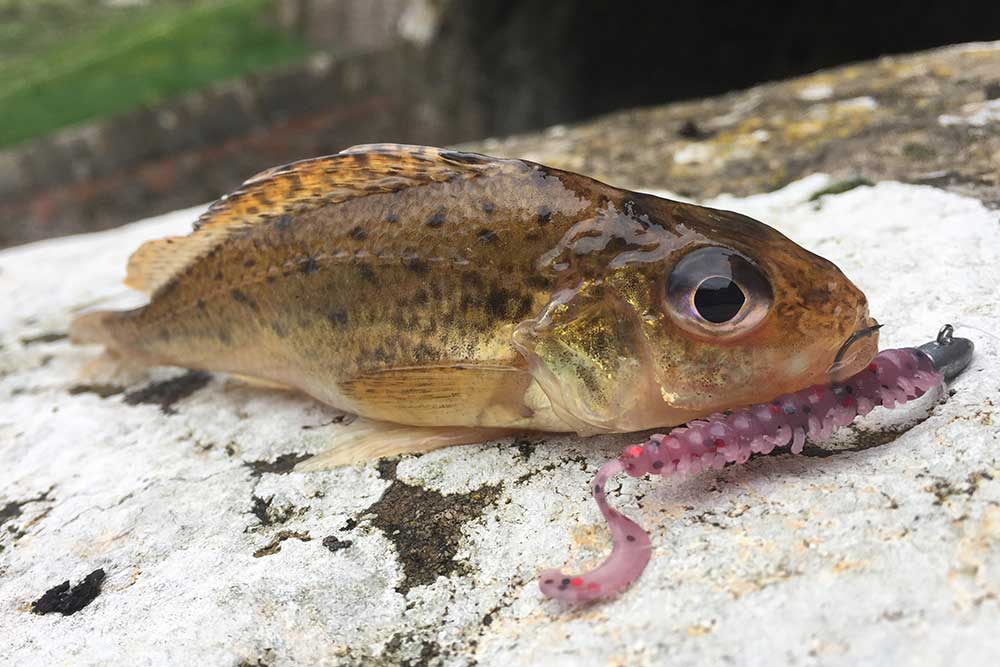 Okay, time for another change. I walk for a mile or so, passing on the opportunity for another bridge or two. I have a particular swim in mind and for some time, I've held the notion that it contains a number of good Perch. I've not fished it much. Pondering whether this will be the day I prove my hunch right, I push the packets of ultralight lures aside, searching for something with a bit more presence. And thereby is the final tip for poor water clarity. Lose the subtlety and finesse. Fish a lure that screams for attention.
My hand reveals an unopened pack of Yokozuna Abus. I've not fished this lure before, but the big paddle-tail fits the bill. The Abus is nice and soft, so no worries about Mrs Perch inhaling this bigger meal. I'm not so keen on the natural colour scheme considering the conditions, but the sun is shining and the lure has a nice amount of flash. My confidence increases further when I fling the lure out for its test flight. On retrieve, the lure demonstrates a good amount of body roll. Suddenly the lure makes sense. With a black back and the glittery sides, the lure radiates, flash, dark, flash, dark, flash, dark. Feels extremely good, but only one way to find out.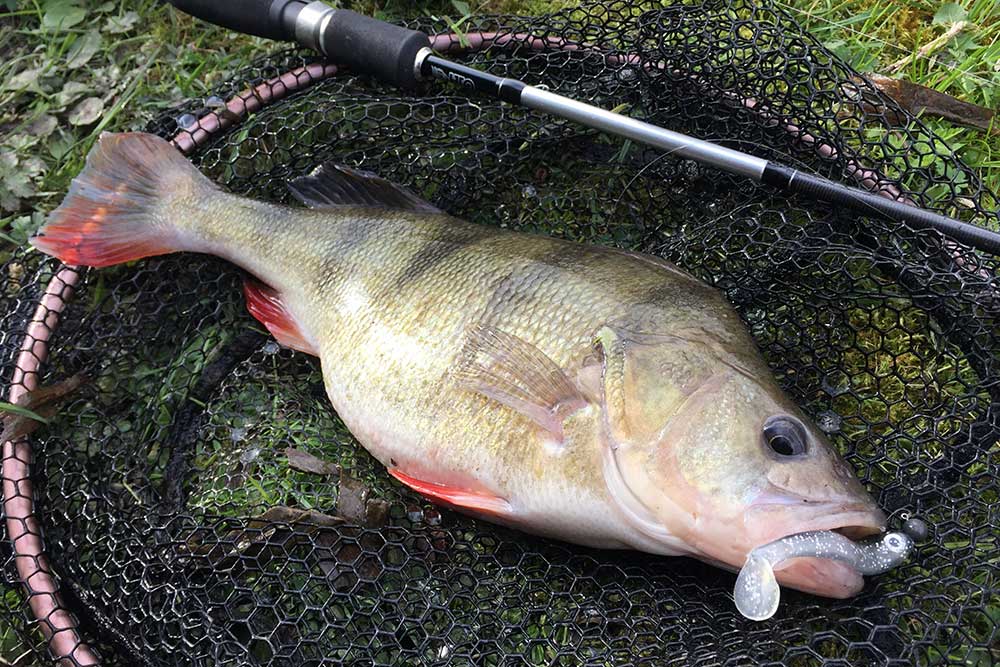 The final couple of hours of my session end well. I discover a string of lovely Perch with 4 over 30cm. Biggest going 36cm. All the fish are fat. You know you have a nice fish when you gently place the fish down in the landing net and they stay upright, supported by an enormous belly!
As the light darkens I think about the long walk back to the car. Unfortunately, it's time to go. 34 fish is the final tally.
I have a spring in my step despite being on my feet all day. The long walk gives me time to analyse the day. The tactics that worked well. The tackle too. I've been pleased with the HTO Hyper Sniper S rod today. Despite picking it for dropshot duties it's done nothing of the sort all day. It was perfect for fishing small shads vertically around structure. The soft, solid tip allowing even small Perch to inhale the lure without feeling resistance and spooking. Then when faced with a change of tactics and an unforeseen choice of fishing a bigger lure, it coped admirably. Yes, the T (tubular tip) model would have fished the bigger paddletails better, but I wouldn't have wanted to lug two rods around on that long walk. The Hyper Sniper S has proved to be versatile. Plenty of favourites today.