Gem Stapleton invites three ambassadors to her local area in search of some quality plaice fishing.
I recently met up with three of our Brand Ambassadors, Wayne Hand, Stuart Jones and Steve Perry on my local patch. We were joined by young rod, Riley Panter, who is part of the England International Youth Team. Our goal was to target early plaice at Brighton's Banjo Groyne, a mark famed for its top-quality plaice fishing.
Brighton has, recently, produced some outstanding plaice fishing and has rightly gained a reputation as a venue that produces large numbers of plaice that can reach specimen sizes. I grew up in Brighton and have seen the city, and its fishing, evolve over the decades. Even back in the 80s, it wasn't a quiet city, but it has certainly become more vibrant and quirkier over the years. As well as providing rich plaice fishing grounds, it is home to numerous stag and hen parties, two universities, and is the unofficial gay capital of the UK.
The Banjo Groyne, where we were heading, is in the heart of Brighton's Kemptown area, which is where many nightclubs can be found. Thus, fishing here at night can be an 'interesting' experience when the clubs empty out. However, we were fishing during the day on a mid-week session, so we were expecting the beach area to be quiet, well, quiet by Brighton standards!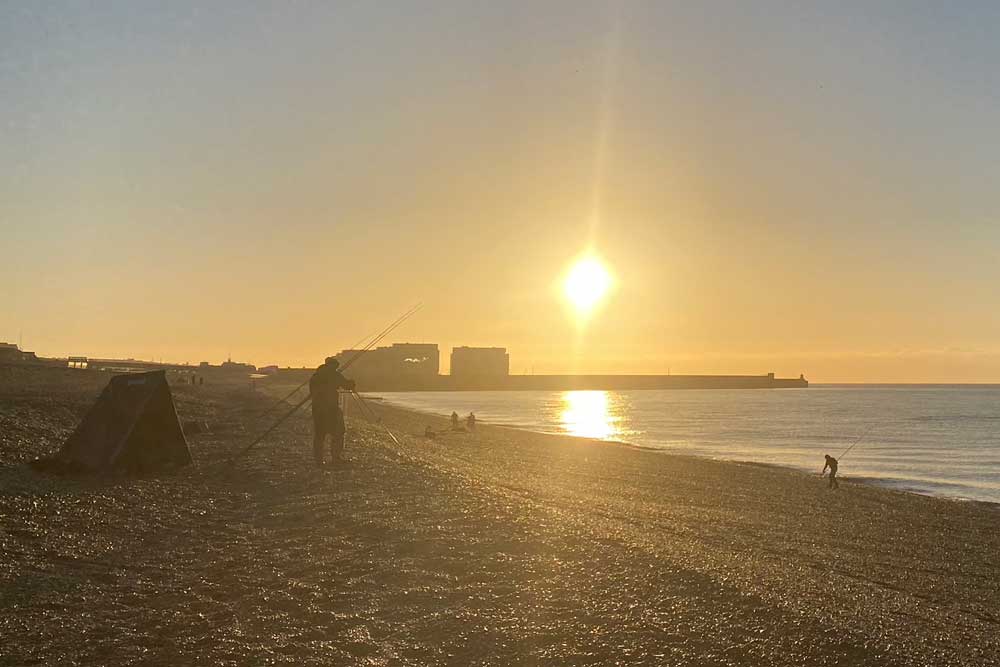 The plan was to get to the beach before dawn, so an early start was in order. We each parked up on Madeira Drive just behind the Banjo Groyne, in the dark at about 05:30 or so, and paid the £10+ parking fee for the day. By the time we had unloaded copious amounts of fishing gear and bait from our vehicles, dawn was beginning to break. We were filled with hope that the plaice would play ball, not least due to catch reports from a few days earlier, when some friends had pulled out a good number of decent plaice. It looked set to be a glorious and fish-filled day.
Getting Set Up
I had opted to use my pair of Tronixpro Competition Performance rods, which are ideally suited to plaice fishing, accompanied by a pair of multipliers fixed at the bottom of the butt using the sliding reel seat which comes as standard on these rods. They have a decent amount of power in the mid-section to send a bait a good distance – important for plaice fishing at Brighton in February – and a lovely tip that will show up the bites when hungry plaice come along for their breakfast. Some of the other guys were using Competition Nagas, the Performance's big brother, capable of sending the bait even further. Check out this review of the Performance and Naga rods, well worth a read if you're in the market for a new two-piece beach caster.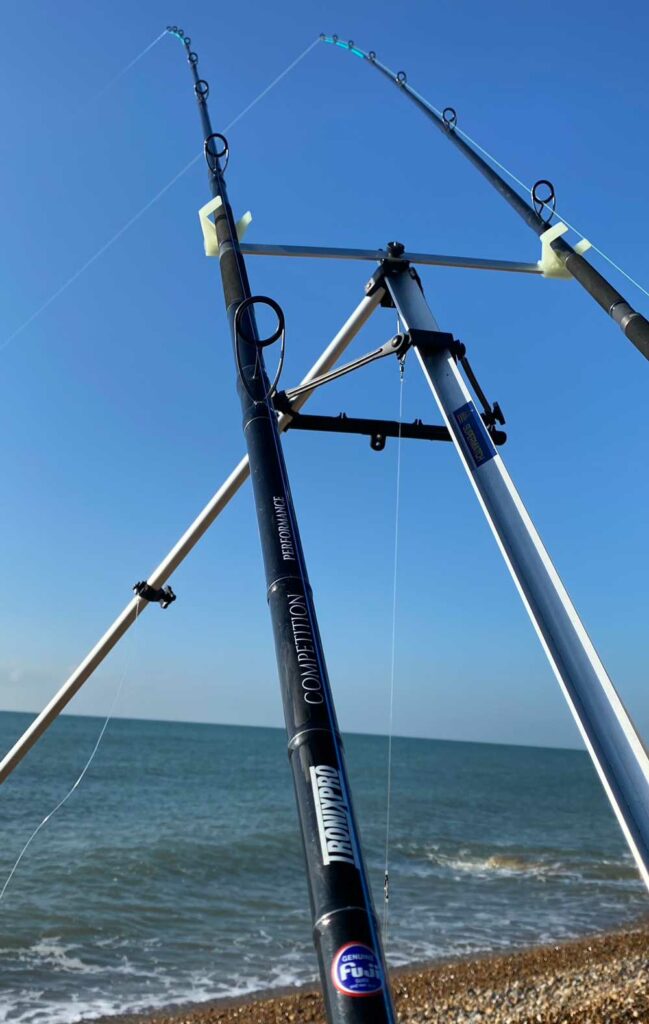 Now, one of the advantages of fishing as a group of mates is the opportunity to try out a greater variety of tactics than when fishing alone. Between us, we could use a lot of different rigs and bait combinations to see what worked best on the day. Moreover, it would have been possible for us to fish at different distances to locate the fish. However, at this time of year, it is known that Brighton's plaice are usually at distance, over a sandbank that is a good chuck out from the shingle.
So, distance fishing was the primary order of the day and, with this in mind, most of our rigs were fairly streamlined to get that extra few yards. It can be a fine balance between creating enough attraction for plaice, such as through the use of bling above the hook, and minimising rig components to reduce drag. Steve opted to use fairly long two-hook bomber rigs with pop ups on each snood, together with a grip lead. I had a mix of rigs: a one hook up-and-over with just a couple of pop ups – I can get those extra few yards using just one hook, a two-hook loop rig, and a two-hook up-and-over wishbone, accompanied by 5oz grip leads. Loop rigs were a popular choice with the other guys too, and Stuart also used his 'double up-and-over pulley rig' – I'm just going to call it a double up rig as it's easier to say – which has a pulley system at the top, with a snood attached, and it adopts an up-and-over, free-running snood at the bottom. I guess it's best described as a variation of a Wessex rig and is a sight to behold. Wayne and Stuart both used a variety of plain leads, as well as grips, anticipating that the extra movement would help to locate the plaice. Wayne also planned to drop a few in short, in case any plaice had moved closer to the shore line.
All the rigs we used have the advantage that the hooks are clipped down right behind the lead, helping to keep them streamlined, aiding distance. My hooks were all Tronixpro Aberdeens, in sizes ranging from size 4 to 1/0 (on my single hook rig). Now, some people may think a 1/0 is a bit overkill for plaice fishing, but at Brighton there is always a chance of a 50cm beauty. I've set my sights on such a fish for a while, and so far, managed a 48cm plaice a couple of seasons ago.
We had a great variety of bait between us, again allowing for a bit of experimentation. The primary bait was black lug, fresh as well as frozen: Brighton, and Sussex beaches generally, are known to produce most plaice on lug – we do have decent lug beds along the coast here – but sometimes king rag can work just as well, so we had brought rag with us too. In addition, we had some whites and maddies, in case we fancied trying for a flounder as the day unfolded, and some blow lug for good measure.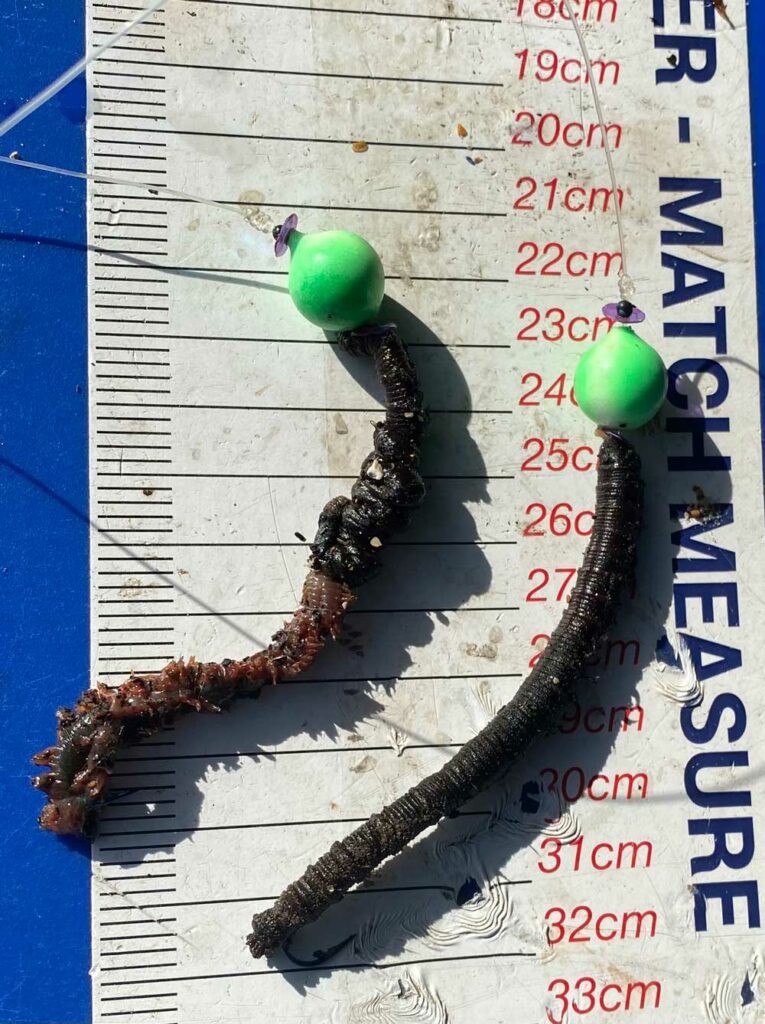 With our rigs all baited up, it was time to get the first casts in the water just as the sun rose over Brighton Marina at the eastern end of the beach.
In to the Fish: Plaice On!
It wasn't long before Steve was in to the first plaice of the day, which he soon followed up with a lovely double shot, that both had stunning markings, caught on frozen blacks. I was surprised that these fish were a bit chunkier than I expected: usually early season plaice are super skinny after enduring the depths of winter, but these looked like they had started to gain a little weight back already. A great sign.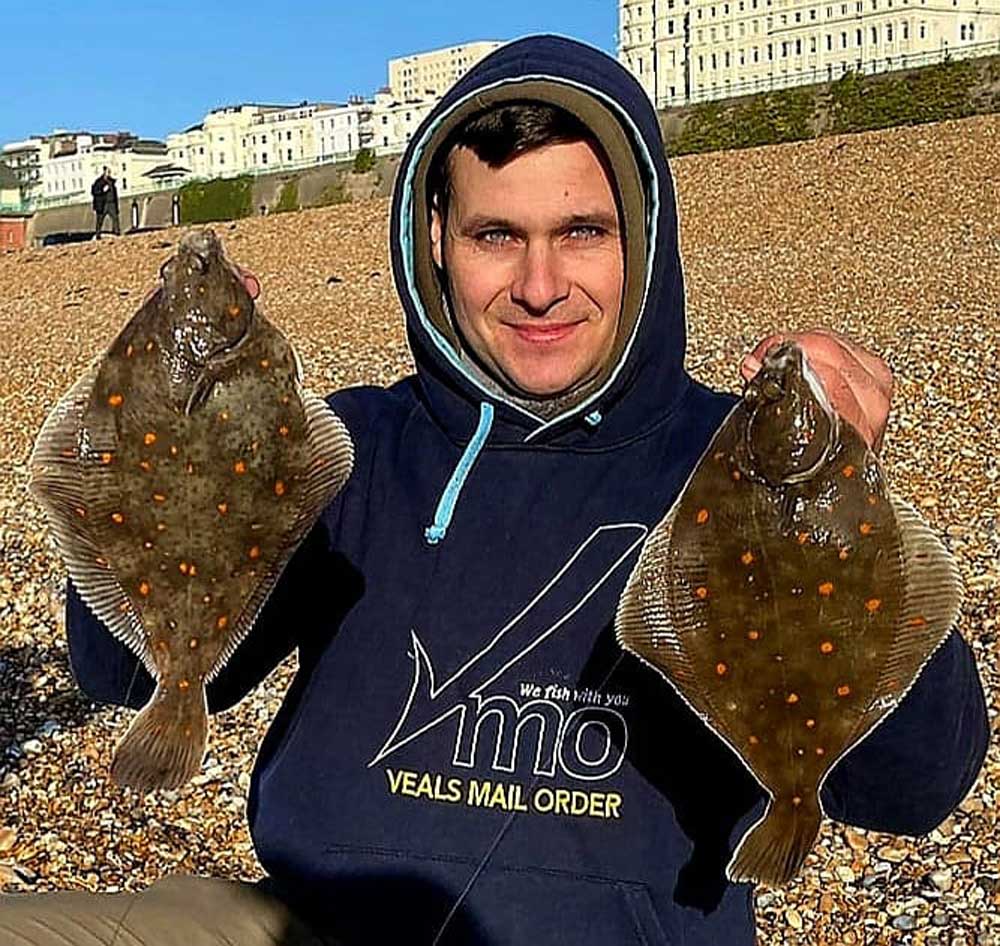 By mid-morning, the early start was being felt, and I suddenly noticed that Wayne was not on the beach. He had popped to a well known fast food outlet in Brighton Marina and returned with a very welcome breakfast muffin for everyone. We all tucked in and, with renewed energy, carried on chasing the plaice. It was time to get some more blacks loaded on to the hooks and some fresh bait sent out as far as I could get it, over the sandbank.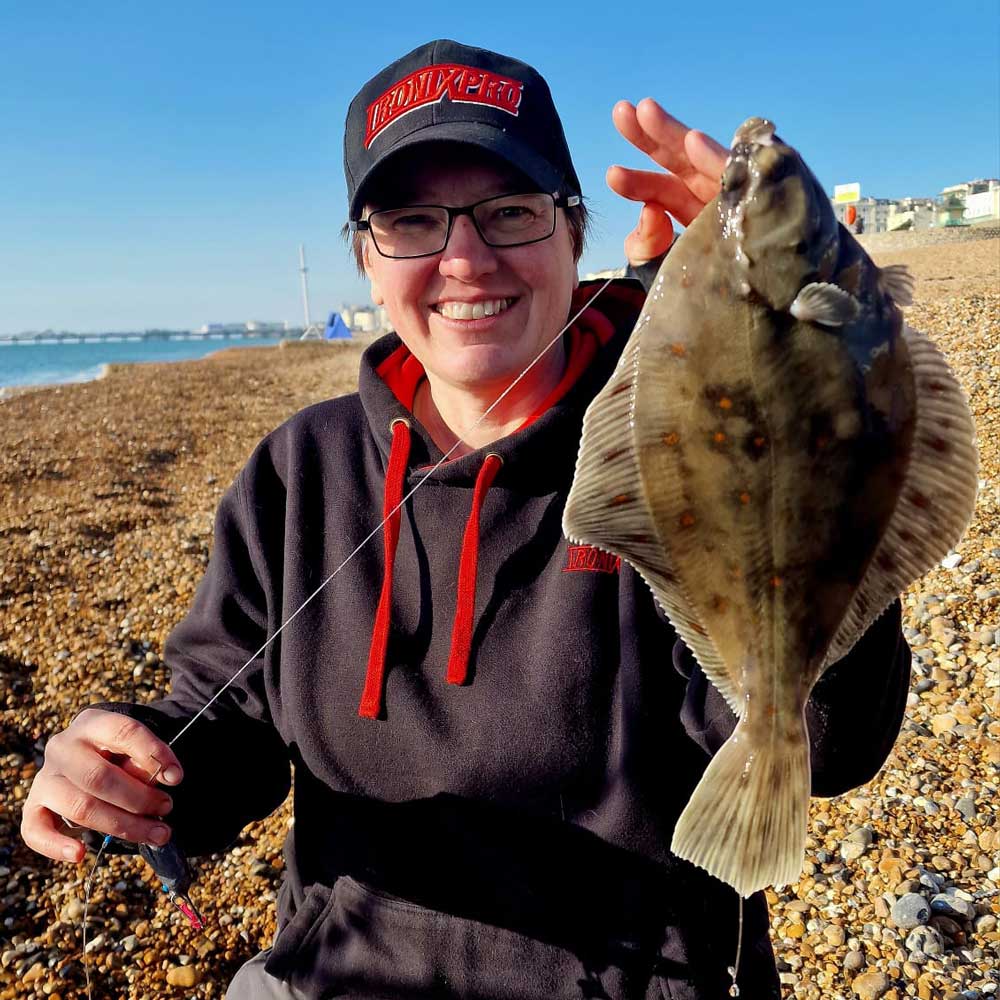 We were all getting in on the action, with everyone catching. Nearly all the plaice we landed were on black lug on rigs that used grip leads to hold them in place. Surprisingly, plain leads had not produced the fish in any kind of numbers. We conjectured that this was because there was a bit of colour still in the water, so the fixed position of the baits that were held by grip leads built a scent trail. In turn, this helped the plaice to home in on the baits, assisted by a bit of attractive movement that would have been afforded by the pop ups on the snoods. By contrast, a rolling lead would not leave a strong scent trail and, so, the moving bait would have to find the fish.
Throughout the day, Steve gave us all a master class in plaice fishing! He topped the day with well over 10 plaice, including a blinding fish of 51cm, weighing in at 2lb 9oz – no doubt later in the year this fish would be a fair bit fatter and would have easily broken the 3lb mark. We caught over 20 plaice between us, including four that fell to Riley, throughout the day.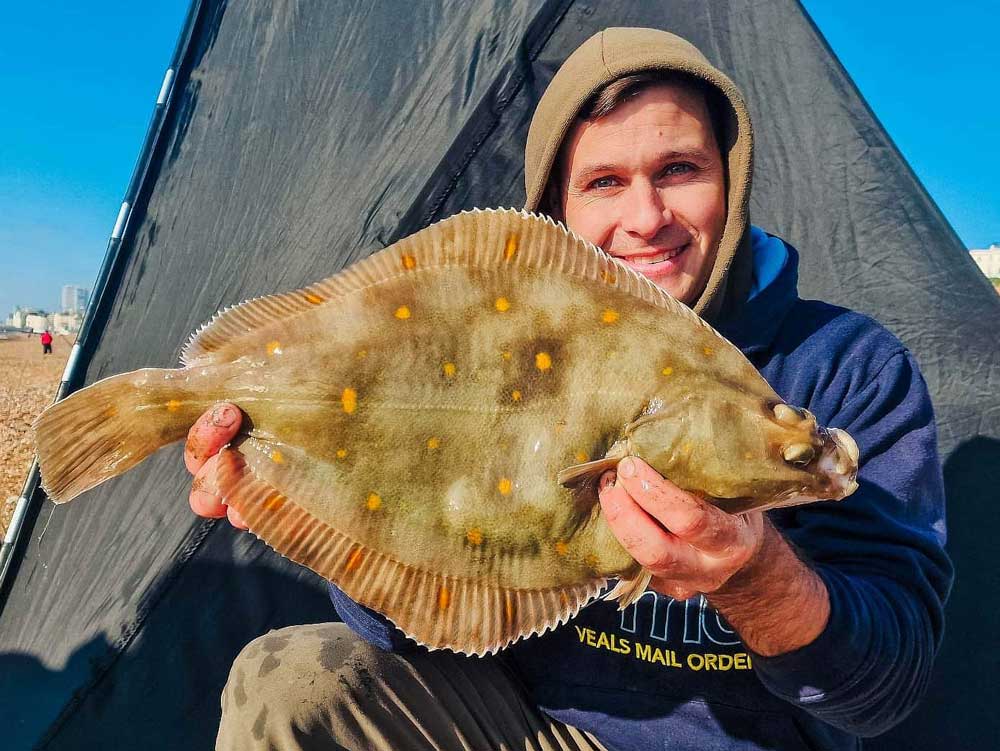 After having such a fish-filled day at Brighton, Wayne and I met up again for another session on the Sussex coast. This time we opted to fish Shoreham, steering clear of the crowds that can be found fishing the Banjo Groyne, where once again we got in to the plaice. The best fish of the day fell to Wayne, a lovely fat 44cm plaice. Without doubt, this is my favourite time of year for targeting plaice, and I can't wait to get back out. After all, you can't beat a day on the beach with mates, fishing in glorious sunshine, targeting these beautiful fish.