International anglers, Stuart Jones and Gem Stapleton, take a closer look at the two flagship two piece models in the Tronixpro Competition range of rods.
Tronixpro's Competition range comprises mainly three-piece rods, designed to cover a range of fishing scenarios. Until recently, there was only one two-piece rod available in the range, the Competition Match GT2. Now, the two-piece aspect has been expanded to include a reinvented, refined Naga and the new Performance. Both blanks have a slim, yet powerful, profile and are finished with quality Fuji K Alconite guides and a sliding Fuji DPS reel seat. The main difference between these two rods lies in the power rating, with the Naga designed to cast 4oz to 8oz and the Performance casting 4oz to 7oz. The Naga is also slightly longer, at 14ft, compared to the Performance which measures in at 13ft 6".
Stuart Jones: Tronixpro Competition Naga Review
I know it's a big statement, but the Competition Naga is hands down the best all round rod I've used.
First Impressions
Since I became a Tronixpro Brand Ambassador, I was given the task of putting the Tronixpro Banzai BZ range through its paces in all different fishing styles and conditions: they passed with flying colours. I was then told about the new Competition Naga that was about to be released: being a true multiplier man, this was music to my ears.
As any angler knows, it was like Christmas when my two new Nagas arrived. On unpacking the rods, I was blown away with the look. They are fitted throughout with quality Fuji K Alconite guides and a Fuji DPS reel seat with a black and burnt orange Crisscross pattern. I couldn't believe how light they were, with a lovely slim profile hiding the true power in the blank.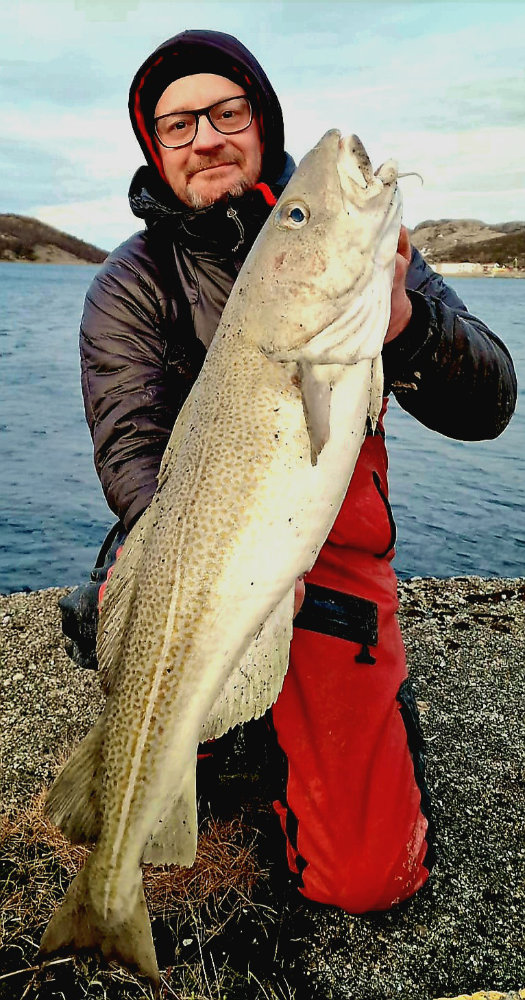 Casting
Like a kid with a new toy, it was a quick change of clothes, grab a couple of reels and leads and off to the local beach for a cast. As always when trying out a new rod, I started with the brakes on full and clipped on a 5oz lead. The first five casts were nice and steady, but I could already feel that the Naga had loads of power in the butt and mid-section.
It was time to give the rod a bit of welly. The Naga compressed with ease! I could feel the lead all the way round on the cast and achieved maximum casting distances with less effort than I was used to requiring. This left me grinning and I knew I was casting a special rod. I was left with no doubts at all that the Naga can cast a lead a really long way. I was already impressed and I hadn't even sent a bait out yet.
Fishing
It was time to hit the beach to check out how the rods performed in a real fishing situation. My first trip out with the Nagas was to Southbourne beach, which is fairly local to me, practising before fishing the Army Championships. I loaded the rods with 7oz leads and three baits, which they handled without any problem. The tips sat perfectly in the tide and the bite detection was amazing, even at maximum distance fishing over the second sandbank. Fish landed included some lovely turbot, a real treat to see. The Nagas passed the clean ground fishing test with ease.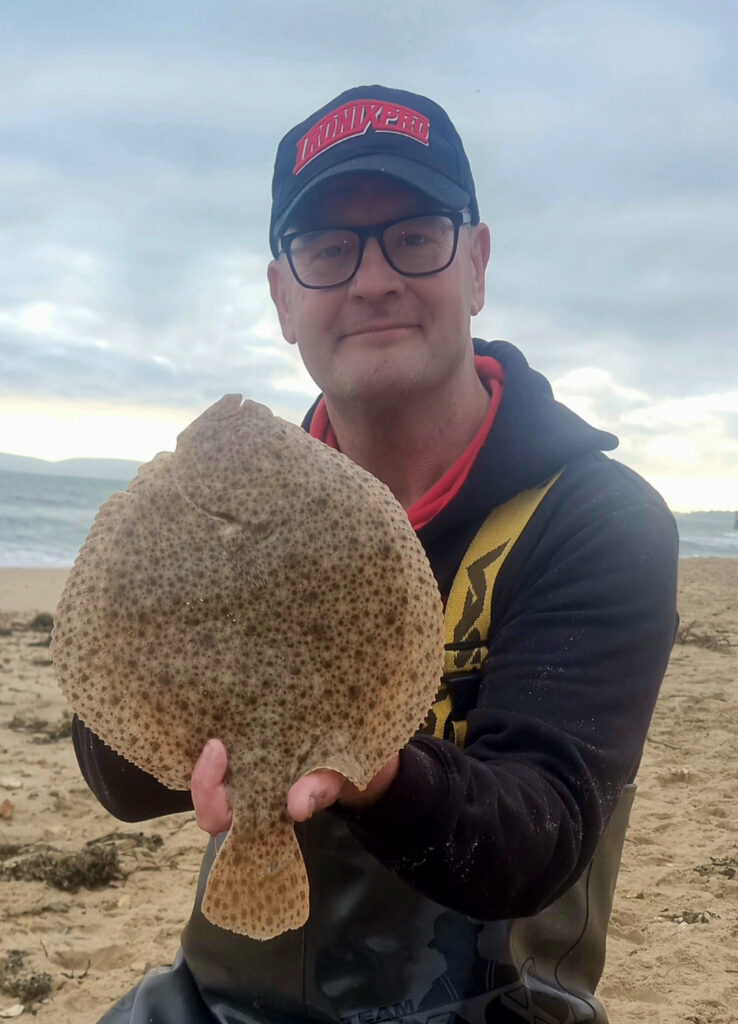 For my second session on the beach, it was time to take a step-up in fish size, targeting rays at Hurt shingle bank. It was great to get the Naga out in strong tides targeting bigger species. This was the start of my love affair with the rods. The Competition Nagas performed brilliantly, landing double figure rays in heavy tide pulls. I have every confidence that the tips can handle strong pulls from fish making a definite bid for freedom, cushioning any runs and, thus, helping to prevent hook pulls or snapped line.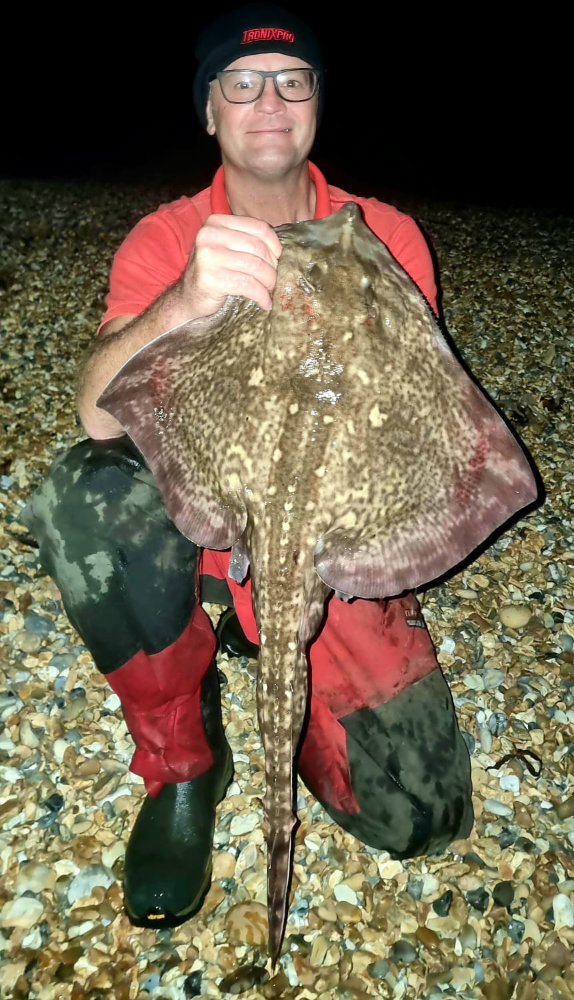 I was so excited to put the rods to test in Norway on some heavy ground marks. I had two trips booked, in November and January. The weather conditions, especially those to be encountered in January, would really test out the rods, as would the fish we intended to target. This is when the Competition Naga showed its full capabilities. I used them in 50mph winds and temperatures approaching -20 degrees: truly harsh conditions for fishing. On these trips, I landed numerous cod into double figures, halibut and decent haddock along with a variety of other species.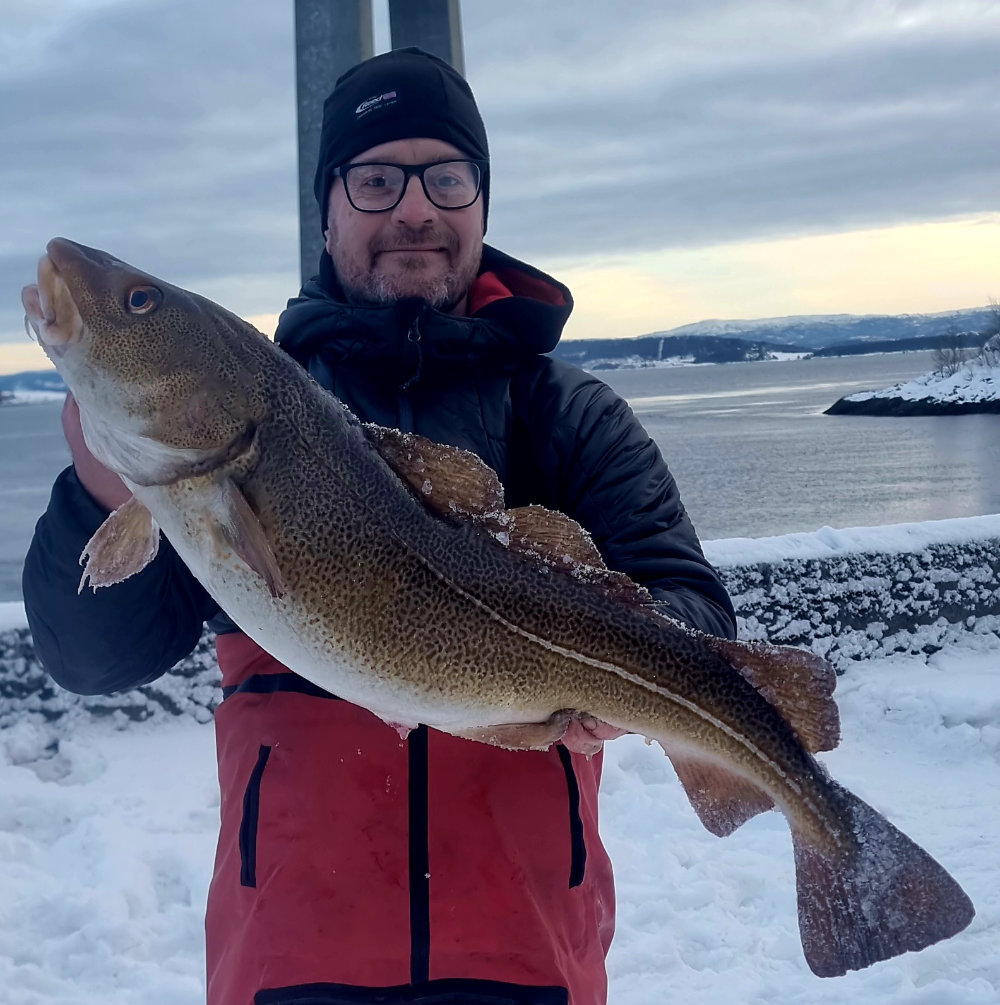 It was a real pleasure to use the Nagas, their bite detection continued to impress me and it was a joy to play the fish and to confidently coax them through kelp and reefs to the shore. Norway's fishing grounds provided great insight into the quality of these rods: the Nagas are as outstanding as the fishing in Norway.
The Nagas smashed every situation I put them through, including landing big fish off reefs, extreme rough ground and kelp.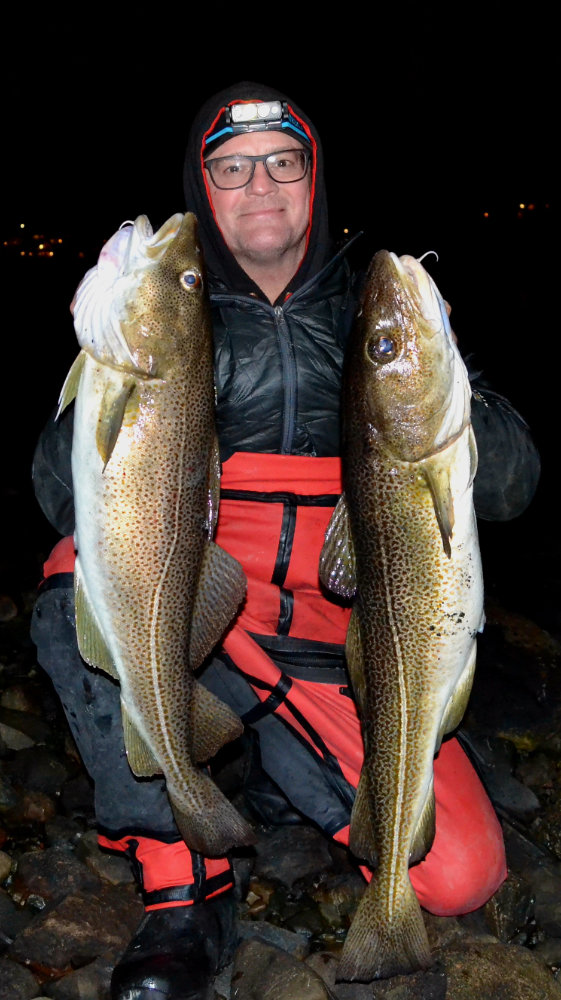 Conclusion
I got the Nagas in October and have used them in a wide range of fishing conditions, including sandbanks, fishing for smaller species, to the deep kelp-lined fjords of Norway for double figure fish. I put the rod to its advertised limits, casting 7-8oz leads and whole fish baits, which it handled with no issues at all. I'll definitely be using these rods on future Norway trips, not least since they are so pleasurable to use.
You can see more of the Nagas in action on YouTube, featuring in Wayne Hand's (aka The Shore Hunter) Norway videos in which I appear. As I said above, I know it's a big statement, but the Naga is hands down the best all round rod I've used. I can't wait to test it against the common skate in Scotland.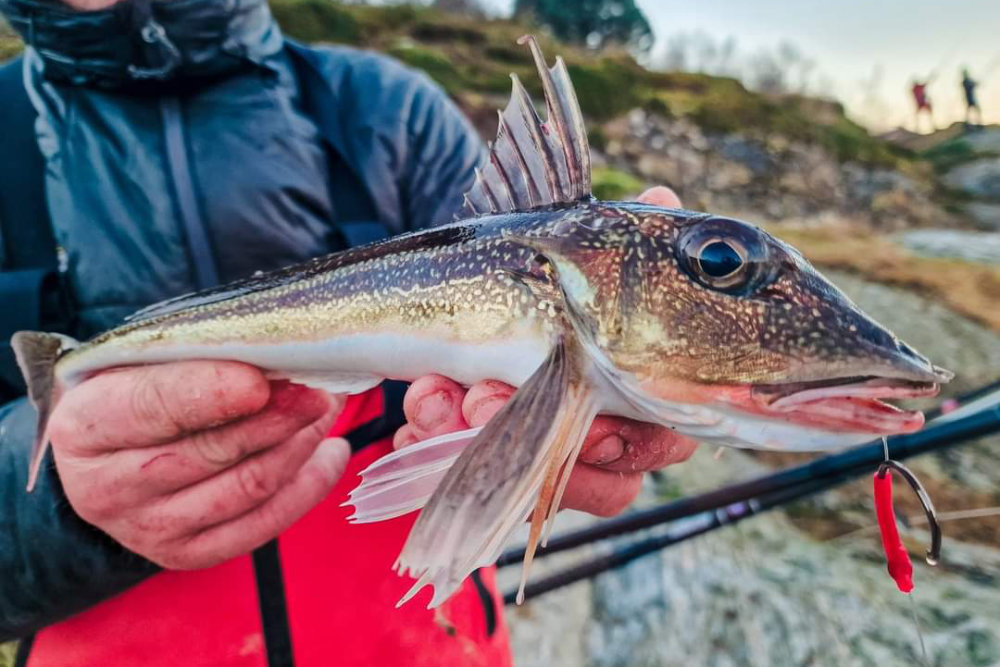 Gem Stapleton: Tronixpro Competition Performance
I rate the Performance as highly as the other rods I own that cost upwards of £500 and they are fantastic for clean ground fishing at a very impressive price point.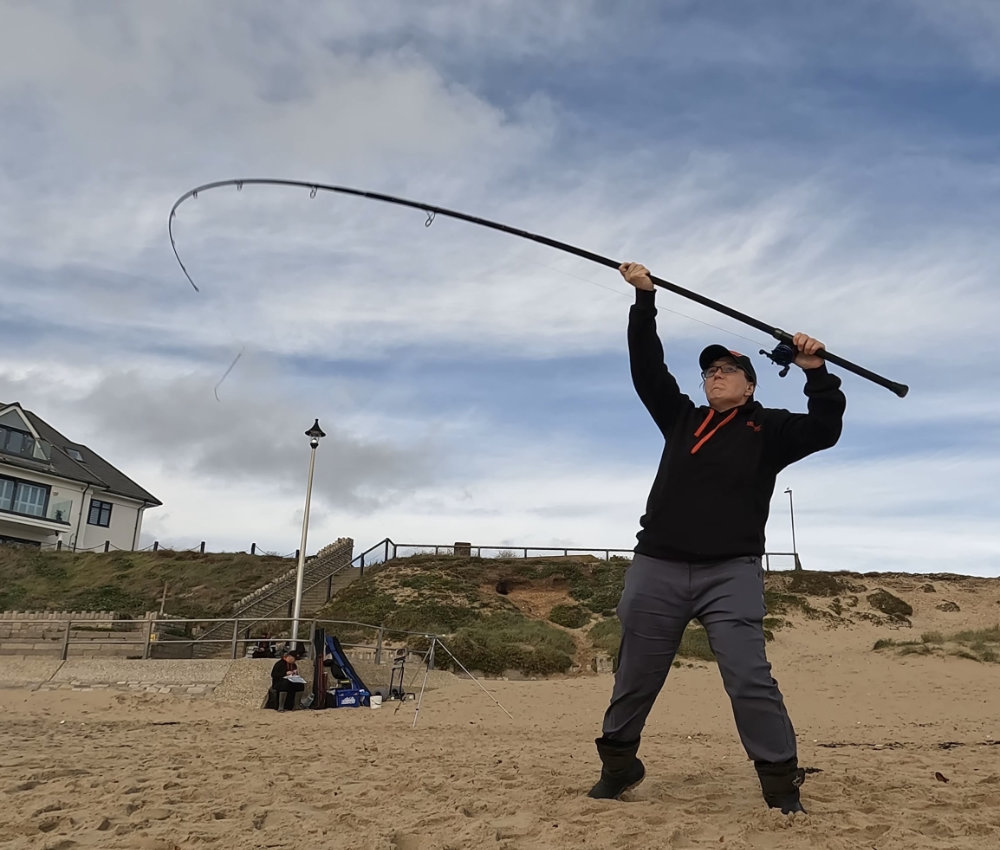 First Impressions
As with most anglers, I always get excited when new rods or reels have been ordered, and a delivery is on its way. A few months back, I was eagerly awaiting the delivery of a pair of Competition Performance rods. When they arrived, I unpacked them straight away and I was immediately impressed.
As someone with small hands, the slim butt section looked spot-on; I sometimes find that, with thicker butts, I can't get my thumb sufficiently around the multiplier's spool which leads to the spool slipping during the cast – that wasn't going to be an issue with the Performance. The tip section looked great: assembling the rod and bending the tip, whilst in my kitchen at home, I could tell that there was plenty of power in this blank and it looked like the tip would sit nicely in a decent tide pull. After my really positive first impressions, I was excited to hit the beach. I added some tip tape to each rod and I was all set to go.
Casting
As I am sure is typical with a new rod, when I first got to the beach my goal was to have some casts, before sending out a bait, to get used to the action of the blank and timing of the cast. I put a 150g lead on the end of the leader and I was all set. Wow! I could tell this was a serious rod with ample power in the blank for the clean ground fishing that I regularly do. What was really noticeable to me was the fast recovery of the tip, which suits my casting. I had the feeling that the Performance could soon become my favourite rod, and I have far too many rods!
This is perhaps the nicest two-piece rod to cast that I have used in my 45 years of fishing. It was easy to load and, with a bit of experimenting with drop lengths for my off the ground cast, I was soon sending leads a long way out to sea. I found that a 150g lead suited this rod best, given my casting style. When stepping up to a 175g lead, the rod handled this very well – it is rated to cast up to 7oz – I noticed a slightly slower recovery in the tip with the heavier 175g lead.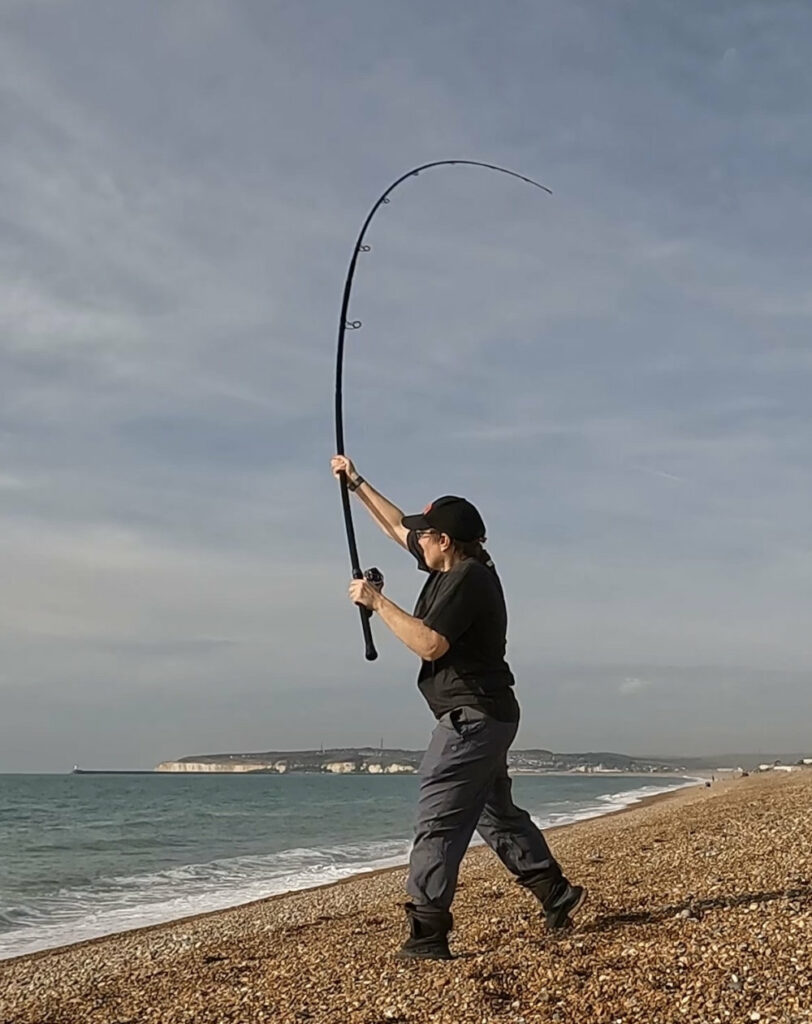 I met with Stuart soon after we took delivery of our rods and tried casting his Naga also (all photos of me casting are with the Performance). On my first cast, I could immediately tell that the Naga was a good step up in power from the Competition Performance and would be just perfect for tougher conditions and where more distance may be needed. A pair of Nagas is at the top of my wish list.
Fishing
With some casting under my belt, I needed to try out the rods on some fishing trips. I was keen to find out how well-suited the rods would be to the kind of fishing I do most often. Much of my fishing is over clean beaches with a mix of sand and shingle along the Sussex coastline, so I generally prefer rods that are designed for this. As such, my typical go-to rods need to be able to handle lighter leads as well as sometimes belting out 6oz grips into a reasonable tide. In terms of distance, I can fish anything from 30 yards out, sometimes even closer, to as far as I can cast a bait. So, for me, an ideal rod is one that has the versatility to handle this kind of fishing.
Soon after the rods were delivered, conditions were spot on for some bass fishing over low water: the wind was forecast to be hitting up to 30mph from the southwest, which would whip up a lovely bit of surf. I thought these conditions would be a good test for the rod: I was expecting a bit of weed, a choppy sea, and a moderate, gusting, crosswind. I decided to have two or three short low-tide sessions where I could pump lug for bait when I got to the beach and fish for schoolies over the sand as the tide started to flood. It was time to hit the beach for some fishing.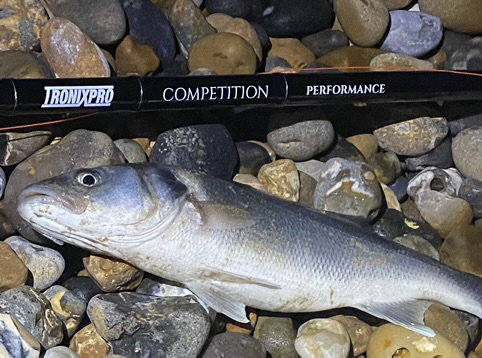 Just as I expected, the tip sat beautifully still, despite the moderate gusting crosswind and weed catching on the line. The 5oz grip lead stayed firmly in place, until an unsuspecting school bass engulfed the fresh lug I had placed on a 1/0 hook and swam off downtide.
The bite detection was great, and the rod struck a lovely balance between the bend in the tip and power in the midsection. It allowed the fish to fight and provided more than ample power to haul in any weed that was about, safely returning my rig, and fish, to the beach. This is what I look for in a beach caster: not so much grunt that you can't feel the fish fight, and not too little, so you can't haul in a decent weight when needed.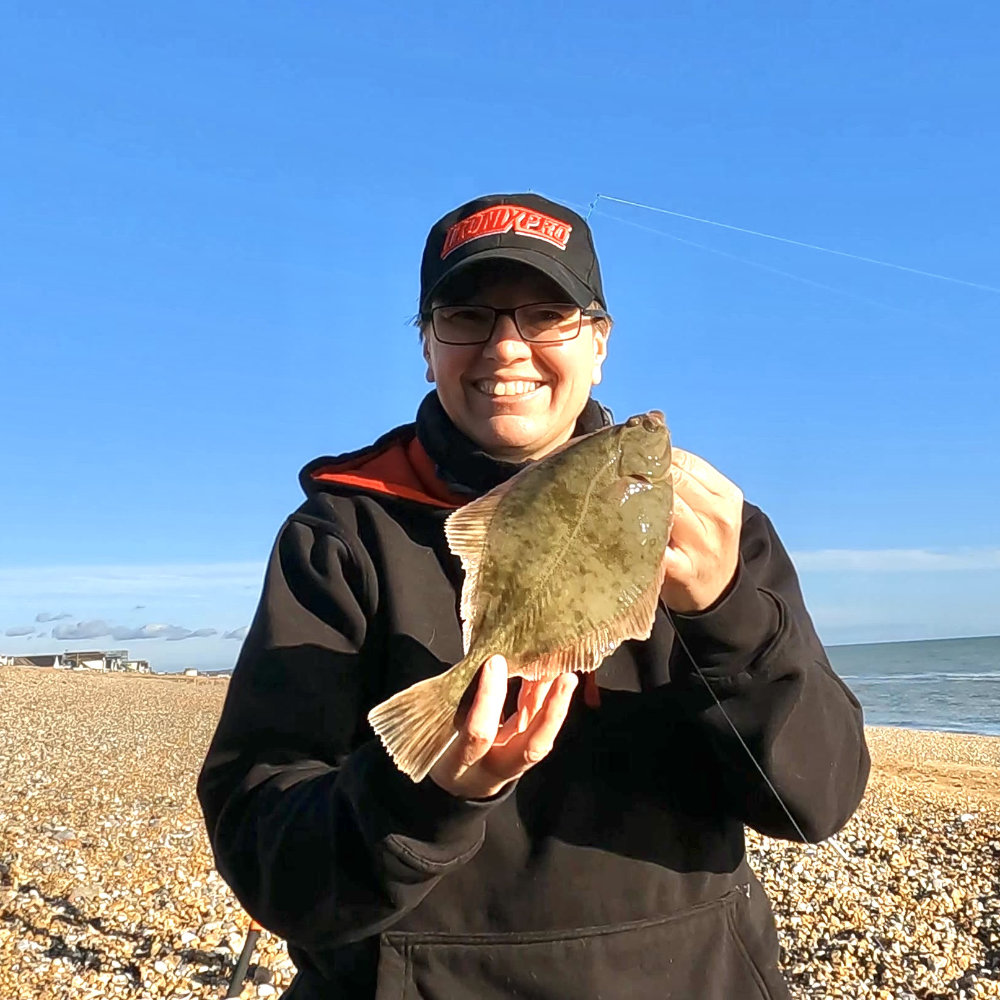 Over my three sessions, I landed a good number of schoolies, including some double shots, up to 49cm. Next up, I wanted to see how the Competition Performance would fish in still conditions, targeting flatties. A lovely day in November saw me head back to the beach, this time to see what smaller fish were about. The rods were quite at home dropping baits short distances, as well as casting further out over a sandbank. I landed quite a few fish, including flounders and whiting, with bites showing up really well. The sensitivity of the tips allowed these fish to put up a nice account of themselves.
Conclusion
Having used the Competition Performance on all my fishing trips in the three months since I took delivery of them, I can say that they are 100% ideal for the clean ground fishing that I do most often. If they have limitations, I'd say that when there are significant amounts of weed or a massive shore dump, then I'd probably prefer to use the Competition Nagas. The additional power found in the backbone of the Naga blanks and the extra length to help keep the line raised out of the surf. However, this is just my instinct, as I've not yet had the chance to test the Performance in really tough conditions.
I rate the Performance, and Naga, really highly: they are outstanding rods. Overall, I love the Competition Performance and I hope to be able to add a pair of Nagas to my collection soon. I can't wait to get out fishing again!