Flatfish are predatory and active hunters, when targeted on the light tackle, they're a different ball game. Dan Esox looks back at a fun session with his son targeting flatties in Bridlington.
We set off to the east coast of Yorkshire to celebrate our daughter's 7th birthday for an extended weekend. I was under strict instructions that there was to be no fishing. Instead, we were going to do some exploring and get some much-needed relaxation time in before the trip culminated in a surprise party for Elsie on Sunday.
The Thursday before setting off, while cleaning my beach gear after a recent bass trip, I had an idea. If I pulled out all the stops' dad wise, I thought I might just buy myself and my boy some lad and dad time. I knew the mackerel weren't even close on our coast, and I was pretty sure young Cayden, although madly passionate about fishing, was nowhere near ready for even a 3-hour mackerel bashing seaside fun trip. So, I thought, why not go super covert and pack a tiny HTO Hip Bag crammed with tiny soft plastics, jig heads, and drop shot weights, along with my trusty HTO Nebula Rock Rover.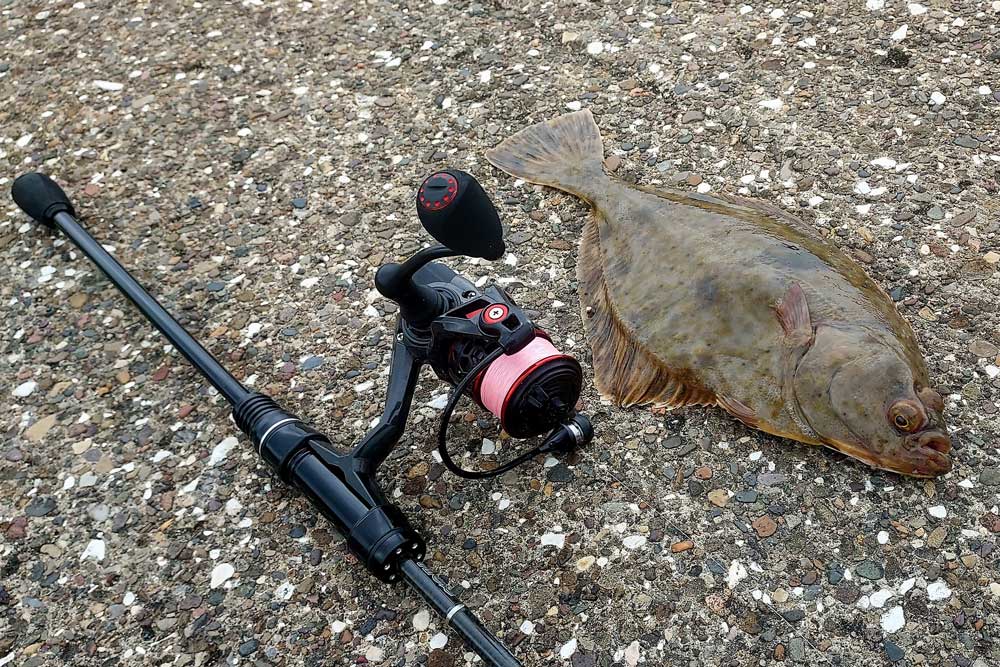 I was absolutely over the moon with my brainwave of an idea because I simply don't get to use this extremely versatile and amazing rod enough. I've had numerous perch, trout, and some quite substantial pike on it, but I have longed for quite some time to put it to use in the salt, and now was my chance.
I'd been watching the catch reports for a week or so leading up to the trip, winding myself up, knowing full well that no pulley rigs were going to be punched skyward in hope of bass for the BBQ or a chance encounter with an early hound. But as anglers, that youthful optimism is ingrained into us, and I checked, and I checked, and I checked. As it happens, the fishing has been extremely poor. The usual suspects have lined the pier 25 deep most of the week and weekend, as they do. The most thrilling capture was two postage stamp-sized dabs to one rod, so I wasn't filled with mountains of confidence.
Friday we had to fill out our day elsewhere as we were unable to check into our caravan until three that afternoon. I suggested we drive to Bridlington, have some food, then take the kids for an ice cream down by the harbour. Here they could potentially catch some crabs with the highly advanced carbon crab-catching stick that is the Nebula Rock Rover for an hour, which my partner agreed was a superb idea. Crabs, yes. Fish, no. But I couldn't stop any of our coastal micro-species or a bonus school bass from getting stuck to the hook, could I?
We arrived about an hour into the rising tide, got parked up, and made the usual mad rush to get change for parking from several seaside shops. Finally, one gave in and swapped a crisp ten-pound note for a fiver and five pound coins without me having to buy a giant stuffed panda and five sticks of broken rock. FOOD was the word of the moment as I guiltily grabbed the lure bag and rod from the boot. I was pretty hungry and felt that the sooner I stuffed that hot pork and stuffing sandwich with apple sauce we'd been talking about in transit down my throat, the sooner I'd be able to suggest the girls go have a look around the shops whilst we tried to catch some crabs.
The sandwich was amazing, as were the tray of warm white chocolate-coated doughnuts, and the giant biscoff waffle was to die for. Food polished off, we agreed that Cayden and I would have a mooch about the harbour whilst the girls perused the shops and grabbed any bits we needed for our trip. We headed down to a little jetty in the corner of the harbour where the incoming tide was lapping against the bladderwrack ridden wall. I went into full sergeant-major role as I frantically unsheathed the rod and barked, "REEL, FLUORO, HOOKS." The reel was attached in seconds. The line went through the rings faster than a prize greyhound out of the trap! A size 14 hook was palomared to 6lbs HTO Nebula Fluorocarbon, a 7g drop shot weight added, and a hot pink HTO Knight Worm was carefully threaded onto the hook.
Like every dad does, I suggested that I have a quick flick to see what's going on down there. A gentle under-arm swing toward a little stanchion protruding from the water, tap, tap, pause, and BAAAAANG, we were in. I knew by the initial weight it had to be a flatfish, but this thing had gone all pelagic on me, actually stripping braid from the reel as it made a frantic bid to escape. With the fish still not breaking the surface, I'm thinking BBQ'D bass tonight. But one more run, and up she popped. A dinner plate-sized, beautifully marked flounder glistening in the afternoon sun. She was quickly unhooked and released, and the boy's face was a picture of excitement.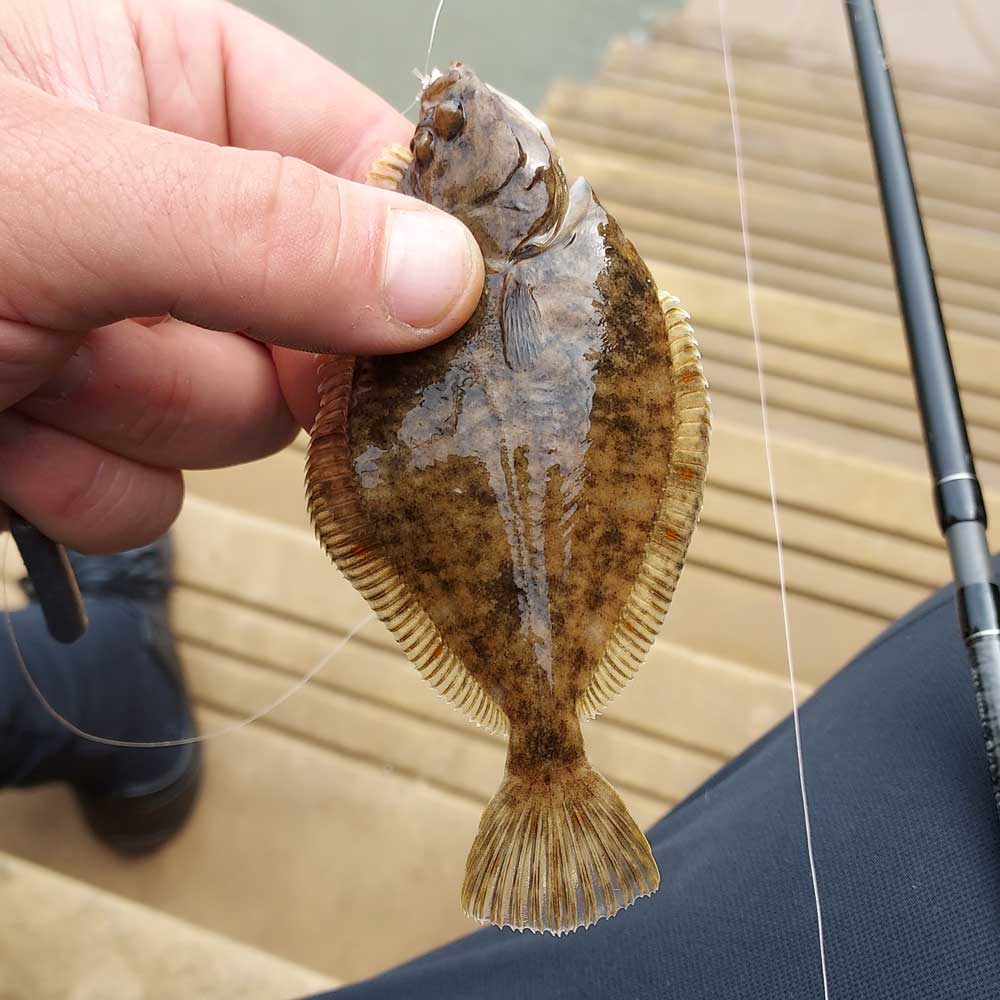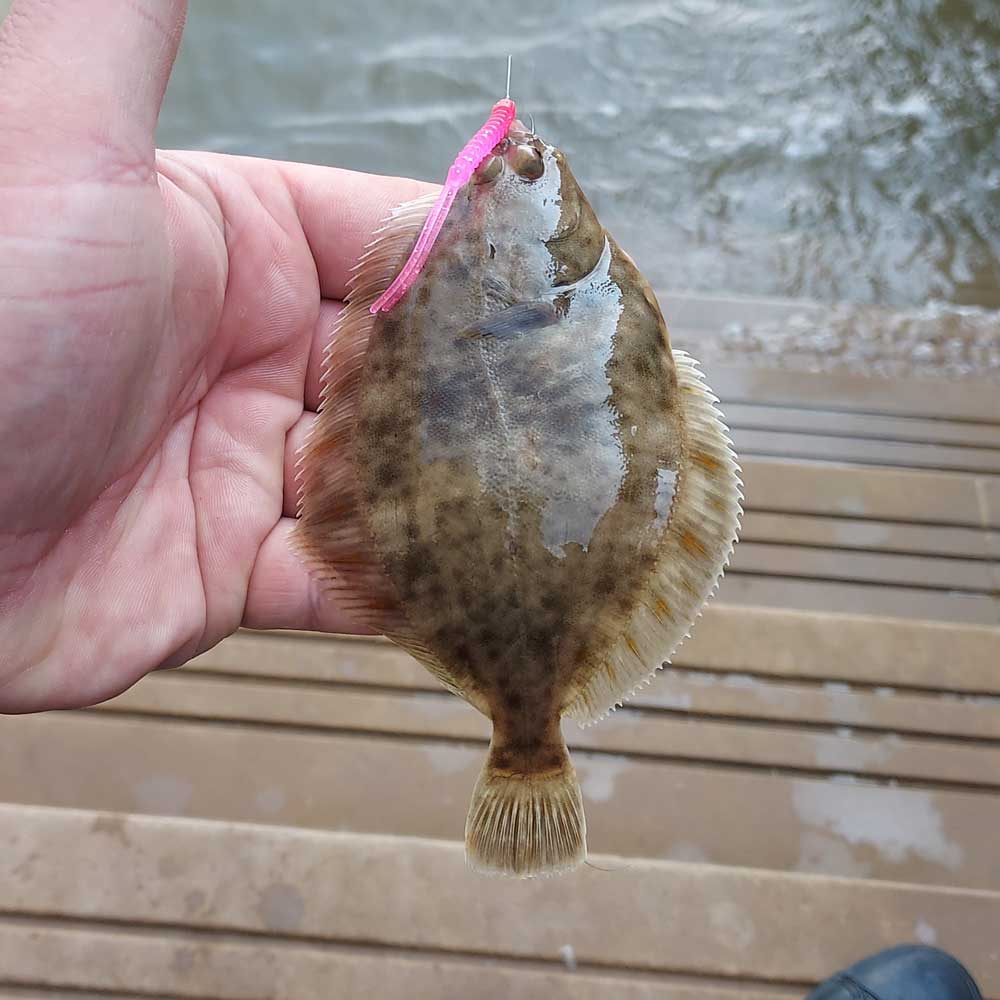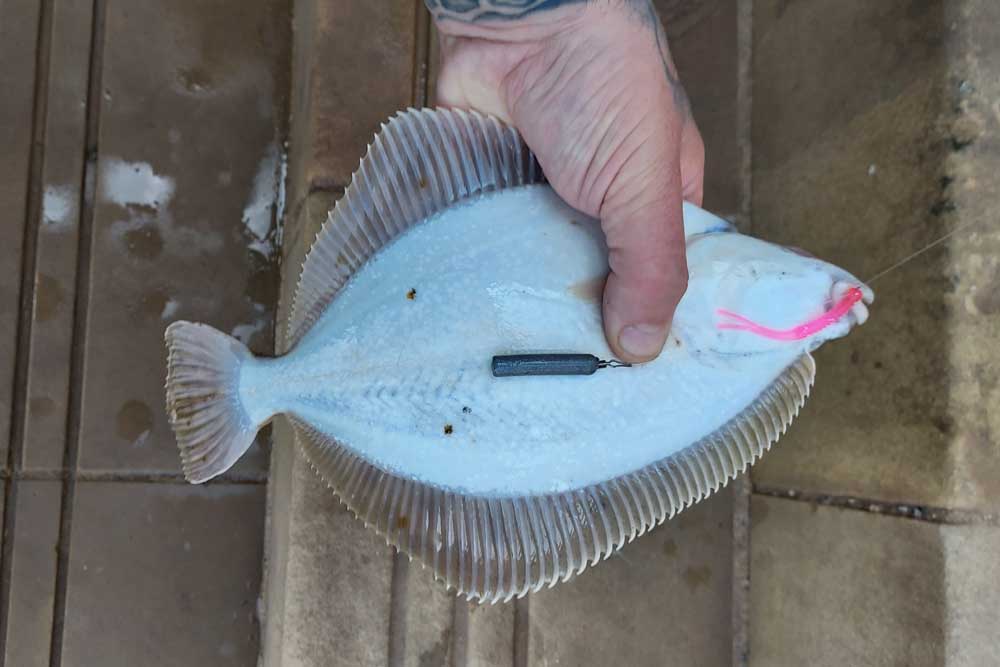 Then, disdain as I suggested I have another go just in case there's a snag down there, like you do. Flicked it out again, tap, tap, pause, and BAAAAANG, which was followed by a brief and frantic struggle before another plump flounder hit the surface, which was subsequently released before passing the rod over to a very excited junior. He made several casts, as I observed, sat on the stone step above him. His retrieve was a little fast initially, with not enough movement at the tip. I got down beside him and explained how flatfish lie in ambush, ready to pounce, and how they scan the surrounding area with their top-mounted beady eyes. Slow movements with the tip, take up the slack with the reel, ever so gently make that weight throw up some plumes of sand or fine silt to catch the attention of the flatfish. As he struck into thin air, every turn of the reel handle as the lead bumped over patches of pea gravel or pebbles transmitted up the braid to the tip.
I was staring hard at the rod tip when his taut braid dropped totally slack. "HIIIIIIIIT THAAAAAT", I yelled, knowing full well what was happening beneath. And sure enough, as he took up the slack and raised the rod, the 7g Nebula Rock Rover took on a healthy bend as the flounder screamed off toward open sea. "WOW, WOW, WOW" were his exact words, shaking like a leaf and staring in awe at his first ever flatfish. I thought I'd lost the rig, he said, smiling from ear to ear. I explained how that fish had hit his lure so hard it slack-lined him and how not every bite is a direct pull when fishing, especially whilst employing tactics like this.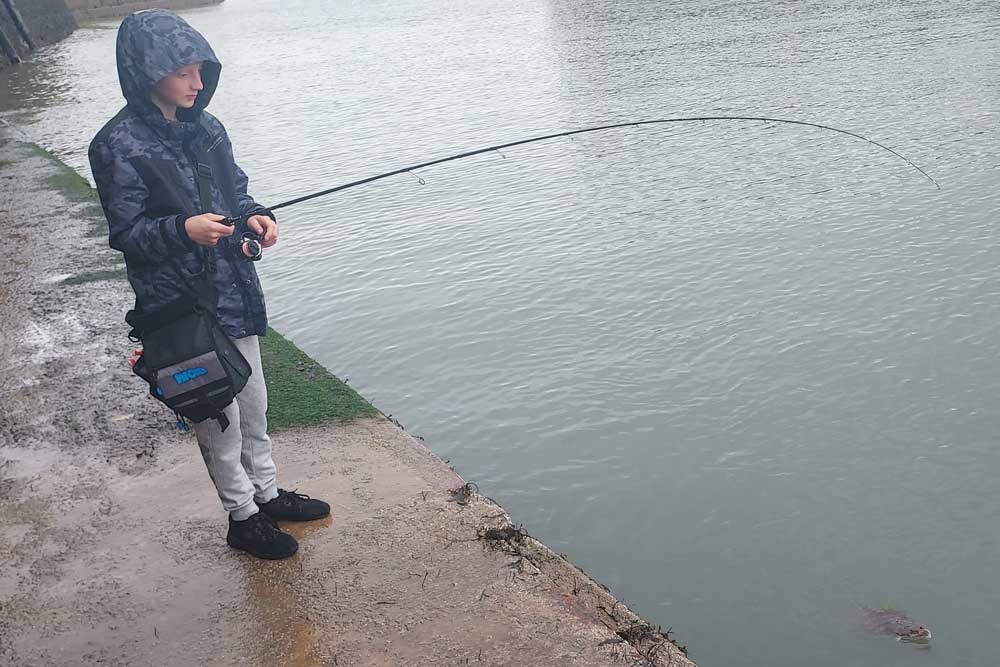 By the end of the session, we'd had half a dozen flatfish. We even managed to get an hour in on Monday before setting off home. This time we were chasing the flatfish down as the tide ebbed. We arrived at the spot expecting a bit more water to play with, but it was quite a big tide, and she was flying out. He took the reins with his newfound skill and managed to bag another half a dozen. Jumping from jetty to high above on the harbour wall and ending up on a ledge near the harbour mouth as the tide receded, picking them off as they took position, patiently awaiting the next flood.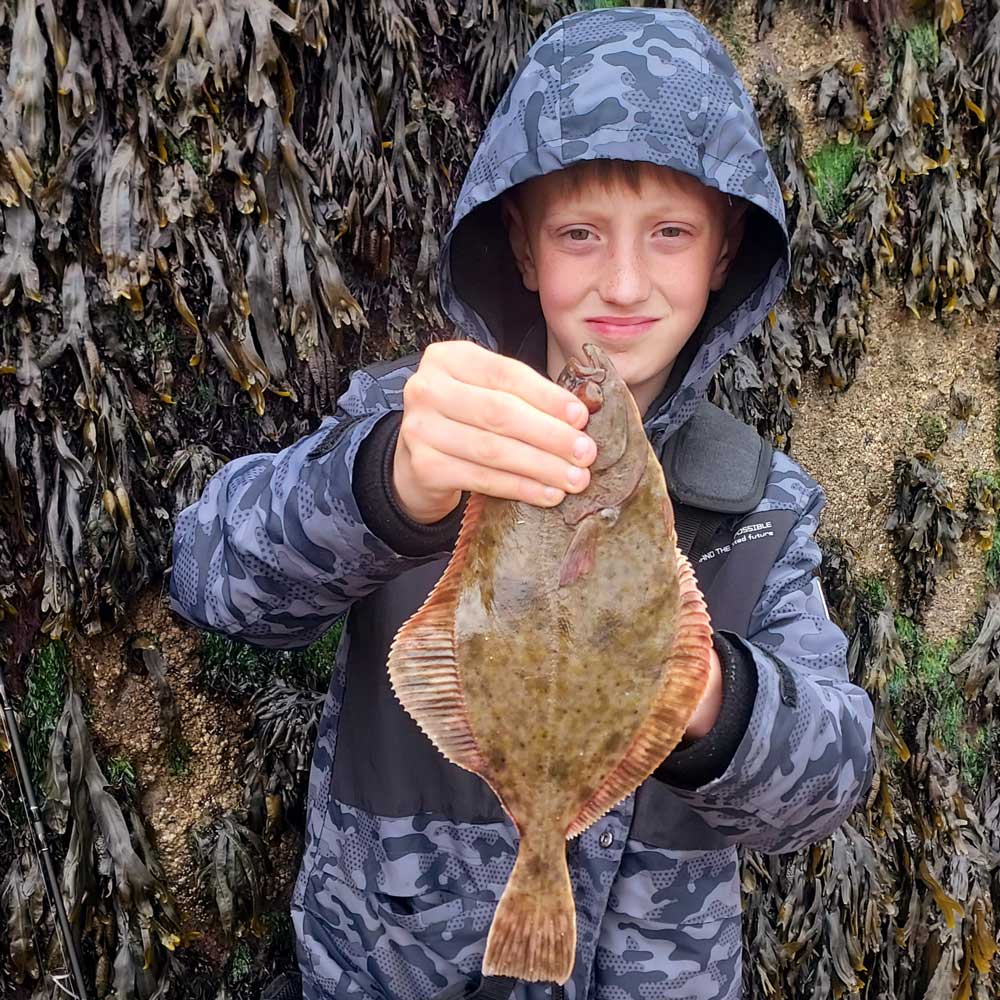 We finished the session in true Brit style with fish and chips alfresco, washed down with dandelion and burdock. If you haven't already tried this style of fishing, I'd strongly recommend you give it a go. Flatfish are very predatory fish and active hunters, and lend themselves perfectly to this kind of fishing. They're a totally different animal when caught this way, punching way above their weight. All in all, a fantastic end to a fantastic weekend. Get out there and give it a go.