Brushing off the pre Spring blues, Rhys Hunt looks back at the first boat lure fishing session of the season aboard renowned lure angling charter boat, Spirit of Arun.
After a long winter, we finally got onto our first boat fishing trip of the year. The chosen boat, the ever reliable Spirit of Arun, skippered by Martin Donald out of Littlehampton. I've fished with skipper Martin for almost six years now, on both the new boat and his previous boat, and he's given me some of the best fishing of my life.
The trip itself was organised by another one of my angling mates, David Taylor. You may have heard David on the Fin and Tide Podcast, he's an absolute gent of a man and someone you listen to closely when he talks about fishing and life in general.
We also had Tronixpro Brand Ambassador, Daryl Garrett join us, this would be his first introduction to vertical fishing for bass. Daryl is no stranger to a fish or two, you only have to follow his socials or our Tronixpro social media (Facebook | Instagram) to see he's one of the most consistent anglers around. Daryl loves to try new types of angling, and it didn't take him long to get the feel for it.
Also joining us on this roll call of bass nuts and top blokes was Damo. Last time I saw Damo I was in a poor state after my birthday trip last year! With Damo was Jake, completing the Cornish contingent, they're both super keen and mega accomplished lads who travel anywhere for a beer and some fish.
Finally, providing some incredible stories and laughs was Dan. One half of Fin and Tide. Stuntman extraordinary (no, he really is), he's a top guy, a quality angler and no slouch with a camera and a video edit!
We arrived at the marina for an 8:45am cast off. Daz and I were the last to arrive after spending too long in the snack aisle of Tesco, en route! The other boys were already suited and booted, ready to hit the offshore banks and reefs when we arrived.
It was good to catch up with old friends, bid farewell to winter and exit the river over the shallow bar into the blue yonder. The sun was beating down, the sea was flat, and the vibes were absolutely excellent.
After a steam out to the first mark, during which lure selection was discussed, braid was respooled, leaders tied, checked and then double-checked! Finally, we arrived at the first mark and I had that feeling of anticipation running like electricity through me, as I checked and checked my leader knot again before clipping on a shad.
Daryl and I both setup with an HTO Nebula SP 8ft 2in. These rods have been around for a while now and are hard to top in this price bracket. With a maximum vertical rating of up to 160g, but with a tip soft enough to feel a bite or the bottom in 200ft. If you're thinking of spending any time seriously fishing from a boat with weighted soft plastics, then this should be on the list of rods to consider. I have to say, for under a £200, it will be a short list and this should be right at the top.
I'd also brought along my new 5-22g HTO Nebula too, which I planned to use over slack tide. More on that later…
The general idea for this type of lure fishing is that the skipper sets us up in line with the feature, be it reef, wreck or bank – the common theme being a change in depth over a fairly short distance. This creates disturbance in the water, giving the bass an advantage over its prey of small fish such as sprats, sandeels, pout and mackerel.
Dropping the lures to the bottom, we then move along, lift the rod tips and the lures, then lower the lures back to the sea bed on a tight line, expecting bites to come on the drop. You'll need to take in line as you lift as the water shallows over the feature. If you don't, you'll leave your lure behind you and probably snag the bottom, or, not be fish effectively.
Fish will usually come towards the top of the bank or reef. On this first drift, that's precisely what happened, before we got over the top of the bank and through the white waves of the crease on the surface, the lads were on the fish!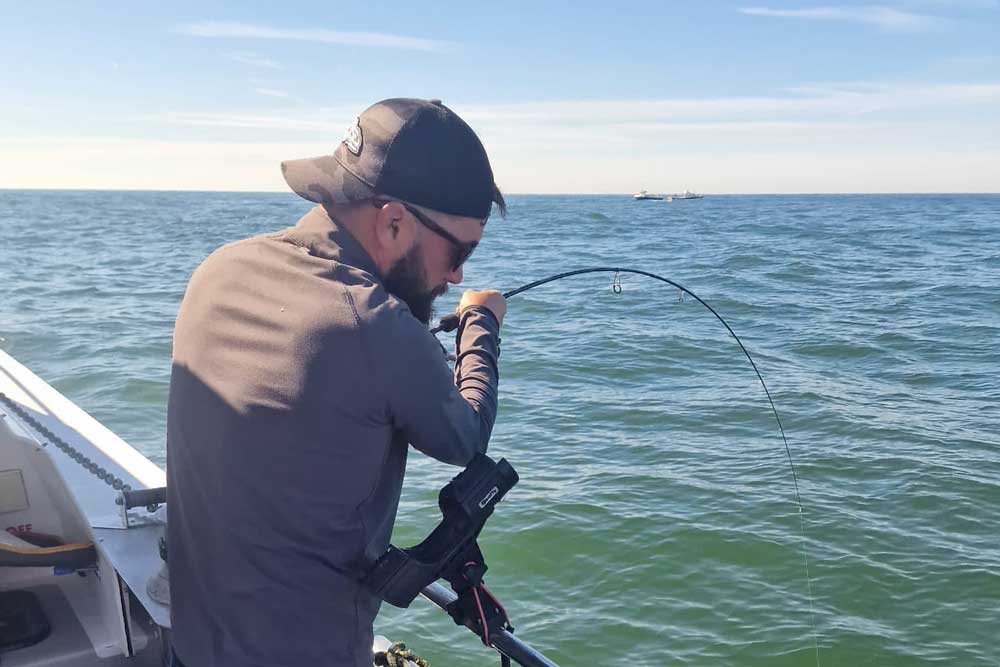 A steady flow of fish followed on this mark, a combination of top skippering and top-notch angling saw us steadily land more than the commercial boats around us. With fish in the 3 to 5lb bracket giving us all the run around to a variety of different lures with weights between 50g and 90g.
Maximising the "hang time" of the lure on the drop can be key, so we were constantly looking to scale down where possible as the flooding tide eased.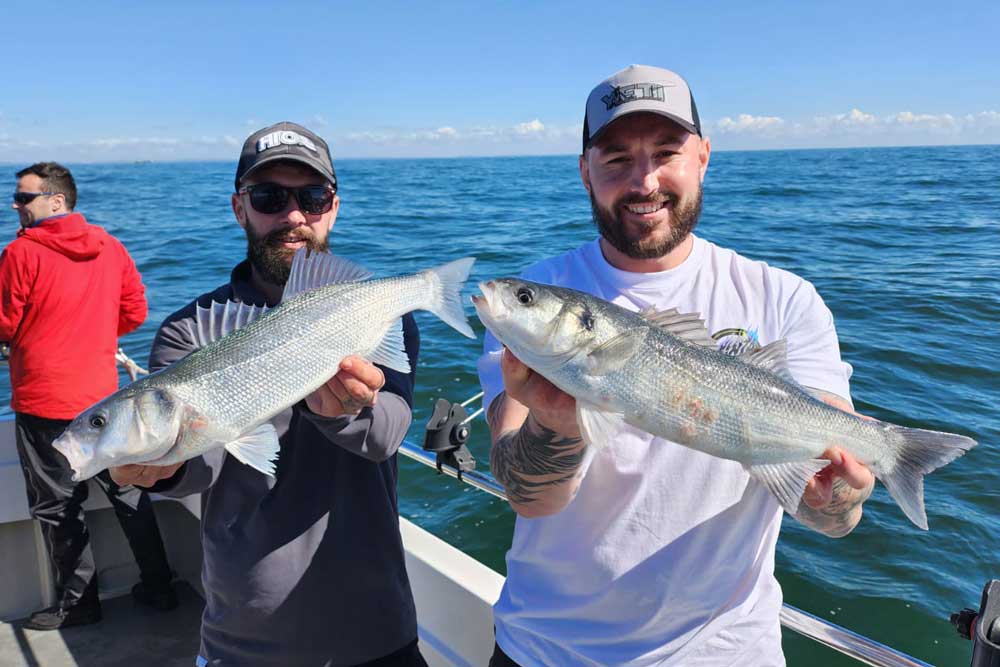 As the tide eased, a couple of better fish appeared, with Daryl into a solid fish and Dave, doing Dave things by nabbing the best fish of the day, somewhere around the 9lb mark.
My best fish of the day came around the same time, it was nice to grab a pic with her before letting her wave goodbye as I returned her to the water. I'm crossing my fingers for some good bass karma for the coming season.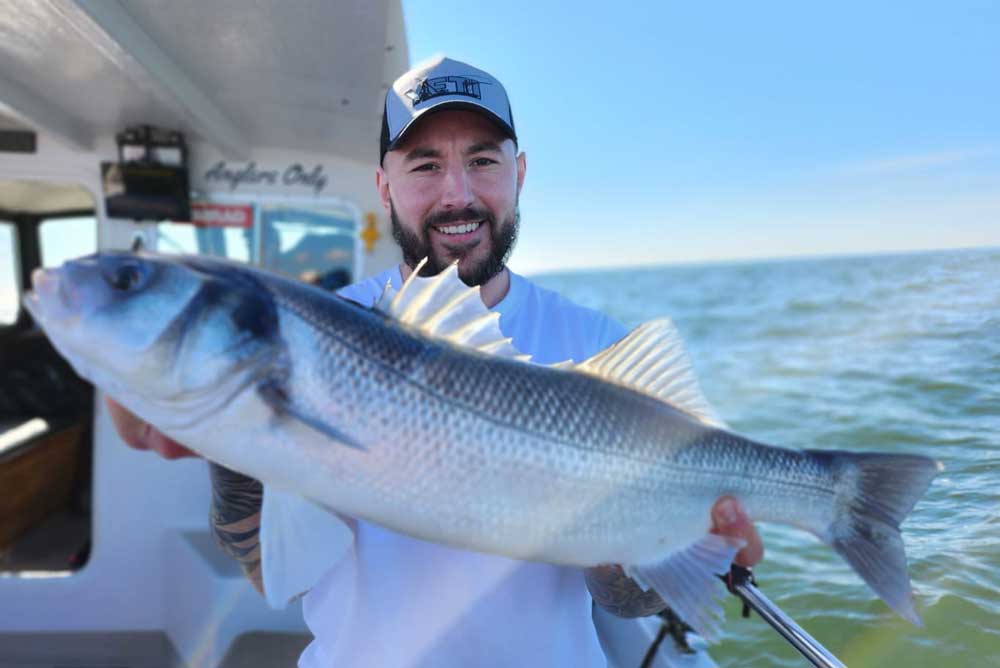 With the tide easing further, I changed to the 5-22g Nebula. Having already fallen in love with this rod for weightless work from the shore, I'm confident I can fish vertically with some care and attention with twice the casting rating of most rods. It's important to note that I can't recommend you do the same, just in case!
If you decide for yourself to scale down where possible, you'll be smiling as much as I was because 40g lures were sent down and after some careful persuasion, a bass of 3lbs was coaxed up to the net. A big fish would be some serious fun, mind! It was a brilliant bit of excitement for half an hour before the tide was completely lost.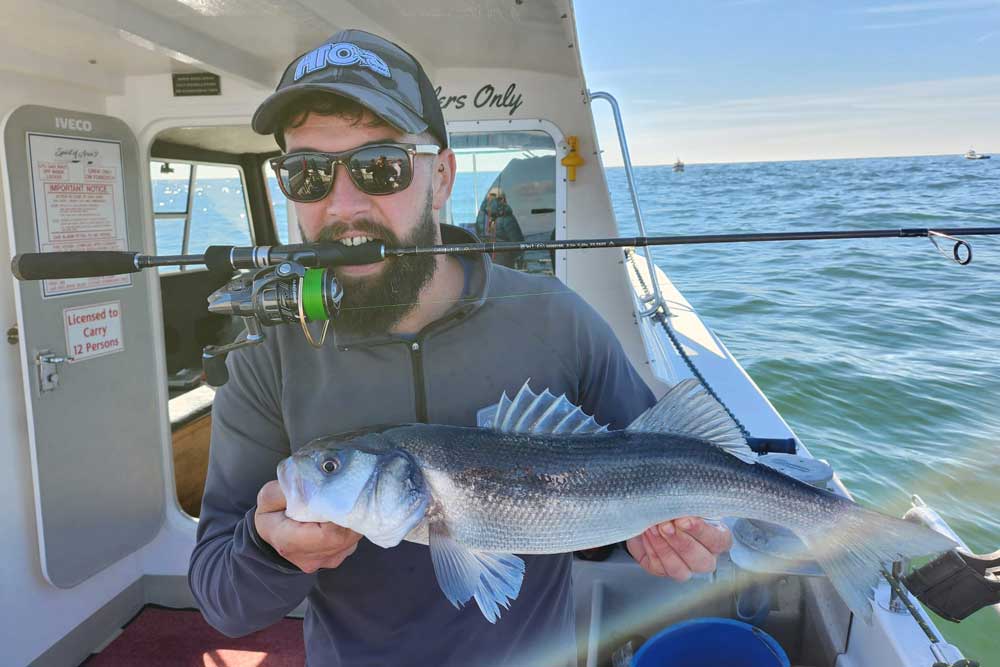 The afternoon's fishing was more challenging, probably due to the May rot which hasn't checked the calendar and arrived early. The ebb consisted of Martin running around for miles. Trying his hardest, as always, to get us on some more fish. We did find some on a few marks through the afternoon, enjoying the April sunshine throughout, along with the company of likeminded lads afloat. Living our best lives, I guess.
The steam in led us directly to the nearby pub, where, with a ferry to catch, we nailed a pint, wished the boys every success for the following day and headed off to catch the boat. All in all, it was a cracking day and one I can't wait to repeat.
Has the season started? It certainly feels like it to me, bass, blue skies, sunshine, happy days.
Be lucky – Rhys.