With limited saltwater fishing time, Mark Radcliffe's Kayak species hunting quest for 50 species moves in July and August.
Current Species Hunting tally: 36 species down and another 14 needed to hit my personal target for the year.
July
July turned into another month with very little time on the saltwater and too much on the fresh.
Once again, the only saltwater sessions were based around one of the competitions, this time the Oxwich Bay Kayak fishing tournament. Unfortunately, this year the weather in the run up to the event was shocking. Usually I would have a couple of days targeting distinct species for my list, but this year no such luck! The only day fishing was the event day where I would be combining targeting species for myself along with trying to get enough to win the competition.
My tactics were simple. I would be using my regular scratching rigs armed with size 10 Sabpolo wormer hooks teamed up with a HTO Rockfish Revolution Rod, this would be ideal for targeting any mini species on the ground. I would also need to target gurnard and flatfish that live on the sand to have any chance in the tournament.
For this general type of fishing where I may drift or fish at anchor I like a two or three hook flowing rig, with plenty of bling. I prefer to tie my own and try to keep it simple to avoid tangles. The mainline is passed through a Tronixpro zip slider where the weight will be attached, then tied to swivel. Then the trace body is below this. Tie your trace line to the other side of the swivel, usually six inches below the swivel will be a small boom, and another one a foot further down if you want a three-hook trace. The trace line is then attached to a Tronixpro Super Spinner with a further 8 inches of line below this attached to a size 2 Tronixpro Aberdeen hook. From each of the booms attach a length of line with either a size 2 Tronixpro Aberdeen hook or a size 4 Sabpolo Wormer depending on what bait is to be used. On each of the hook lengths attach whatever bling you want. I usually use a combination of Tronixpro green and black beads or the Tronixpro luminous oval beads.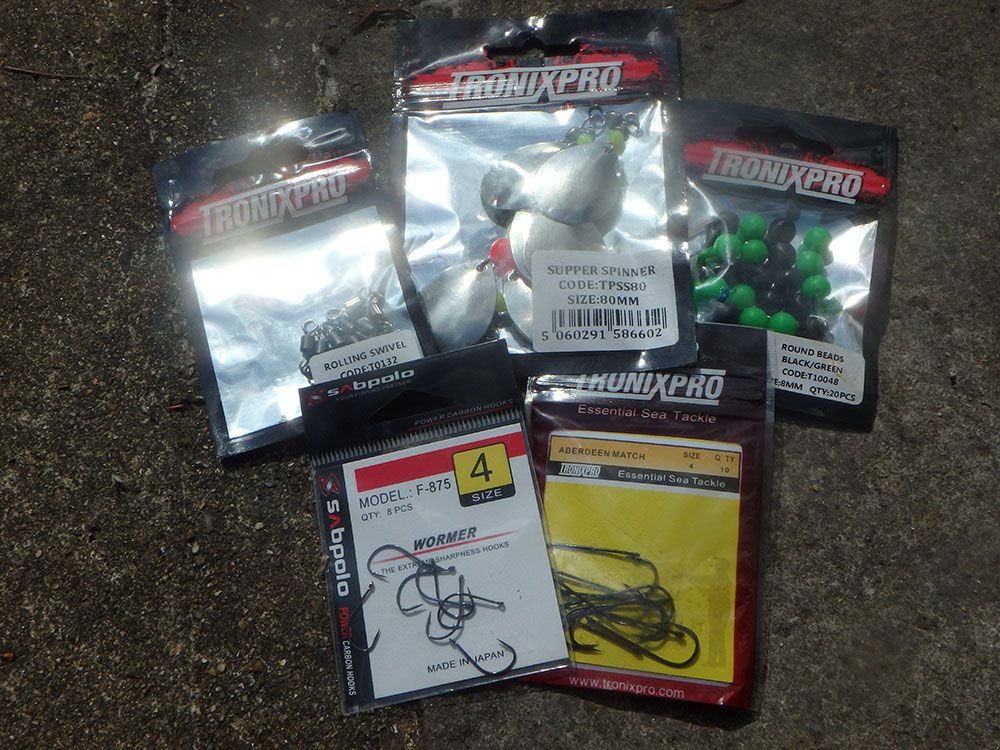 Once baited up and lowered onto the sea bed I could soon feel the 2oz lead gently bouncing along the bottom as I drifted along with the trace flowing enticingly behind it. It wasn't long before I began to feel plucks and rattles as the fish started to attack and soon enough a steady stream of dabs, dogfish and gurnard were coming aboard. Fortunately, amongst them were both grey and tub gurnard adding two more species to my list, but I didn't find a red gurnard, usually a banker from this venue. With a few more days to spare I'm sure I'd have had one for my tally. Also, added to my personal list were mackerel taking me to 39 species for the year.
As far as the competition went, I caught nine species putting me third in a field of nearly a hundred anglers, so another decent result.
August
More of the same, too many freshwater events so not enough time on the salt. Once more my only sessions were based around an event, this time a social meet based at Sennen in Cornwall. It's an event I have wanted to attend for a few years but never had the chance. This year we made the long drive and were rewarded with stunning weather, stunning scenery and some fantastic fishing.
The biggest problem here is deciding what to target. I had limited time and you are literally spoilt for choice. This presented the opportunity to not only target fish I hadn't caught this year from a kayak but fish I hadn't caught at all.
First on my list was a blonde ray. As I paddled out from Sennen Cove I was struck by just how much life was out here. The water was black with bait fish, alive with mackerel and small predators following the bait fish trail. Dolphin would come in chasing the mackerel and later in the day we would see tuna leaping from the surface and the odd whale surface too. It truly is a spectacular place.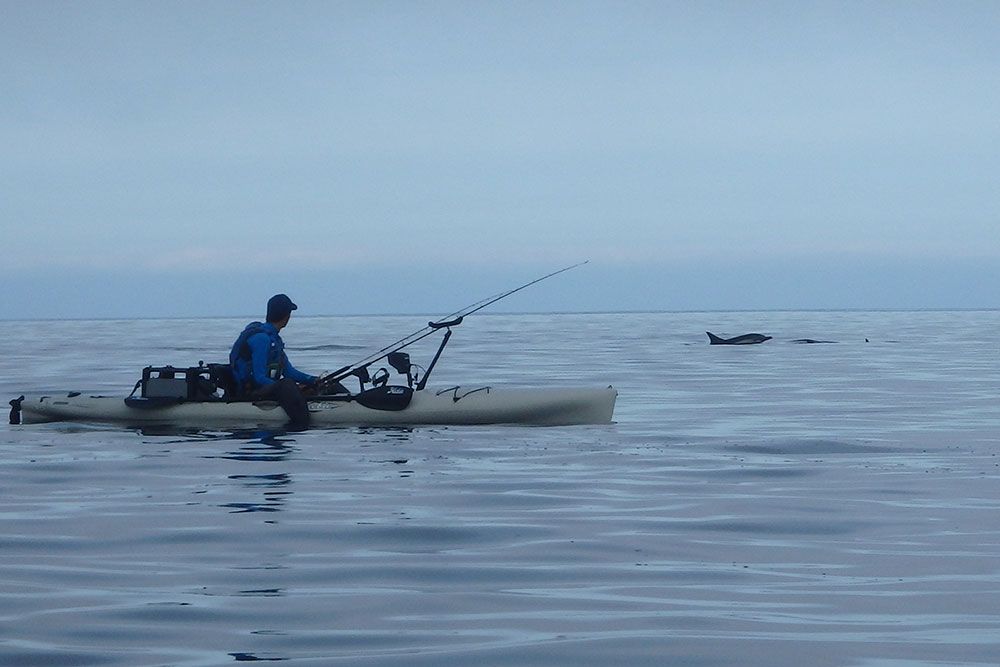 Tackle for the blondes is straight forward. I would be using a Tronixpro Guerilla 12lb class boat rod, on the business end, a simple running ledger rig. I built this by passing the mainline through a Tronixpro Zip Slider and then attaching the mainline to a Tronixpro Rolling Swivel. A five foot trace follows with a Tronixpro Big Dog II 3/0 hook baited with a fresh mackerel fillet.
Whilst that was on the bottom waiting for a bite I played around with a set of Tronixpro Sabiki's on the other rod catching plenty of small mackerel for bait. After a couple of casts something different hit them and a string of scad was soon on board. Species number 40 for the year.
This was quickly followed by a bite on the big bait, the fish began to take line and on striking it was obviously a big ray. Watching these fish come to the surface in crystal clear water is amazing and after a spirited fight the first blonde was on the yak, quickly followed by two more. A stunning fish and species number 41. After drifting for a bit with no new species I headed out towards Longships Reef to fish for pollack. There were a few guys there catching small ones on lures, but the better fish were coming to live baits, so it was back down with the Tronixpro sabikis and nearly straight into a string of Launce (species 42). One was hooked on a 4/0 hook and lowered back down to be instantly smashed by a 7lb pollack. Superb fun.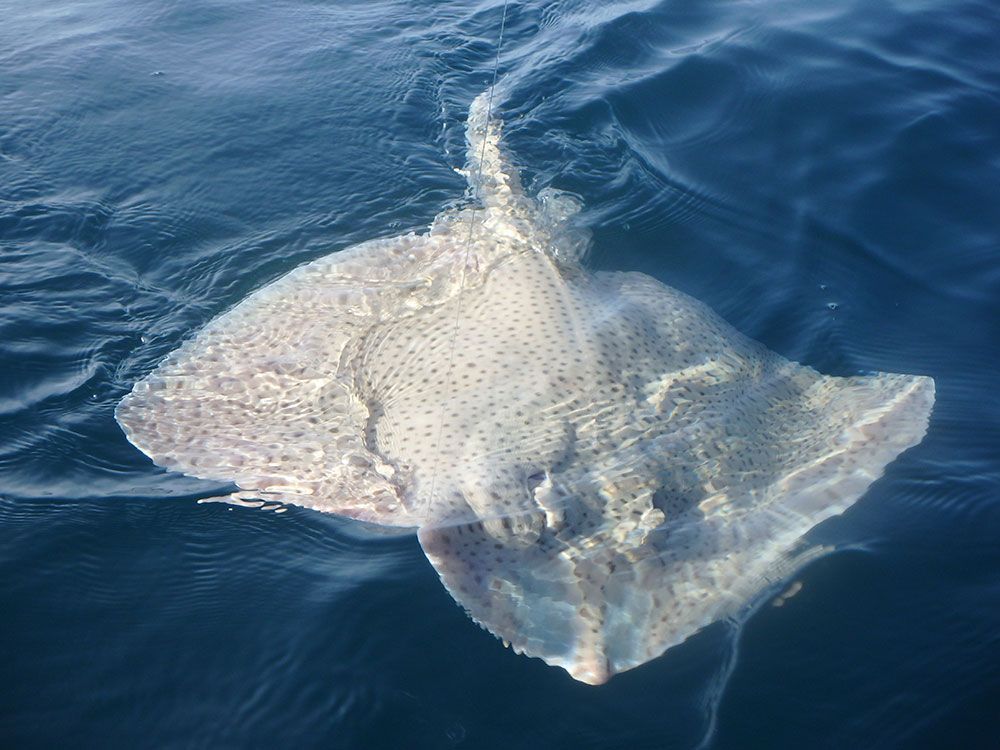 On the Monday myself and Liam decided to head to Portreath. A couple of the guys had caught tope here a few days earlier, but more interestingly they had caught a trigger fish or two on scratching rigs when trying for bait. Neither of us had ever caught this species so the temptation was too great.
Soon enough we were anchored over the reef. Rigs were two hook flappers with size 4 or 6 Sabpolo Wormer hooks baited with thin strips of squid. We weren't sure what to expect, if we were in the right place, had the right rigs etc but soon enough a steady stream of dogfish was coming on board. Then I had a very different bite, the fish was taking line and screaming around the yak… It had to be a trigger but unfortunately, I didn't get chance to see as it bit through my line. I was gutted, especially as then the bites dropped off. I thought I'd blown my chance.
As the tide eased we paddled off and had a half-hearted try for tope, but our heart wasn't in that. It was triggers we came for. When the ebb started we anchored back over the reef. What a difference. Liam had a trigger almost right away and I soon followed suit with a battered looking specimen. We were both over the moon to have caught our intended species but it didn't stop there as bites continued and fish kept coming to the yak. These fish are great fun on light gear and fight like mad. The activity continued for just over an hour and then abruptly stopped. They were only feeding at certain stages of the tide and there are more of them down there than what we think. Nobody actively fishes for them at this venue but in three days there were over twenty of them caught by kayakers either by accident, or in our case, targeted. I'm sure if you spent some time targeting them properly you would find they were quite widespread over that area.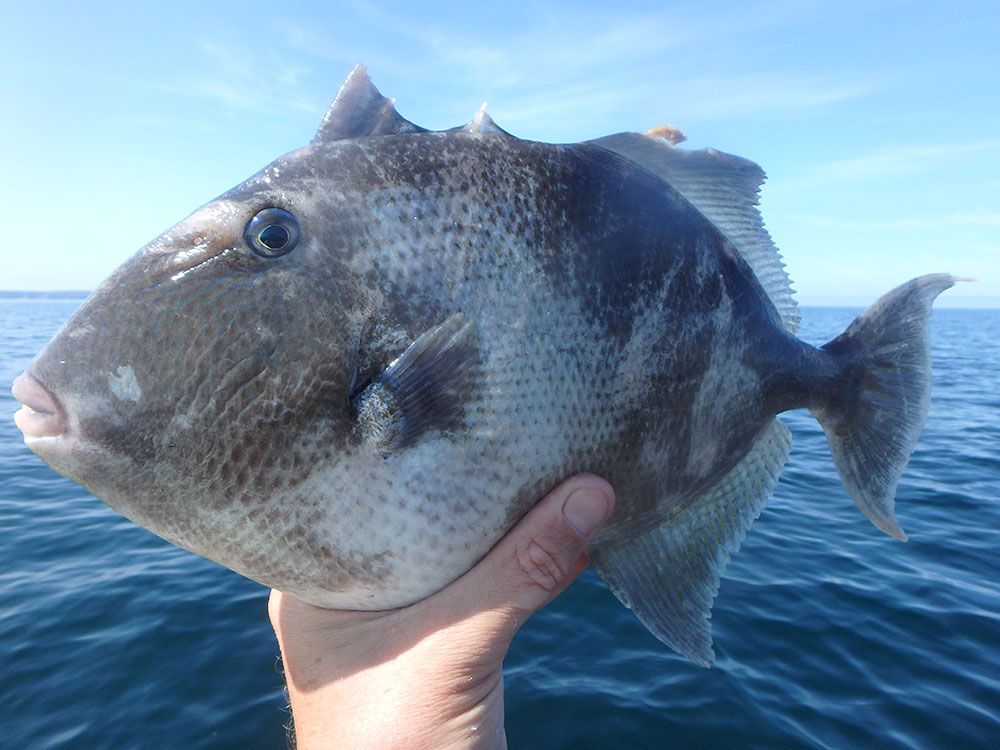 There is just so much to target around Lands End and I just didn't have enough time. It was certainly the most stunning scenery I have fished in the UK and held a vast variety of life. I certainly can't wait to return. However, that won't be until next year.
For now that is 43 species down with just 7 to get. September will see me up in Scotland where I hope to add the mighty common skate to the list along with the ever so slightly smaller scorpion fish.
Species so far
Conger Eel, Whiting, Thornback Ray, Lesser Spotted Dogfish, Cod, Five Bearded Rockling, Flounder, Dab, Coalfish, Plaice, Shanny, Corkwing Wrasse, Ballan Wrasse, Black Goby, Small Eyed Ray, Black Bream, Smooth hound, Spotted Ray, Undulate Ray, Pollock, Goldsinney Wrasse, Pouting, Rock Cook Wrasse, Baillons Wrasse, Tompot Blenny, Bull Huss, Eel, Bass, Garfish, Cuckoo Wrasse, Poor Cod, Rock Goby, Sand Smelt, Thin Lipped Mullet, Golden Grey Mullet, Red Band Fish, Mackerel, Grey Gurnard, Tub Gurnard, Scad, Blond Ray, Greater Sandeel, Trigger Fish.