Although it was a family holiday, Mark Radcliffe couldn't resist packing a travel rod and a few HTO and Tronixpro essentials in case an angling opportunity arose in Costa Rica.
Costa Rica was never going to be a fishing holiday "Your whole life is one long fishing holiday" my wife often tells me, I can't argue with that. However, it would be rude of me to go all that way and not sneak in a couple of essential tackle items in case the chance arose!
Normally when I'm fishing I take everything including the kitchen sink, however, this wasn't meant to be a fishing holiday so I only packed some essentials. I packed a travel rod and my favourite reels, the Yuki Genius 3000, keeping it simple I only packed some heavy Nitlon DFC Fluorocarbon, a handful of HTO Artic Eels, a selection of HTO Slow Jigs and a few packs of Tronixpro Sabiki Rigs. I didn't expect to get a lot of fishing in, but figured these items would give me enough scope to winkle a fish or two out from the rocks should the opportunity present itself.
The journey was horrendous, erupting volcanoes, the plane returning back to Heathrow only five hours into the journey, it was a nightmare. We eventually arrived in Costa Rica two days later than we had planned. After ten days jungle exploring we finally hit the Pacific Coast. With this huge expanse of fertile sea in font of me, how could I not fish?
As luck would have it there was a kayak fishing outfit in the village we were staying in. With introductions made at 5am the next morning I was on the beach, in the dark, rigging my new found kayak ready for a mornings action. My guide for the day was Martin, a mad keen Swedish angler. The first ten minutes were spent rummaging through my tackle box looking for items that would be applicable for Costa Rica, the HTO Shore Jigs stood out, these would be prefect for Jack Crevalle and Barracuda. The only thing I was missing was really heavy fluorocarbon, 100lbs or more, which I managed to borrow off Martin.
With the gear ready, it was time to fish. Unfortunately Costa Rica was bracing itself for its first Hurricane in 25 years, it would make land fall sometime within the next 12 hours so we made the sensible decision to stay inshore, keeping an eye on the weather.
Tropical water fishing is new to me, but, with my local expert Martin to hand, I knew I was in the right hands to get some fish. We headed for bait fish first, with huge shoals of sardines on the surface I cast out an HTO Shore Jig, allowing it to sink followed by a quick retrieve, it wasn't long before I had an aggressive take – fish on! The line was peeling off the reel and even with the drag tightened further the fish still had the strength to strip line. Martin by this point was laughing at me, but, I was having a great time. Playing a fish like this on light tackle certainly gets the adrenalin going and this fish did not want to give up. After what seemed like an age the fish eventually tired and was brought to the side of the yak, my first Jack Crevalle, the first of many with my best hitting 15lbs.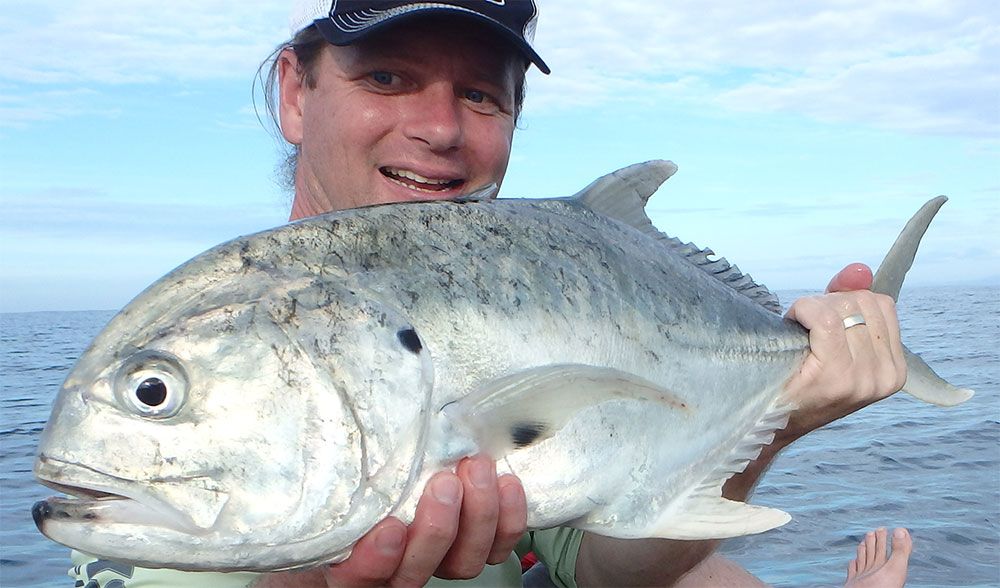 The HTO Shore Jigs were deadly for this type of fishing, they cast like a dream and the flutter action as they sink is a fish magnet. It wasn't long before Martin was raiding my box for HTO Shore Jigs in preference to his regular gear.
Putting the jigs aside I turned to the HTO Artic Eels, everything here has teeth so I knew they wouldn't last long, but I had to give them a go! I wanted to work the lures in the surface layers so started to retrieve them as soon as they hit the water, five turns and the rod was nearly ripped from my hand. This time I had the spool tightened up as much as possible…but the fish still peeled line, all I could do was hang on and hope. Martin immediately called it, a big Spanish mackerel, there was nothing I could do, it kept taking line until it horribly went slack, it had thrown the hook and the fish was gone. When I got the lure back it was absolutely destroyed, the Spanish mackerel had ripped the lure to shreds. Undeterred, I cast out again and caught barracuda, jacks, Spanish mackerel, sea bass and catfish.
All too soon it was time to return to shore, I was exhausted, it was frantic action throughout the morning, each fish fought harder than the previous! I wasn't expecting to do any kayak fishing but, it proves that by packing some multi purpose essential tackle items I was able to tackle up and catch some incredible fish using the same gear I use at home.
After the frenetic pace of the kayak fishing I took a few days off. I'd fancied a rock fishing session since I arrived on the coast and it wasn't long before I found a rock mark that was begging to be fished. I only had a couple of hours at it but what fun! HTO Shore Jigs did the business again, I only had two left as Martin was eyeing them up and being a generous soul, I let him raid my bits box. On the remaining jigs I had plenty of trigger fish who couldn't resist the flutter just before the jig hit the sea bed. It wasn't long before I was down to my last jig.
I cast out my last jig and let it hit the sea bed, leaving it a couple of seconds and then with a sharp lift it was immediately nailed by a good sized fish. I thought I had no chance of getting it on the ledge given the amount of rocks around (I'd mentioned this to my wife previously stating I hoped the next fish wouldn't be a big one!). After an incredible fight where line was again been stripped off the reel at almost full drag I managed to tire the fish, as it got closer to the rocks I could see it was another good sized jack of some kind, despite my best efforts, I had no way of landing it. I took the decision to try and hand line it up but there was no chance, as soon as I began to lift the fluorocarbon parted and I watched the fish swim away with my last shore jig in the corner of its mouth.