For some unknown reason I seem to be really unlucky with tackle boxes. I've been through them all at some stage I think. I can only ever recall one of them working close to the way I wanted and that was the original Daiwa Team Box (the one with the lift out tray). My complaints are not due to size, the ability to fit my gear in or any of those usual prerequisites, my major bug bear is water ingress.
This may not be a huge problem for the shore angler but for the small boat and charter boat angler, water ingress can be a real problem. Unless you're on a boat with a big enough cabin to store masses of gear in, your tackle box is going to be out on deck. With a decent chop and wind, there is likely to be water landing on deck. This water is usually moving with some force too, less of a spray and more of a jet. Your tackle box is taking the brunt of this and, with most tackle boxes I've ever owned, by the end of the session there will be at the very least some moisture in the bottom. Some boxes I've had have literally had a centimetre or two of saltwater sloshing about at the end of the day.
Saltwater isn't the best thing to be slushing around in the bottom of your tackle box. If you're like me and carry a large amount of rigs and bits that all react badly to prolonged exposure to saltwater, then you're going to be prematurely replacing those bits of kit. I store my rigs in Tronixpro Rig Winder Boxes, my lures are kept in proper plastic tackle boxes and wallets, generally things are separated as much as possible. But, the simple fact that saltwater has got into your box creates an atmosphere that allows the corrosive properties of saltwater to slowly do their work. Not only that, but saltwater can start to stink after a while and, personally, I hate the salty residue you get when you're picking things up from your tackle box. I appreciate that I might be alone here, but, these things do annoy me and (I think) affect my mood on a given fishing day!
I was recently fishing the Rosslare Small Boats Festival in Ireland with good friends Terry Hill, Chris Ellis and Norman Dunlop. Terry owns a Quicksilver 640, a big boat but even at 21 foot, fishing four guys, who don't like downsizing, would be a challenge. So, we each had to at least attempt to downsize a little. For my part, I ditched my team sized box and picked up a Tronixpro Large Seat Box from the warehouse. It's about the same size as a beta box but is a little taller with a smaller footprint, so it was ideal for what I wanted in terms of size. There was one other thing that struck me about the box, the main box has a indented lip of around a centimetre. Likewise on the lid there is an groove around the edge that this lip sits inside. Could this be the the box that finally solves my waterproofing issues?
To cut a long story short, it did. The demands of the competition see us fishing in some safe, but big seas, and the amount of travelling involved invariably means the deck get's absolutely drenched. But, I'm happy to report that my new Tronixpro Large Seat Box took the weather well. It didn't leak once, despite a torrential battering on most days. My kit was dry! The design is fantastic but simple. The lip prevents any moisture passing from where the lid and box meet. There are no nasty holes for bait trays and the shoulder strap fixtures are on the outside of the box so there is no direct access for water to get into the main box compartment. The lid is held tight with two latches that fold over plastic lugs and clam shut for security and to keep water out.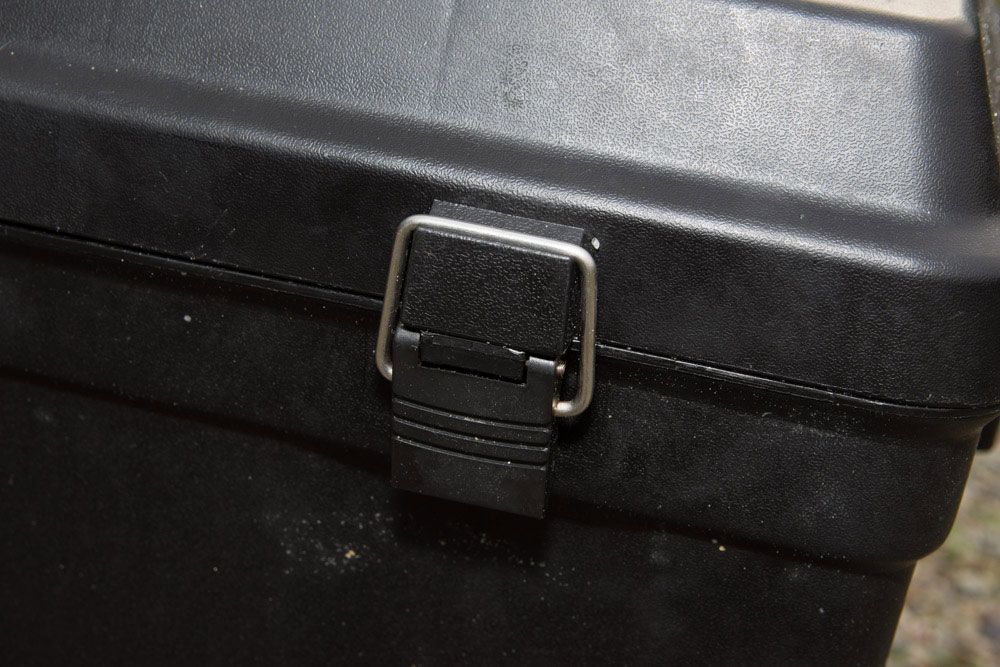 With the waterproof issue out of the way, let's take a look at some of the other features of the box. Firstly the robust, thick handle is a godsend for anglers like me who tend to hand carry their box to a boat. It's well balanced and strong and gives you the confidence to walk off with a weighty box without worrying whether the handle is going to detach. The box also comes with a shoulder strap, I didn't bother attaching mine as I never use them but there are fixtures either side of the box to attach it.
The main box is a large open area that can be used for storing all of your tackle for a days fishing. The box comes with a neat tray that fits into the top of the box to either side. This is divided into two with a long narrow partition to the side and a larger square partition. The narrow partition is ideal for storing smaller accessories with the larger being especially useful for storing tools and terminal tackle items. I store two large clamshell type accessories boxes as well as the tools and accessories I need when fishing in the tray.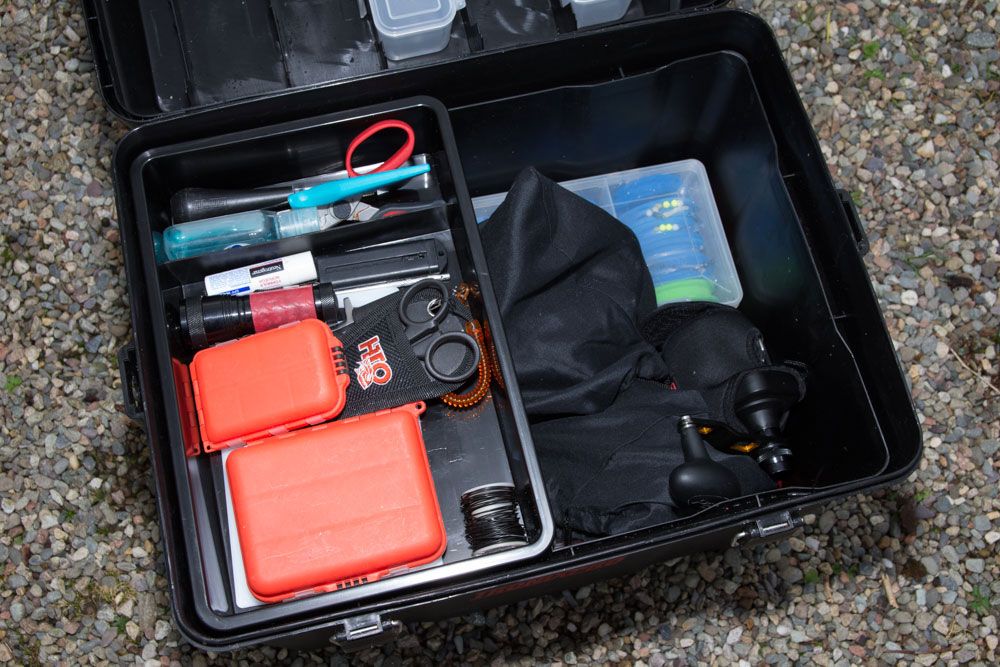 The main compartment with the tray fitted can easily store four Tronixpro Rig Winder boxes if needed. For my setup I have two Rig Winder boxes loaded with 40 to 60 rigs on standard and narrow rig winders. I also carry two plastic accessory boxes with one containing zip sliders, hooks, booms etc and the other containing some lures if required. I also have room for a Tronixpro Lead Bag with a range of leads and some accessories, a Tronixpro Double Rig Wallet, spares lines and three reels. There is also room for a bottle of water and some lunch!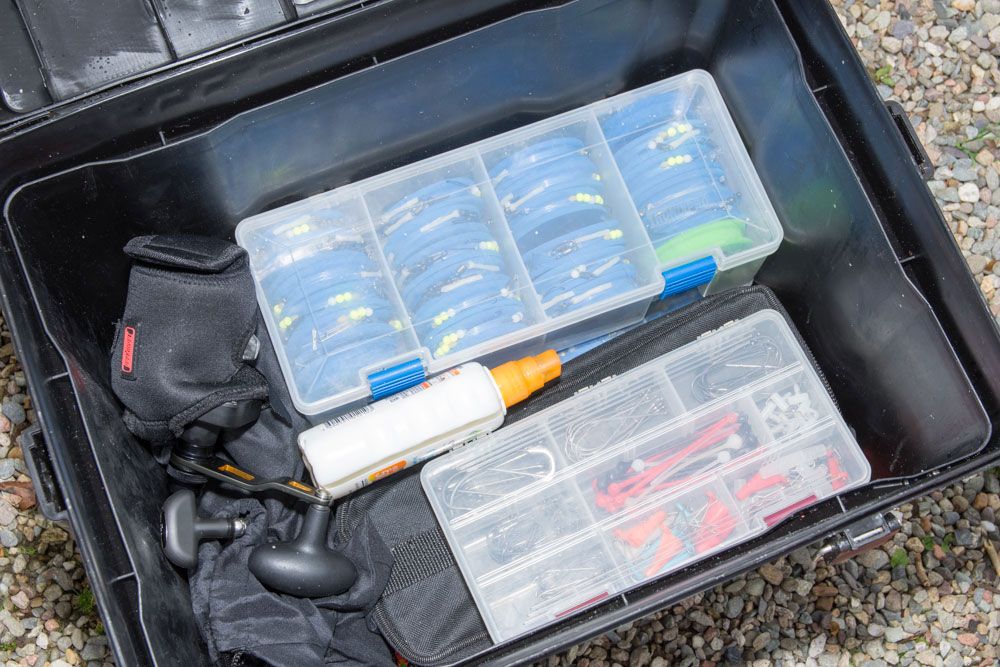 Two plastic accessory boxes are included that neatly clip into the roof of the lid. These are ideal for storing small items you might need to keep close to hand and are just the right size to store packets of hooks or other terminal gear in too. There is room to fit three of these boxes into the lid. A ribbed construction gives the box lid strength so you can sit on it without any problems.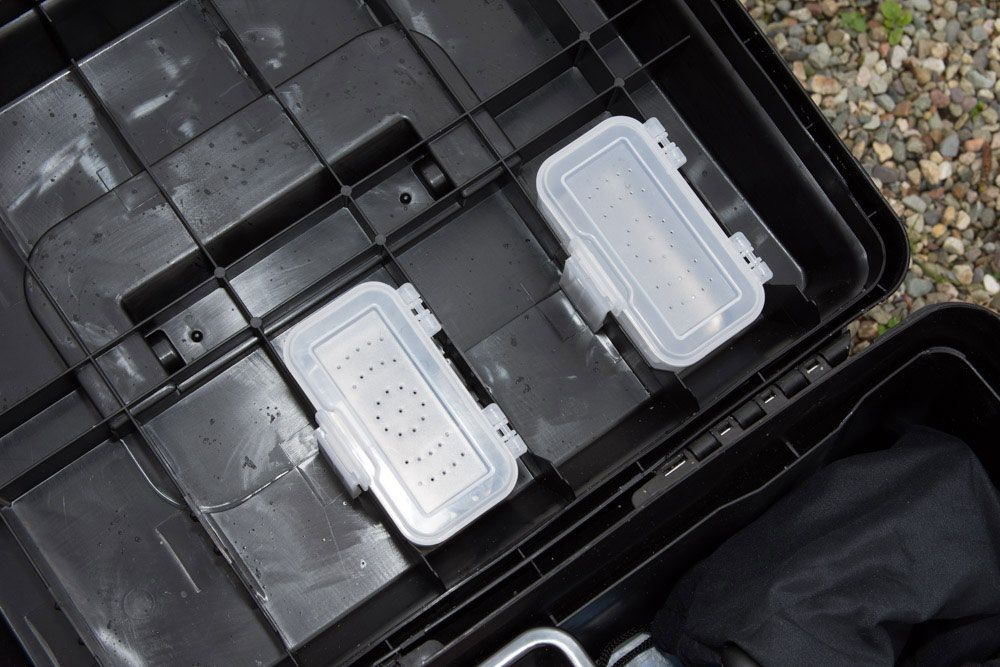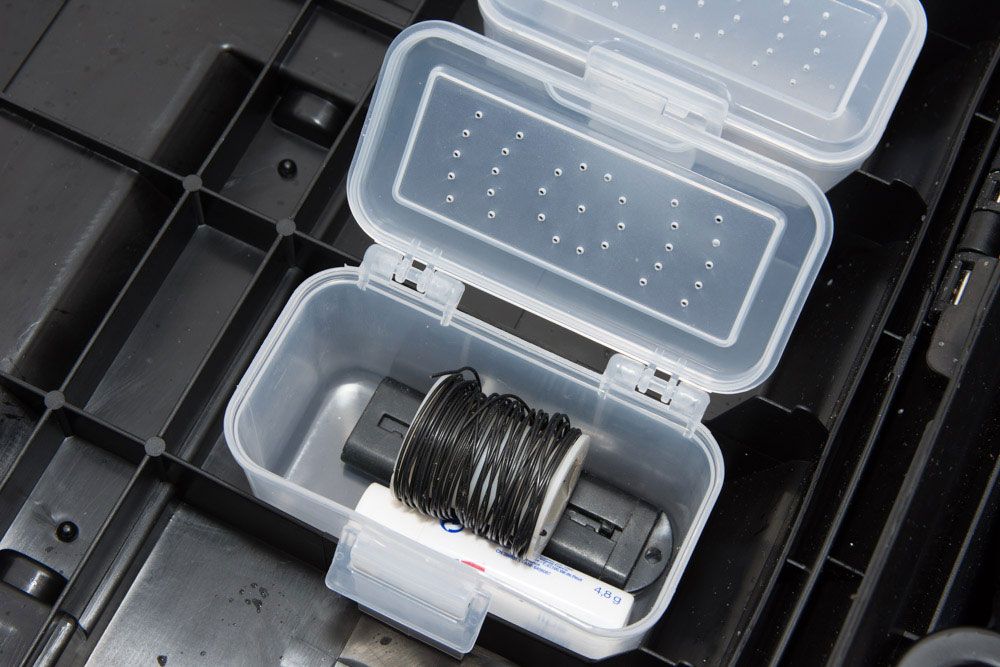 From the initial fishing I've done I really do find this one of the better boxes I've used. The boss thinks I'm a bit obsessed, but, it's genuinely the first box I've owned that has been properly waterproof, which ticks all the boxes for me before we even delve into other features. It's easy to get in and out of, the tray is well designed and can be appointed anywhere in the top of the box. The box lid compartments are great for storing those extra bits and I find it really easy to work out of.
To find out more about the Tronixpro Large Seat Box and to find your nearest stockist, click here.