With spring finally making an appearance coupled with good numbers of confirmed bass captures, a day out aboard Pete Cook's new Warrior, Halcyon Days to fish with our HTO Soft Lures, was an offer I found hard to turn down. Often people think working in angling allows you to the time to fish often, but believe it or not, I turn down more offers to fish than I accept. I'm usually too busy to commit to a whole day afloat! With the 2017 TronixFishing catalogue finally off to the printers I decided I wasn't going to get a better chance for a while, so I grabbed the opportunity with both hands! In fact, when I was getting my kit ready for this trip it dawned on me that I haven't fished with Pete for over three years. This is when we released the HTO Lure Game rod and we headed out for a day afloat to work on this Promotional Video.
As the day dawned I headed down to the marina to meet up with Pete, bright and early as usual to grab the tide. The plan was to steam out to a few known bass marks and target some big bass. We'd be using a range of HTO soft lures to achieve this, armed with Artic Eels, Mighty Minnows, Real D'eels and Mega Sticks rigged on Boru jig heads.
Pete expertly navigated us to the first mark. As he killed the engine he pointed to the Lowrance fish finder. In Pete's usual enthusiastic tone he was giddy with excitement, pointing to the "Christmas Tree" effect that filled the crisp screen – a sure sign the bass were around.
We eagerly dropped our HTO Artic Eels down and began to work them hard, both keen to get a few fish on the boat. The first drift though produced nothing. This was strange, Pete though is a very experience angler and skipper and he was confident that we were seeing bass on the screen. Soon we would be into them! On the next drift he struck into a good fish. It gave him the run around on the light gear he was using, but to our surprise, it wasn't a bass. As the fish broke the surface it was identified as a nice but feisty ballan wrasse. It amazes me how few anglers go out and target them on lures, especially from the boat. They provide some of the best sport we have in the UK and pound for pound match some of the hardest fighting species we have.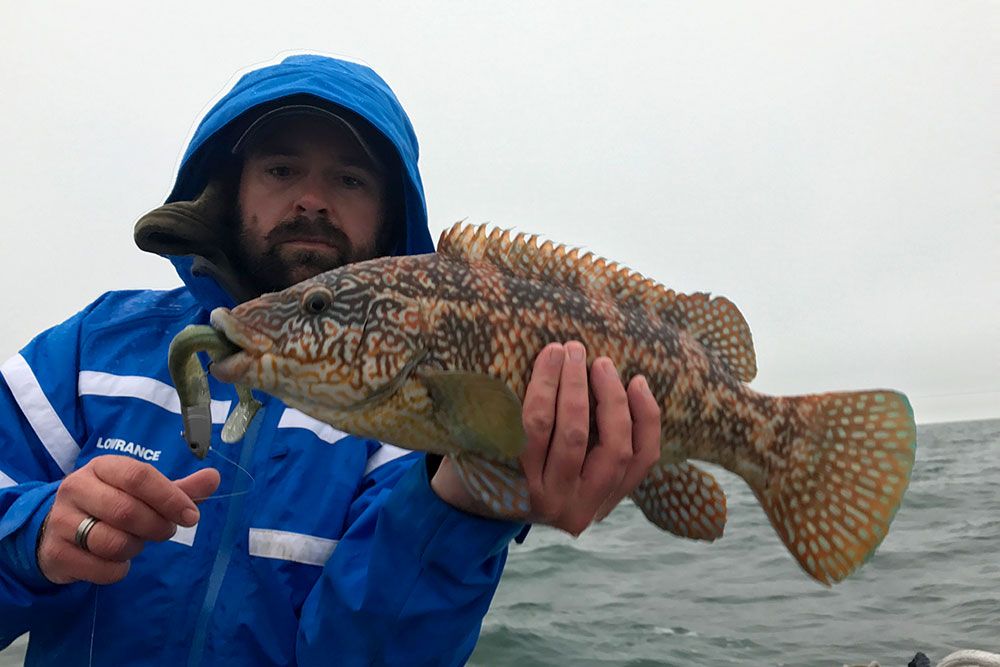 Over the next few hours we moved a couple of times to drift over some different marks but we couldn't find any bass. From all the reports we had they had been so abundant the week before, so our only thoughts were that they were not feeding right now but would come on the feed at some point in the tide. We had a steady stream of good wrasse and some reasonably sized pollack. We made the most of this fishing, it was enjoyable and would keep us busy until low water.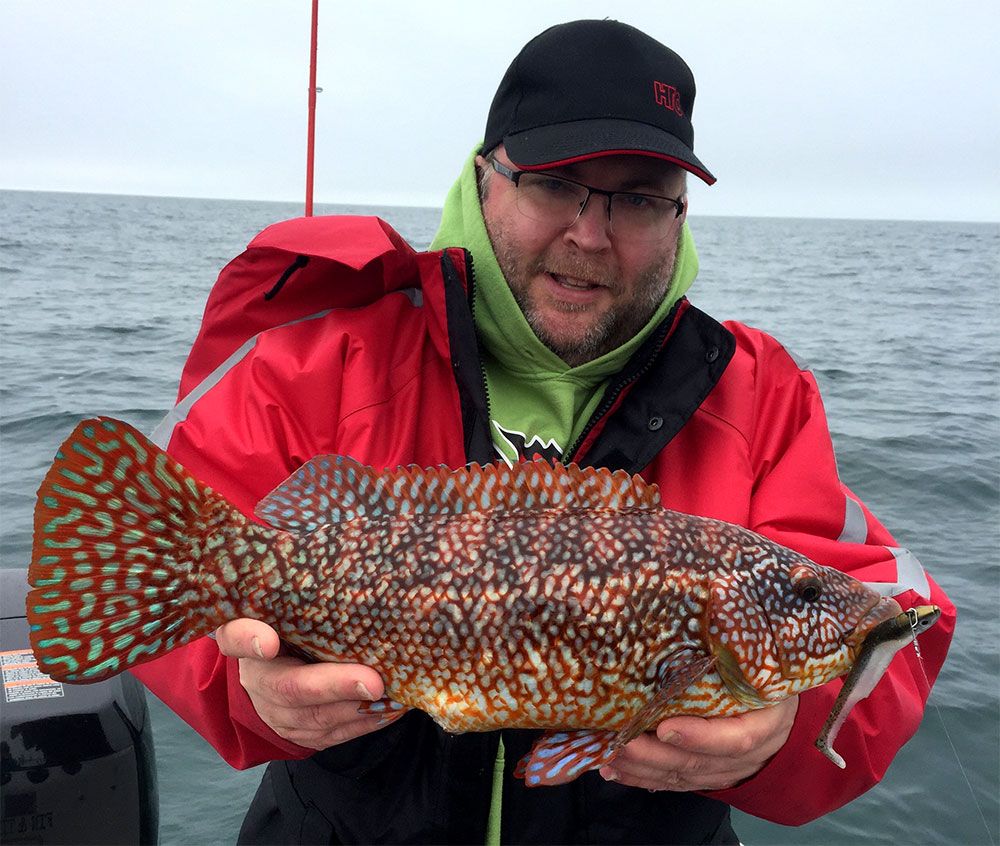 As the first of the flood started to trickle through we noticed that we had drifted too far off the mark, we were just about to wind in to steam back over the mark to setup a new drift when Pete suddenly struck into a fish. This time, it felt neither like a wrasse or a pollack…
FISH ON!
As Pete was fighting the fish it was making a serious of unusual circular turns as it got closer to the surface we could start to make out the shape of a fish. To our surprise it looked very much like a gurnard and as it came close up, we saw the unmistakable coloured fins fanned out, it was a tub gurnard and a decent sized one at that. It's a bit early in the season to be catching tub gurnard but it was a welcome surprise and an interesting addition to our increasing tally of species.
We reset the drift, still in hope that the bass might start to feed now the tide was picking up. We lowered our lures again and started to work the lures, hoping to connect with a spiky leviathan. I was the first to get a bite and despite the time of year, I too boated a tub gurnard. Looking back at the fish finder we noticed that this fish came from exactly the same spot as the last one. Maybe we had stumbled across a Gurnards Lair, if such a thing exists!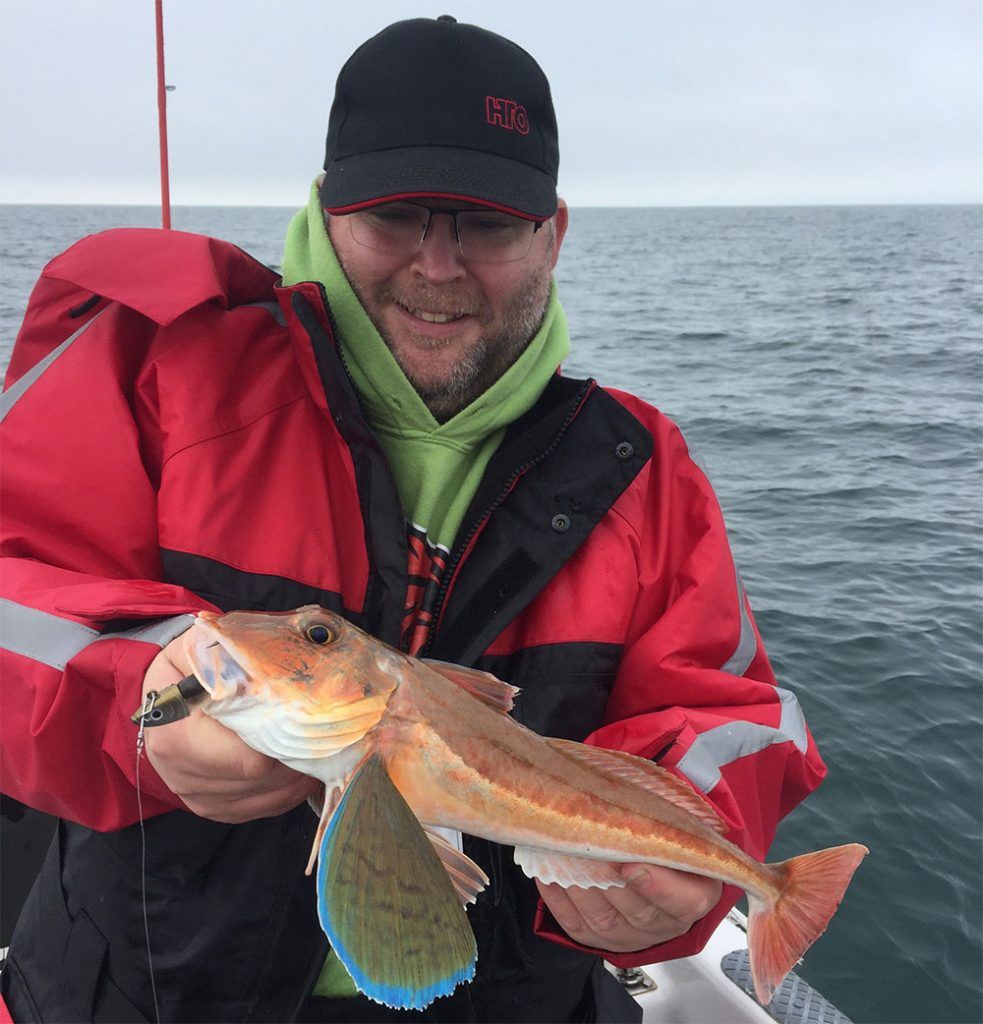 Knowing how much gurnard like a bit of bling, I thought I would rig up a HTO Slow Jig in silver and see if I could tempt one on that. Sure enough, as soon as we hit the sweet spot I caught another, this time on the jig. We continued to catch tubs on every drift, all in the same place.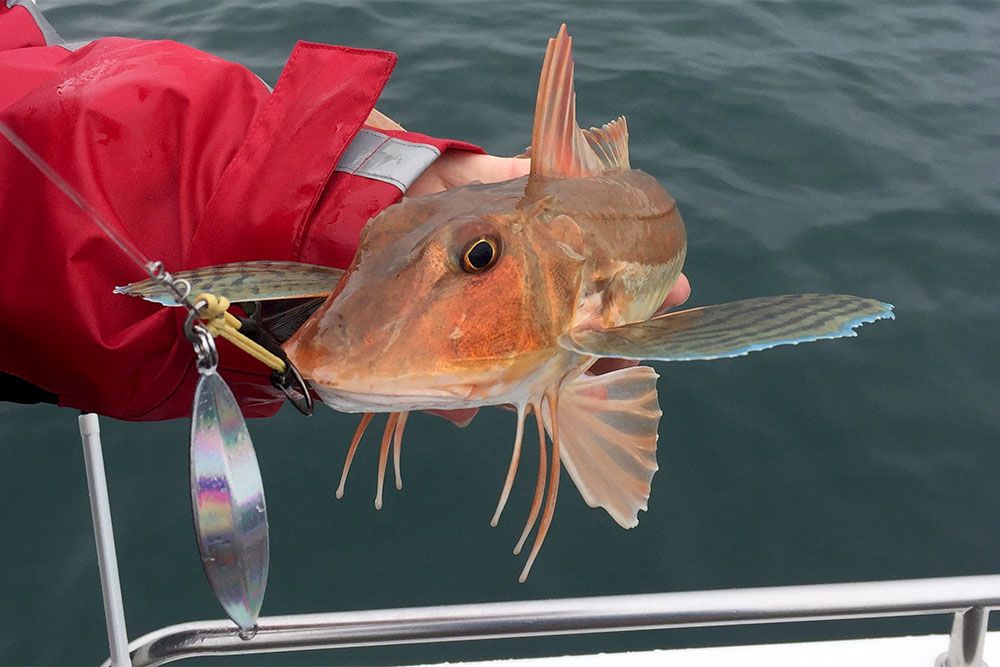 The bass fishing took a step back for a bit but once we'd had our fill of tub gurnard fishing, we headed back to see if we could catch this elusive bass. We continued drifting for another couple of hours and had a succession of wrasse, pouting and pollack but, alas, it wasn't going to be our day to boat a bass.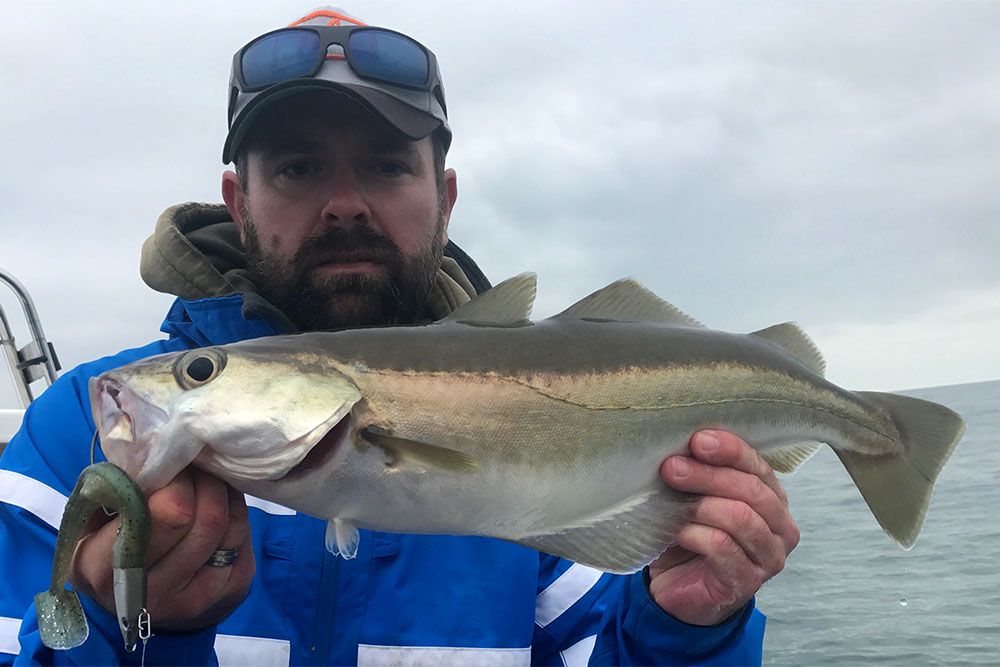 Despite trying every trick in the book to catch one, in the end we ran out of time. We couldn't buy a bass and it was time for us to head back in. It was interesting that whilst we were fishing there had been two commercial rod and line boats live baiting for bass. In the six hour period we only saw them catch one bass, so maybe today just wasn't bassy enough!
Bass or no bass, we did have a fantastic day with countless good sized fish with several different species falling to our lures. On a personal note it was great to have a day out of the office fishing, whilst also catching a good amount of quality fish on our HTO soft lures.
I'm looking forward to the next trip already, whenever that may be!