I might have overdone the title there. The reality of this "experiment" to see how Irish shore pollack take to the Real D'eels, was me squeezing in a bit of stolen fishing time on a family holiday on the Beara Peninsula, West Ireland.
I originally planned to use HTO Mighty Minnows exclusively, but when I came to collect them from Rob he'd been using little else due to their fearsome catch rate, and the little stock we had left had had their tails nipped off by black bream. Some of Rob's lures were held together with glue and hope more than anything else and I didn't think they would survive the rigours of the Irish rocks and the frantic fishing. I spotted a few HTO Real D'eels in an undignified pink and took them instead, feeling a tad less confident and under gunned if the truth be told. I need not have worried.
In this region, we have previously landed (and lost) double figure fish a few times, with 8lbers common and "average" fish going 4 to 6lbs. It is as reliable as fishing ever is, and out there with some marks directly facing the open Atlantic anything is on the cards! Gannets wheel around you, sometimes crash diving your lure from a couple of hundred feet hitting the water like a washing machine from the heavens. That wakes you up, but be careful not to jump too much, as the rocks are very unforgiving. You need quality boots and a lifejacket would be sensible. This can be very wild fishing. There are plaques on some of the rocks commemorating where anglers had passed away doing what they loved, so be careful.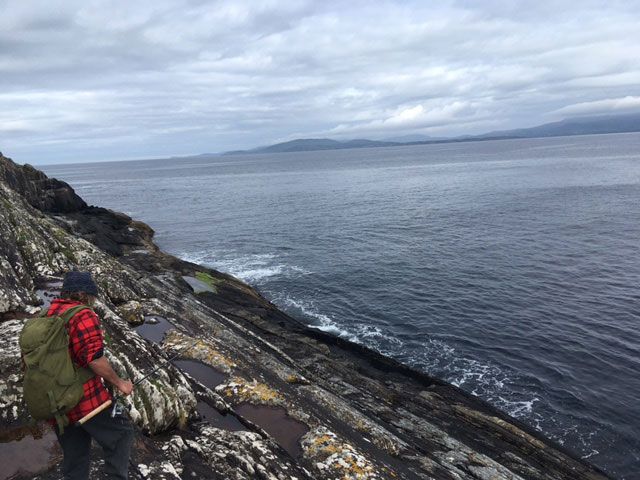 The Beara Peninsula holds hundreds of rock marks, but you can narrow your choices down by wind direction. If it's in your face and blowing the rocks will be too dodgy to fish sensibly, so unless it's a direct westerly, you can go over the other side of the peninsula where it will be on your back and you'll be sheltered.
We then just look for tide, depth of water and kelp. I'm sure you'd get fish in dusk and dark on the shallower areas, but we want 25 feet plus with a kelp ledge. Fish get busy with the tide and, as it picks up after slack on either ebb or flood, your rod could bang over on any cast with a chunky fish.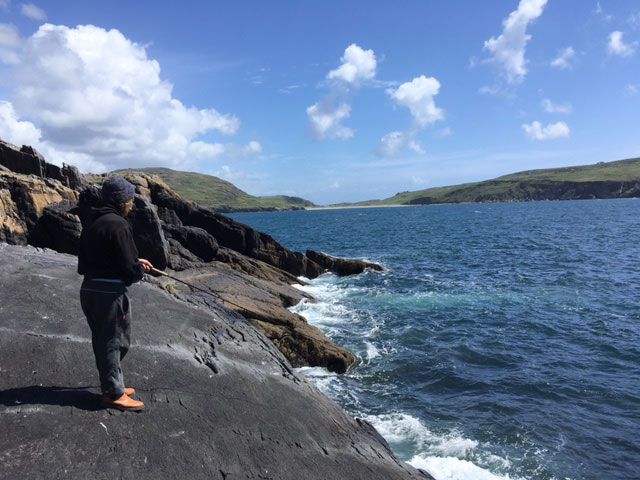 Getting a substantial fish up the rocks is challenging, this is a wild environment and we tend to step up the braid and hook sizes and we fish for the table. There's no point releasing fish if you're not confident they will survive and when we've caught a few, we'll move on to other fishing (rays etc.) rather than hammer the mark.
We move if the fish aren't having it, we might get in the car for a change of scene. This is exactly what happen on day one, when we couldn't get a pull on our favourite spot in perfect conditions, despite flogging away for a couple of hours. We whipped over to the famous D.O.D pier and restored our spirits with four decent rays on very average frozen bait. Re-energised, we nipped back over to Mizen Head, where we had found some rock marks that fitted the bill.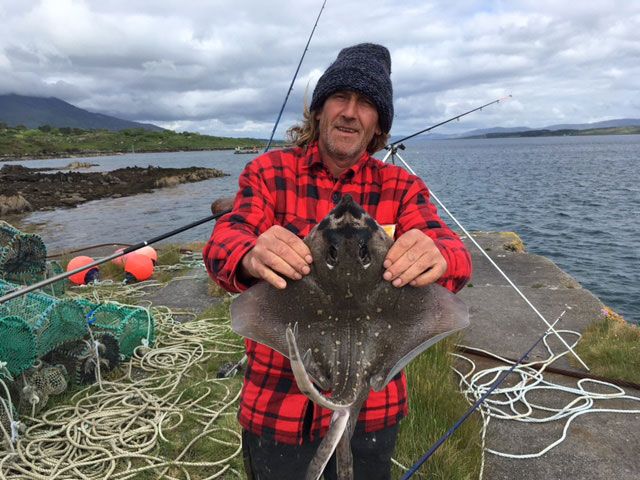 The pink HTO Real D'eel caught fish immediately, for a golden hour every cast was hit by a pollack between 3 and 6lbs. No monsters, but excellent, fun fishing. The eel held up well, before finally the body began to slip down the hook and away from the head. It's useful to carry super glue to address this and lure glue to repair the plastic. Tronixpro Rig Glue is ideal for both applications.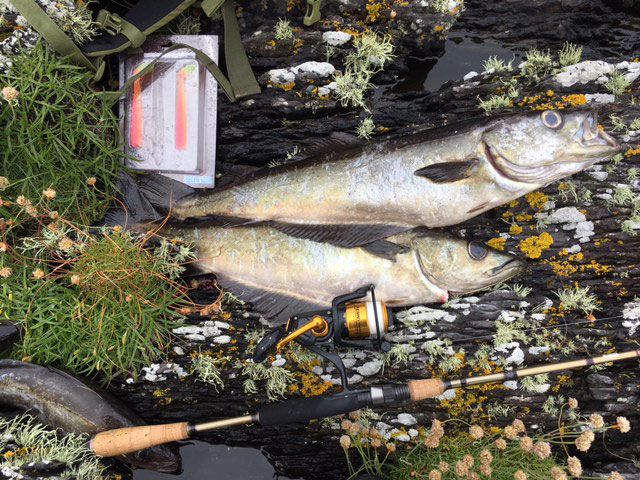 The fishing went very quiet and after a while I put on some Tronixpro Sabikis to see what bait was in the water. Nothing. Finally, another shoal of 4-6 inch pollack turned up, followed by their larger parents predating on them. At this point a close pollack imitation pulled in some fish when bites were a bit tougher. But everything is relative, and a tough day in West Ireland is a red-letter day all day long by comparison to much of our UK shore fishing.
Tips for fishing the Reel' D'eel
Most fish came on the drop. Cast out sink right to the bottom (if the ground allows) reel in 5 to 10 turns and then let the eel fall to the bottom, keeping enough connection to feel for shy bites, also expect your arm to be pulled out of it sockets by a savage take too. The twitches and jerks that bass seem to respond to don't seem to do it for the pollack, who seems to want consistency, but maybe I just need more rod hours to test that theory, fish can take right under your feet.
Travel light and move around, look for the black water and those all-important ledges and features. Water clarity is amazing and seals in your swim looking up at you quizzically, meaning the pollock are long gone and any dozy ones have been scoffed. I don't think fish enjoy any kind of easy retirement, to slow down in the sea means something will have you for breakfast. Literally.
I had my 8 year old fishing with me, and the rocks are too dangerous for him, but there are numerous small piers alive with small pollack, wrasse, congers and lovely bull huss. After dark, they all hold big eels if that's your gig! I put my boy on sabikis, as Leo is not known for his patience, they worked a treat giving him some pleasingly instant action. 8 year olds need bites, quick and lots of them.
If you fancy some Irish fishing (or a trip on B.I.F 1 charters from Brighton) check out the website www.brightonishorefishing.com and email me at info@brightoninshorefishing.com and I'll give you the marks and recommendations for where to stay and what gear to take etc.