Before Christmas Charlie Tudball headed to the Bristol Channel, here he shows you how to bag yourself a Bristol Channel Blonde Ray.
As a rule I generally try to avoid being a sheep and following the crowds just because a fish was caught at a particular venue. However, when my social media newsfeed was filled with multiple pictures of good sized, beautiful looking Bristol Channel Blonde Ray, I just had to follow the masses and hook up with one of these big blondes!!
The Mark
Greenaliegh was the mark of choice, it's a 10 minute walk round the coast from well known venue White Mark. This is a large rock that has been painted white, apparently to indicate a safe anchorage at low water. The mark is renowned for its good quality ray fishing. Small eyed ray are the main target in the summer with blondes and spotted rays more prevalent in the colder months, thornbacks are an ever present throughout the year.
The unfortunate thing with this venue is the parking situation. There is a pull in at the top of the field just before the farm, this only has enough space for three vehicles. If you're travelling to fish the venue then please try to car share or park in one of the Minehead seafront car parks and walk to the mark. The added advantage of parking in Minehead is you're only a minutes walk from West Coast Tackle, the only dedicated tackle shop in the town and also well stocked with Tronixpro tackle.
It's not a mark for people uneasy on their feet. You're fishing on football sized rocks which are either covered in barnacles or slippy green weed and many are loose underfoot too. If you can handle the conditions then the best fishing is three hours either side of low water on most tides. It will take a tide of at least eleven meters for the rocks to fully uncover for you to setup on the sand, however, on most tides you should be able to see the end of the rocks. There is the odd snag but most rigs are lost in the rocks under your feet on the retrieve. With this in mind it's best to save some energy when battling a big blonde for the last 20 to 30 yards of the fight.
Greenaliegh doesn't call for distance or finesse, it's Bristol Channel fishing at its best.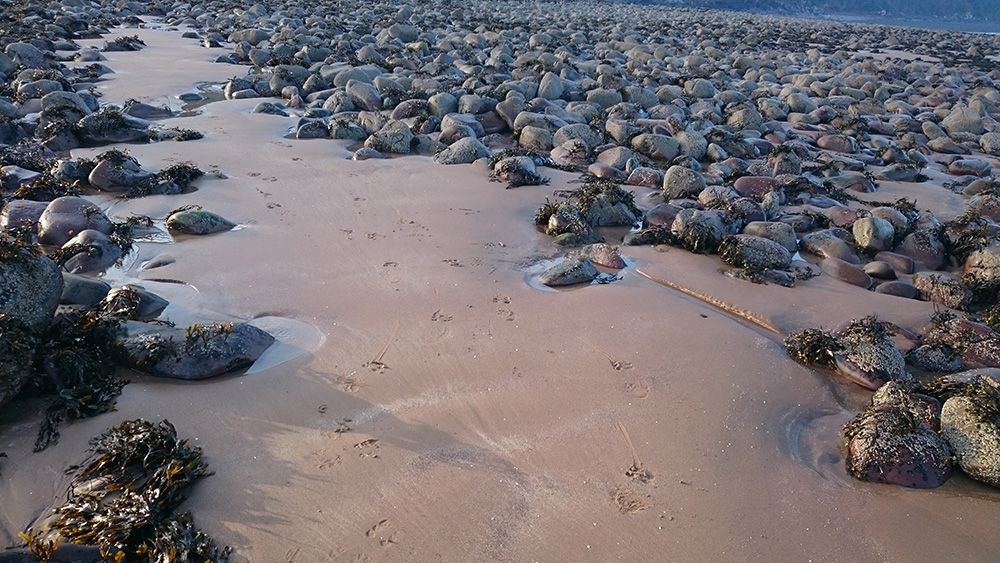 Rig Choice
My rigs of choice are a Pulley Pennel or an Up and Over Pennel rig. Both with six feet of 30/40lb hook lengths and a 60lb rig body made up with Tronixpro Krystal Shockleader. To make up the Pulley Pennel rig I use the Tronixpro Pulley Bead, Quick Change Links and Rolling Swivels. For the Up and Over I use Tronixpro Rig Springs, Casting Snaps with clip, clear round beads and our crimps.
I prefer the longer hook length as is allows the rays to come in and lay on the bait without any danger of them laying on the grip wire of the lead and getting spooked. I always fish a 7oz grip lead, I find with my casting style this lead works best for me however, on most tides, a 5oz or 6oz grip lead will be sufficient to hold in the Bristol Channel tides.
There is no need to go over board with the hook size, I prefer a 2/0 in a softish but sharp pattern, this is plenty strong enough to land a decent blonde ray, but will bend out if the hook point meets a rock, so you can get your rig back with just a hook change needed. My hook of choice is the Kamasan B950U.
Rods, Reels and Line
I was fishing with two rods. One a standard beachcaster coupled with a Tronixpro Tournament Envoy reel and the other a Tronixpro Cobra GT and fixed spool. The multiplier was loaded with our Axia mainline. Greenaliegh is notorious for grated lines if you manage to find a snag, so this low cost, tough value mainline is ideal for this kind of work, in fact, it's almost as good as some of the more expensive premium lines on the market. On the fixed spool I went for Tronixpro Krystal XT with a Tronixpro Bite Tapered Leader. Krystal XT is slightly more supple than Axia and casts better on fixed spool reels.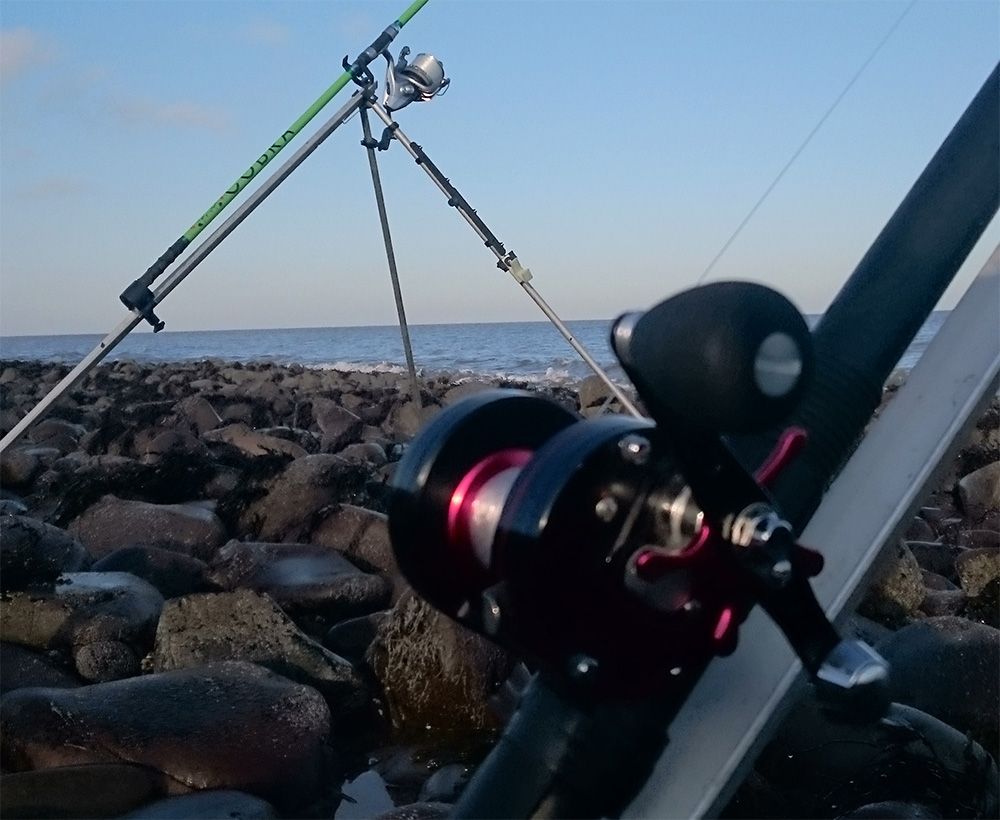 Baits
Sandeels, launce, mackerel, squid, bluey and herring, you can take your pick, they're all successful Bristol Channel blonde ray baits. I chose to go with snake launce and sandeel. Sandeel is my number one ray bait, but this mark is plagued with dogfish and they love sandeels as much as the ray. With this in mind I added in the launce, dogfish take longer to find launce and it would hopefully buy me some time for a ray to find my baits.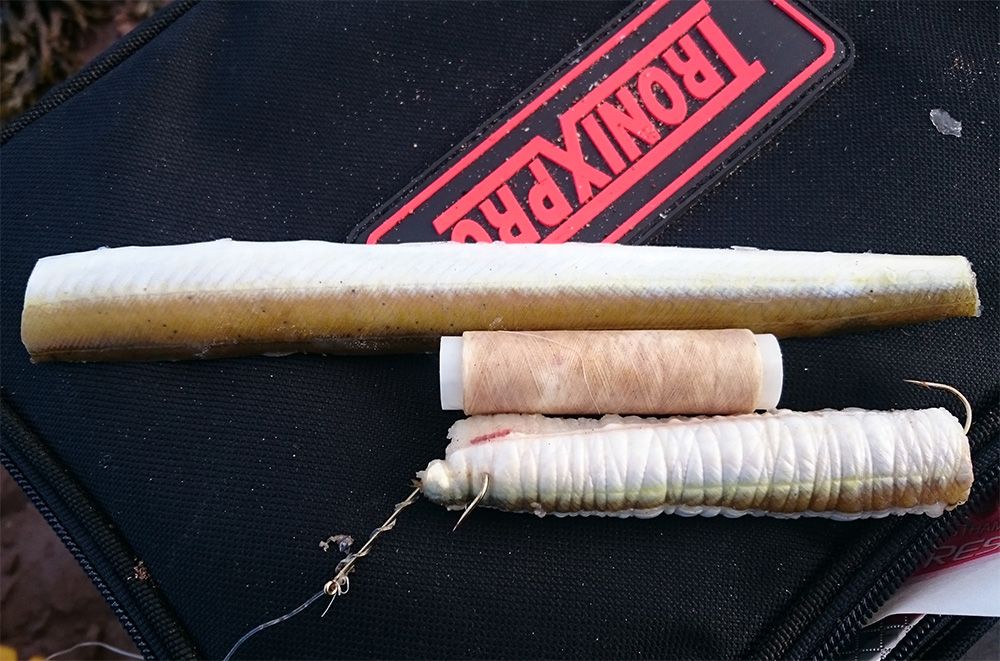 To prepare the launce I fillet it with the Tronixpro Bait Knife and then cut the fillet with scissors, this means you don't blunt your knife and get a marginally neater bait. Using the Tronixpro Bait Needle you can whip up long, streamlined baits that are ready to thread on the hook. For whipping up these baits I prefer our fine bait elastic, this doesn't cut into the flesh of the launce and mush up the bait.
Through the session my sandeel baits had two dogfish and three decent sized whiting and the launce bait, well, that was responsible for the cracking 13lb 9oz blonde ray pictured in this blog.