George Cunningham and Chris Snow jump aboard Littlehampton based Spirit of Arun 2, skippered by Martin Donald, for a day chasing spurdog, blonde ray and everything else in-between!
This trip had been booked for months, a trip we'd all been looking forward to after a very busy late summer. We often book these trips with the best intentions, however, the weather usually seems to beat us. This time though, we got lucky in more ways than one! Firstly, little did we know that England would go into lockdown the very next day. Secondly, we had been hammered by storms and gale force winds for the whole of the two weeks prior, we thought we'd have yet another Tronix trip cancelled but, miraculously, the weather gods were on our side. The wind dropped the day before, just in time for the sea to settle and give us an unexpected day out in calm weather and flat seas.
Our original plan was to head to the mid-channel wrecks but due to the water colour, we all agreed to dust off the bait gear and enjoy a final, pre-lockdown day out to see what species we could find.
Spirit of Arun 2
This was to be our first trip out on the new Spirit of Arun 2 working out of Littlehampton. Spirit of Arun is a highly regarded charter boat that is booked a long way in advance, with some fantastic catches that bring back keen anglers time and time again.
The business was taken over recently by Martin Donald who replaced the original Spirit of Arun with a new Procharter P4 10.8m vessel. She is fully kitted out to make sure that your day is as comfortable as possible. Martin keeps her spotless and has her fitted out with top quality rod rests, a full set of electronics, tea and coffee making facilities and a clean toilet.
Littlehampton Marina is simple to get to with free parking that is less than 20 yards from the boat. Making it easy to get your gear from the car to the boat with no stress.
Tackling Up for Spurdog and Blonde Ray
After a chat with Martin, we decided that there would be a good chance of blonde ray, and that would be the main target of our day. However, the tide was running too fast for the first hour, so we headed out to a general mixed species mark to see what we could find while we waited for the tide to slacken.
As this was a Tronixpro trip, everybody on the boat was using Tronixpro exclusively. Martin Donald is a member of our Prostaff and usually has a good selection of Tronixpro and HTO gear on board. We would focus on a few products from the Tronixpro range throughout the day.
The first product we wanted to put through its paces was the new Tronixpro Xenon Leader. While this line has been tested extensively as a shore rig body, we hadn't really put many hours into using it as a hook length to target big fish. We would all be fishing simple running ledger rigs with Xenon Leader as the base.
None of us could fault the Xenon Leader, it is supple and doesn't stretch or burn when tying knots which makes for a strong knot each time. There is a little stretch but not too much, all in all, it is the perfect line for tying all manner of rigs and hook lengths and as a shockleader too. It has excellent abrasion resistance, which was ideal for catching ray, conger and spurdog of which we had plenty! As you would expect during a full days fishing, there were times when the hook lengths had to be replaced through wear and tear, but none of us were bitten off, despite catching some sizeable and aggressive fish.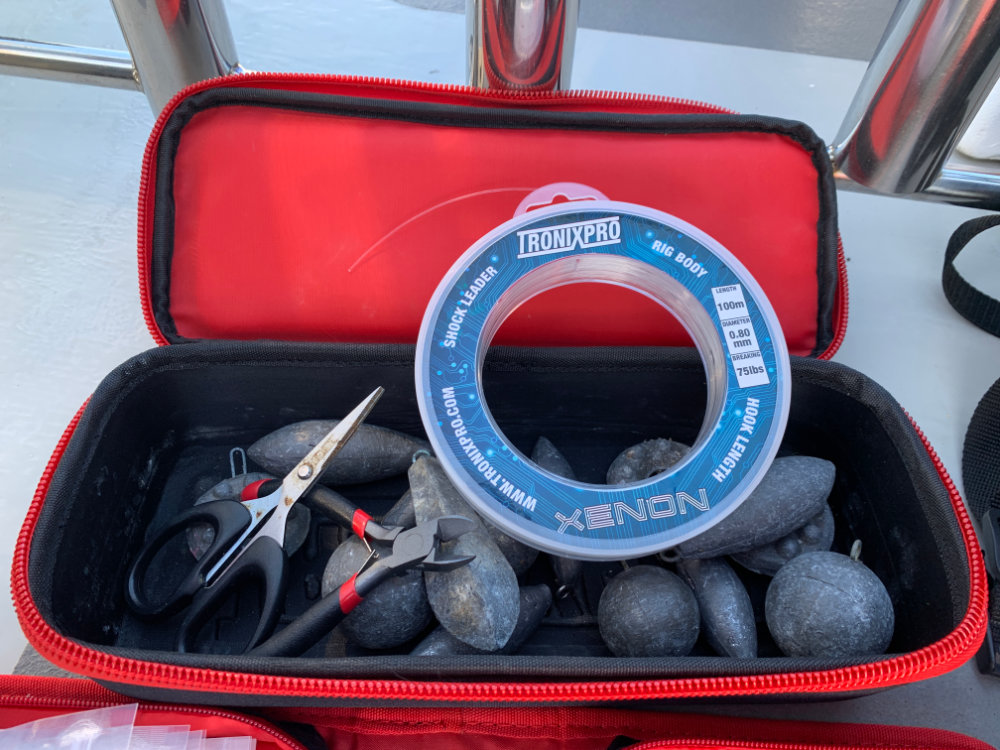 Each hook length was finished with Tronixpro Hooligan Hooks. The Hooligans were faultless all day! Made from a heavy, thick wire gauge and although I had some concerns they were a bit overkill for what we would be fishing for, they weren't. We missed very few bites all day and most fish were hooked in the corner of the mouth. This made unhooking simple, easy and with minimal fish damage. For big fish fishing, these are seriously powerful hooks that won't let you down!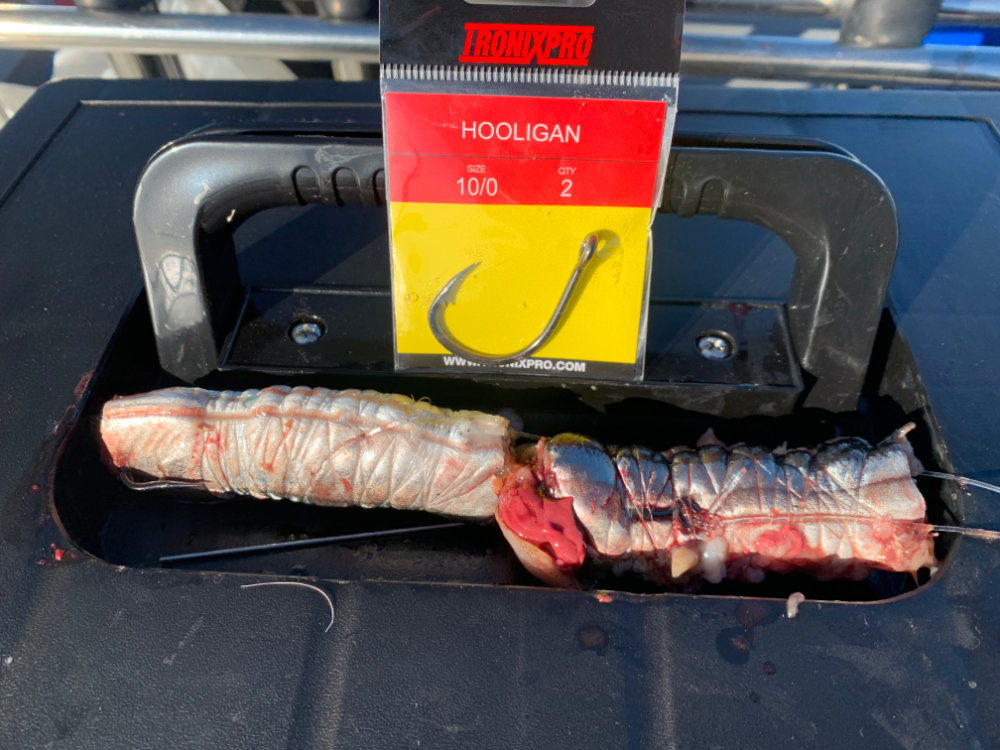 These were the two main items we wanted to get some more fish hours in with, as although these items have been given a good thrashing on the shore, boat days have been few and far between. We also had a few other items to bring along on the day too, all of which made our fishing more organised and that little easier.
First up was the new Tronixpro Lead Bag, these are hard bottomed cases that are perfect for boat anglers. Boat anglers often take a wider range of leads than shore anglers, and these cases are great for keeping all your leads together in one handy storage system.
The new Tronixpro Match Organiser is a handy case for carrying rigs, small packet items like hooks as well as tools and spools of line. I used mine to keep out on deck with my Xenon Leader, packets of Hooligans, scissors, side cutting pliers, and a knot puller. It's worth mentioning here that when tying the heavier mono, the knot puller is a godsend. Allowing you to bed down the knots fully without ripping your hands to bits!
All my gear was contained in the Tronixpro Rucksack. It's the perfect bag to carry everything for a trip without taking up too much floor space. The different compartments make it easy to store items handily, so you know where they are. All our new luggage comes in a water resistant, wipe down material, which is handy on a boat where boat spray can be an issue.
On the business side of things, I'd be fishing with the AXIA Charter Boat Rod. AXIA is a sister brand of Tronixpro and specialises in good quality gear at low prices, with this 8ft 20/30lb class boat rod retailing at around £35. I fished with this rod all day long and for the money, cannot fault it. Many rods at this price point would be soft, ugly and just not fit for purpose. We worked hard to make sure we could get the best blank action for the price. The rod has a robust action, its fairly stiff and holds up to a strong tide well when using heavier weights. Catching good-sized fish is no problem and I had conger up to 30lbs on it during the day. Yes, the rod did bend down to the grip, but it handled it with no problem at all and is a real fun rod to use!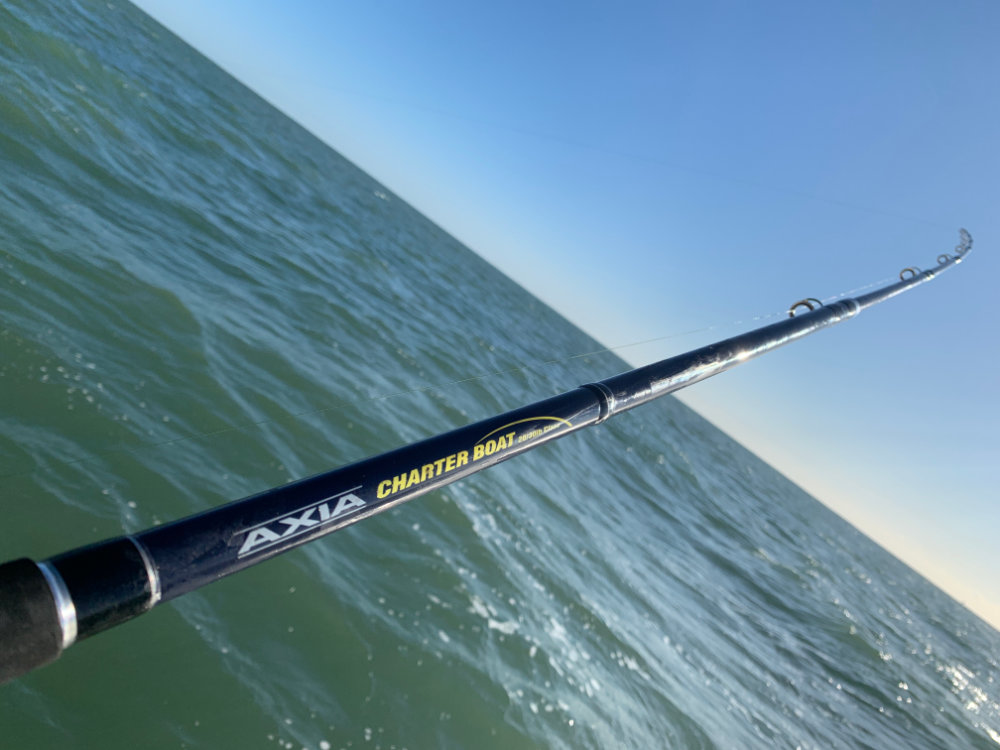 Finally, before we get onto the fishing, baiting up! For this, we were using the Tronixpro Large Baiting Tool. This is great for loading up large cocktail baits and is simple to use too. It allows you to create tidy baits with bags of flavour. To keep everything together, the ever faithful Baitex bait elastic. This stuff is flawless, comes on large 300m spools, a protective canister to stop bait juice rot and is easy to remove when you want to change baits.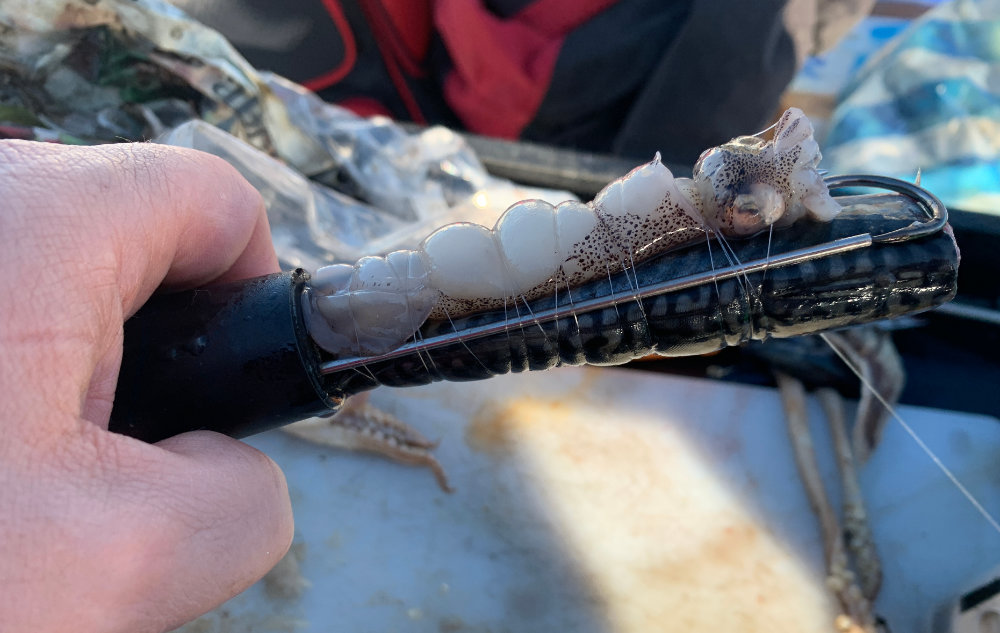 The Fishing
With all the gear ready, hooks baited, and rigs enticingly settled on the seabed, it wasn't long before we were into some fish. To our surprise, we were into spurdog straight away. We had several in quick succession to the net which was fantastic to see. Littlehampton was once famous for its spurdog fishing but over the last decade or so, they had all but vanished. The first mark was productive, not only giving us plenty of hard fighting spurs but bass, whiting and pout. From our first hours fishing, it looked like we would be in for a good day and spirits were high.
As the sun rose the wind gently eased with each passing minute, the sea was a lot flatter than we had expected. The first session flew past in no time, and we were soon upping anchor and heading off searching for some big blondes!
Much of the trip was spent on the blonde ray mark. Fishing down to slack water and then the first of the flood until the tide flow became too much to fish with 12oz. Like the first mark, the fishing didn't disappoint. From the moment we arrived, to the moment we left, it was full on fish action. We only managed five blonde ray, but we had plenty of other species to make up the rest of the fishing. To add to our tally we had blonde ray, dogfish and conger eel, with the biggest blonde ray going 20lbs and the heaviest conger bouncing the scales at 41lbs.
With the tide on the increase and fishing becoming more difficult, we tried one last mark where we had several more fish, with nothing to write home about apart from a nice 30lb plus conger.
After a full eight hours afloat, it was time to reflect on the day as we cruised back into Littlehampton. We all agreed that it was an enjoyable day, it had been a busy summer and it was great to get a day afloat as a team, and get some good fishing in. Martin was fantastic, he put us on the fish each time and Spirit of Arun 2 is a superb vessel to fish off. We've already got some more dates in the diary with a trip for black bream booked in April, we can hardly wait!
Spirit of Arun 2 has just opened up for bookings for 2021. Martin was telling me that they have already booked in over 200 days next year, so, if you fancy a trip, you'd better get in fast!
To contact Martin, head to the Spirit of Arun Facebook Group.