This simple fishing guide looks at popular methods, bait and the right tackle to catch grey mullet.
The grey mullet suffers the burden of many myths, principally that they are virtually impossible to catch. It's untrue! If you can find a way to get mullet feeding confidently on a particular food source, they can be one of the easiest fish to hook. Another myth is that they have soft mouths, but again this is incorrect, and it's the use of small hooks and soft baits and the mullet's ability to fight hard that sees light hook holds produce a higher proportion of lost fish.
Mullet can grow to double figures, but the commonest weight ranges between 1 and 4lbs, with a good chance of fish between 5 and 7lbs. They are an "infectious" fish that sees an ever-growing band of mullet fishing devotees, and they have rightly been referred to as the British bonefish, such is their fighting prowess.
Season
Even in the south of the UK and Ireland, it's typically mid-April before the mullet start to appear. However, there can be some early vanguard fish in late March and very mild winters, and a few may even over winter, especially in the Channel Islands. By May, their numbers are building with peak numbers achieved from June to September. Fish in Northern Ireland and off the west coast of Scotland may not appear until late May, and they'll leave early September. When the first frosts arrive, they will slowly drift away, but again a mild autumn can see mullet stay a good month or longer in the south.
Habitat
Grey mullet are common inside harbours and marinas, under man-made piers and off stone breakwaters. Their main habitat is in the smaller estuaries, where they filter in with the tide and creep into estuary feeder creeks and salt marsh pools. From July, but especially August and September, they will be found in the corners of surf beaches working the high tide line where seaweed has been deposited, feeding on maggots hatched from fly eggs.
In some areas, they are seen from open sea rock ledges and can be induced inshore using groundbait. This is a high summer tactic from June onwards generally.
Weather and Tides
Mullet prefer more gentle sea conditions on more exposed marks such as rocks and man-made structures, but in rough weather, they will still be present inside estuaries and harbours etc. They can be caught by day, but as with so much fishing, the early morning and late evening period that coincides with a flooding tide will usually produce the best opportunities. Equally, overcast skies and low light levels help the mullet feel more secure and feed with more confidence.
They will move into the estuaries on all tide sizes. Still, the smaller neap tides with a more constant depth can hold the fish for much longer and give better opportunities, especially inside the harbours and the feeder creeks. Bigger tides that flood and ebb quickly see the mullet move quickly and feed less constantly.
If fishing the open coast, choose the bigger spring tides on a rising tide cycle. This gives the mullet access to the high tide weed line on the beach or shingle and will see them feeding heavily in smaller bays and coves.
Mullet Fishing Tackle
Although a powerful fish tackle needs to be a compromise between power and subtlety. The tip needs to be semi-soft to absorb the fast runs and deep dives the mullet can make. However, power needs to bypass the tip and feed into increasing power in the mid-section leading to a more powerful butt section. This stiffening in the blank makes the fish work hard and tire. The Tronixpro Banzai Mullet rod is ideal as it has three different tip sections rated 2oz, 3oz and 4ozs. The 2 and 3oz are perfect for light float, bubble float or Bombarda type float work, with the 4oz tip better suited to casting swim feeders.
Reels in the 4000 to 5000 sizes match the Banzai Mullet rod. The Tronixpro Virtuoso Air 5500 is ideal and should be loaded with 15lb Tronixpro X8 Power Braid, adding a 20lb AXIA Fluorocarbon leader for general fishing and when fishing heavier bubble floats, but when targeting mullet on lighter floats such as Wagglers, load the reel with 8 to 10lb AXIA Next Gen Monofilament adding a lighter 6lb 18-inch section of Fluorocarbon below the float. Reels in our HTO Lure Game Range are also ideal in 4000 sizes.
Floats such as loaded Wagglers cast well and sit nicely in a light tide flow, say in an estuary creek. Use a mono line sliding stop knot on the mainline above the float to set its depth – you can also use Tronixpro Rubber Stops. Tie a small swivel below the float and finish with 18-inches of 4 to 6lb Fluorocarbon as your hook length. Add just a couple of small shot below the float spaced well apart to let the bait fall relatively naturally as the hook length extends to its full depth. Changing the position of these shot can make a difference to bites, so experiment on the day as to how the fish want the bait to fall through the water. In more open sea conditions, choose the bigger floats such as the Tronixpro Float in 12g to 35g sizes and use a ball-weight to set the float with just 1-inch of the top of the float showing above the surface.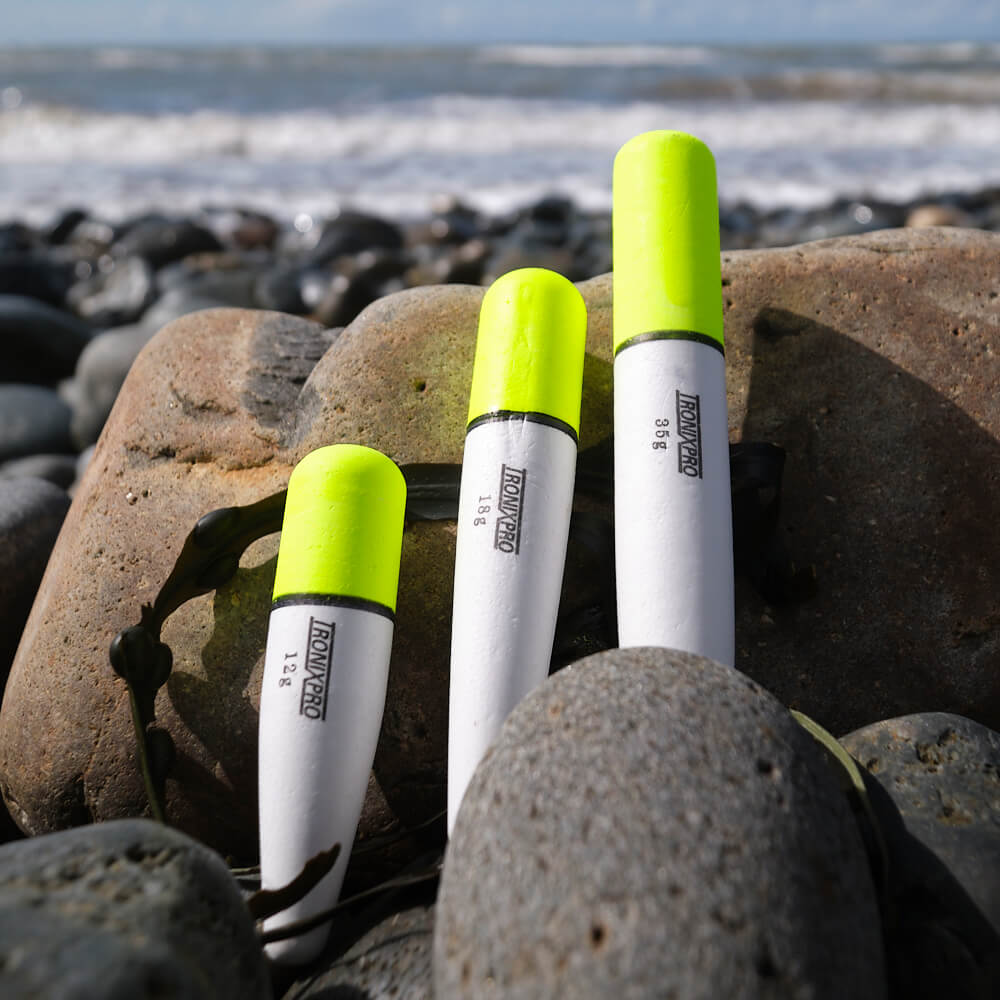 Tronixpro In-Line Clear Bubble Floats with a little water for weight inside are also excellent for presenting bread baits at a longer range with the bubble float fixed about 6ft above a small swivel, add a 5ft to 6ft hook length of 6lb Fluorocarbon.
Hook sizes should be sizes 4 to 8. These bigger hooks give a better hook hold and a higher proportion of successful strikes. Smaller hooks can see a lot of fish lost. Tronixpro Wormers are a good option.
Best Mullet Baits
A top mullet bait is bread. The cheaper loaves from supermarkets with a hint of doughiness about them are good. Take a 50p-sized chunk, put the hook in the middle, and then fold the bread over itself to hide the hook. Now pinch the edges of the bait much like the edge of a pastie. This secures the bait to the hook but also presents the bait more naturally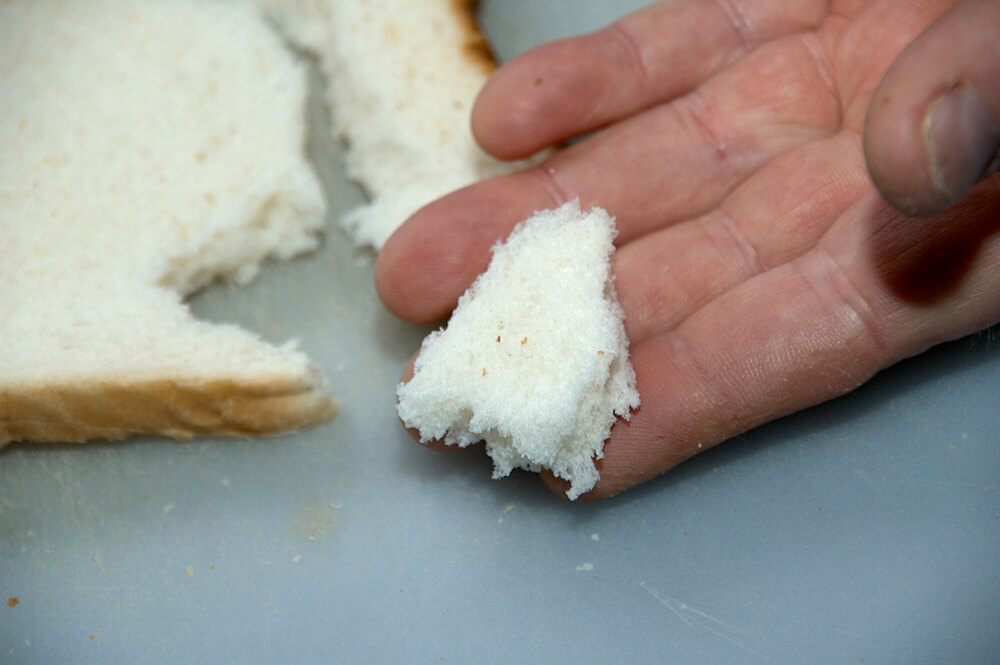 Small cuts of king ragworm can be excellent in open water and near freshwater outlets. Maddie ragworm can work, as can shop-bought maggots, especially on the open coast.
It's also possible to wean mullet onto specific baits like sweet corn, small chunks of pasta and even baked beans. To do this, you must religiously feed the mullet at the same state of the tide every day for a good week to two weeks to wean them onto the bait before fishing.
Groundbait is also a great way to get mullet into the area and feeding. A simple mix of stale bread put in a blender to make the fine crumb, then add a tin of pilchards or sardines, maybe some AXIA Sardine Oil, and then either throw small balls of it into the feeding area or put it in a mesh bag and support it dipping just in the water letting the tide do the work for you. Both styles work well, and it's worth the effort in improved catches.
Angling Methods
Don't be too eager to fish. Get the fish feeding first, which, as stated, is the key to success.
When float fishing, don't cast the float at the fish. Aim to drop beyond them, then draw the bait back to them gently and without making too much ripple or wake.
If the fish are showing on the surface, use a conventional float and set the bait deeper, say 6 to 8 feet and go a foot deeper with each cast until you find the fish. We often forget that mullet will also be feeding deeper and below those at the surface. Just slightly twitching the float by either pulling gently on the line or lightly lifting the rod tip will see the bait move, and this can trigger a take when bites are slow.
Ledger fishing can be lethal inside marinas and harbours in deeper water if you keep adding balls of groundbait, say one every 5-minutes or so. A light sliding ledger using a 0.5oz to 1oz bomb, a bead and swivel, then tie a 6lb Fluorocarbon hook length to the swivel, and the hook is the way to set up. Otherwise, use an open feeder and a mould with the groundbait mixed dense so it stays on the feeder until it hits the bottom. Crumbed bread is a good bait for this tactic.
Use that soft tip section as your bite indicator when ledgering. If you're fishing a bread surface bait, watch the bread and when a fish slurps it in, wait a second before striking. Sometimes you can see the bubble float slide across the surface as a mullet takes and this warrants a strike too. This also works when fishing maggots and maddie rag!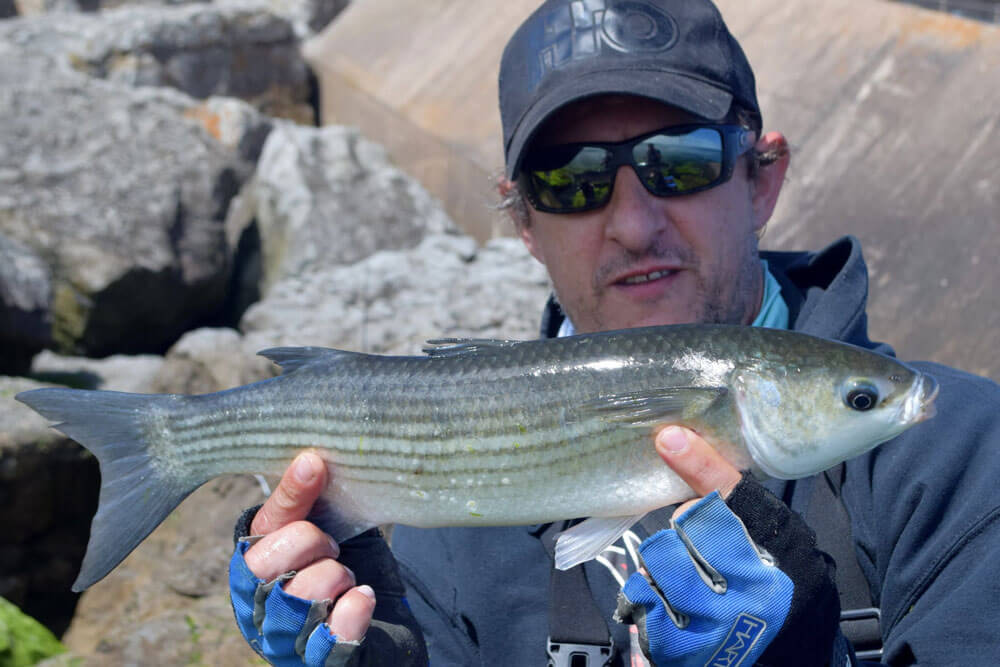 Kit List
Rods
Reels
Terminal Tackle and Lines
Tronixpro X8 Power Braid
AXIA Fluorocarbon
AXIA Next Generation Monofilament
Tronixpro Floats
Tronixpro In-line Bubble Floats
Tronixpro Wormer Hooks
Tronixpro Rubber Stops