Welcome back to my blog and my World Championship preparations! I write this with only four weeks to go! I am happy to say the last of the hooklengths have been tied this weekend and I am just about on track! I have dedicated a whole Sunday to packing, the weekend before we leave, and to carefully weighing each item of luggage to make sure there are no disasters or outrageous charges at the airport!
Since I last posted I have fished a few matches in an effort to focus and become "match sharp". Prior to this I had neglected my fishing for work, earning the money to pay for the trip, but there is no point going under prepared. Two of these matches were also fundraisers for the Ladies Team and I have been amazed at the amount of support we have enjoyed from our friends and the wider angling community.
The first of these was the BCFSA fundraiser run by Mark Mossman of the West Coach and Watchet SAC and held at St Audries Bay Holiday Park. It was a bright sunny day, with light north westerly winds and only a little weed very close to the shore line. The match was fished to BCFSA size limits on a catch and release basis, using length to weight conversion to work out a bag weight. I love this beach but given the conditions I knew I would have a choice. Scratch for whiting and hope the odd one made the 28cm size limit or use bigger baits and pulley rigs, hoping to catch a ray, conger or bass, all possibilities on this high water mark. In the end, I did both, alternating a three hook clipped rig with a variety of baits with a three foot pulley pennel and larger fish baits.
Fishing was tough, and try as I might all I managed to attract were whiting, even with pulley rigs! Mike Seatherton landed a lovely bass a couple of pegs away from me, which secured him second place, Pete Mather was the match winner with two rays, and third was Steve Liddle. Patience paid off for Steve, who only had 3 casts all day, a technique that bagged him a thornback ray to fish baits at range.
It was a tough day on the beach but it was lovely to be out again and I consoled myself with the fact that I had caught 16 fish, it was hardly my fault they were too small! I was touched by the support, with a great turn out from two local clubs, West Coast and Watchet and Reef Raiders SAC. The match was fished for trophies, with all the proceeds going to our team. This match raised just short of £400.00, and included the promotion of the BCFSA raffle of a Zziplex rod, also donated by the federation. Match organiser Mark may not have caught the winning fish but he went home happy after placing the winning bid in the auction for a Lemon Drizzle cake provided by the Alms House Tea Shop, Axbridge, run by our very own Nicky Frewin! I have no idea what it tasted like as Mark refused to share!
The following week saw us travel down to Seaton, Devon, for the fundraiser put on to support the team by Axe Valley SAC and Seaton Angling Centre, who put up the £200.00 first prize. The match was run by my good friend Stuart Withyman, who even put up the £100.00 second prize from his own company, Stuarts Sweeping Services. As the match was sponsored like this, all the entry and raffle money was again going to the Ladies team.
I was a bit doubtful about the conditions, with gusty south easterly winds put some colour and chop on the water, but Stuart assured me once the tide turned the water would clear and he was confident of a good variety of species.
I started the day with three hook clipped rigs and a single hook pulley rig with a size 4 hook, to help with streamlining and distance, but the match seemed to start quietly for most people, I didn't see any fish landed. I could see the water was starting to clear though, so decided to flick out a longer rig, armed with some oval shaped pop up beads and tiny slivers of mackerel. After ten minutes or so of twitching the line back very slightly I saw the rod tip rattle. As I started to retrieve, just for a moment, I thought I might have something good on the line, due to the weight I could feel! However, two undersized mackerel were soon sliding up the shingle.
Not big enough to weigh in, they none the less provided me with some fresh bait! Perseverance paid off eventually as I landed three in size mackerel during the match, the biggest of 32cm came back to be weighed in.
The match was fished on specimen percentage of two species – so I didn't need tons of fish, but I did need two good ones!
There still didn't seem to be much about to bottom baits, although I had heard Nicky Frewin had a nice plaice much further up the beach, and my husband Wayne was soon to land another one. I tried a scad rig, with white pop up beads and a luminous flash of colour, but this just caught more mackerel! I was thinking I probably wouldn't lose enough of the light to really switch the scad one anyway. I selected a 10ft rig with the top trace much longer than the other two, and tied up with 0.18 fluorocarbon, and soft white pop ups. I was hoping that, although I thought this might continue to pick up mackerel (which it did!) it would give me a chance of a garfish as well.
Luckily this tactic worked and a short while later I landed a garfish, caught on the top trace. The fish was jumping clean out of the water, which gave me a few anxious moments!
Next to me, my hubbie was fishing a blinder, soon landing a big mackerel, a dogfish and a garfish to go with his plaice. We both also had plenty of sport with the small mackerel, and kept a few for the bait freezer.
Back at the weigh in 17 of the 35 entrants had caught fish, with mullet, a single scad and a turbot being added to the species tally. Becky Adams was the winner, with a dogfish and a big garfish, hubbie was 2nd with a mackerel and a dogfish and Mark Mossman (organiser of the first fundraiser!) was third with a dogfish and a mackerel. I was 6th, half a percent behind Nicky Frewin! It was a great day's fishing, with all three England Ladies who attended securing a top ten finish, which was great for our confidence.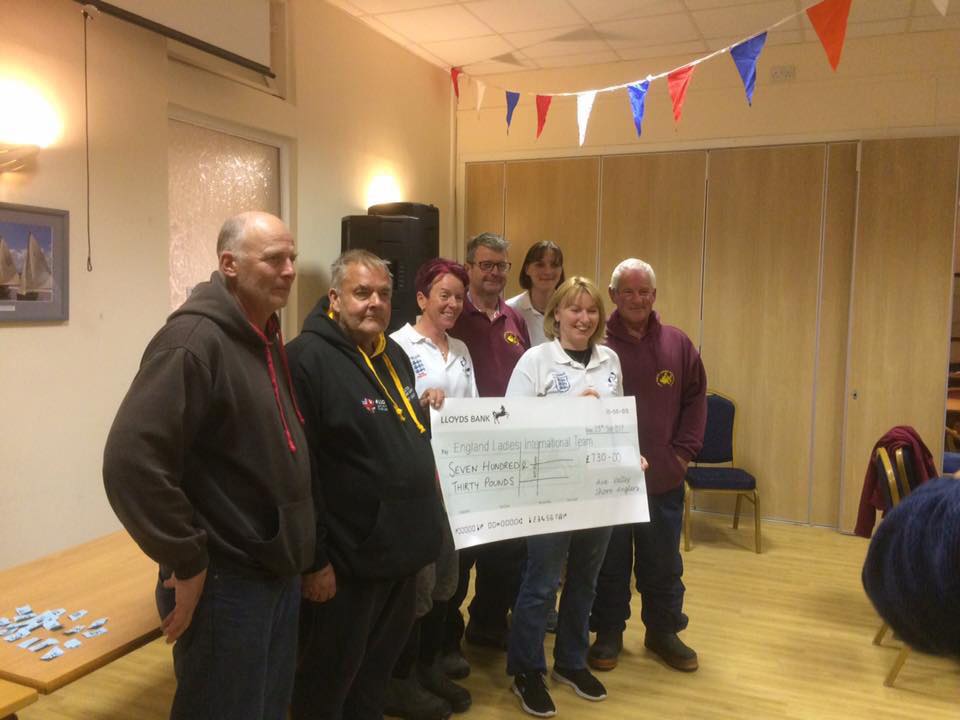 We also took advantage of meeting up to have a quick team brief over a pint at the end of the day, it's important that everyone in the team feels settled and has the same information. We live scattered all over the country, when any of us meet up, it's important to make the most of the time.
All that remains is for me to thank all our friends, families, fishing community and of course Tronixpro for their support and very generous sponsorship, you've been amazing. The final part of this blog will be written in November, when it will all be over! I can't promise any particular result but I can promise we will do our very best! Please wish us luck and follow us and our results on Facebook.