Well, it's all over now! The months of preparation came to an end when the England Ladies team flew out to Langebaan, South Africa to compete in the World Championships, fished across the local beaches at Velddrif from November 6th – November 10th 2017.
GETTING TO KNOW SOUTH AFRICA
The team spent the week before the competition in the competition area, getting to know the local beaches and fine-tuning our match plans. The week provided us with our first challenge, finding the beaches! It was easy enough to find a beach. The area is one long coastline, the map we had highlighted possible match venues, however, it was quite a big map! A good analogy would be telling someone a match is going to be "somewhere on Chesil" and then leaving them to decide where to go! To be fair to the organisers, this was not done to cause deliberate confusion, but because the area regularly experiences strong winds and with it lots of weed, which can render some locations unfishable. As such, the organisers were leaving exact venue locations as late as possible, waiting on up to date forecasts to help make the decision.
However, we enjoyed a productive and informative practice week. Having started with short rigs of 4ft, we soon found that the best option was a 7ft rig, with two hooks above the lead and one below. I used a variety of components, including Tronixpro Rolling Swivels, Tronixpro Crimps and Tronixpro 80lb Casting Snaps. We experimented with having clip on/clip off traces – hence the need for several max packs of the casting snaps, as I used these for my traces as well as for the rig bodies. Using casting snaps meant I could quickly replace a lost hook without the need to change the whole rig, and I could vary the trace length to see what was catching. For example, I had some success when using a longer bottom snood, but if that appeared not to be working on any particular venue, I could change back to a shorter version very quickly.
Snoods were short, anywhere from 12 – 24 inches, to allow a good spread of baits across the rig while keeping all the baits on the seabed in the shallow waters. The predominant species were guitarfish or sand shark. They are most likened to our ray species and are partial to a fish bait.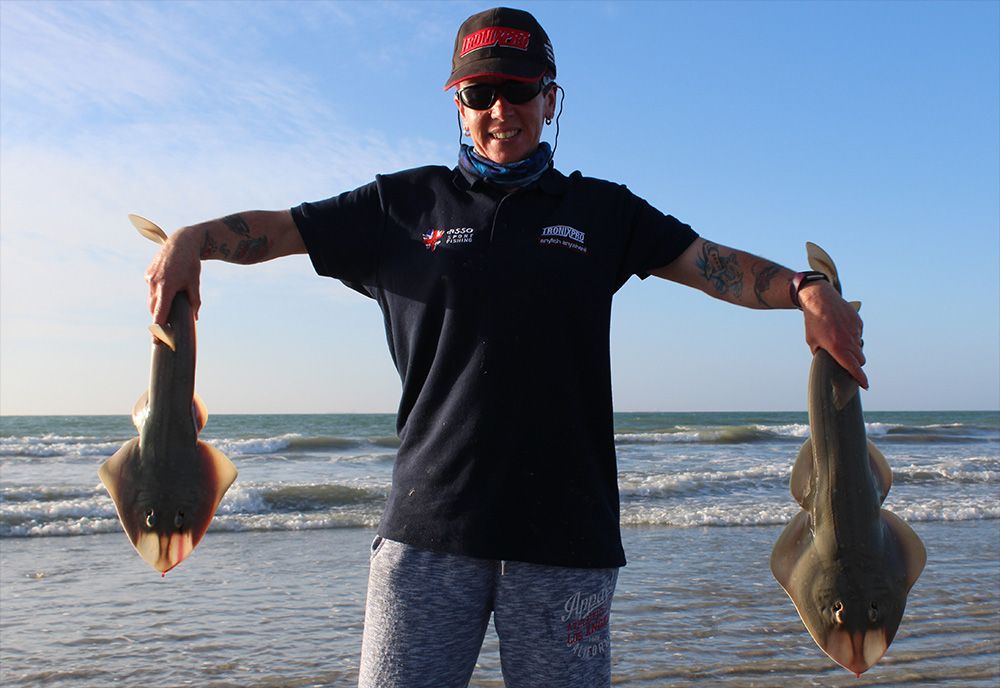 The bait given to all competitors was a box of sardines, ten mullet and a choka – which is a large squid. Choka needs to be beaten with a small hammer to tenderise it before being whipped on to the hook. I have actually tried this with squid in the UK, but it doesn't seem to make a difference. There are enzymes in the choka which are released when the skin is broken up. I can only assume the squid we use in the UK doesn't have the same properties.
During the first week, we discovered how much the fishing could vary across the area. Some spots were extremely productive, with bags of up to 40 fish caught in double quick time, in other areas, you had to work hard to find 10. We caught almost all our fish on strips of mullet, just hooked on once. Mullet is a firm white fish with a tough skin and we hoped this super quick bait up method would help us, speed fishing is essential to win here.
I fished this entire trip with my Tronixpro Cobra GT, which is a piece of kit that gives me total confidence. In fact, the last three weeks sums up the Tronixpro Cobra GT. It handled everything South Africa had to offer, including hauling in weed and double and triple shots of decent sized guitarfish up to 10lbs. Then, back home, I fished Minehead Town Beach where I saw the bites from 18cm pout! There is nothing much this rod won't do.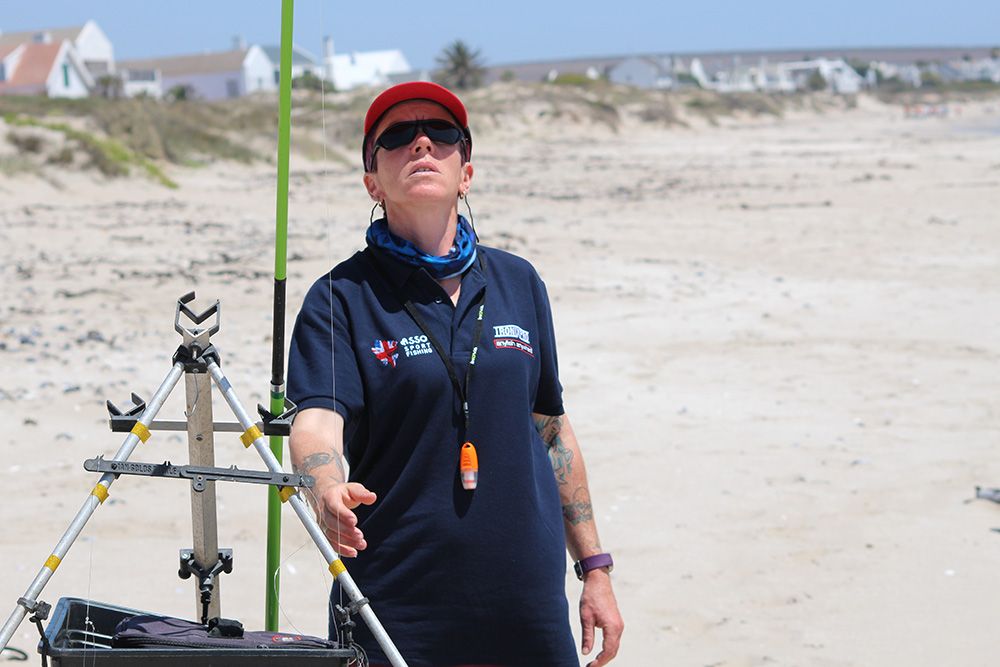 My reel was loaded with 30lb Tronixpro Crystal XT clear line, which is fished straight through, due to the weed and the fact that there was rarely any need to cast more than 40 yards. This line is 0.47 diameter and supple without being over stretchy, which made it perfect for this type of work. Being able to wind in quickly with no leader knot to trap weed would enable us to fish faster.
By the end of the practice week, the team was happy with the strategy, and we were as ready as we would ever be. We had even fished in what we now call "The Great Storm" when we were caught out by an awesome thunder and lightning display, and had to take shelter in our vehicles. However, once the storm passed, we resumed fishing, only for the winds to suddenly start blowing at what must have been around 70 miles an hour! I managed to land a fish in these winds but then got stuck on the beach because I was hanging on to all my gear and had run out of hands with which to unhook it!
THE MATCHES
A display by the Silver Arrows and a street parade followed by the Opening Ceremony heralded the start of match week.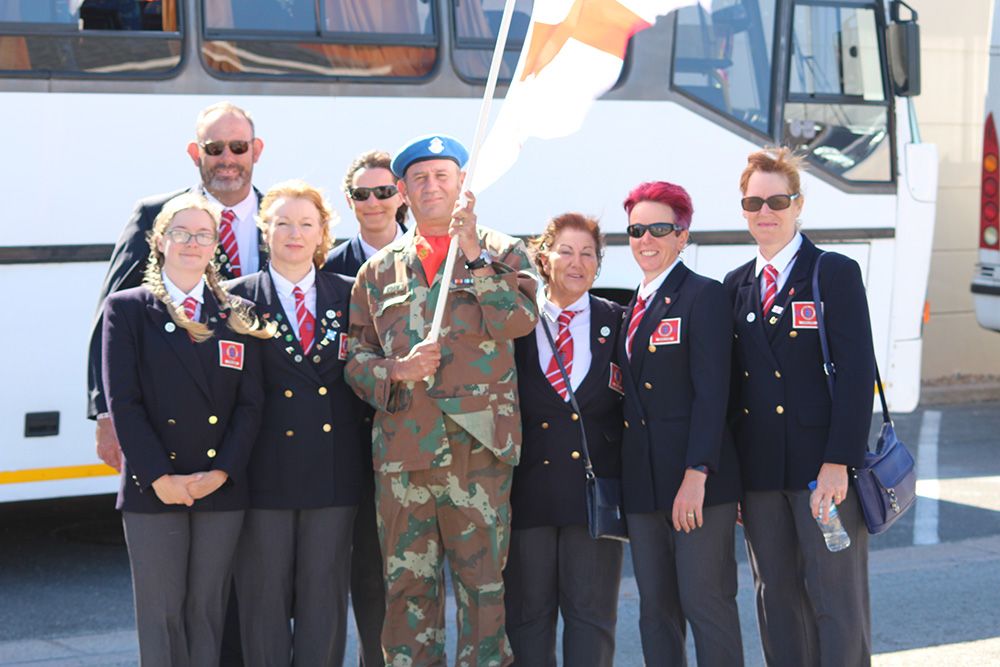 We were warned that the practice match was likely to be very slow as the better fishing areas were being rested, but I think even the organisers were a bit shocked when the entire ladies section caught only two fish! I landed one of them, which meant England finished second in the practice match with an inauspicious total of one fish! However, it didn't matter as this match is for the benefit of the organisers. It is a run through for timings and getting the stewards used to the process, and this match does not count towards the actual competition.
The first match proved a bit of a shock to us, to be honest! We came off the beach feeling reasonably pleased with our efforts. Everyone had caught good numbers of fish, with Heather Lindfield landing 43 fish in zone A, we all thought she must have won her section. However, the results delivered a bit of a bombshell!
Yes, we had caught a lot of fish, but many of them were not very big. These championships were decided on a length to weigh to points basis, and there was a huge points difference between small and larger fish, sometimes 8 – 10 centimetres translated into a points difference approaching 1000! Poor Heather finished fifth in her section, beaten by an angler with far fewer fish that were just slightly bigger. England Ladies finished ninth of the twelve teams on day one, and it was always going to be a struggle to come back from that position.
I managed a zone win on day two, and we had two third places, we were at least going the right way. Ironically, I caught my two biggest fish on the two smallest baits I think I tried all week! There didn't seem to be much we could do to guarantee ourselves the more significant specimens.
I was only ninth on the third day and to be honest, had a nightmare of a match! Having hardly used it all week, the fish on this section of beach decided that they would not be eating mullet after all. The only bait they would take was sardine, and I didn't have enough of it prepared at the start. An exhausting four hours of endlessly whipping the soft bait into small sausage shapes with the help of my Yuki Baiting Tool followed, and I was relieved to manage 18 fish. Luckily, elsewhere on the beach, the other girls were still catching on mullet, and their placings of third, two fourths and a sixth saw us end day three in fifth place.
The final day saw us start with an outside chance of a bronze medal. We would need other teams to have a bad day to help us! It's never great to rely on that, but we went out ready to give it 100% one last time. After the 34 –36 degrees we had fished in, the fog and chill in the air was odd, it reminded me of home! Everyone fished their hearts out on what we knew would be a tough area with low fish numbers. I only caught five fish but was fourth in my zone. Nicky Frewin and Becky Adams secured zone wins, and England Ladies were second on the day.
Sadly, it was not enough, the teams we needed to do badly, did well, and we finished in fourth. There were plenty of positives though, with four of the team finishing in the top twenty, I finished twelfth.
With the alcohol ban lifted by our manager Mark Hurcombe, we enjoyed the closing ceremony with a few drinks. It was great to see fellow Tronixpro Prostaffer Andrew Hutchings from Wales secure an individual bronze, and my great friend Arthur Van Tienen, manager of the Tronixpro Dutch Men's team, guide his troops to a silver medal.
That's the great thing about these championships, whether you do well yourself or not, there is always a personal connection with an angler enjoying success, and people are genuinely pleased for their friends and share their joy. We may be fierce rivals on the beach, but a lot of us are the best of friends off it.
Thank you for reading and sharing my experiences, and anyone reading who thinks they might like to apply, please have a look at the Angling Trust Web Site.
Finally, huge thanks to Tronixpro for their sponsorship of the England Teams which helps hugely with our costs, and their support of me personally as a member of the Prostaff. I certainly made good use of all those bits of terminal tackle I ordered and even have some left for my Bristol Channel rigs.
Tight lines and see you on the beach!