Blanking is not fun, in this blog Gary Seddon recalls how he rolled one last dice to change his luck, with unexpected consequences.
Blanking can be a problem for most of us, and it can frustrate you and cause you to start second-guessing your methods, bait presentation and casting ability. Throw mobility and mental health issues into the mix, and things can get completely stressful. I'll give you an example.
I bought myself a new rod, and in the five sessions I've used it, I've been able to establish it's really good to cast and holds up well in big tides, but I've yet to find out what it's like to fight a fish with. I have not had so much as a bite on my Tronixpro Xenon Match in five sessions. It could be said that it's starting to bug me a lot!
I have never gone this long with a new rod without landing a fish. I know I'm using the right rigs; I know there is nothing wrong with my bait presentation, and despite my back and shoulder issues, I can cast a 5 oz lead with a decent bait about 120 yards when needed. It will continue to drive me up the wall until I land a fish with this rod. So much so I'm thinking of only using this rod until I break its duck.
Shore fishing can be hardcore sometimes, and it can grind you down.
However, no matter frustrating you find shore fishing just every once in a while, something magical happens.
I'd not been feeling all that good and had decided that I'd probably be better off spending a bit of money on my trike project instead of on fuel and bait. I decided to take one last look at tide times and the weather and thought I'd chance my arm by asking a mate if he could get me some bait despite it being Sunday afternoon. Bait wasn't going to be an issue; he was out digging and was fishing that evening and suggested I join him.
Chris, Dave and I arranged to meet at the café on the Cleveleys promenade where the big steel shell is on the beach. Chris had fished it the day before and had a good session, so we felt we were in with a chance of a few fish. The westerly had a nice surf rolling as the tide came over the banks towards the gully's, and it looked 'fishy'.

I set my Tronixpro Xenon Match up with my Envoy Tournament Mag running Tronixpro Blaze .30 mono tied to a tapered leader with a loop rig with 1/0 hooks. Bait was lugworm or cocktails of worm and squid or worm and mackerel.  I was fishing a gully about 100 yards off the prom. If you've read this tale of woe this far, it'll be no surprise when I tell you I didn't get a bite on this rod again!

Now you may think this is just a story about bad luck, but right at the first run of the tide into a large depression at the end of a wooden breakwater, a little bit of magic happened.

I had also set up my Tronixpro Cobra TT V2 with a Tronixpro Oceanik reel and 20 lb braid with a tapered leader. I had a one up one down rig with size four hooks baited with lug. I dropped my baited rig into the middle of the depression and set the drag on the reel. I've had decent Dover sole on this mark before, so small worm baits and tiny hooks in a sheltered depression had me hoping for a decent fish for tea.

I always set my drags to "peel before the steal". I've never had it happen to me, but I've seen videos and read posts on social media where people have lost hundreds of pounds of kit as a rod was dragged in.

I knew there was a good chance of fish in that depression, but I had no idea just how good a fish it would be. I was standing chatting with the lads when I noticed a small tremor on the rod tip, so I stepped over to my tripod to be closer to the rod if a bite developed.

Another rattle had me picking the rod up and feeling for a bite. The rod tip went over, and the line started to spool away, so I tightened the drag down and gently lifted into the fish. I knew I had hooked into something decent and at first thought thornback ray. I backed off the drag while I composed myself. Biggish fish, a bit of a surf on and a strong tide with a size four hook had me a little worried. I've lost decent fish in the past and knew where the weak links in this equation were.
That size four hook and my impulse to bully the fish were the only places this could all go wrong. By now, the fish had realised it was hooked, and it appeared to be somewhat annoyed. All I could do was make ground on the fish by going down onto the last bit of dry beach and winding down as I went. I spent the last few minutes before the tide hit the wall allowing the fish to kite left and right in the hope it'd get tired before I got wet. I eventually started to make ground on the fish, and as I realised I might be in with a chance, I shouted Chris over. He had wellies on, so he was best placed to go chasing whatever it was making the splashing in the shallows.

As he got closer, I could see a dorsal and caudal fin illuminated by his headlamp in the shallows, and Chris picked a smoothhound out of the surf. I was completely gobsmacked. It was the biggest smoothhound I'd ever caught. My previous best was probably under two pounds, more pup than smoothhound. When we unhooked the fish, the size four hook had started to open at the gape and had it not been right in the scissors of the jaw, and I may well have lost the fish. Fortunately, Dave had a set of scales and a sling, so we could weigh the fish which came in at 10lb 2oz and smashes any previous "best" by over 8lb.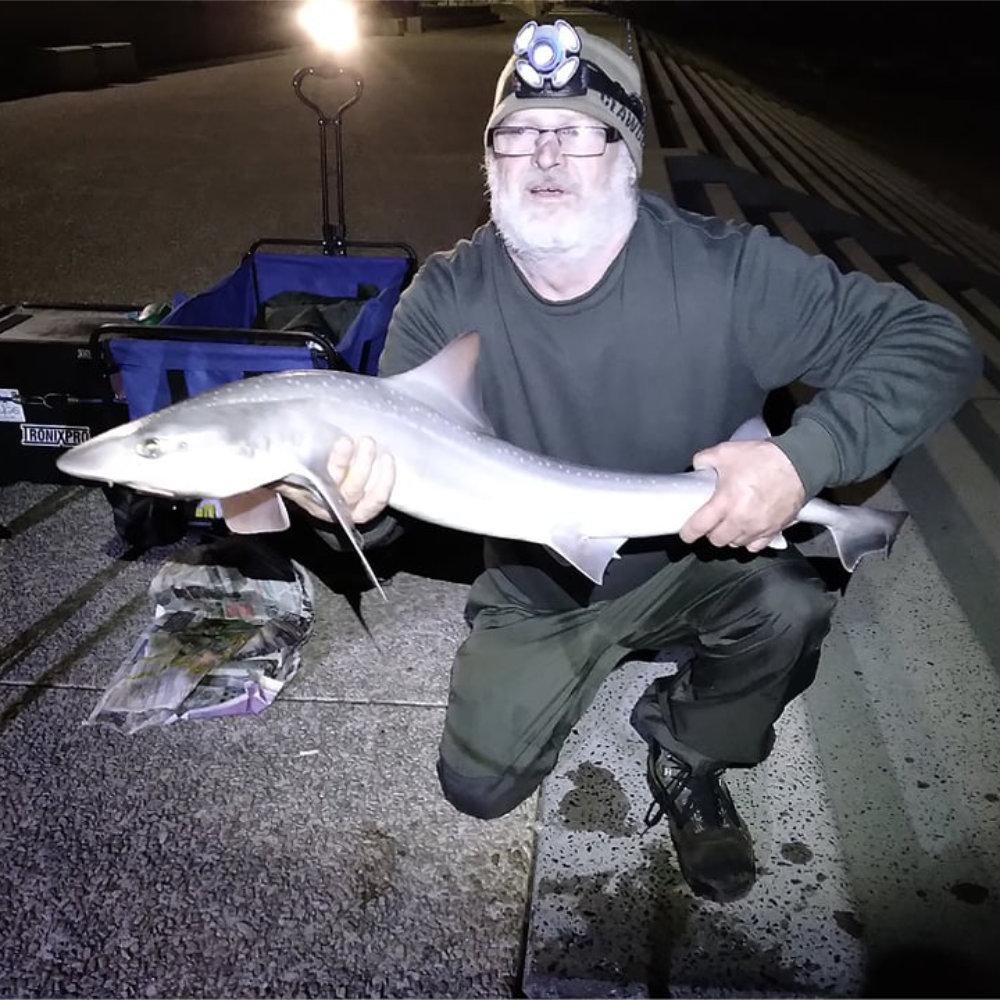 My Tronixpro Cobra TT V2 is probably the best rod in my arsenal. The only thing wrong with it is that I haven't got two of them. It is powerful enough to handle big fish with the finesse you occasionally need while looking all business with its black and green livery. Versatile too, I use both fixed spool and multipliers on the TT depending on what I'm trying to catch and where. Sadly, discontinued, they hold their value well if looked after and well worth a punt if they come up for sale second hand.

It might surprise some of you to learn that it was the only bite I had all night, but then again, those of you who know the pain of the blank will know just how welcome this one bite was. Dave had two fish, and Chris bagged about six or seven, including an 8 lb 10oz smoothhound, but it was a great evening out with like-minded people doing something we all enjoy.

I have fished for over 20 years to land a double-figure fish from the shore and suspect it may be a while before it happens again, but as I said earlier, just every once in a while, something magical happens.

One or two final points if you'll allow. If you are shore fishing on your own, always make sure someone knows where you are and have a check-in time so if anything happens, the emergency services can be alerted.
Leave the mark as you would like to find it, even if you have to clear someone else's discarded line or rubbish.
I'm planning a trip to Brunswick docks soon after the rays, be nice to get a double before the end of the year, and Brunswick's the place to do it, I'm told.

Stay safe and tight lines
Gary