George Cunningham took time out to interview the new U21 World Champion, Ollie Hopkins.
George – Firstly let me congratulate you on your recent Individual gold medal at the world championships, has it sunk in yet?
Ollie Hopkins – Wining the gold medal has sunk in but when I found out the results from Chris Clark I was speechless, it felt amazing that no words can explain I was on such a high and so was the team because we won team gold as well!
George – During the preparations did you honestly feel you had a shot at becoming world champion?
Ollie Hopkins – I felt that I didn't have any chance of winning gold. There was so many top anglers in the worlds out of the 7 teams and plus it was a place were no English international has fished before.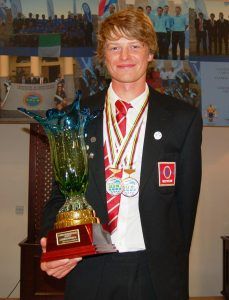 George – Can you tell me about the team's preparations and the practice sessions?
Ollie Hopkins – We had a couple of team meeting at Lymington fishing club. One was going through travel and luggage allowance for the flights the other was a casting day in the new forest this was to show Malcolm Stote (team manger) how far we could cast and also showed each team member so if we did have to cast long distance in the match we new what distance on average each team mate could do so we could match. Once out in Melilla we had two days practice. 1st day was just getting settled in on the beach get our work stations right and just trying to catch a few fish to give us a boost trying different rigs and distance to find the fish every time we caught we wrote down what it was caught on and distance so Malc could do a write up of the results for day 2 of practice. 2 day of practice was approach a different way. Malcolm told us to do certain jobs in the team. Mine was to fish 40-90 yards using a 2 up 1 down flapper rig this proved to b the best rig for the hole championships sometimes adding pop ups for the golden grey mullet.
George – So what happened on the first day of the competition?
Ollie Hopkins – Day 1 of the comps. Matches started at 9-1 pm. Everyday. Wake up call 5:45 for breakfast and bait collection 7am. On the beach setting up at 8am so we had plenty of time getting our setup perfect and getting new rigs set up on the t bar ready for the flare to go up for the start of the match. 8:45 came the butterflies started baiting up time we got given 4 boxes of araniclos a long thin worm. And 2 boxes of corianas 9:00 am 1cast I was next to the Spanish he had fish from the off double shots of momrahas I was just catching small 1 point fish. So I watched him to see were he was casting so then I copied him and then I stared catching sizable fish I was in 2 place till the last 5 mins when a Dutch lad reeled in a nice golden grey mullet which put me down to 3rd in my section for 1st day which I was still pleased about but new I could do better. All the team got back to the hotel and we waited for the team's results we were in 5th position on the day. We had a meeting bout what we saw other teams do in the match to get the mullet which was pop ups. So we made rigs with these on ready for day 2.
George – So not the best of starts then for the team, what happened on day two?
Ollie Hopkins – Up at 5:30 ready for breakfast and bait pick up. The team moral was a bit low from the day before we new we had to do loads better today to stay within a chance of a medal. On the beach at 8:00 am setting up the sea was a lot flatter then yesterday. From the off we was catching little 1 point fish and the odd sizable mormyrus just enough to keep the other teams worried. By 11 o'clock the golden gray mullet started showing I had a few double shots and singles the other teams weren't doing as well and I new I was winning my section. 30 mins from the end I wound in a triple shot of mullet all eyes were on me from all countries. Total amount of fish, 11x sizable, 8x 1 points. Won my section. I was buzzing. Team results joint 3rd. The whole team was on a high.
George – Awesome! And the third day?
Ollie Hopkins – Another calm morning sea was flat calm. And I was in one of the best zones. No pressure on me then. 1st couple cast were slow only few 1 point fish. Mainly for most of the teams too around 11:00 am the sea was alive with mullet topping a good distance out. So out came the mullet rig as soon as it hit the water a mullet was on all eyes were on me again and the butterflies back too I managed to get a double shot n a few singles. I was buzzing by this time the end of the match couldn't of came quick enough knowing that I had won the day in all sections I felt amazing. Teams results, we were in 2nd position, 2 points behind Spain. I was 2nd place individual.
George – Wow, so it really was all to fish for! What happened on the last day?
Ollie Hopkins – The pressure was amazing, butterflies and excitement was tense. 9:00 am came 1st cast mainly more 1 point fish the Italian next to me was reeling in sizable mormyrus I tried doing the same as him but no luck for me I new I had to pull something out the bag. Not to mention Jake Butcher assistant manger came up to me and said I was 5th in my section. From previous days I new that the mullet would show up as soon as it got hot from the morning sun I managed to stay calm and waited till I felt the heat on my neck from the sun I then set my sites on the mullet. A good 100-yard cast and then bang mullet were feeding I managed to get 4 In 4 cast I was now in 2nd in my section. All teams were watching. I was buzzing. Next cast had a double shot one fell off in the shore line was a bit annoyed but I new there was more out there. Luckily no one else in my section was catching mullet. It died down a bit towards the end of the match luckily I was winning my section 10 mins to go it felt like a lifetime. The end of the match came and everyone was saying I'm the champ I didn't no how to react to this. I just sat down on the beach and took it in Teams results was tense no one new if England won or Spain. So we waited in our rooms till the results. We could hear cheering from the Dutch team they got bronze so we new we was up there. Malcolm came in with Chris Clark. We new what this meant, results! Chris shouted out gold we started cheering and then Chris said I was world champ felt amazing. Out came the champagne!!
George – Absolutely fantastic Ollie, a phenomenal achievement! What rods were you using for the competition?
Ollie Hopkins – The rods that I used were the Vercelli enigma fabula and the Vercelli spyra g3 these rods are amazing. You can hit a lead with them and also use them both for in close work. I have used these rods for 3 years now and in 2 world championships and 1 home nation
George – Did you use any other of our products out there?
Ollie Hopkins – Other products that I used from Tronixpro were the ultramarine t bar to hold multi amount or rigs. I used the rig winder and rig winder box to store my winning rigs keep them neat and Tidy in my box and can get a rig out with ease if fishing conditions change. Also I used the lumi pop ups we used these to catch the mullet but we found that the bright white one worked best.
George – Have you anything else you want to add?
Ollie Hopkins – Like to thank everyone for the help and sponsors to get us to the championships and through it and Malcolm Stote and Jake Butcher the two mangers for giving us the info on the beaches.
George – Thanks for taking the time to talk to us Ollie and once again congratulations, a magnificent achievement!