Our resident LRF expert Jake Schogler runs us through the HTO Aikido 7ft 6in 1-11g LRF rod, a rod that's become firmly established in his light lure tackle armoury.
About HTO Aikido
The HTO Aikido range of LRF rods is designed for the growing number of anglers who practice catch and release fishing. The concept was born from the Japanese martial art which these rods are named after. The goal of Aikido is to defeat your opponent while protecting them from injury, the perfect name and concept to bring to a range of lure rods designed for the catch and release angler.
A lot of time has been invested in these rods, ensuring they give the modern lure angler as much bang for their buck as possible. Each rod is built from 40ton carbon, making them lightweight, and with plenty of control and feedback for the angler. They are finished to a high standard with SiC guides and a VSS reel seat.
There are three rods in the range, with two tubular tipped rods in a 6ft 6in and 7ft 6in length and one solid tip rod coming in at 6ft. The three rods cover most light lure fishing situations, with the solid tipped rod aimed at flicking out light lures, fishing at close quarters and targeting finicky fish. The two tubular tipped rods are ideal when lure control is essential, and you're fishing with crankbaits, jig heads and metals.
Throughout 2020 I've been using the 7ft 6in version of the HTO Aikido for much of my fishing. Over the past few months, I've got a real feel for the rod. It has worked its way into my armoury and is one of my go-to rods. I've used it extensively for much of my LRF fishing over the last six months and here is my verdict on the HTO Aikido 1-11g.
Jake's Verdict
I'm quite taken with the Aikido 1-11g. The guides are light and match the fineness of the blank. The reel seat is very comfortable in my hands, and it gives excellent access to put your finger on the blank for enhanced feel. Although, I found I didn't have to do this much as the feel is transmitted through the whole blank. The overall handle length is perfecting, coming just below the elbow, which is ideal for single-handed casts, yet, has the length to power a lure out there when using two hands.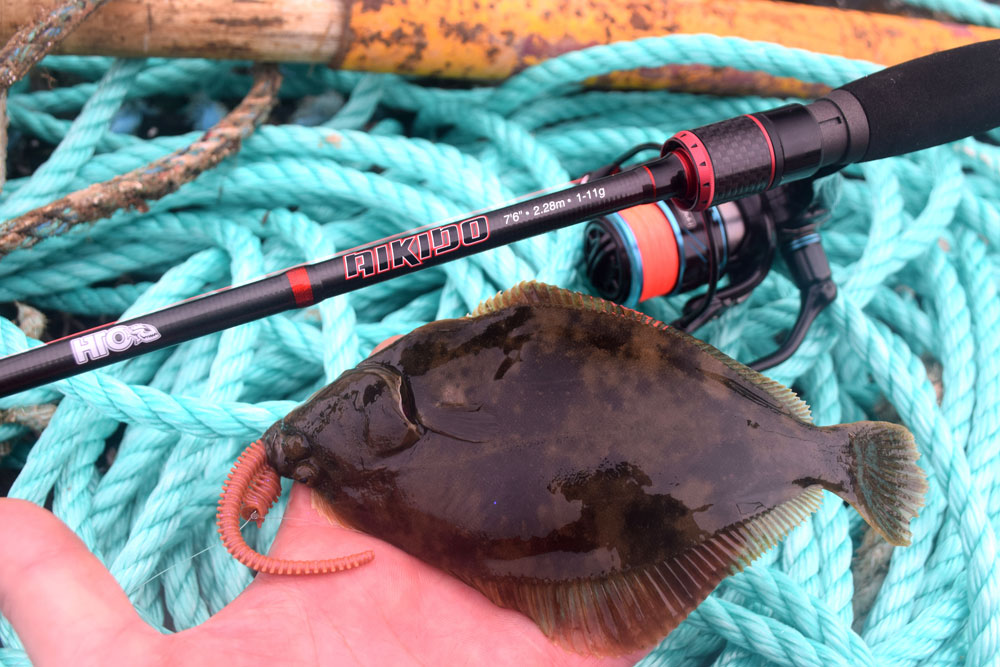 I love the look of the rod too. The red on black livery and whipping details are well done and complement the rods already crisp, modern look.
The Aikido 1-11g is a tubular tip rod with a very fast recovery, yet it retains a sweet playing action. Being made from 40ton carbon, it is incredibly light and comfortable in hand. Like many ultra-light tubular tips, it is excellent for feeling everything that the lead touches when dropshotting. I can feel tiny bites at 40 meters plus and quick bites at close to range in equal measure. The tip is robust enough that hooking is easy, as the fast action coupled with the tubular tip means a flick of the wrist is all it takes to set the hook.
I'm far from finding the limit of this rod. On fish up to 2.5lbs there is a lot of power in reserve lower down the bank. At 7ft 6in, it gives me a bit more distance when casting and helps me keep hooked fish away from the inevitable snags at my feet. The extra length allows me to divert fish around any boulders, rocks and weed that could be in front of me.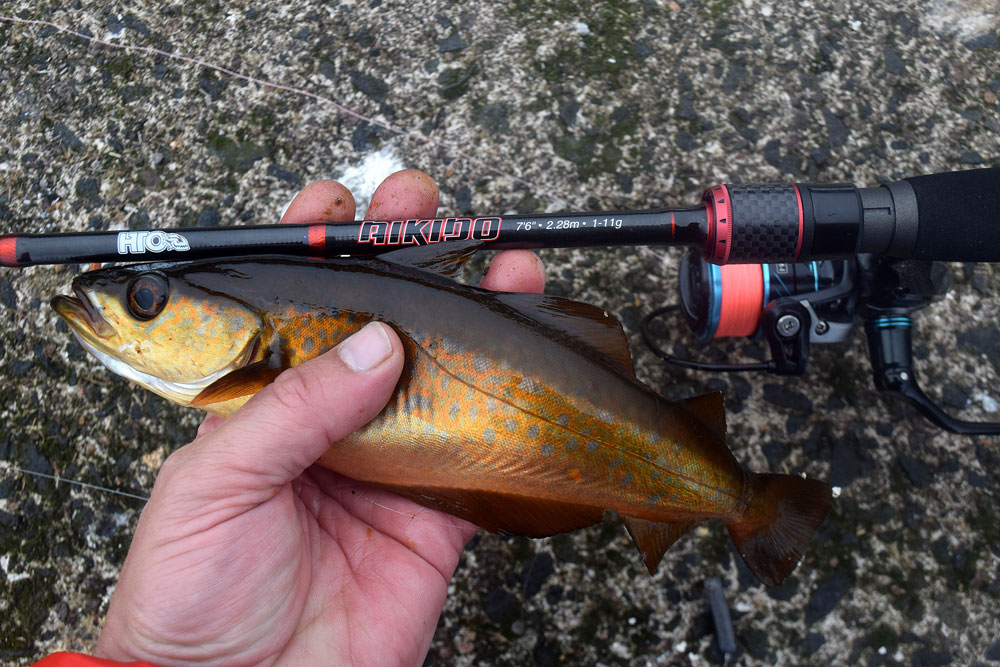 As I've mentioned before, the feedback the rod gives me is fantastic and worth covering in more detail. You get an incredible amount of feedback when bouncing a weight or jig head across the sea bed, and because of this increased feel, snagging up situations are seriously decreased. This is all down to being able to feel when the weight is hitting weed and rock accurately. The rod is so responsive that I can quickly flick the tip up when I feel weed and rock and hop the weight out of the snag zone.
I've been using Aikido 1-11g for all of my LRF fishing from dropshotting clean ground for flounder, harbour work along walls and free lining bread for mullet. Not limited to the shore, I've been using it off the boat and the float tube too, fishing for a variety of species in the sea lochs and targetting perch in freshwater. It's safe to say that I've tested it thoroughly and I love it! It copes with everything I have thrown at it, and I have yet to find its limit on any fish.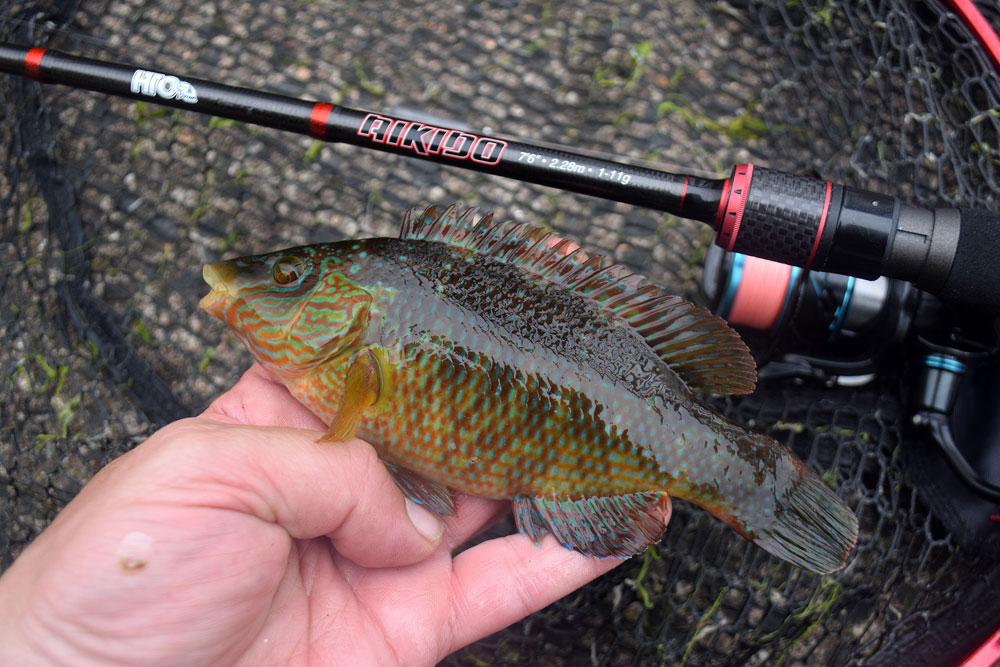 I have supreme confidence that I can bully wrasse out of a kelp bed or deal with the occasional rogue pike when dropshotting for perch. What more can I say? A great rod with a super-sensitive feeling, quick responsive blank and a fantastic fighting curve which leaves plenty of power in reserve. It has become one of those bits of tackle I never have to second guess. I know it will cope perfectly with all of the fishing I need to put it through and more!
Click here to find out more about the HTO Aikido range of LRF rods. To find your local TronixFishing stockist, check out our Store Locator Here.