We take a look at some of the features to look out for when choosing a new headlight or torch for sea fishing.
Headlights are a vital piece of angling equipment, and you can argue, potentially a lifesaving piece of kit. When selecting one, you need to get it right. There are many factors to consider when buying a new headlight, and here's a comprehensive list explaining what you need to look for.
Fishing Ability
To fish effectively, a headlight needs at least three and preferably four different light outputs. Some have more! Let's classify these as low, medium and high output. There's no point using a very high beam for baiting up, the lowest light setting should be ample for this as it's all close quarter work such as knot tying and baiting up. A lower output option means you're not burning up battery power unnecessarily in general use, either.
A medium output is handy for working around the rod rest and shelter base camp. This is useful when moving things back as the tide floods in, and keeps you better orientated so that you know where everything is in the heat of battle.
The highest output, and preferably with a focused pencil beam, gives you the ability to search for fish in the surf, identify where your leader is on the retrieve and aids companions to help land fish for you. If you're on rock marks, a long beam helps you spot floating lobster pot buoys at range and again identify fish in a swell ready for landing.
Good headlights have an additional red-light facility, or occasionally a green light. This is designed to preserve your night vision, but with enough light to see with for very close quarter work. Bass anglers looking to remain unseen when working close to fish would choose this option as one example. What's more, the red/green light when looked at does not blind your companions, so switching to this when talking to people keeps everyone happy. It also helps your own eyes readjust to the dark quicker.
A strobe light function is also useful, as this is used as a distress signal and helps alert people looking for you as to exactly where you are.
Brightness
Lumens are the measurement to classify the brightness of a headlight or torch. The higher the Lumen count, the brighter the headlight is. An example might be that the low-power option gives 30 Lumens of brightness, a medium output 150 lumens, high beam 500 Lumens and a long-range high-power beam 1200 plus Lumens. For fishing, a lumen count similar to this gives great overall performance.
Remember that the brighter the light and Lumens used, the more battery power you use, hence the need for lower power floodlight options for close to work to preserve power. A red-light facility takes little power and should run in excess of 50-hours, as should a low output floodlight used for baiting up etc. Medium power should have a life when constantly on of around 14-hours, high beam 3-hours and a very high-power pencil beam 2-hours or so.
Waterproof and IPX Rating
The IPX rating tells you how weatherproof and waterproof the headlight is. This officially goes from IPX1 to IPX8. The higher the number, the better rating the headlight has. IPX4 protects your headlight from splashes and very occasional light rain. Frankly, this and IPX5 are inadequate for general fishing. Serious anglers need to look at IPX6 as the absolute minimum. IPX7 or IPX8 is better, meaning the headlight can take full submersion to a depth of 1 m and 2 m respectively if dropped in water but will be fully waterproof even in prolonged heavy rain when worn.
What Else To Look For
Make sure the headlight has a wide, fully adjustable headband for maximum comfort and security.
Look for large function buttons used to switch from light to light that can be used easily even when the hands are wet and cold.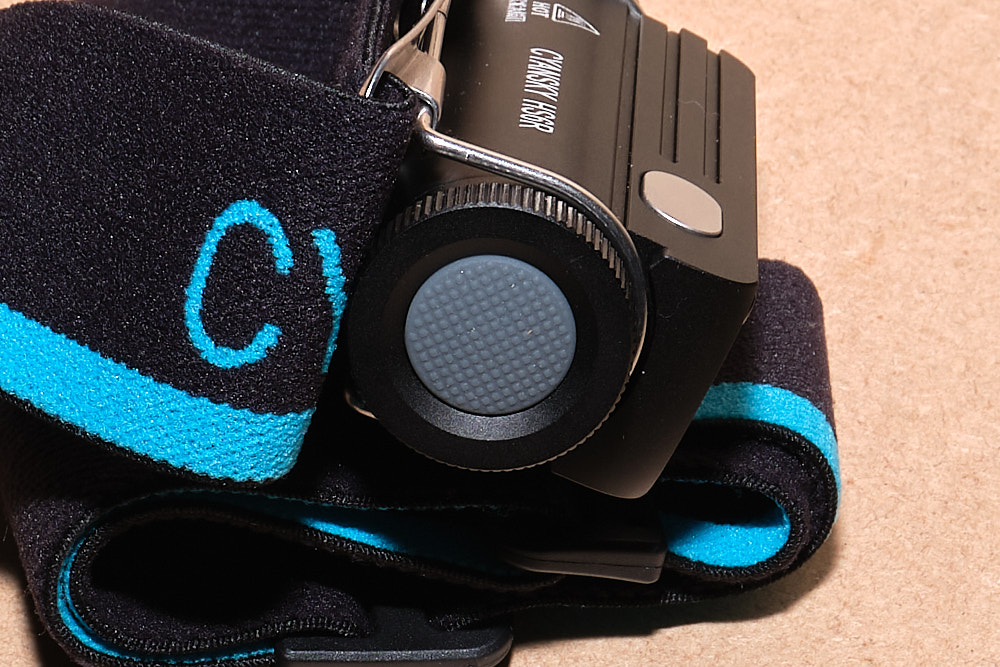 The headlights weight is important. Within reason, the lighter, the better. However, the headlight needs to be robust to handle the rough, tough world of sea fishing, so high-impact plastic is the minimum, but metal bodies prove the toughest should the headlight be inadvertently dropped. Paying a small weight penalty for more strength and reliability is well worth it.
Battery Life
Modern LED headlights now sport their own USB port, allowing the headlight to be universally charged like a phone direct from the mains or from a power pack. Typically, these are Mini USB-B and more modern lights are now coming with USB-C connectors.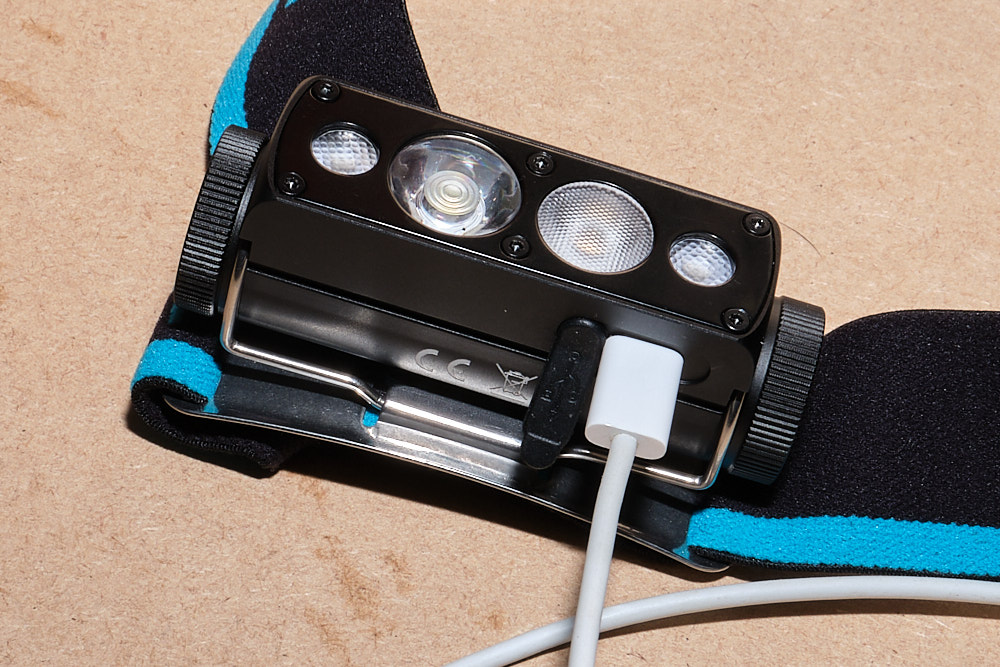 Good ones also have the option to use a separate inserted auxiliary battery or batteries should you need to. It's a useful option to have if you're fishing remote areas over a longer period and are away from convenient mains charging facilities. Auxiliary batteries do not last as long as the main rechargeable headlight battery, which is something else to remember.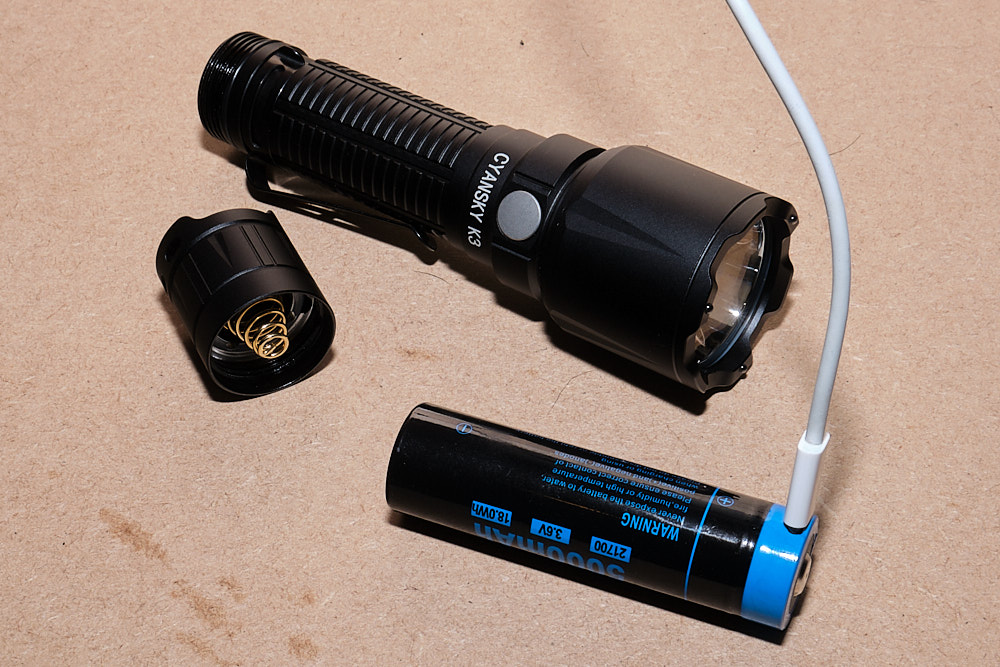 The benefit of a USB rechargeable headlight is that if you do run out of battery or feel you might do, they can be recharged/boosted using a Power bank. We often use Anker Power banks here, we've found they ultra-reliable and quick charging, even in colder weather.
Torches
The information above also applies to LED torches. It pays to have two options of light with you, and many choose to add a secondary torch to their tackle box, just to cover emergencies. One that has the option to clip on a belt, or maybe on to your rod rest, adds to their versatility.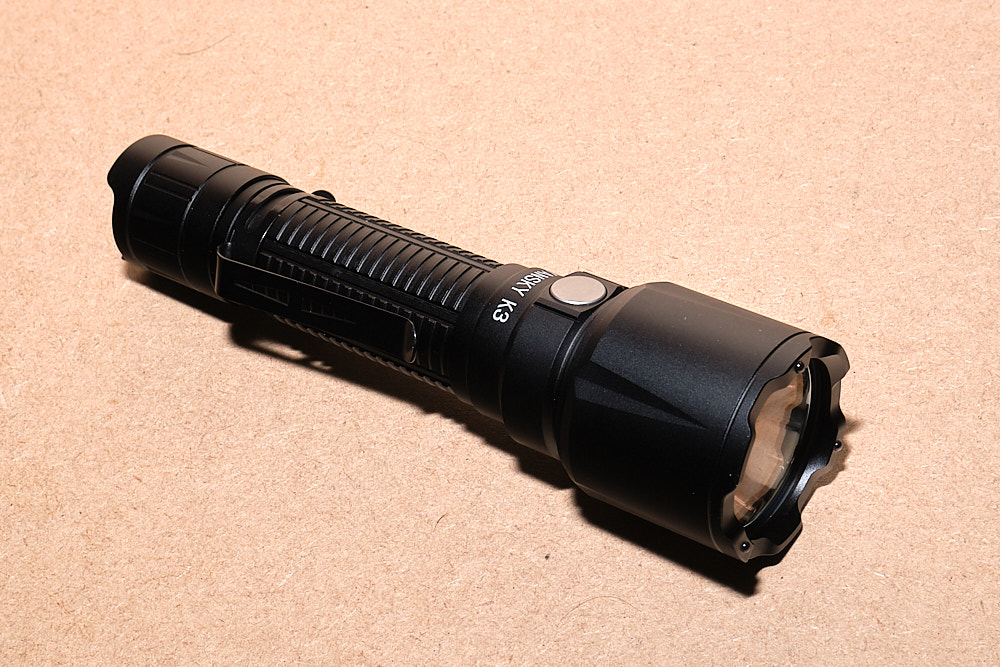 The final word of advice is to get the best headlight you can afford. It really is the only way to ensure overall reliability, a high performance and a long life.
Cyansky
Taking all of the above into account, last year we introduced our new Cyansky range of headlights and torches. We wanted to bring to market a range of robust, hardwearing lights and torches that tick all the boxes we've mentioned above. Including strong and durable metal bodies, fully rechargeable via USB with the option to carry extra rechargeable batteries in case you need them. To check out the whole Cyansky range, please visit our mini site by clicking here.