With the country in lockdown, many anglers are forced to fish locally. Oliver Hampton-Saint looks at how he has adapted to finding the best marks, local to him.
As a new lockdown tier system starts to stomp its way through the country and our fishing areas, we are having our distant trips and angling adventures stripped away from us. This leaves many of us feeling lost, unable to explore our incredible coastline and catch the monsters that lay in her depths.
However, this did send me into an urgent thought of a way to overcome and feel better about the situation. It hit me that I need to find those monsters still, but perhaps not in the depths of Chesil or even Skarnsundet but instead seeking the 'monsters' in my (rather shallow) local area. I hope to give an insight into how I started and how I am still trying to master fishing marks around my local village, Birchington on Sea, and help other anglers find the best out of their beaches while the restrictions are imposed.
I soon started to devise a plan to tackle fishing marks on the beaches in my region. They are far from conventional and don't have thousands of online reports, YouTube videos or people fishing them. I had a basic knowledge of the main beaches I wanted to fish, from mostly bait digging and practise casting, which seems ludicrous seeing that it is hundreds of metres away from my house! But to start this journey of turning my surrounding beaches into the next FishOMania, it all had to start with a low tide walk to indulge what is there.
To find good fishing marks I was scouting for any gulley's, chalk shelves, rock deposits, beach depth, abundances of weed, groins, wreckage and of course depth and anything that looked fishtastic. Once I had mentally mapped out the beach, it was then time to get down to the crux and give it a go!
The beach was mostly sand but with various rock clusters heavily covered in kelp at around 80 yards, which seemed fairly disastrous for snags however quite appealing for feeding predators. I decided to place myself on the promenade over high water armed with two rods, one lighter for close in and one heavier rod to propel my baits into the rocks and to be also able to pull my baits (and hopefully fish) back through them.
The high water left a large sandy gulley under my rod tip at 5-10 yards out, so I targeted flatfish in there with a light flapper rig armed with size 4s, and then I had a 2/0 pulley pennel fishing into the depths of the rocky unknown. Routing back to my match days with the England team I utilised my lighter set up to work from 30 yards and twitch it back 5 yards every minute, this is a lethal tactic on any beach, and it sprung me into my first shoal of whiting.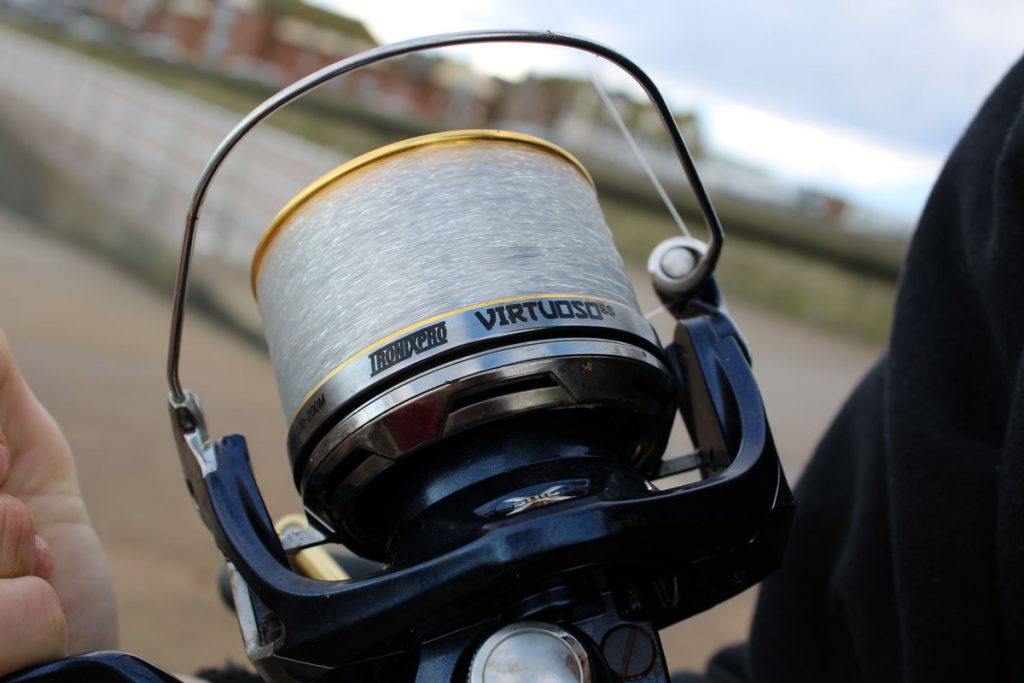 While having fun in close, I then started to reach the dogfish amongst the rocks. This was all very assuring because even if whiting and dogfish are there, it means there is a food chain so who knows what monsters are feeding on those fish.
With my first session under my belt, I now develop on my progress made: I know if I am to fish that fishing mark again, I will fish with larger hooks and bigger baits to filter out the smaller fish.
Looking for my next doorstep adventure, I planned to fish another fishing mark, this time a rock mark which I had seen a few people fishing before but once again had no online reports or YouTube videos disclosing the tips and tricks to this venue. I honestly believe that fishing the unknown does come with adventure and excitement! I knew that the beach was far from a typical British beach and I am sure it had more mussels and cockles than grains of sand. It was the aftermath of the cliffs' erosion. I would have found cleaner ground if I had blown up the cliff myself and scattered the chalk across the beach, there were literal miles of five foot rising boulders each pocketing millions of ravines and pools of water. But I thought to myself this will be a mission, so I sought help from my local Facebook anglers page (a great useful tool that can help to know where to start).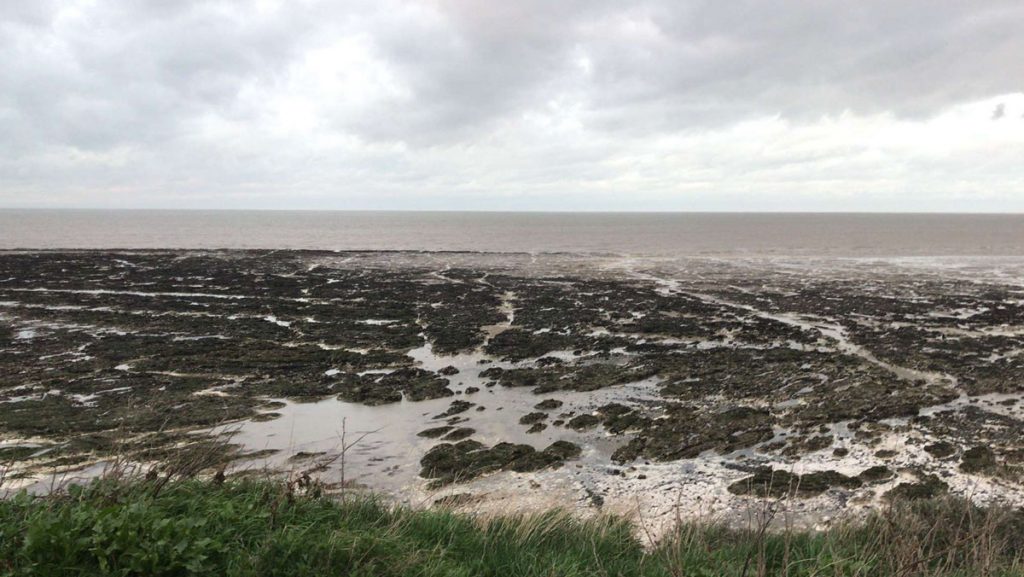 I was now armed with a few useful tips on not stumbling to my death and drowning by the rapidly incoming tides and secondly how to ensure I can retrieve my baits through this post-apocalyptic beach. This time I only take one rod so I can keep one eye on that and one eye on the tide. I begin my adventure on low water and will move back with the tide, so I packed light to be as mobile as possible, I have been advised to fish at a distance to clear the deadly snag haven which lies in an ever-growing path in front of me as the tide floods and pushes me further back.
I am equipped with my Blastron to blast into the clean(er) ground. My initial thoughts were codling. However, I soon realised that I am in around five feet of depth after my first cast, so I quickly adapted to a long pennel rig to target thornback rays. My quick improvisation was deemed successful: just as the rays of sunlight disappeared, the rays of Birchington on sea appeared! I was honestly over the moon and had got my first glimpse of catching my local monsters.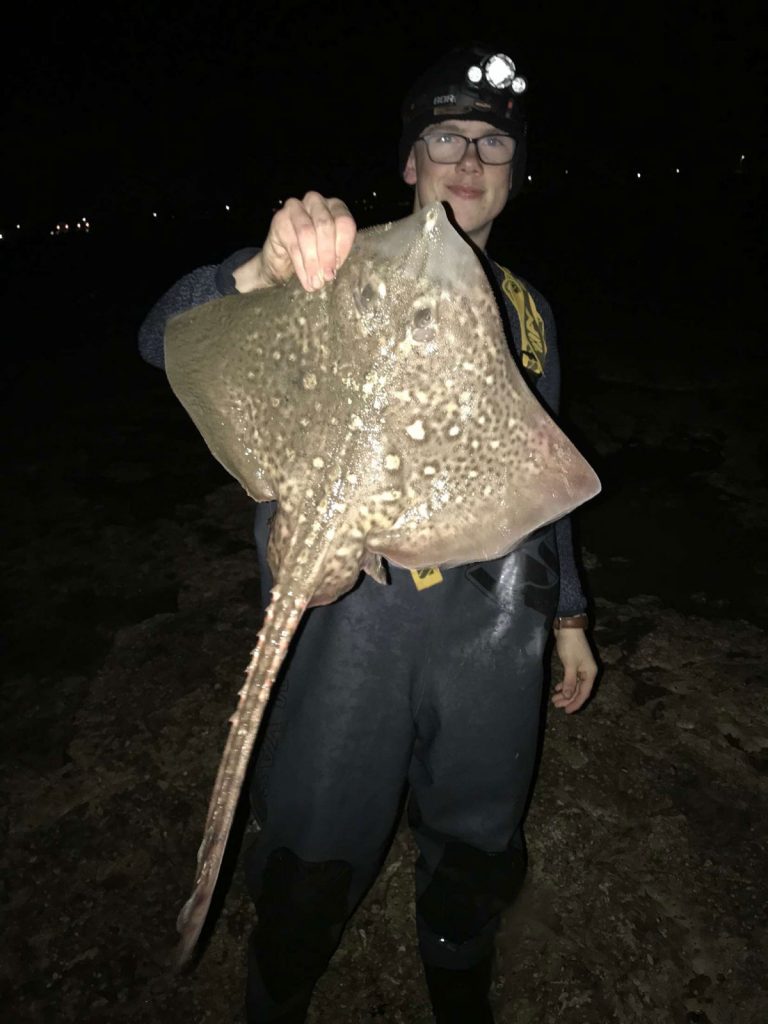 I carried on fishing these spots, finding out even more about where, when and what works in my local vicinity. Applying the principles that I used in my first sessions, I believe that you too, will find hidden gems in your local area. I have summarised key points that will aid you in turning your local undiscovered beaches into a whirlpool of great fishing marks, catches and memories:
Take a walk (or drive) to the beach and observe anything and everything that looks fishtastic.
Ask your local tackle shops, clubs or Facebook pages.
Keep things simple and remember that not all fish are 300,000 yards out! Try the edge for the smaller fish and try the deeper water for any lurking monsters.
Make sure you know the tides, most common beaches fish better over high water however many don't, so ask around or try it out! And no matter how good the fishing is, keep one eye peeled on the tide and your surroundings.
And always enjoy yourself.
I am still discovering more and more of what fishing marks my local area has to offer. I have learned that there are brilliant distant adventures to explore around the UK and even around the world, however, there is a new form of excitement and achievement whilst fishing in your hometown. I know the Corona malarkey can be very devastating for many other keen fishing enthusiasts like myself, but my best advice is to stay safe and stay in your area but utilise this period to find what your local shoreline has to offer.