Charlie Tudball, England youth international takes a look at some of the essential pieces of kit he used during the 2016 Youth World Shore Championships.
At the recent World Youth Shore Angling Champions myself and fellow England team mate, Callum Graham got chatting about the tackle we used. If you've read Callum's blog (and if you haven't, then get reading it here) you'll have noticed that there was a lot of buzz about TronixFishing at the event. With that in mind, we decided it would be a good idea (and hopefully of some interest to you guys) to write about which products from the TronixFishing brands we're using for our competition fishing. Here is my list.
RODS
The two rods I chose to use in Spain were the Vercelli Competizione and the Yuki Kenta Beach Ledger.
Yuki Kenta Beach Ledger
The rod itself was destined to be in my bag for most of the trip, my plan wasn't to use it extensively but as the competition situation began to emerge it quickly turned into my favourite "in the edge rod". I use the rod extensively back in the UK from muddy Bristol Channel Flounder and bass fishing to targeting garfish along the crystal clear waters of the south coast. This made it an ideal tool for fishing in and around the rolling Mediterranean surf. The rod has a beautiful through action that shows the slightest nibble from small fish (we caught enough 8cm palometa to rigorously test this!) but with enough power in the mid section to combat the feistier fish!
Vercelli Competizione
This was my main go to casting rod, I've extensively tested a whole bunch of Vercelli rods over the past year and out of them all, this is by far my favourite. The crispness of the blank coupled with effortless power transfer makes this rod just right for casting leads between 100 and 150g, the main range of leads I would be using on the beaches of Castellon. The exquisite tip compliments the blank with a nice even curve through the blank in both the cast and on the retrieve. Despite all of this power, the tip has the subtle delicateness to show even the tiniest of movements making this an ideal match rod. Sometimes you get a rod that just feels right, and this is one of them, it can also launch a lead miles too!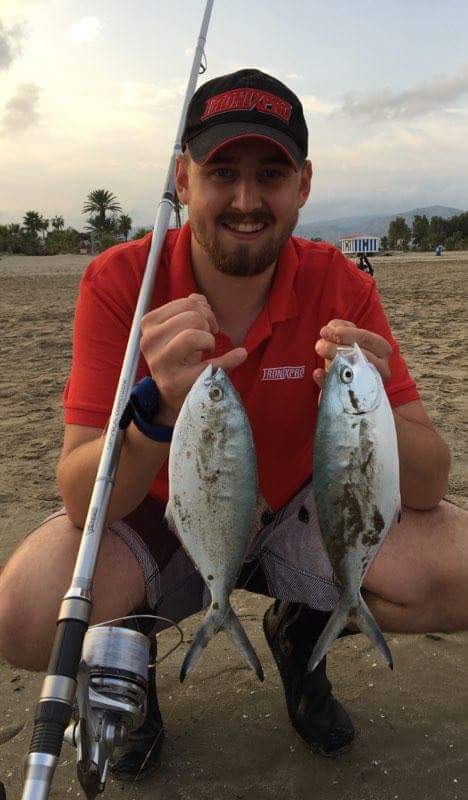 LINES
Like Callum, I chose my lines from the Yuki stable of products. When it comes to my everyday line I find it hard to beat Yuki Invisible, it has strength, longevity and smoothness. At home I use the .28 diameter on my multiplier reels, for the competition I went for .14 and .25 for my fixed spools. It is a good quality, reliable line, that I have 100% confidence in.
With this in mind, I wasn't sure I needed to take anything else with me, but, with the matches being fished in half daylight and half darkness, I chose to take some visible line too. I chose the Yuki Kenta Fluoro line. When fishing with low diameter lines of 12 and .16 in close proximity to other anglers, it was inevitable there would be the occasional darkness induced tangle, and this visibility would help. Having fished with the line extensively over the championship it's an absolute dream to cast, on the retrieve there is no feeling of rubbing or grating through the eyes either. It doesn't feel like I was fishing with line with a breaking strain under 3kg even with the heaviest of weed clump or a double shot of hard fighting palometa.
Complimenting these two lines, I was using the Yuki Safu Tapered Leaders in yellow. It's hard to go too far wrong with tapered leaders, yet some manufactures still persist in producing inadequate ones! Safu leaders are supple and smooth but don't jump off the spool, they don't feel like they're stretching either in the cast which allows maximum power transfer to the rod for smoother casting and extra distance. They also knot extremely well and neatly meaning you've got strength but also a tidy knot to run through the rings reducing friction.
BLING
Bling can be the difference between catching and not. Pop ups have been part of my armoury for years but with the release of smaller Tronixpro Floating Oval Beads only weeks before our departure, I knew these newer compact ones would be essential for Spain. They're surprisingly buoyant for their size and would give me good options for presenting baits for maximum effect. White was the colour of choice during the day and accounted for countless fish, with the luminous green and orange beads working best at night. The green in particular responded well to a charge from the Tronixpro UV Torch keeping bright for up to 15 minutes of radiating attractiveness. The orange reacted differently, whilst it was fully bright as soon as it was charged after a few minutes the colour turned to a wormy pink red glow. This excited me as most fluorescent pop ups look like they've just arrived from a nuclear power plant, but this subtle glow provided a better ambient, lower light that would attract other species often put off by brighter glows.