England youth international Callum Graham guides you through some of the essential tackle items he used during the recent 2016 Youth World Shore Championships.
Choosing tackle for a world championships is hard. In fact, it's probably one of the most difficult parts about it. If it is not the best I won't use it, simple!
Every item of tackle needs to be ultra reliable and the very best you can get. You're facing the best anglers from around the world, it's essential you give yourself any advantage, no matter how small. Adding up all the small advantages from sharper, stronger hooks, better quality fluorocarbon line, superior mainline or whatever else you can use to give yourself an edge adds up to a substantial advantage over your competitors.
Some might argue that these improvements are irrelevant and all that matters is where you cast your bait, to some extent they are correct; watercraft plays a massive part in determining whether you catch, but you need to maximise your chances whilst your bait is in the water. Fishing with substandard, average or even good tackle won't do this. You need the best.
And the best was needed at this year's world championships held in Castellon, Spain, boy was the fishing tough! Without doubt the hardest fishing at a world championships I've experienced.
The fish were few and far between. We mainly fished for herrera, palometa, gilthead bream, sargos, and the very occasional bass. For the first 30-45 mins of the match the palometa would show about 5yds out. After this window was up you had to work it out for yourself. No beach fished the same twice, every single day was different. Even the host nation anglers were scratching their heads, a good indication the fishing was unusually tough!
Entering the final day we had a shot at the medals but it was the same old story. Nothing went our way and the worst possible scenario happened for Team England and knocked us back to 5th place. Oh well! We had our best possible team in play and none of the anglers or managers could have tried any harder.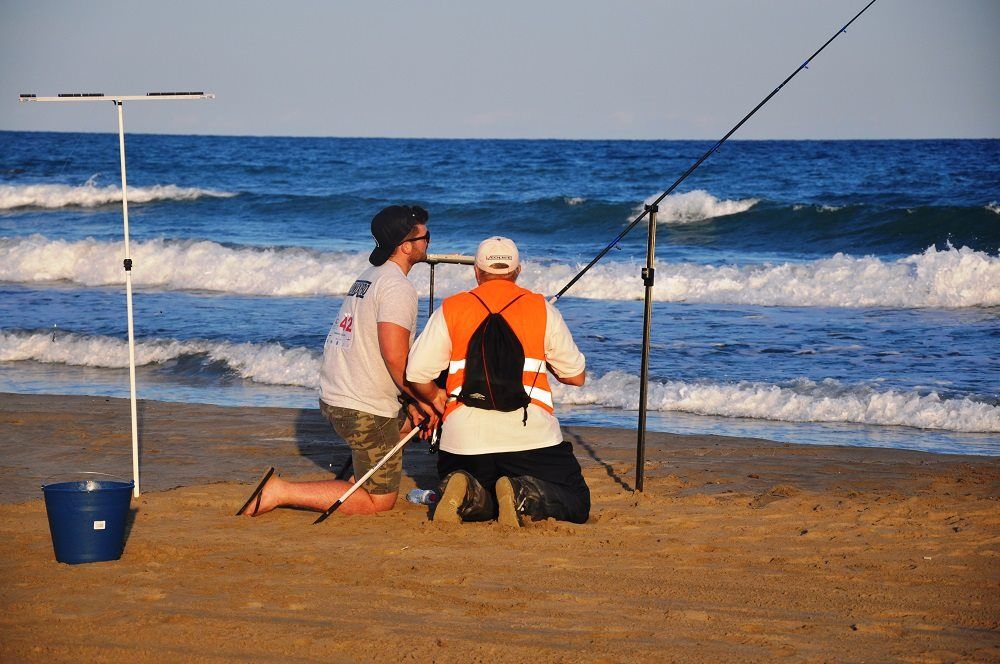 I'm not for one minute making excuses but we just didn't have any luck out there. Most of our team had good bags of fish but were knocked down the table by anglers with a big fish (by big I mean one over 15 cm!). That's how poor the fishing was! It was a good decision by the Spanish federation to change the match to measure and release. If we'd fished to size limits I can honestly say I wouldn't have caught a sizeable fish in the five days of competition!
There was a cool vibe going on at this championship though, and one that I have not experienced before. This was a Tronixpro vibe! It was the brand everyone was talking about. People would come up to us showing off their Cobras, Medusas and Vipers. People asking about future and existing products. The soon to be released Cobra Light caused one hell of a stir too! It was awesome to represent the brand individually and as a team out there.
With this in mind, I thought it would be interesting (and useful) to share with you some of the tackle I used during this championship made and distributed by TronixFishing.
Yuki Kenta Plus TRT
This rod is amazing! It's one of the very few rods that I have picked up and from the very first cast fallen in love with. The rod has bags of power and a lovely glass tip. I know what you're thinking, this is a vague description of every continental rod going. But this is where the Kenta Plus is different. This is a distance casting rod but with useable power.
What do I mean by useable power?
Well, the rod is effortless to load. It doesn't require you to burst a spleen and grit your teeth trying to cast it. It simply loads up smoothly and recovers instantly, sending your baits miles, ideal but by no means limited to casting smaller softer baits a long way. The rod has plenty of this useable power though, the more you want to give the rod, the further it sends the bait. Put on a 4, 5 or 6oz lead and you will be mightily impressed. It's incredibly hard to describe just how good this rod is in words, to appreciate it you will need to get your hands on one in a shop or down the beach. You will soon see why they are a favourite with top match anglers!
Tronixpro Cobra Light
Wow. It's incredible. I can't say too much until the rods released but here is a taster…
My quest for a lighter rod has ended. It is just perfect. The Cobra Light sits on the rod scale just above the beach ledger rods. It's still for lighter fishing, 60-110g is ideal, but it is capable of putting any weight in the stated range a long old way! The blank is incredibly light and responsive, something that has taken a long time to perfect. The recovery is lightning fast, aiding the distance achieved with such light weights.
Yuki Maseraty Beach Ledger (review)
This rod has been a regular in the rod bag for a few years now. It's a brilliant rod for casting very delicate baits, it's also very good for fishing very close or for shy biting fish. The rod is so incredibly soft that it offers minimal resistance to a fish which intern results in more hook-ups. I caught a lot of fish in Spain on this rod as fishing close quarters was vital.
Yuki Kenta Line
This line is awesome. It's ultra-soft and limp with a silicone coating that makes for a perfectly smooth round profile; very important when trying to gain those few extra yards! The line is, as you would expect, very strong. I managed to pull leads out that had been buried deep in the sand on rough days with 0.12mm line, quite astounding!
Yuki Safu Leaders
I opted for the clear-yellow versions for Spain and I'll explain why. These leaders have the last 10m clear, the thick end, and the first five meters' bright yellow. These leaders are brilliant at night as the change in colour from your mainline to the yellow of your leader picks up on your head torch and you can easily see where your rig is in the surf. It certainly helped me time my fish in with the waves in darkness. The leaders themselves are supple and strong.
Tronixpro Floating Oval Beads
These pop-ups were perfect out in Spain. They aren't too big, nor too small for small to medium sized worm baits. If you load a big old ragworm or lugworm bait onto them at home they will create a neutral buoyancy effect; sometimes more effective than a plain old pop-up! I used the white colour pop-ups in daylight; these were a favourite of gilthead bream and palometas in Spain. At home, white is very good for mullet, garfish and bass. I also used the glowing green for herreras at night; they sure loved them!
Evia Glowing Leads
These were handy whilst fishing at night. My favourite, the blue, held its glow well and picked me up a few fish when bites were hard to come by.
Tronixpro UV Torch
Essential for charging up glow in the dark products. I used 4 torches positioned over the three baits and the glowing lead every match. I left the torches on for 2 hours every match and didn't have to change the batteries once ; they are still going strong now!
Sabpolo Wormer Hooks
Anyone who fishes with me knows I use wormers for everything; for my match fishing I can't see the need for any other pattern. They're simply brilliant. The whole team fished size 8 wormers for the whole competition; they always present baits perfectly, keep their point and are very strong.
Tronixpro Continental Clips
I have used these since they came out and are still my firm favourite lead clip. They are indestructible. I have even whacked 10oz leads on these clips in France a few years ago and I wasn't worried about them giving way at all. I used the medium size on the bottom of my rigs in Spain as they have a gape size big enough for most leads.
Tronixpro Rig Glue
I am a massive fan of glue, in fact unless I'm tying clipped down rigs, all my traces are glued. The Tronixpro glue hasn't failed me yet and I very much doubt it ever will.
Tronixpro Long Body Snood Swivels
I used these on my rig body to connect my hook lengths to. They are as small as you'll get and strong. All you need!
I could go on and on about all the Tronixpro products I used but we will be here all day! Having the best products at a world championships is a necessity, without them you just can't compete.