Warren Doyle reports on the 34th Irish Winter Shore Angling Festival sponsored by Tronixpro.
By Warren Doyle
The Organising Committee would like to thank Tronixpro for their continued support with this event.
The 2023 Irish Winter Shore Angling Festival took place on east Wexford beaches from January 26th to 28th. The check-in commenced on Wednesday evening at the event headquarters, The Upton Court Hotel in Kilmuckridge. The majority of the competitors took advantage of this, and only 33 of the 124 entries remained to check in on Thursday morning. The numbers were down on what was expected for a variety of reasons, from lack of accommodation to illness and the inevitable 'no shows'.
The venue for the first session was Morriscastle Beach, which was pegged in four zones. The session commenced at 12 midday with a cutting northerly wind & dropping tide and as was anticipated in these conditions fish came very slowly in the early part of the day. Later in the day when the wind abated & bait scent had permeated the water the fishing improved and towards dusk the whiting showed up. Disappointingly, as the tide ebbed, the shifting sandbank created a bar and deep gully in front of some anglers which restricted their ability to reach deeper water. The minimum size limit for this event is 18 centimetres, with no undersize fish permitted. The session finished at 5 o'clock & 1,054 fish had been recorded, all of them returned to the water.
The longest flat fish was a 38-centimetre flounder for Seán Healy and the longest round was a 33-centimetre whiting for Sam Collier. Super pool winner (best catch) was Ged Stevens on 950 points for 37 fish, followed by Adrian Bordianu with 733 points for 26 fish and Ben Arnold third with 661 points for 34 fish. The result was posted at 8.40 pm.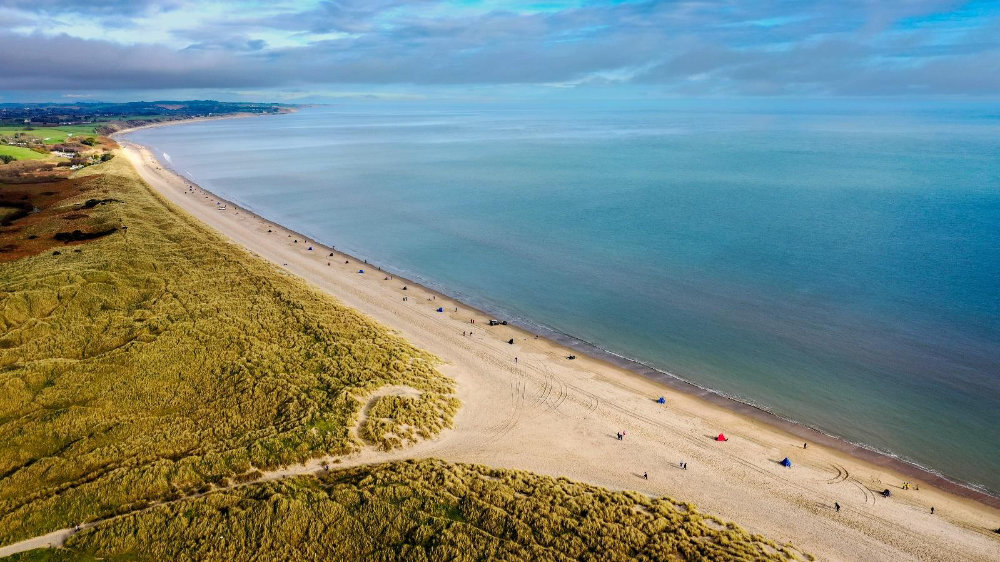 The venue on day two of the Irish Winter Shore Festival was Ballinesker beach, with two zones either side of the entrance. Fishing commenced at 12 midday in bright sunshine but with little or no wave action. Fish came well in the first hour but died off mid-session and once again picked up towards dusk. Lines were reeled in at 5 o'clock & 1,256 fish had been recorded and returned to the water.
The longest fish of the day was a 36 centimetre coalfish for Shane Olden, and the longest flat fish was a 32 centimetre flounder for Gary Falk. Super pool winner was Richard Yates with 667 points for 25 fish, followed by Ged Stevens with 621 points for 25 fish and Joe Wales in third with 585 points for 22 fish. Double zone winner Ged Stevens led the way in the individual result from Richard Yates, who also had two zone wins. All to play for on day three. The result was posted at 7.30. Curracloe beach had been the planned venue for day three, but due to pegs encroaching onto it from Ballinesker on day two, there was not enough unfished space available to fit all the pegs on. No other suitable venue was available at short notice and with the sandbar in Morriscastle causing a problem the decision was taken to fish Ballinesker again.
The session commenced at 10.30 in overcast conditions with a light south-easterly breeze and some good wave action. Fish appeared straight away, with almost everyone recording in the first hour. As was to be expected, catch numbers were down and with the finish at 3.30 well ahead of dusk it did not improve later in the day. 825 fish were recorded on day three.
The longest fish on day three was a 35 centimetre whiting for Ian Knight, and the longest flat fish was a 32 centimetre flounder for Darren Stevens. Super pool winner was Joe Arch with 534 points for 21 fish, followed by Chris Clark on 470 points for 18 fish and third was Phil Lee on 413 points for 16 fish.
The hard-working results committee had the results completed and on display at 6.30.
Species captured were flounder, dab, codling, coalfish, rockling, lesser spotted dogfish, whiting and bass. The total number of fish recorded was 3,135.
The Irish Winter Shore Angling Fesival presentation dinner was served at 8pm, followed by the prize giving. Chairman George McCullough opened the proceeding by asking those present to remember Micheál Quinn and Chris Howell, both long-standing supporters of the event who passed away since last we gathered.
He thanked everyone who had helped in the running of the event. He also thanked all our sponsors and supporters for their help and generous support. Furthermore, he complimented the management and staff of the Upton Court Hotel for a wonderful meal, professionally served and enjoyed by all. He finished by thanking everyone who had donated prizes for the raffle. The presentation of prizes was then performed by Warren Doyle and Christy Cloak.
Under 18's:
1st Max Roche
2nd Kai Butler
3rd Nathan Tahren
Ladies
1st Jane Cantwell
2nd Anne Whitty
3rd Pat Shortt
Pairs
1st Richard Yates, Chris Clark
2nd John White, Sam Collier
3rd Henry Randell, Adrian Bordianu
4 Person
1st Richard Yates, Chris Clark, John White, Sam Collier.
2nd Henry Randell, Adrian Bordianu, Dave Shorthouse, Dave Wright
3rd Ged Stevens, Gareth Griffiths, Paul Witter, Matt White
Individual
1st Ben Arnold
2nd Ged Stevens
3rd Richard Yates
The organising committee would like to acknowledge and thank the following for their help, support and sponsorship. Tronixpro, Inland Fisheries Ireland, Waterford Glass, Wexford County Council, Stephen Glynn, Malcolm Newitt, Ken Forsyth, Tommy Squires, Seán Cushen (IFI), Patrick Foran (IFI).