Mark and Matthew from Alderney Angling head out to fish Chesil beach, giving packet bait Dynabait a try, here are their findings.
We gave Mark and Matthew from Alderney Angling a bag of Dynabait Seabait Salad to try on a recent fishing trip. Here are their findings:
One of the things that caught our eyes at the many trade show stands we saw is a product called
Dynabait
distributed by TronixFishing. I'm not in to preserved baits at all as we have been fed so much rubbish over the years and we all know quality bait is the key to good fishing. It was Matthew that managed to blag a spare bag from MD George Cunningham as we were off fishing as soon as our trade show run finished.
We opted to save it for Chesil Beach as that was our best chance to try this preserved bait on a multitude of species and generally there is plenty of fish there so fresh/preserved baits could be fished side by side. Very light in the packet as it is dried out you firstly have to fill the bag with water to allow the product to hydrate. We had the Seabait Salad bag and the larger baits of cuttle, squid and fish needed 15 minutes to do this, whilst the smaller baits of worms, shrimps and shellfish far less time, probably 4 or 5 minutes.
Immediately I was impressed, and the smell was……….well, fishy! Bait was firm enough to put on the hook too, so there we were fishing away with preserved bait. Now I have to say the fishing was poor, the first two days we saw mainly LSD's and Pout of any numbers, with the odd Poor Cod and Smoothound. My first cast with something that looked like white ragworm I had a Pout, ok its humble but my ragworm bait on the other wishboned hook was fishless.
It stayed on the hook absolutely fine too and was used for a second cast whereby I had another Pout. Later on the cuttle and squids we used had LSD's too. In between yes of course we had fish on frozen and fresh baits, but we caught enough on this Dynabait. It CATCHES fish and not just Matthew (the angler). We can recommend it as we have seen it work so store a few in the tackle box for when bait runs short or when you need to make bait last, or indeed for that last minute arranged trip, we only had one trip with it but saw enough that we don't think you'll be disappointed.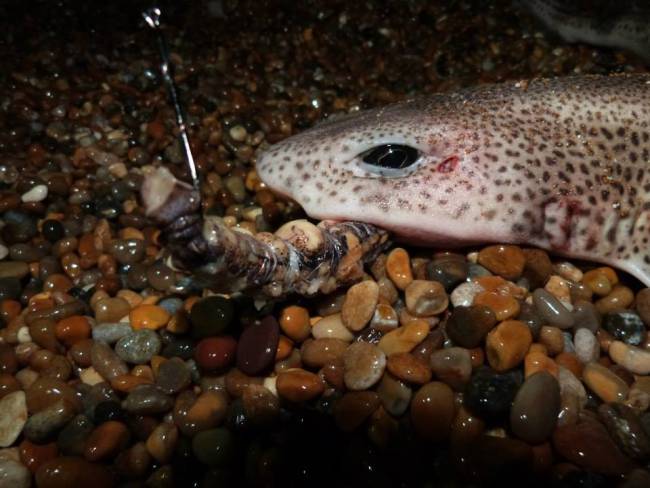 This pack retails at £4.99 and is a mix of bait. In the range is also worm, cuttle, squid, shrimps and more, I can't remember the RRP but it is either £2.99 or £3.99, great value for something that works!