Andrew Hutchings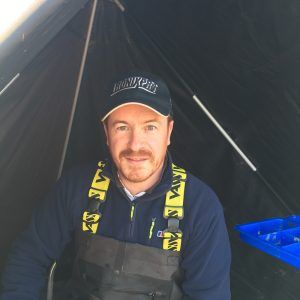 Andrew has been fishing since he was 12, at the age of 14 he joined his first club and so started his match fishing career. In his first match, he won the Juniors Section and finished third overall. He then went on to win the Cardiff SAA Junior Championship for two out of three years.
Andrew has represented Wales at senior level for eight out of the past eleven years, representing his country at four Home Internationals and three World Championships. Andrew has been selected to fish for Wales in the 2017 World Championships, South Africa, the fourth time he will have represented Wales at a World Championship.
When he can fit in the time amongst his busy match fishing schedule, Andrew loves to fish the south and south west coast of Wales for specimen fish. He loves to target smoothhound, ray, conger and bass. Highlights of his pleasure fishing included a four hour smoothhound session which saw him land over 100lbs of smoothhound and a similar session on blonde ray which included a personal best of 18lb 14ozs. Between 2008 and 2016 Andrew was also the holder of the Welsh Record Small Eyed Ray at 15lb 4ozs.
Key Achievements
Represented Wales at four Home Internationals winning team gold, team silver, coming third overall as an individual.
Represented Wales at three World Championships winning team bronze and team silver.
15 times finalist in the Sea Master Final winning the event in 2007 and 2016, finishing runner up in 2008 and finishing third in 2013.
Seamaster League Champion 2014 and runner up in 2008 and 2012.
Three times winner of the Barry Open.
Two times winner of the Cardiff Open.
Twice winner of the Newport Open.
Winner of the Tony's Tackle Eastbourne Open 2009.
2009 Champion of Wales.
National Sea League Finals Team Win 2016, runner up in 2012, third in 2010 and 2014 and fourth in 2009 and 2013.
Finished 5th in the 2009 Penn League 1st division.
Penn Premier League for the past eight years.
Penn Finalist six times in the last eight years – 2010, 12, 13, 14, 15, 17.