Joseph Smith tells us all about his recent England Junior Fishing Squad day in Shoreham using the Vercelli Enygma Aurora 4.2m and the Cobra GT 4.5m
I had a squad day with the Junior England Team in Shoreham. We fished an estuary to get ourselves ready for when we fish the Home Nations in Ireland, in July and also to prepare myself to fish the world championships in Holland in October.
When I prepare myself to fish a new venue, I research the venue to see what it is like and to find out what the conditions are like. On the day at the venue the conditions were excellent, however the fishing was poor. I managed to catch a flounder and dropped two eels on the surface of the water.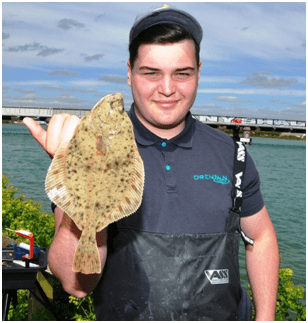 The rod I used on the Squad day was the Vercelli Enygma Aurora 4.2m. This is a really good rod, it  has a hybrid tip which helps to see the bites really well and enables you to get full power from the whole tip and the mid-section of the rod all the way down to the butt. I would say this rod is an excellent casting rod for long and short distance, and is also a good scratching rod for catching fish in close to the edge. The whole Vercelli range are top all round fishing rods which can be bought from TronixFishing stockists (find your nearest store here).
The picture below is me having just reeled in the new Cobra GT 4.5m. This rod can be bought in 4.2m and 4.5m with a casting weigh 100-200g. The rod is a three piece continental style rod. It has amazing casting power and fabulous bite indication.  I will be using this rod when I go to fish in Ireland in the Home Nations and the World Championships in Holland along with my Vercelli.