England International Angler Callum Graham reviews the Yuki Maseraty Beach Ledgering rod, a fine tool for the competitive beach angler.
It's not very often I come across a rod nowadays that is more than just 'alright'. The current rod market is jam packed with literally hundreds of different brands and designs.
Don't get me wrong, the majority of rods are absolutely fine to use, in fact you'll be hard pushed to come across one that isn't, but while searching through those rods, very few have that wow factor; the little something that makes it stand out from the rest.
As you most likely know, Tronixpro have an extensive range of beach fishing rods, from the budget end, all the way up to top of the range, high quality, performance match rods. Unfortunately, until the start of the year they didn't sell a rod that fitted in the beach ledgering category.
Beach ledgering, a term derived from the continent, describes a rod that is generally within the 1-4oz casting range, often a multi tip, with a very progressive, light action.
On opening the new 2015 catalogue I got rather excited. New additions to TronixFishing, Yuki, had brought out two beach ledgering rods, and boy did they look good! I opted for the 4.5m Maseraty Beach Ledgering rod as I was planning to use it for my lighter and longer fishing, I find the extra length compared to the 4.2 makes handling these rigs easier.
As you would expect from Yuki, the rod is built from the highest quality components. It has their signature white butt section that is fitted with a Fuji ZipLock reel seat. The mid and tip sections come built with Fuji K Guides. With the rod you get two tips, one glass and one carbon. The glass tip is fractionally lighter but doesn't give such a good, clean bend like the carbon tip, therefore I mainly use the carbon tip and have done throughout all my serious testing.
On receiving my rod the first thing I did was take it down the beach for a cast.
It's important to note that these rods are incredibly light and do not require a heavy shockleader like your normal beach rods; it will cut your cast down massively.
I strapped on my reel loaded with 0.20 mainline and a 0.20-0.40 tapered shockleader, clipped on a 60 gram lead and after a few gentle flicks, I laid into the rod with a powerful, off the ground cast.
Oh my god. I was gobsmacked. How on earth did a rod so delicate, so light, manage to put a lead well over the 150yd mark, with ease? I thought it must have been a fluke, so I tried again and again and again! Guess what? It produced the same result every time.
Stepping up to a 100g lead didn't seem to faze the rod either!
After casting the rod I was certain it would perform well scratching for small fish, therefore I decided to take it out of its comfort zone and push its boundaries a little. I thought a spot of wrasse down my local beach, Hengistbury head, would let me see what this rod is really made of. The fish here are around 80yds out and require bullying on the way in to stop them diving back into the rocks and weed. Fish started coming in thick and fast, only small at the start until about half an hour in to the session when the rod arched over, nearly bent double!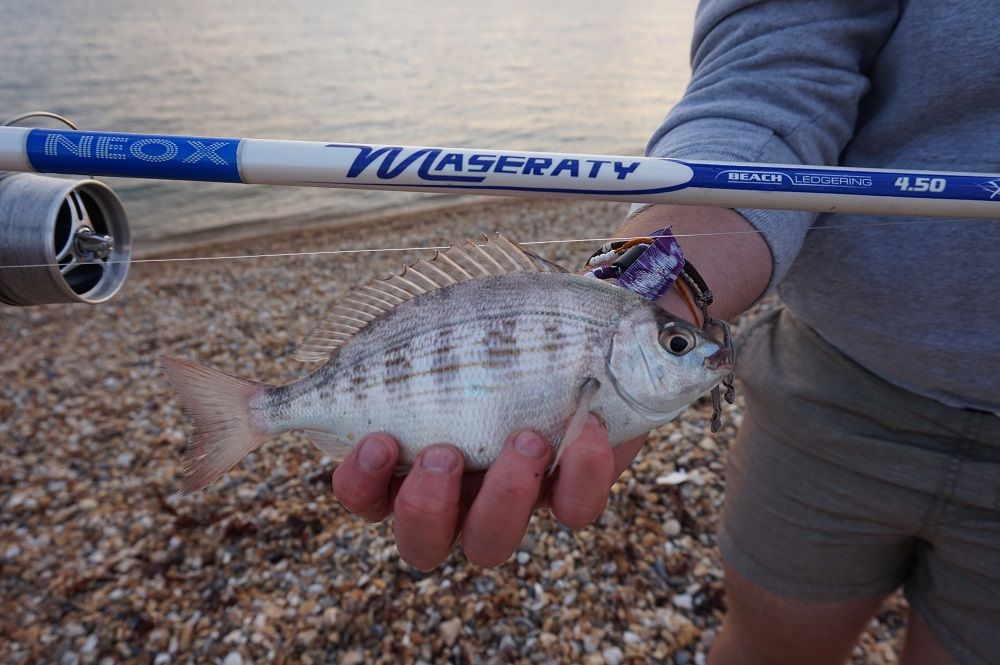 I picked the rod up and started to wind, I could tell this wasn't a tiddler! I was quite surprised how well the Maseraty coped with the strain, the bottom half of the mid and butt sections do have a fair amount of power in them, plenty for dealing with the occasional larger than average fish.  After a couple of minutes a double shot of wrasse between 2 and 3lb a piece lay on the beach in front of me. I was pretty pleased with that but even more pleased how the rod coped!
Since that testing I have used the rod for all of my summer mackerel, scad, garfish and bream fishing and it hasn't failed to disappoint me yet. The crisp light blank makes it ideal for casting delicate baits 20yds out or 100yds, and pick up the faintest of bites brilliantly at either range. The progressive power also makes dealing with a treble shot of over excited mackerel manageable, but still keep some elements of fun and sport in the fight.
So would I recommend this rod to anyone? One hundred percent yes!
If you're looking for a rod for light fishing with no more than 100g (3 ½ oz) weights then look no further. I've proven to myself that this rod does its purpose well and efficiently and can cope with anything that I throw at it, and importantly, it does so with ease.  This Rod won't be leaving my rod bag anytime soon!
Find your local stockist and get your Yuki Maseraty Beach Ledgering rod now!